A kids guide to Halloween Time at Disneyland shares everything you need to know about this seasonal celebration. We share what festivities are taking place and our recommendations based on your children's comfort levels in our kids guide to Halloween Time at Disneyland.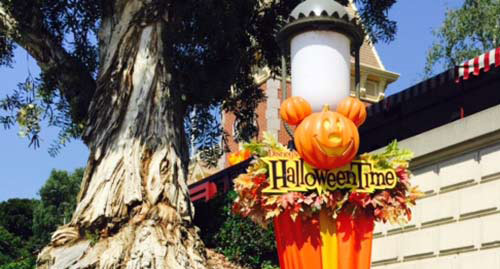 Halloween Time at the Disneyland Resort is starting earlier than ever before and we couldn't be more excited about it! This year the festivities kick off on September 9. Then, Mickey's Halloween Party that is on select dates and begins on September 23 and tickets are available TODAY! We know Halloween Time can be a little spooky for little ones, so we wanted to give you a full rundown on what you can expect at these not so scary events at the Happiest Place on Earth. We have everything you need to know in our Kids Guide to Halloween Time at Disneyland --
Halloween Time:
Space Mountain Ghost Galaxy - This is a very different take on Space Mountain and the new Hyperspace Mountain. You will still get the same exhilarating ride experience, but with a ghost themed overlay. This can be a little bit scary. For the premise of the ride, you are launched into a unknown and haunted sector in the galaxy. As you fly through space, ghosts are right there trying to pull you from your space craft. Between the music, the ghosts and the darkness, you are in for a frightful ride unlike anything you have ever experienced. If you have kids who are easily spooked, we would proceed with caution on Space Mountain Ghost Galaxy.
Haunted Mansion Holiday - If your kids enjoy the original Haunted Mansion, they will love these seasonal surprises. In The Nightmare Before Christmas themed Haunted Mansion Holiday, everything is transformed into the frightful world of Jack Skellington and his spooky friends. There are no additional surprises that different from the original, just an overlay of all things Nightmare Before Christmas, which feels much more cartoon-y and less eerie than the original version.
Decor - As you walk down the iconic Main Street, U.S.A. during Halloween Time, you will be greeted by hundreds of hand-carved unique pumpkins. Kids will love seeing how every pumpkin is totally different. And the piece de resistance has to be the GIANT Mickey Pumpkin welcoming you the heart of Main Street. All of the decor is super friendly and happy themed. You can also catch a traditional skeleton display over in Frontierland with the Dia de los Muertos. There are so many darling picture opportunities for your whole family!
Along with the incredible decorations that get you in the holiday spirit, all of your favorite Disney characters will be sporting their spooky Halloween attire! Catch a photo with Mickey, Minnie and all of their friends to complete your Halloween adventure. The characters act no differently than before, so if your kids love meeting the characters, this is the perfect way to make a special Halloween memory.
EXTRA: Twilight Zone Tower of Terror - As you probably have heard, Disney officially announced the Tower of Terror will be replaced with the Guardians of the Galaxy - Mission: BREAKOUT!. This will be your last Halloween Time to drop in on everyone's favorite Hollywood Hotel as Tower of Terror will be closing sometime in January of 2017.
Tower of Terror can, admittedly, be scary at times. The attraction features decor of an old hotel that has been unkempt for a number of years and the cast members take their creepy roles quite seriously. Then, there's the intro movie from the Twilight Zone, special effects and of course, the ride itself, Tower of Terror is a free fall of emotions. The first time a kid takes a ride through the Twilight Zone will be the scariest. But if they enjoy thrill rides and don't get too frazzled by the scary atmosphere, this is a must - especially because this will be their last chance to ride this iconic ride at Disneyland.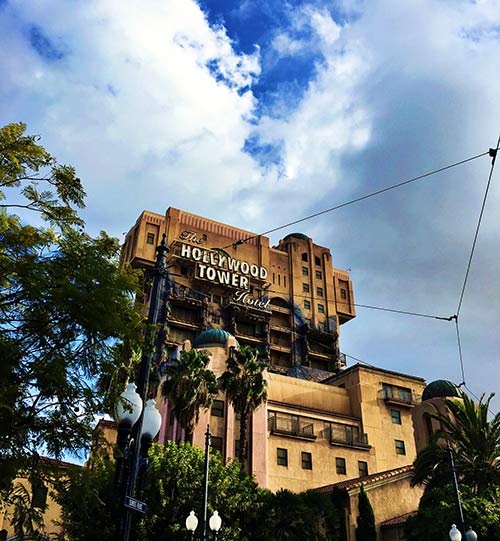 Mickey's Halloween Party:
Ride of the Headless Horseman - Be prepared for an eerie march as The Headless Horseman leads his fellow fiends right down Main Street, U.S.A. He has made his way all the way from Sleepy Hallow to find a new head to replace his own.
Halloween Screams Fireworks: A Villainous Surprise in the Skies - Your host for the evening is Jack Skellington and his little dog Zero. They will take you on a wild ride of fireworks, projections, music and more in this ghoulish spectacular. It features everyone's favorite villains and their hit songs to enjoy. This is a really fun and entertaining show, but if your kids are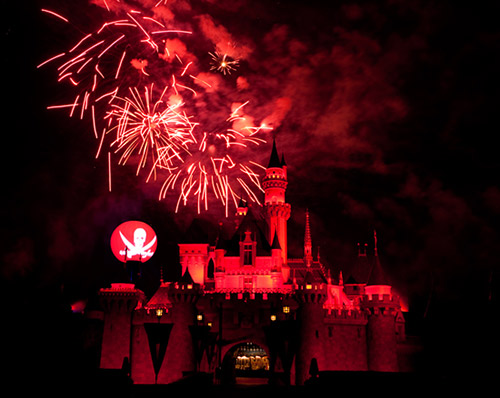 Photo Courtesy of Disney Parks Blog
Disney Villains at Villains Square - You never know which Disney baddies will show up to haunt us all at Villains Square. Get autographs and take pictures with your favorite Disney villains. If your kids are especially scared of certain villains or don't enjoy meeting characters, maybe skip chatting with them for too long. But this is one of the only times you will ever get to see some of these villains at Disneyland Park.
You can also check exactly when the Villains will be at Villains Square on the official Disneyland Mobile App.
Cadaver Dans - This zombie version of the beloved barbershop quartet is both classy and creepy. But not too creepy! It should be fun for all ages to enjoy these ghostly hits. These haunting harmonies will hit spooktacular new heights and you can even sing along.
Trick or Treat Stations - This part is probably the scariest for the parents. You will get A LOT of candy at these stations (and even that is probably an understatement) which are exclusive to the event. When you enter Mickey's Halloween Party, you will receive a bag (you can also bring your own if you prefer) for all of your goodies and then the hunt is on. Follow a map to walk along the Treat Trails to find these elusive ghostly sweets. Unless your kids are scared of exorbitant amounts of delicious candy and snacks, they are going to absolutely love this part of the celebration. Also, parents can take relief in knowing that Disney always offers a healthy option and can meet dietary restrictions as part of the trick or treat stations as well. (Phew!)
As always, you know your kids best and what you think they will enjoy, but we hope our Kids Guide to Halloween Time at Disneyland helps you with an idea of what to expect during all the spooky fun.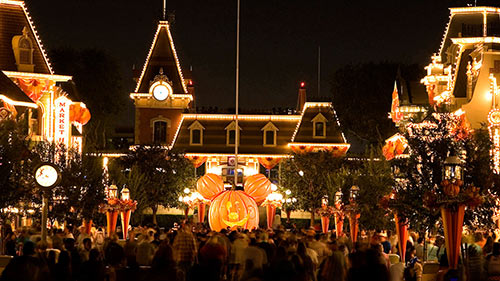 Photo Courtesy of Disney Parks Blog
It is scary how many great deals Get Away Today has for fall at the Happiest Place on Earth! Get
Extra Night Free
hotel specials,
Extra Day Free
Disneyland tickets and so much more! Book your Halloween Time at Disneyland package online or call our travel experts at 855-GET-AWAY.