The Knott's Berry Farm Boysenberry Festival is finally almost here! Coming March 28th through April 12th in Knott's Berry Farm's historic Ghost Town, the Boysenberry Festival hosts an incredible line up of delicious food and unforgettable entertainment. You will want to enjoy everything the Knott's Boysenberry Festival has to offer in sunny Southern California.
Getting to their roots with the berry that started it all, this 16-day festival celebrates everything there is to love about Knott's Berry Farm and that delicious boysenberry. Bringing back old favorites and making new tempting treats, the food alone is worth making the trip. On top of that, the Knott's Berry Farm Boysenberry Festival has new live entertainment and captivating roller coasters you can't find anywhere else.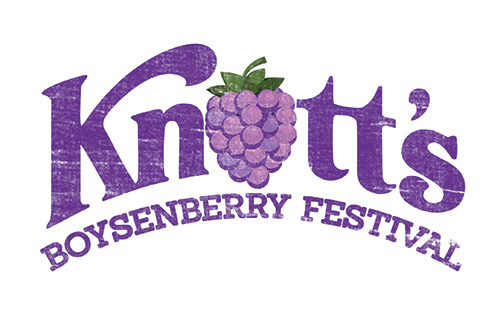 This year, Knott's Berry Farm is coming out with another historic debut of a new and thrilling treat that will entice the taste buds. They are proudly introducing their home made Boysenberry BBQ Sauce that is the perfect addition to any number of their delicious ribs, chicken and wings. Add that to the long list of flavored sweets including Boysenberry Bites, fish and chips sandwich with boysenberry tartar sauce. Boysenberry ICEE Floats, Boysenberry Frappuccino and Latte and more! You can find all of these tasty treats and one of a kind snacks scattered throughout the festival. And if you love it, you can take home some of the new Boysenberry BBQ sauce to enjoy no matter where you are! Just stop by the Berry Market or General Store to pick up your bottle!
In between eating meals be sure to scope out the incredible line up of entertainment all day long! You can enter pie eating contests, participate in a pie walk or party along with dueling fiddlers and banjos! You can also race in the Grandpa's Boysenberry PJs Contest where guests have to be the first to fill up oversized long johns with balloons. Then at night, guests can catch "Krazy Kirk and the Hillbillies" for some down home country comedy that will leave you laughing and coming back for more.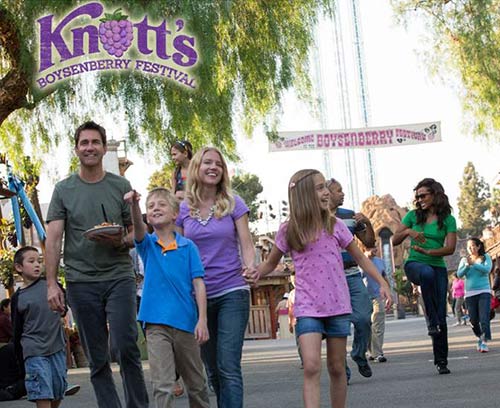 "Peanuts in the Park" offers families a chance to be part of the show! Located in the Boardwalk area, you can dance along with your favorite Peanuts characters. Then once the sun goes down, "Jammin' in the Dark" turns the scene into a massive dance party! LED lighting effects and illuminated boysenberries serve as the background as you dance the night away.
There is so much more to see and do at Knott's Berry Farm Boysenberry Festival, but on top of everything, you still get to experience the thrill of their one of a kind theme park. With Camp Snoopy for the little ones and coasters for the adventures, your family will never have a dull moment.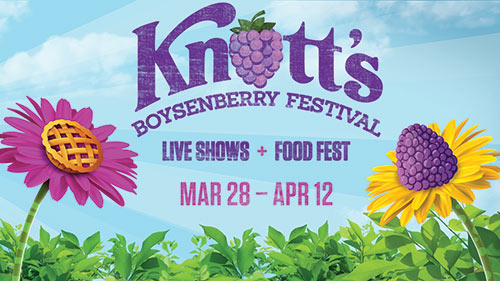 Knott's Berry Farm Boysenberry Festival is not something you can afford to miss. For one, your taste buds would never forgive you! This Festival will only be around for a limited time, so book your tickets now to ensure you make it to this delicious event. Get your Knott's Berry Farm tickets online or call our agents at 855-GET-AWAY.

Check out these great articles: