Spring is almost here and that means that the second annual Boysenberry Festival at Knott's Berry Farm is right around the corner! This year's event promises to be a sweet treat to those visiting the theme park from March 19 - April 3, 2016. Celebrating the berry that started it all, the Knott's Boysenberry Festival is an absolute can't miss event for any fan of the berry, which let's be honest, if you've tasted it, you are.
Last year's premiere event proved a huge hit celebrating this unique berry that made Knott's Berry Farm what it is today. This juicy berry is a concoction of blackberry, raspberry and loganberry - the perfect amount of sweet, tart and delicious. The festival will offer a limited time menu of specialty boysenberry food and beverage items ranging from savory to sweet and everything in between. You'd expect boysenberry soda, but last year's festival also featured boysenberry wine and beer, both to make a comeback at this year's event.
In addition to standard boysenberry pies and desserts, there were a number of unexpected menu items that were a huge hit. As far as meals and snacks go, unique sandwiches and sides were paired with boysenberry condiments like ketchup, relish, aioli, butter and even tarter sauce. It's a foodie's dream come true!
But, more than menu items, the second annual Knott's Boysenberry Festival will bring more family friendly fun with live entertainment and special surprises. One of the highlights last year was The Pie Kitchen where kids got to race to make their own pretend pies, and then for a fee, make their own mini real pies. If you're lucky, maybe your kids will even share!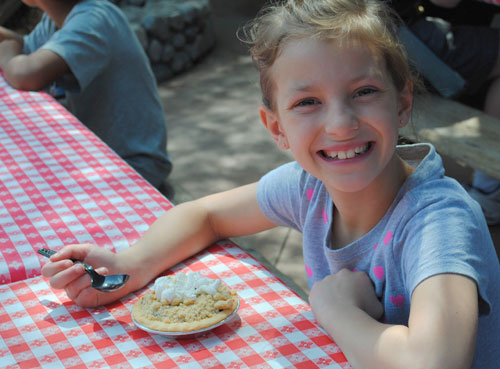 On top of the limited time festival, Knott's Berry Farm has one of a kind roller coasters and entertainment all year long. Experience the thrill of America's first theme park that has something for everyone in your family. For the littler ones, enjoy the adventure of the themed land with multiple age appropriate rides and ample room to run around and play. You may even get to meet the top dog himself, Snoopy!
For us taller riders, there is nothing quite like the rollercoaster of Knott's Berry Farm. Shoot off at 82 miles per hour on the Xcelerator, or drop straight down with your feet dangling over Knott's Berry Farm on the Silver Bullet. Knott's continues to expand and innovate with new rides like the acclaimed Voyage to the Iron Reef. Take a cutting edge ride on this completely 4-D interactive attraction under the sea! Fight through the dangers and mystery of the ocean and see who in your group can earn the most points. You can experience thrills, adventures and so much more while at this one of a kind theme park.
Knott's Berry Farm is also in a prime location only 10 minutes away from Disneyland! With two of the greatest theme parks so close, you can extend your vacation even longer to experience everything there is to see in fun, sunny Orange County.
We all love the sweet berry that gave us Knott's Berry Farm! Do something great for your taste buds and do not miss this celebration of the Knott's Berry Farm Boysenberry Festival. The event will only be around from March 19 - April 3, so book your Knott's Berry Farm package online or call our travel experts at 855-GET-AWAY. Trust us, that boysenberry is worth the trip.