Family Fun is always in season at Knott's Berry Farm. No matter what time of the year you visit, there is always something special to experience. In the Spring, the park goes back to its roots and hosts a Boysenberry Festival. Ghost Town is decked out in farm fresh decor and loaded with live entertainment and exclusive boysenberry food and drink options. The streets are lined with unique gifts and souvenirs. It is impossible to not enjoy this seasonal event!

One of our favorite finds at the Boysenberry Festival was the Pie Kitchen. There are very few desserts I like more than pie. At the Pie Kitchen, everyone gets to learn how a boysenberry pie is made.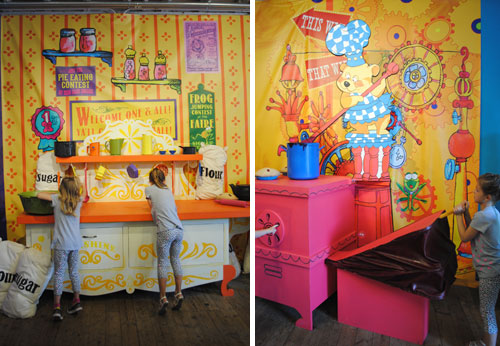 The kids pick their own fake berries. It is a race to see who can get the most berries in their basket before they are all picked. Then, they pump air through a billow to get a fake fire going in the stove. There are plenty of pretend pies to play with and even smoke in the oven if they cook too long.



For a small fee, my girls were able to make their very own real boysenberry pie. It was loaded with berry filling and covered with fresh whipped cream and cookie crumbles. They topped their mini pies with a little piece of Knott's Berry Farm chocolate.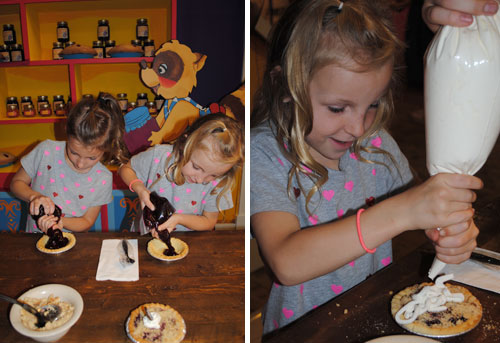 I was very impressed with the quality of ingredients and the employees helping us were really fun. They made the experience special. If you have the chance to head over to Knott's during the Boysenberry Festival, I highly recommend making time for pie.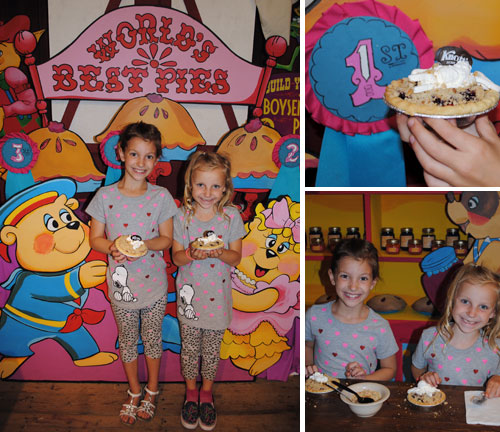 I thought that it would be fun to recreate this fun experience at home. We made the pies for Memorial Day, but it would also be so much fun on the 4th of July or any time during the summer. Pie makes me feel very American and the berry colors are so patriotic. The pie-making process we learned at Knott's Berry Farm was so clean and easy, it is a perfect activity for any holiday. It would be so fun at a birthday party, or to make a regular summer day a little bit sweeter.

You will need:

Miniature Graham Cracker Pie Crusts
Berry Filling (pick your favorite berry and recipe!)
Whipped Cream
Frosting Bags
Large Frosting Tips

You can use this tutorial with any type of pie filling. We decided to make strawberry pie, because my kids love strawberries and they are in season right now. If you wanted the experience to be truly authentic, then boysenberries would be the best selection!

I followed a basic fresh berry pie filling recipe. You will need to cut the berries pretty small so that they fit well in the mini pie crust and so that they can pipe through the frosting tips.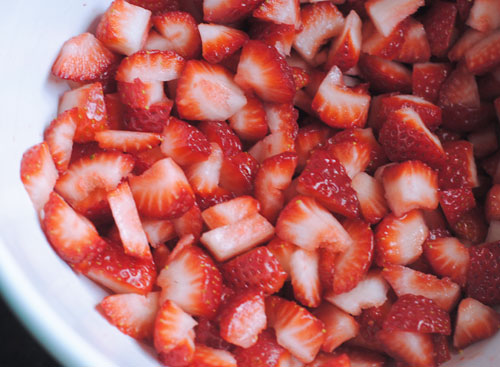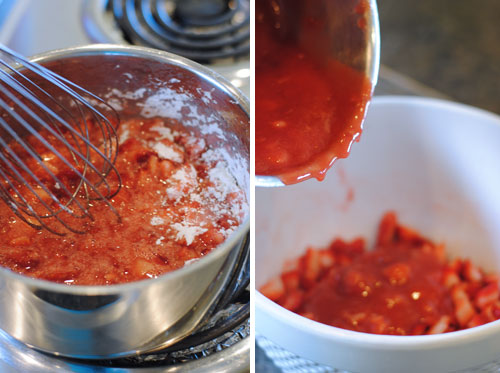 Prepare the pie filling and let it chill in the fridge for 1 hour. Whip a pint of cream with a tablespoon of sugar and a teaspoon of vanilla.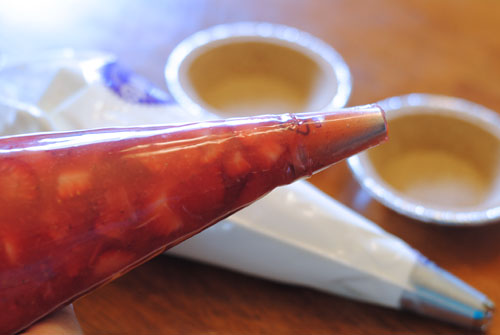 Scoop the pie filling into a frosting bag that is prepared with a large round tip. Tie the end off with a twisty tie so the filing does not spill out the back of the bag. Scoop the whipped cream into a second frosting bag prepared with a large frosting tip. I used a closed star tip so it looked fancy.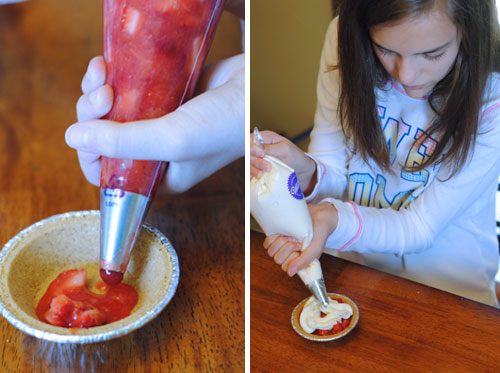 Open the mini pie crusts and give each child their own. Start by adding the filling to the crust. It squeezes easily out of the bag with a little bit of pressure. The kids can fill their pie with as much or as little filling as they want. Then, let them add the whipped cream. It is a lot of fun!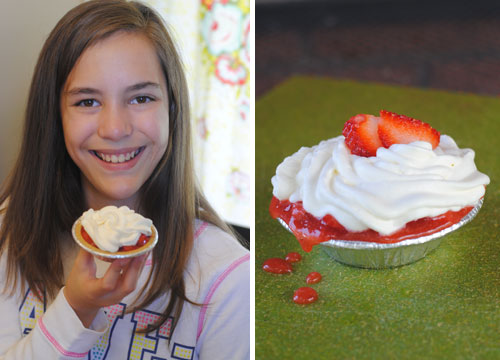 You can top your cream with cookie crumbles, chocolate sauce, sprinkles or sliced fruit.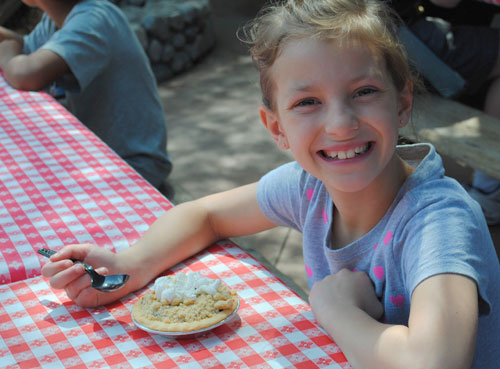 Then, it is time to enjoy. At the Boysenberry Festival, we ate our pies right outside the Pie Kitchen in the Town Square. There was a live folk band playing for our entertainment and real cowboys walking around telling jokes. The tables were covered with red and white checkered tablecloths and there was a flag bunting hanging overhead. It was the perfect place for us to rest our feet and enjoy a good old fashioned berry pie dessert!

We hope you have as much making these berry pies as we did! And if you're like us and love pie, you'll definitely want to check out Mrs. Knott's famous boysenberry pie at Knott's Berry Farm available year round. Knott's Berry Farm is a perfect addition to any Disneyland vacation (just 10 minutes away), or a fun weekend getaway in itself! Plus, when you visit during the summer, you can get a Knott's Berry Farm and Knott's Soak City 2 Park Combo Ticket and save over $27! Let our vacation experts help plan your next vacation at 855-GET-AWAY! Or, get your Knott's Berry Farm tickets online. Either way, we're "berry" excited to help plan your trip!


Check out these other great articles:

New Interactive Ride at Knott's Berry Farm
Knott's Berry Farm: New and Improved Camp Snoopy
25 Tips for the Disneyland Diamond Celebration
Best Deals for Southern California's Water Parks