Find out all about the brand-new hotel at LEGOLAND California with our LEGOLAND Castle Hotel review. From the rooms and the location to the amenities and park perks, we've got everything you need to know.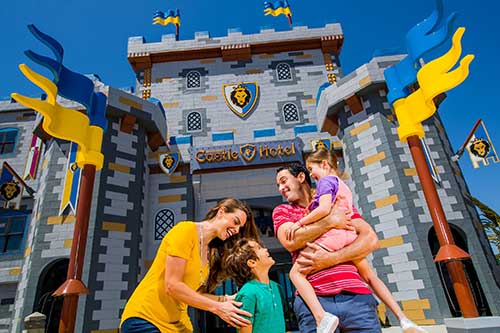 Photo courtesy of LEGOLAND California
LEGOLAND Castle Hotel Review
The LEGOLAND Castle Hotel opened in late April 2018 and is the second on-site hotel at the LEGOLAND California Resort. We were able to experience the brand-new hotel before it opened to the public and it is easy to see why guests are already loving it so much. From the rooms to the amenities, the property has so much to offer. If you're interested in staying here on your next LEGOLAND visit, you'll want to keep reading our LEGOLAND Castle Hotel review.
LEGOLAND Castle Hotel Review – Location
The LEGOLAND Castle Hotel is situated just across from the original LEGOLAND Hotel. This means you're only a few steps away from LEGOLAND Park, SEA LIFE Aquarium and the LEGOLAND Water Park. Since LEGOLAND is in Carlsbad, this also means you're only a short drive from some of the best beaches and shopping experiences in all of San Diego county. And other attractions like SeaWorld San Diego and the San Diego Zoo are all less than an hour away. Although, you probably won't want to leave the LEGOLAND Resort since there's so much to see and do unless you are staying for a week. Even still, it's nice to know how close you are to everything else if you did decide to venture out.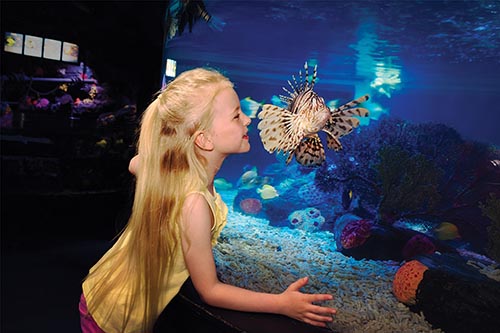 Photo courtesy of LEGOLAND California
LEGOLAND Castle Hotel Review – Rooms
You'll find three different themed room types at the LEGOLAND Castle Hotel; Knights & Dragons, Royal Princess and Magic Wizard. Each of these room types are considered fully themed, meaning you'll find LEGO creations throughout and have a truly immersive experience.
Standard themed rooms in each of the categories sleep up to five guests. You'll find a king bed, set of bunk beds and a trundle bed in each room. Plus, the adult and kids' sleeping areas are separate, with their own flat screen TV in each. Kids will love the interactive games and LEGO brick building areas found in each room, as well as the in-room treasure chest with its very own take-home LEGO gift. The family-friendly bathrooms are also a huge plus as they include a step stool and built-in potty training seat.
It's important to note that all of the Magic Wizard and Knights & Dragons rooms are standard rooms. There are a few of the Royal Princess standard rooms, but many of the Royal Princess rooms are larger suites that sleep up to seven. The Royal Princess Suites are not available to book online. Instead, you must call our agents at 855-GET-AWAY and they can check to see if an upgrade is available for your dates.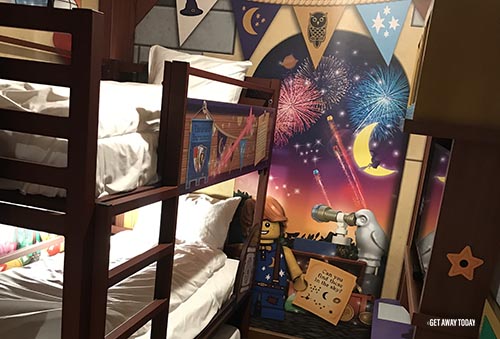 You can book discounted LEGOLAND Castle Hotel room rates here. Keep in mind that room type is subject to request, so you'll want to let us know which room you'd prefer when booking. Requests aren't guaranteed of course, but the LEGOLAND Castle Hotel will do its best. To complement our LEGOLAND Castle Hotel review, check out our recent Magic Wizard room tour here.
LEGOLAND Castle Hotel Review – Amenities
Now, let's look at the amenities in our LEGOLAND Castle Hotel review. What is part of your stay at the new hotel? Amenities in each room include a mini-fridge, beverage refreshments that are replaced daily, a coffee maker, LEGO theming, 2 high-definition flat panel TVs and a welcome treasure hunt with LEGO surprises. Yep, that's right – a welcome treasure hunt! Your kids will love racing through the treasure hunt to find the key that unlocks the in-room treasure chest. The LEGO surprise inside is only slightly better than the hunt itself!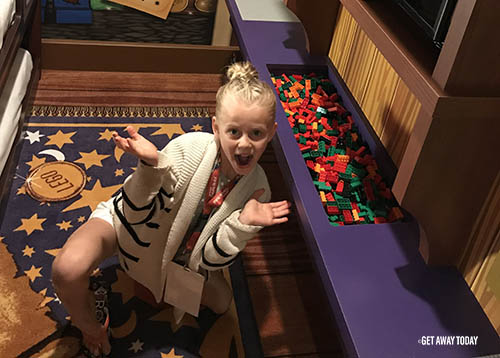 On top of the in-room amenities, your family will love everything else offered throughout the hotel. And what is a castle without a courtyard? The courtyard at the LEGOLAND Castle Hotel is spectacular and a hub for most of the hotel's entertainment. You'll get an entertainment schedule when you check-in. You'll find costumed character meet and greets four times a day and a bubble show for young kids nightly. Each day also offers a "Fairy Hide & Seek" perfect for early check-ins, rotating nightly experiences, as well as "The Kingless Kingdom" show. There truly is enough to do at the hotel that your family won't want to leave.
The LEGOLAND Castle Hotel also features a playground and an amazing pool area. Your resort fee includes access to all of the hotel's amenities. As a bonus, your resort fee also covers self parking with in and out priveledges. When you're a guest at the LEGOLAND Castle Hotel, you'll enter the resort through the hotel parking area. There you'll find plenty of reserved parking. Or, for just $25 more for your entire stay, you can use valet parking. Either way, parking at the Resort is easy peasy when you're a hotel guest.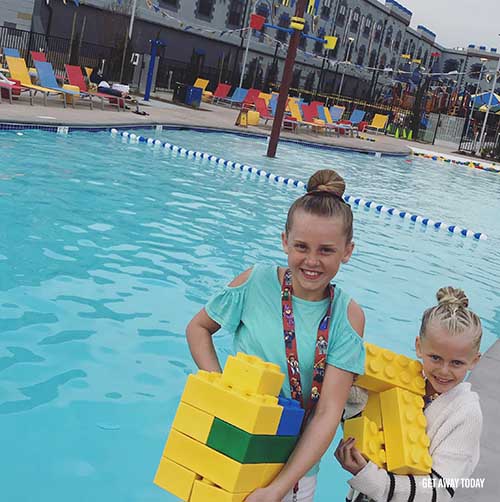 LEGOLAND Castle Hotel Review - Dining:
One of my favorite things at the LEGOLAND Castle Hotel is the full breakfast buffet. This spread is included each morning as part of your resort fee and it is over the top. You'll find everything from an omelet station, to French toast sticks to fresh fruit and everything in between. You won't leave hungry!
In addition to breakfast, the in-house restaurant at the LEGOLAND Castle Hotel serves lunch and dinner for an additional charge. The Dragon's Dens Restaurant & Bar is awesome. And if you are looking for dinner and a show, you'll be glad to know that the hotel restaurant offers interactive re-tellings of your favorite fairy tales at 6pm and 7pm nightly.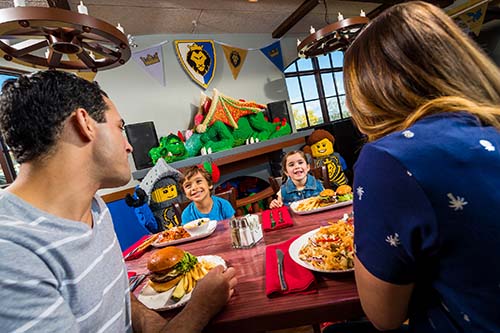 Photo courtesy of LEGOLAND California
With so much fun theming, you might think that LEGOLAND would be able to get away with serving anything. But the LEGOLAND Castle Hotel takes their food just as seriously as they take their fun! Their chefs are top notch and try to locally source as much as possible. That means food is fresh, seasonal and delicious. The LEGOLAND Castle Hotel and entire resort are also well-versed in handling food allergies and restrictions. Don't be afraid to ask for any special accommodations. They're happy to help and have likely handled it before.
LEGOLAND Castle Hotel Review – Extra Park Perk
We've saved the best for last on our LEGOLAND Castle Hotel review – the park perks you get for staying here. In addition to the amazing location, magical rooms, and awesome amenities, you also get an exclusive LEGOLAND perk. That exclusive perk is being able to play at LEGOLAND Park before it opens to the general public. This is our favorite thing about the LEGOLAND Resort hotels, since getting in early means you'll be able to do even more each day of your stay.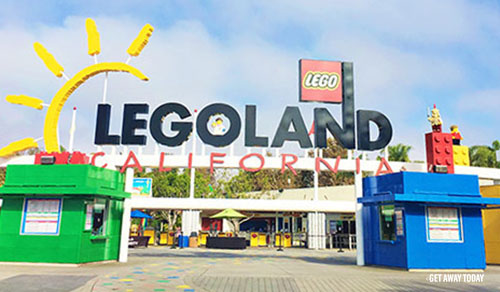 We don't know about you, but we're ready to book our next Carlsbad vacation here! We hope our LEGOLAND Castle Hotel review gave you a better look at this new property. Let us know if you have any questions or extra tips in the comments below.
And if you're ready to finalize your stay at the LEGOLAND Castle Hotel, yay! Don't forget to add our discounted LEGOLAND tickets for the most savings, too. You can book online now or call our travel experts at 855-GET-AWAY. Either way, we'll make sure everything is awesome for your LEGOLAND trip.

Check out more LEGOLAND tips, tricks and crafts: