This simple Mickey Pumpkin Treat is cute and healthy. It only takes a few minutes to create. Combine a little Cutie orange with a pair of Mini Oreo ears and you are ready to celebrate Halloween Time Disney style.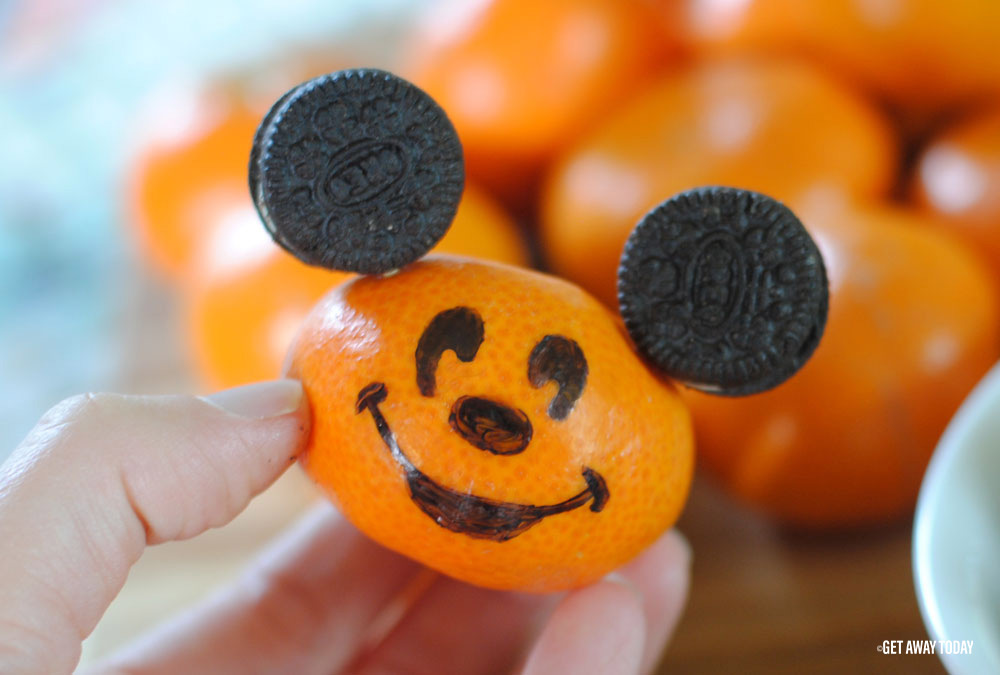 I love Halloween Time at the Disneyland Resort. It is such a festive time of the year. One of the most popular aspects of Halloween Time is all of the Mickey Mouse Pumpkins. They are everywhere. There is a giant Mickey Mouse pumpkin right at the entrance of Main Street USA. It is seriously impressive and even lights up at night. I would say it is one of the most iconic seasonal photo backgrounds at Disneyland.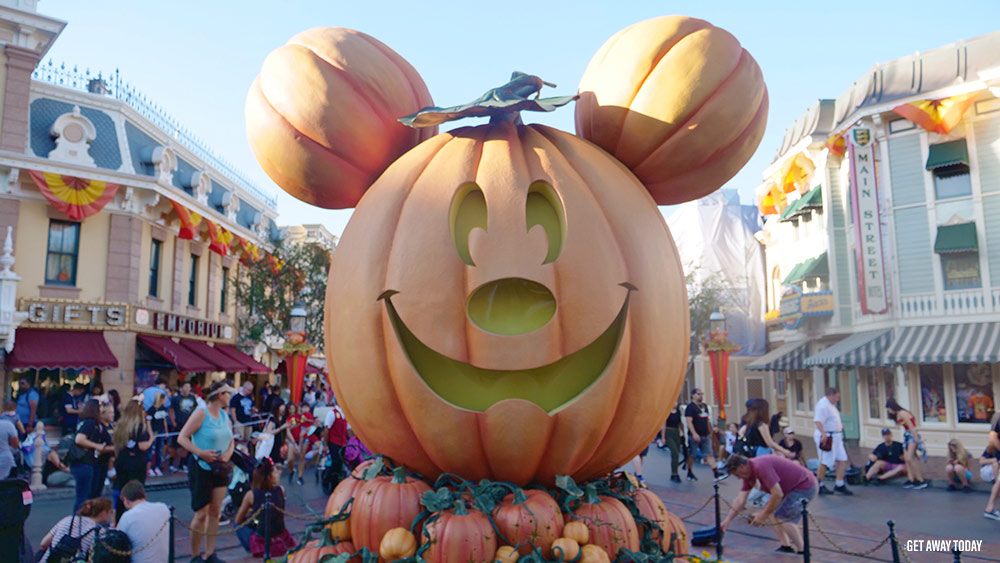 If you are in the mood for a snack, there are Mickey Mouse sugar cookies, Rice Krispy treats and caramel apples for sale. If souvenir shopping is more your style, Mickey face pumpkins show up on t-shirts, collector pins and fridge magnets. Mickey makes a pretty cute pumpkin!
I wanted to bring a little bit of that Halloween Time magic home with this incredibly easy Mickey Pumpkin Treat. It is made of two ingredients: oranges and Oreos. If you thought chocolate oranges were only for Christmas, think again! I hope these simple treats bring a smile to your face.
Make Your Own Mickey Pumpkin Treat
Buy a bag of little oranges. I prefer the Cutie oranges. They don't have seeds hiding inside the orange segments. If Cuties are not in season, the little mandarin oranges are totally okay too. They are the perfect serving size for children. Cuties are also sweet, so kids just gobble them up!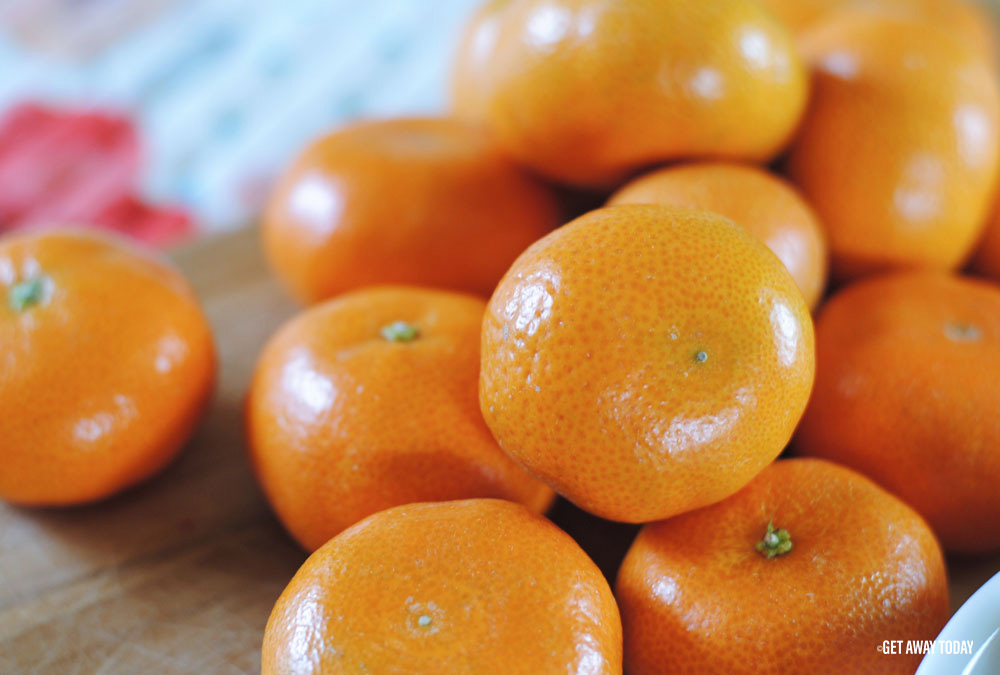 You will also need a bag of Mini Oreos. I don't know why miniature things are way more adorable then regular sized things, but they just are! It's like the little display tents at the sporting goods stores. Have you ever wanted to take one home just because it is so cute?! These little Oreos are the same. I just love them.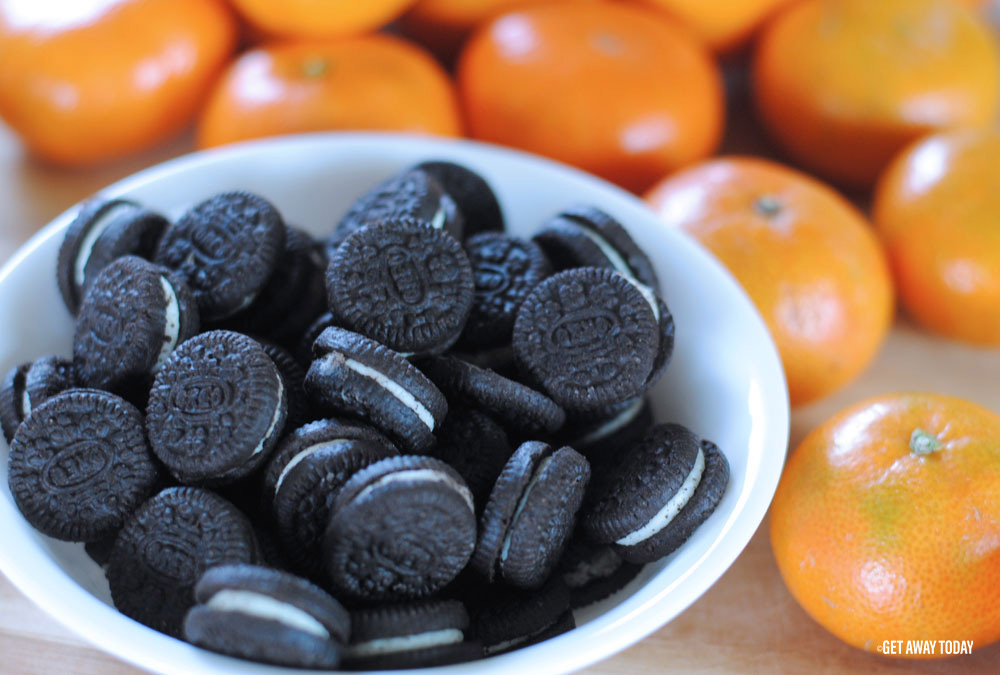 Choose your favorite little orange and draw the Mickey Mouse face onto the skin. I looked at a picture of Halloween Mickey Mouse online to get an idea of what it looked like. Use a black Sharpie marker. All of my Mickey Mouse faces turned out a little bit unique and it was totally okay. Don't worry about being perfect.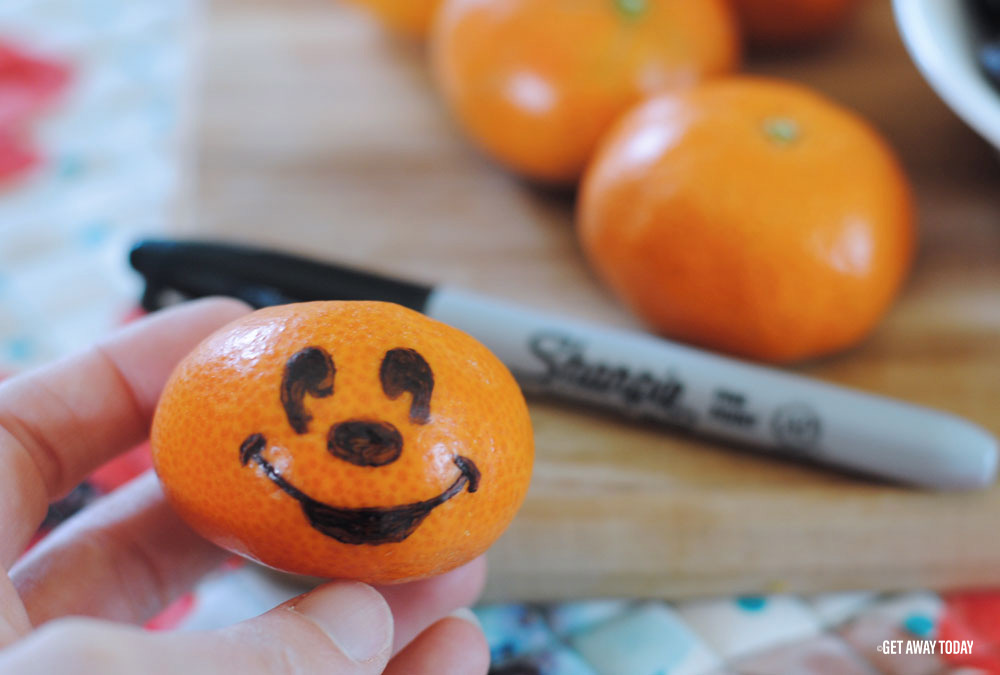 Break a wooden toothpick into two equal pieces.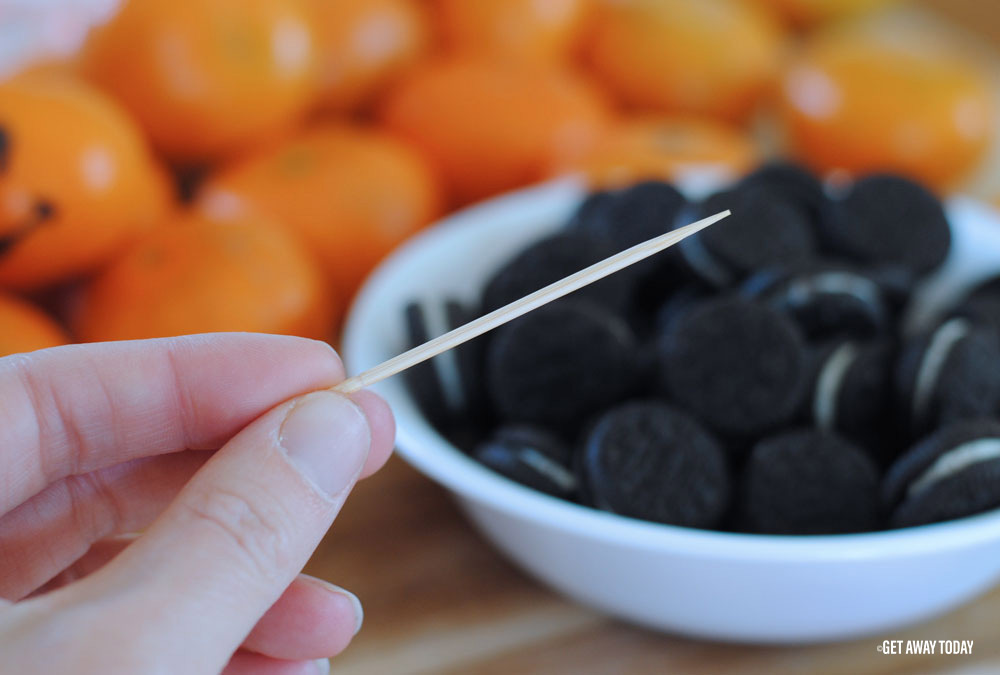 Stick the broken end of the toothpick into the white filling part of the Mini Oreo. Then slide the pointed end of the stick into the top/side of the orange. You want it to look like a Mickey Mouse ear.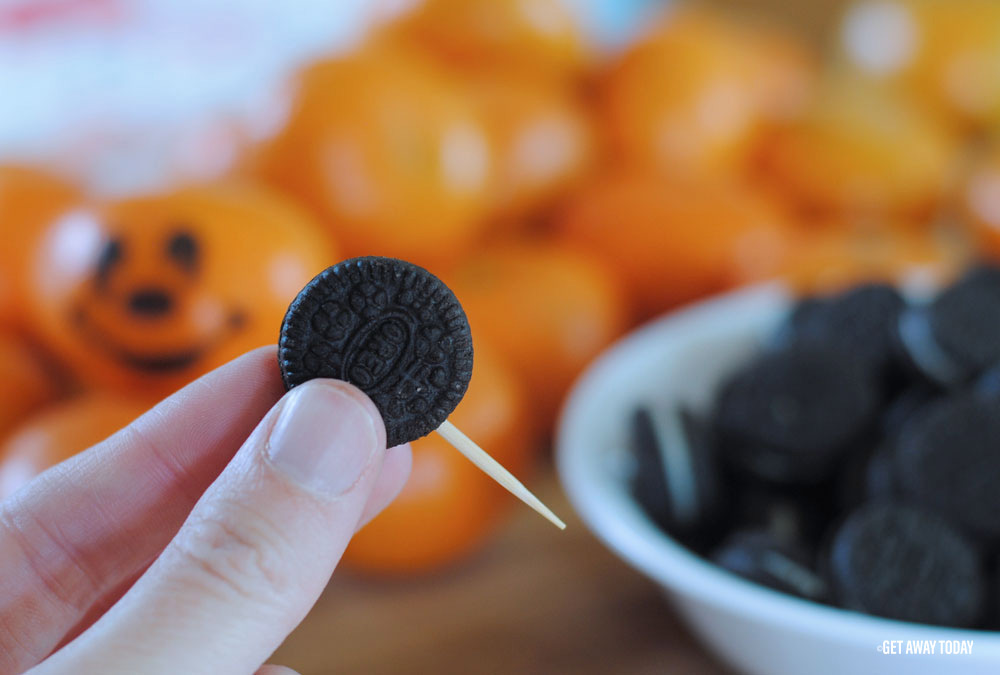 Add the second cookie ear and your Mickey Pumpkin Treat is complete! They literally take less than three minutes to complete from start to finish. I even think this is a project that little kids can participate in. I love it when my kids can help in the kitchen.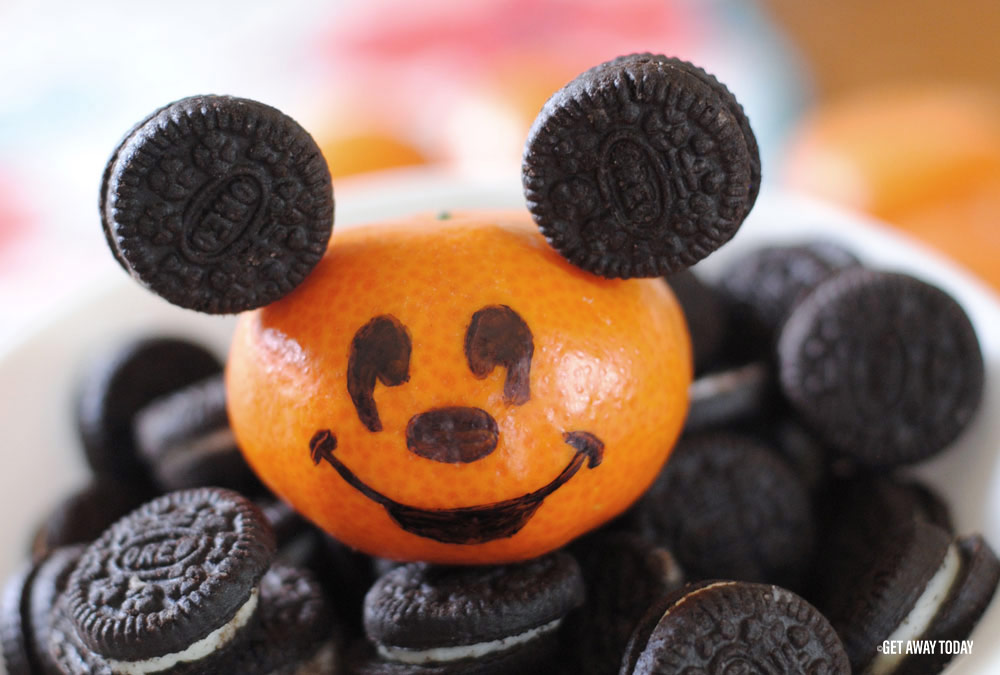 Chocolate Orange Mickey Pumpkin Treats would be a fun addition to a class Halloween party or a family party at home. I love that they are a healthy alternative to sugary candy treats that are more common for the spooky season.
If you are headed to the Disneyland Resort for Halloween Time, make sure to keep an eye out for all of the adorable Mickey Mouse Halloween treats and decorations. They are everywhere. It makes the park experience even more magical!
You can still book for last minute Halloween Time vacations with Get Away Today. Or, start planning for next year with our Disneyland Layaway Plans. You can book any of our affordable Disneyland packages online or by calling our Disney experts at 855-GET-AWAY. We can't wait to help you plan the best trip ever and then celebrate at home with magical recipes and crafts like this Mickey Pumpkin Treat.