The dates for Disneyland's annual Easter egg hunt have been announced. Find out the dates and everything you need to know about the Disneyland Egg-stravaganza 2017 in today's #MovieMonday.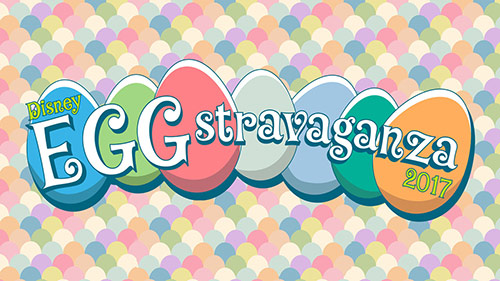 Photo Courtesy of Disney Parks Blog
Disneyland never misses a reason to celebrate and Easter is no exception! The resort holds an annual Easter egg hunt where guests can search for eggs throughout the park to earn a reward after all eggs have been found. It was just announced that the Disneyland Egg-stravaganza 2017 will be held from April 1st through the 16th at the Disneyland Park, Disney California Adventure Park and Downtown Disney District.
For today's #MovieMonday, we're showing you a fun glimpse of all the places the eggs were hidden in Disney California Adventure Park last year. As you can see, the Disney-themed eggs can be hidden anywhere and everywhere throughout the parks and Downtown Disney District. Make sure to check out some of the locations from last year in the below video before reading on to find out how you can participate this year.
The Disneyland Egg-stravaganza 2017 promises to be just as fun as last year! To participate, you'll first pick up a map and stickers for $5.99 (plus tax) at select locations throughout the Disneyland Resort.
Once you have your map, you can begin searching the parks for the Disney and Disney Pixar themed eggs. When you find an egg, use the sticker that matches to mark the egg's location on the map. You'll want to look high, low, near and far as you search for each magical egg. Most eggs are easy for even the littlest ones to find, though a few usually require the help of an adult.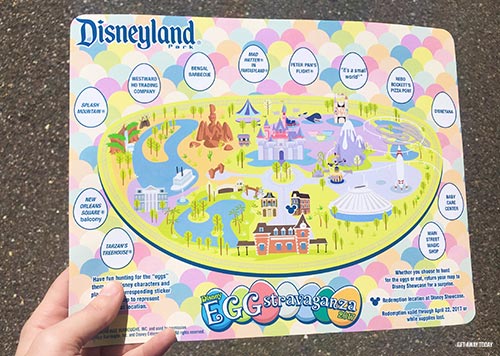 After you've found all the eggs, you can take your map to the redemption location for a fun surprise! If you're in Disneyland, you'll redeem your map at the Disney Showcase. In Disney California Adventure, you'll want to redeem your map at Elias & Co. For those who have found all the eggs in Downtown Disney, you can redeem your map at the World of Disney Store.
The surprise last year was your choice of a Disney Easter Egg. Choices included Stitch, Woody, Minnie Mouse and more. It's been hinted that the Disneyland Egg-stravaganza 2017 eggs will include both classic Disney and newer Disney Pixar characters, but the exact characters haven't been confirmed by Disney yet. We can't wait to see which characters will be available and will make sure to update you as soon as we know!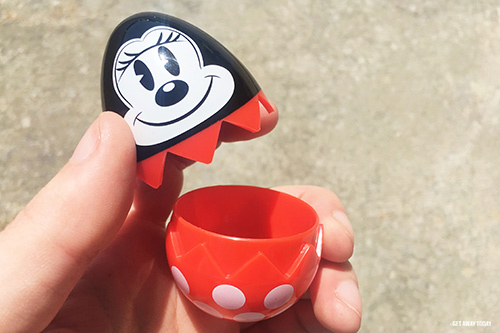 The best part is that the Easter fun isn't limited to the Disneyland Egg-stravaganza 2017. You'll be able to take part in the Disney World Egg-stravaganza 2017 at the Epcot International Flower & Garden Festival this year. Simply visit Epcot between now and May 29th to purchase your map and stickers before searching for the eggs throughout the festival. It's a great way to see both the fun-themed Easter eggs and spectacular floral creations!
Are you planning in participating in the Disneyland Egg-stravaganza 2017? Or will you be carrying out your search for eggs at the Disney World Egg-stravaganza 2017? Either way, make sure to let us know what character you are hoping for on the Disney Easter Eggs this year!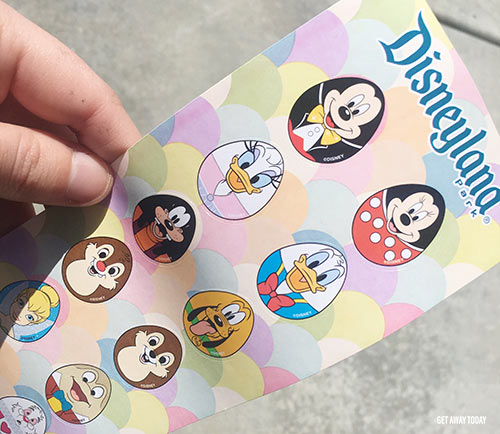 If you haven't booked your Disneyland vacation for Easter, there's still time! You get both great prices and amazing service when you use Get Away Today. You can book any of our Disneyland packages online or give our Disney experts a call at 855-GET-AWAY. We can't wait to help you book your "hoppiest" vacation yet!

Check out these other great articles: