UPDATED APRIL 2023. Pixar Pier opened as a newly reimagined land in Disney California Adventure Park in 2018. When it first opened, we put together a video of 5 things you must do at Pixar Pier on your next Disneyland vacation. However, since that time, so much more has been added that we continuously update this article to include even more things to do at Pixar Pier.
Pixar Pier at Disneyland Resort
The Walt Disney Company is known for telling amazing stories. After the successful partnership between Disney and Pixar for films including A Bug's Life, Toy Story, Monsters, Inc. and The Incredibles, Pixar was officially added to the Disney company's suite of stories (2006).
Disney slowly added a few Pixar attractions and characters to their theme parks across resorts, but never having an official "home" for all Pixar characters until Pixar Pier was announced.
While we love seeing splashes of Pixar at Disneyland Park, in parades and at character meet and greets, it's even better to have a home base for all things Pixar at California Adventure Park.
Pixar Pier is made up of four neighborhoods: Incredibles Park, Toy Story Boardwalk, Pixar Promenade and Inside Out Headquarters. Each neighborhood celebrates a different story and essence of Pixar.
To get a better layout of the land, you can still watch our video that we made when Pixar Pier opened with our top 5 things you must do at Pixar Pier. Then keep reading for even more fun to have with Pixar in this complete article.
Everything To Know About Pixar Pier: Rides
To stroll down Pixar Pier, you can enter from either the west or east side of Paradise Gardens Park. Pixar Pier is located on the other side of Paradise Bay, so you can't miss it when overlooking the water.
Now let's talk about the rides!
The Incredicoaster
The Incredicoaster is without a doubt the main attraction in all of Pixar Pier. Located inside Incredibles Park, you will be amazed at the attention to detail and the fun story telling that is part of the rollercoaster once known as California Screamin'. You'll now be screaming about how much you love the Incredicoaster.
Because it is so popular, we recommend using Disney Genie+. You can also utilize the Single Rider line if everyone in your party is over the age of seven and doesn't mind sitting in a different row. Another tip to consider, is to try to ride the Incredicoaster once during the day and once at night. Trust us when we say it will feel like a completely different experience!
Jessie's Critter Carousel
Round up your crew for a rootin' tootin' ride aboard Jessie's Critter Carousel. This is one of the most unique and most fun carousels you've even been on. Jessie leads her critter pals including bunnies, skunks, snakes and more on a spinning adventure set to her song.
Toy Story Midway Mania!
Although not new to Disney California Adventure Park, Toy Story Midway Mania! fits so perfectly into the Toy Story Boardwalk at Pixar Pier. It's so nice to see the surrounding area pay proper homage to one of the most beloved Pixar series of films of all time. It just feels right!
Toy Story Midway Mania! also utilizes the Disney Genie+ option. It's also a fantastic family attraction that everyone can enjoy. Plus, it adds an element of competition amongst each other for some extra spice!
Pixar Pal-A-Round
You might know this ride as a different name, but Pixar Pal-A-Round is still an icon of California Adventure Park for many reasons. Formerly Mickey's Fun Wheel, this heavily photographed backdrop still spotlights everyone's favorite mouse, it also now features a pair of Pixar pals on each of the 24 gondolas.
There are swinging and non-swinging gondolas available, each with their own line. The swinging gondolas can be quite intense, so make sure you get in the line for the gondolas you want to ride. If you're not a fan of riding ferris wheels, you'll still want to watch and see if you can spot your favorite characters going round and round.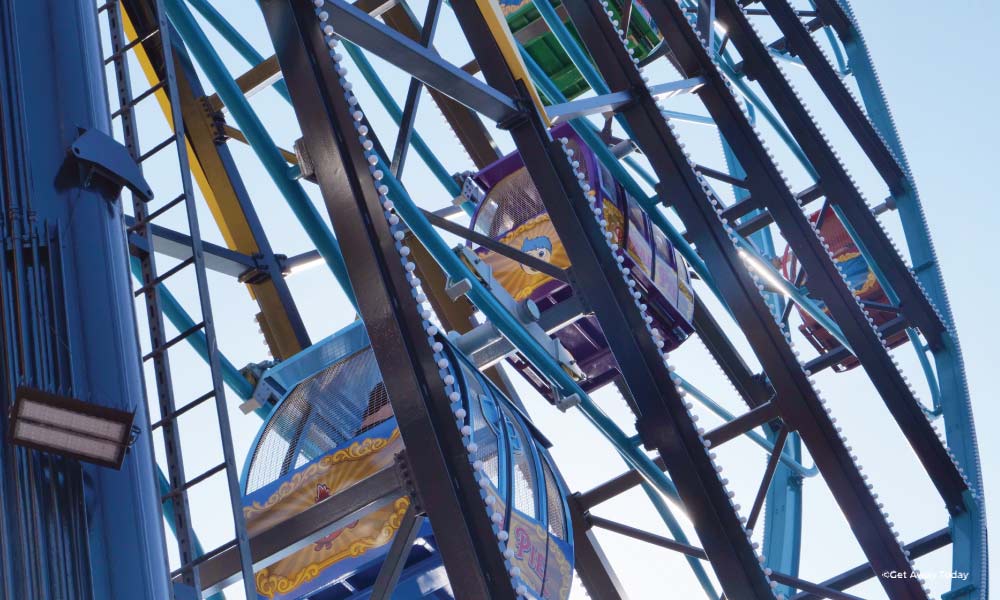 Inside Out Emotional Whirlwind
The last and final attraction to become part of Pixar Pier is the Inside Out Emotional Whirlwind and we do not have mixed feelings about it. The attraction just brings us pure joy! You'll board one of eight "memory movers" for a pleasant journey through Riley's emotions. If you're around after dark, it's one spot you must see at night at Pixar Pier.
Everything to Know About Pixar Pier: More Fun
Plenty of vibrant colors and thrill for kids of all ages is just what you'll find at Pixar Pier. Some of our favorite bonus activities are listed here.
Games of Pixar Pier
The Pixar Promenade is definitely a place you'll want to spend some time exploring, but the Games of the Pixar Pier will make you want to join in the fun. You'll find four different games to play that each give a nod to a Pixar film or short:
Wall-E Space Race
La Luna Star Catcher
Bullseye Stallion Stampede
Heimlich's Candy Corn Toss
Buy a game card and then play for prizes. It's by far the funnest way to get your souvenirs!
Pixar Pier Character Meet and Greets
There are so many popular Pixar characters on rotation at Pixar Pier. Most notably, you'll find them at Pixar Promenade, just across from Pixar Pal-A-Round.
We've seen:
Woody
Buzz
Jessie
Bo Peep
Mr. Incredible
Elastagirl
Frozone
Edna Mode
Joy
Sadness
And many more
Everything to Know About Pixar Pier: Food
The food options at Pixar Pier are so vast that they truly deserve their own video, which is exactly what we did here: Top 5 Pixar Pier Food Items.
Pixar Pier has everything from quick snacks in carts throughout the land to gourmet cuisine at the Lamplight Lounge. Everything in Pixar Pier is so good that we suggest creating your own "food crawl" by ordering one or two menu items from each of the quick service locations and sharing with your group.
To help get you started we have also compiled a list of all the food offerings below.
Adorable Snowman Frosted Treats
No trip to Pixar Pier is complete without a stop at the Adorable Snowman. Anything with "It's Lemon!" is a crowd pleaser. But, our favorite has to be the Pixar Pier Parfait with "It's Lemon!" soft serve and blue raspberry slush. It's a great way to cool off on a hot SoCal day.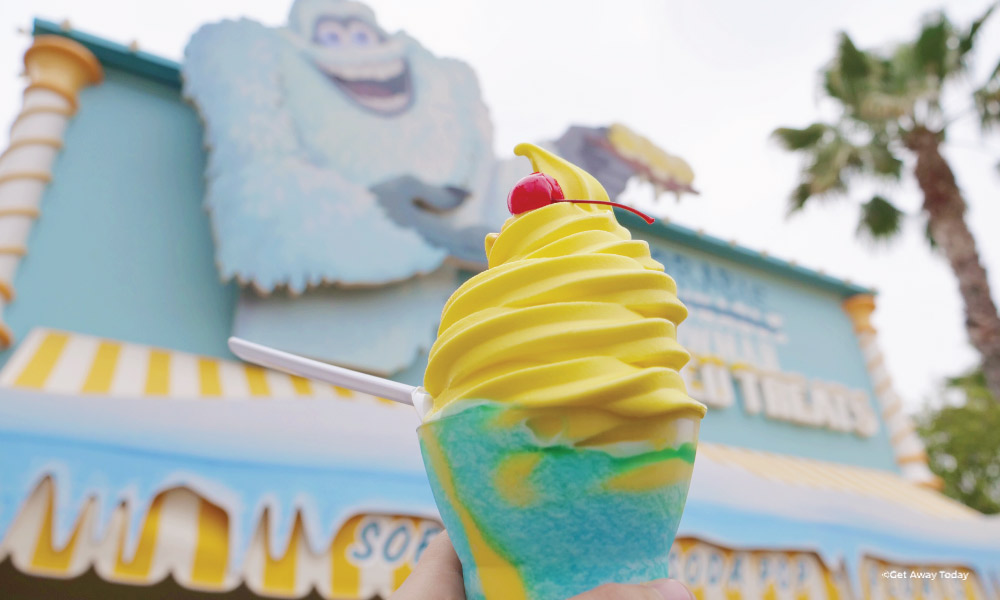 Bing Bong's Sweet Stuff
There's nothing sweeter than a visit to Bing Bong's Sweet Stuff. This storefront is part shop, part confectionary. You can find all sorts of treats to enjoy while you're at Pixar Pier, like caramel apples, rainbow cotton candy and frosty "Memory Refreshers." You can also buy treats to take home like brightly colored salt water taffy, other wrapped candies, as well as non-edible souvenirs like t-shirts, plushies and accessories.
Jack-Jack Cookie Num Nums
As soon as you get off The Incredicoaster, head over to Jack-Jack Cookie Num Nums for the ooiest, gooiest chocolate chip cookie you've ever had. Or select a shortbread Jack-Jack cookie or a gluten-free Incredicookie with blackberry filling.
No matter which Num Num you select, you'll want to pair it with some ice cold milk. You can pick more than just different flavors of milk; there's also almond milk and soy milk in case you have anyone with special dietary requirements. And trust us, these cookies and milk you'll be as happy as a baby, just like Jack-Jack.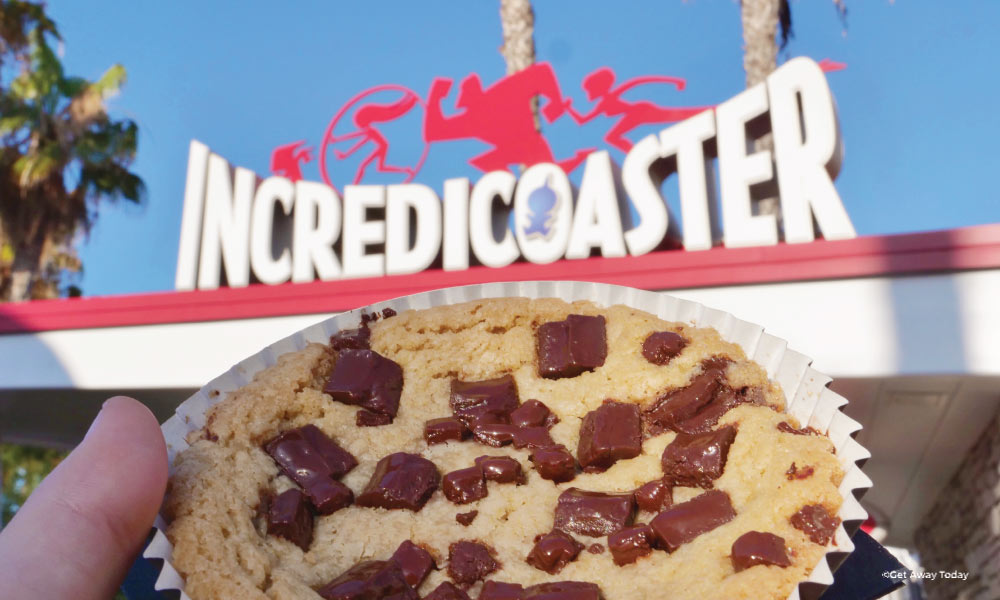 Lamplight Lounge
The Lamplight Lounge is so amazing that it actually took the place of two formerly hugely popular dining locations: Ariel's Grotto and the Cove Bar. When you figure this lounge replaced those two restaurants, you know it's going to be good... and trust us, it is! You can make reservations for the Lamplight Lounge up to 60 days in advance, which we highly recommend to get your first choice of days and times. With all of the fun Pixar decor inside, we suggest planning on spending an hour or two for a meal here.
Poultry Palace
Out of all of the Pixar Pier food locations, this one wins for cuteness. We recommend the Chicken Drumstick Box that comes in a box that looks just like the chicken stand itself. You'll get three drumsticks in a box, so it's perfect for sharing. The seasoning in the fried chicken has a little kick to it, so if you're looking for something more mild, you can get one of the classic jumbo sized turkey legs. No matter what you order, be sure to look up to see the Emperor Zurg toy outside.
Senor Buzz Churro
The only thing better than Buzz Lightyear on Spanish mode is Buzz Lightyear on churro mode. These piping hot churros are out of this world. We highly recommend the Caliente Churro rolled in crushed red hot cinnamon candies. It is muy delicioso.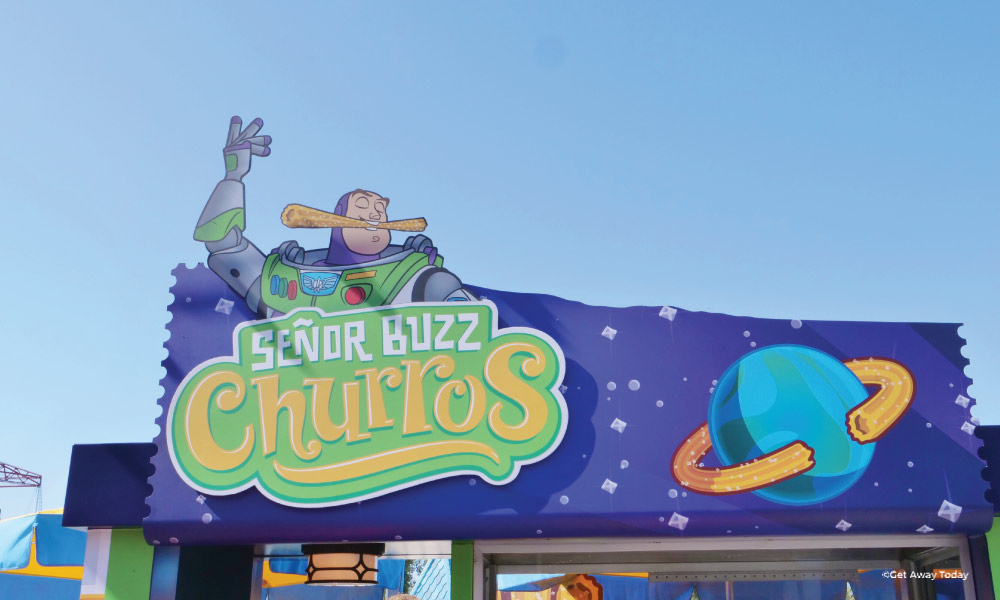 Book Your Visit to Pixar Pier
We are so excited about how amazing Pixar Pier is and love how it became instant favorite with families of all ages. When you're ready to book your Disneyland vacation, remember that you've got a friend in all of us at Get Away Today. We'd love to help you find the best deal on your hotel and tickets, and we'll take care of you every step of the way.
You can find our Disneyland packages online, or you can call any of our reservation agents at 855-GET-AWAY.