Make your Instagram vacation memories come to life with this easy Photo Coasters DIY project. You can relive your favorite vacation moments with this simple keepsake.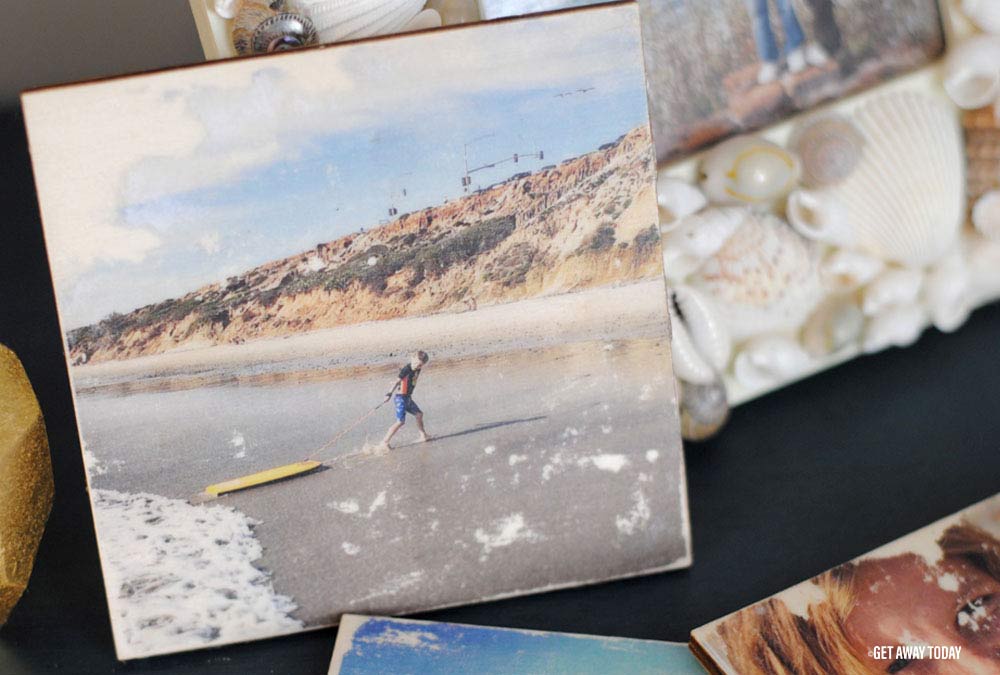 I love going on vacation! I love being with my family and exploring new places and our favorite ones as well. Some of the best moments we have shared together happened while jumping ocean waves, sleeping (or trying to sleep!) in a tent, road tripping with a new playlist, getting lost on our way to the hotel (even with Siri's help), riding merry-go-rounds and roller coasters, eating our way through Disneyland, and picking out vacation souvenirs.

Family travel is so good for the soul. But, like all good things, even the best vacations come to an end. Luckily, the happy memories live on in my Instagram feed! Do you post family photos to Instagram? It is such a great way to quickly journal the best of life's moments. One of my favorite things to do is scroll down my own personal Insta feed and look at the photos there. It brings back the feelings I had while off on adventures with my favorite crew! Without the pictures, I would hardly remember a thing. I have the worst memory! Good thing for technology.
Photo Coasters DIY - Print Instagram Memories
I thought it would be fun to create a family vacation reminder for my house that didn't involve looking at my phone screen. Luckily, I didn't have to look too far. My cute niece made some Disney vacation wooden coasters for her mom for Christmas this year. She selected her favorite pictures from their recent Disneyland trip and created the cutest thank you gift ever. Her mama loved them. And I loved them too. So, I am going to use her genius and share it with you! Introducing...the Instagram Memory Coasters tutorial. Make your vacation memories last with this simple vintage craft.

Photo Coasters DIY Supplies:
Instagram Photo Files (or regular digital photos work too!)
Editing Software
Rag
Water
The hardest part might be selecting your favorite vacation photos to use for the project. I decided to go with some beach shots that I took when my family was in Carlsbad last Spring. We stayed at the LEGOLAND Hotel and my kids were in absolute heaven. These pictures remind me of our time there and it makes my heart almost burst. If you haven't had the chance to do LEGOLAND with your young children, do it! (Sorry for the side note. But really. Go!)
Photo Coasters DIY - Getting Your Photos
You need to open your Instagram files and save them to your computer. If you have an iPhone you can select the photos from your photos app and then email them to your computer. Open the files in some sort of editing software. I use Photoshop. Use the crop tool to convert the photos to the size of your wooden blocks.
You can buy the wood coasters at any craft store. My niece used round ones that were adorable! You can find round wooden coasters on Amazong HERE. I picked square coasters, which I linked above on my supply list. You could even cut your own from the scraps in your workshop. Format the photo file to fit the size of your wood.
Be sure to "flip" the image so it is a mirror of what it was originally. In Photoshop, you do that by selecting, Image, Image Rotation, then Flip Horizontal. That way, after the image is transferred onto your project, it comes out looking normal in the end. It makes the biggest difference when there are words on the image.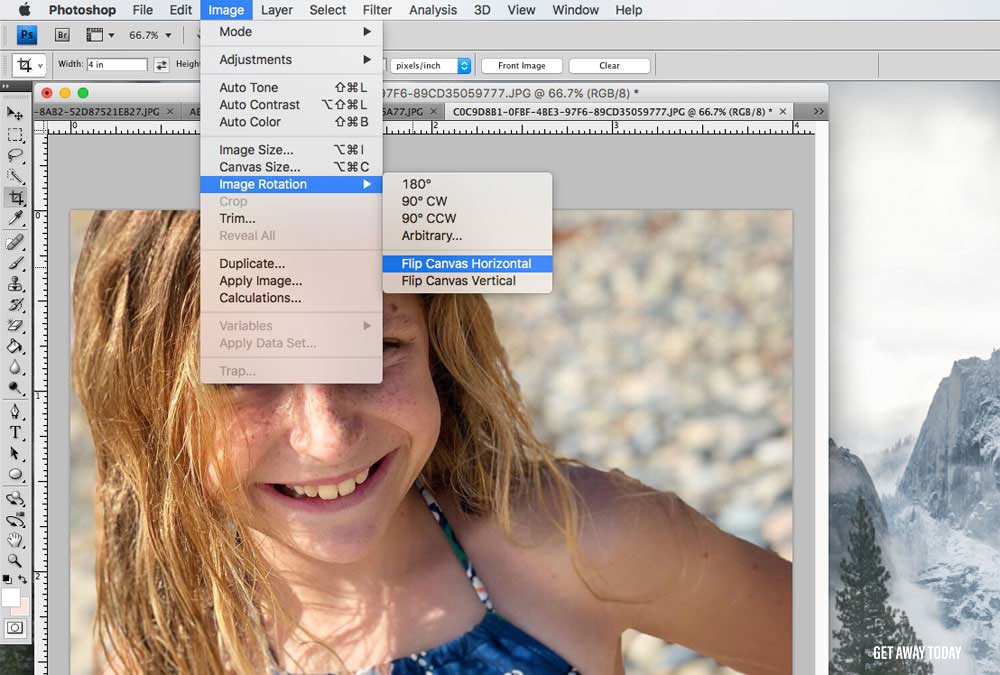 Photo Coasters DIY - Printing Your Photos
Print the files onto regular printer paper. Don't use cardstock or anything fancy. The trick here is that you have to use a LaserJet printer. That way, the ink placed on the page while printing is different that with a traditional InkJet printer. I put all of my images on the same page to make things easy.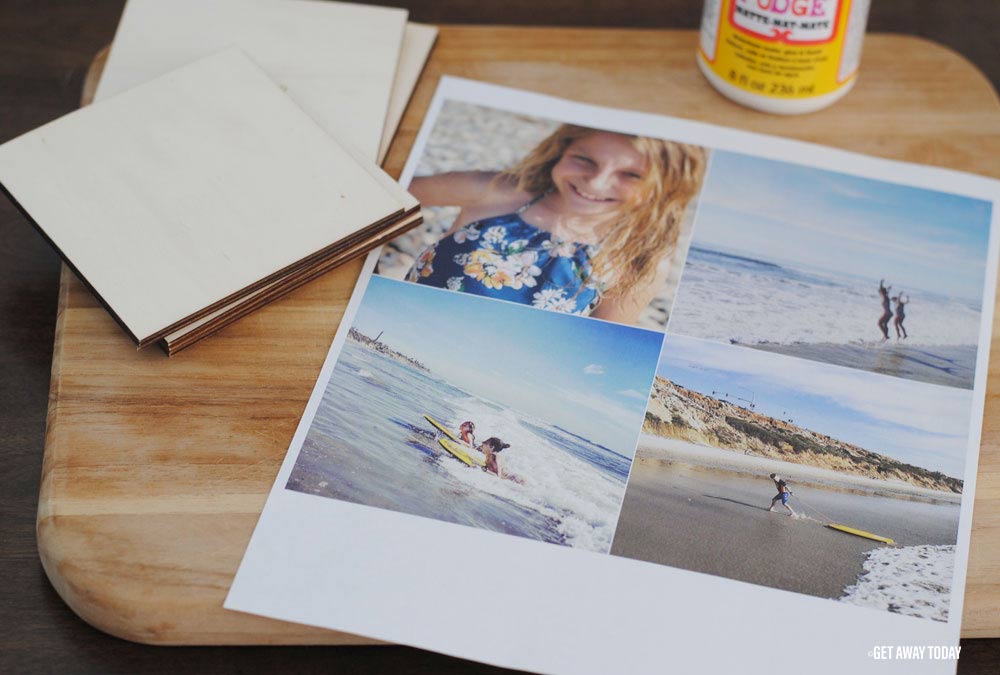 Cut out the individual images to fit the wooden coasters.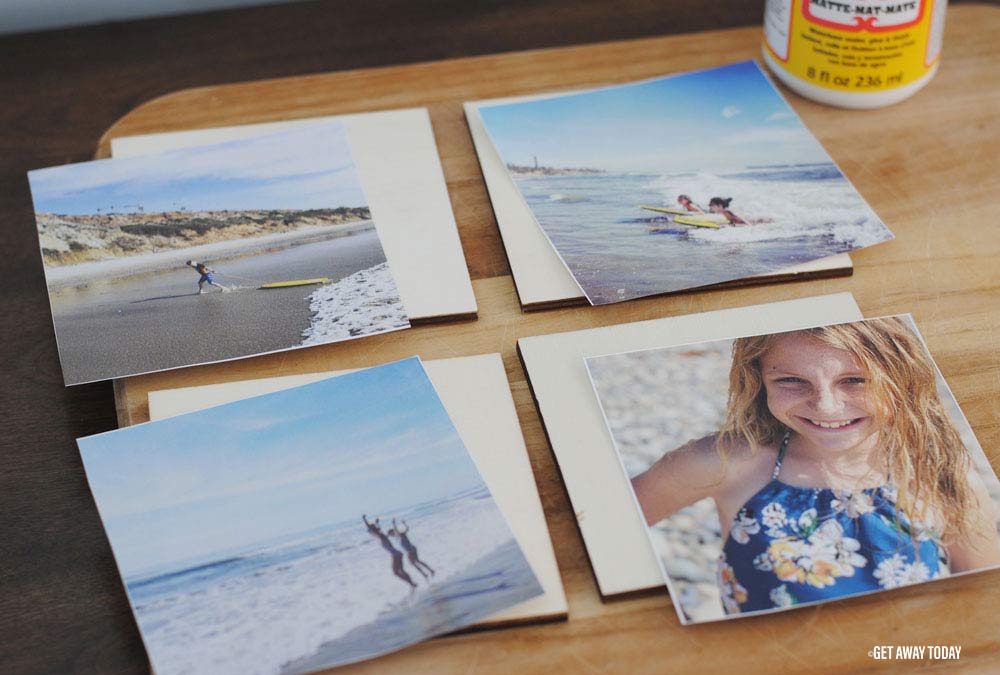 You will need some regular Matte Mod Podge. I get it at the craft store. It's super cheap and easy to use.
Use a sponge brush to add a thin layer of Mod Podge to the printed side of the paper.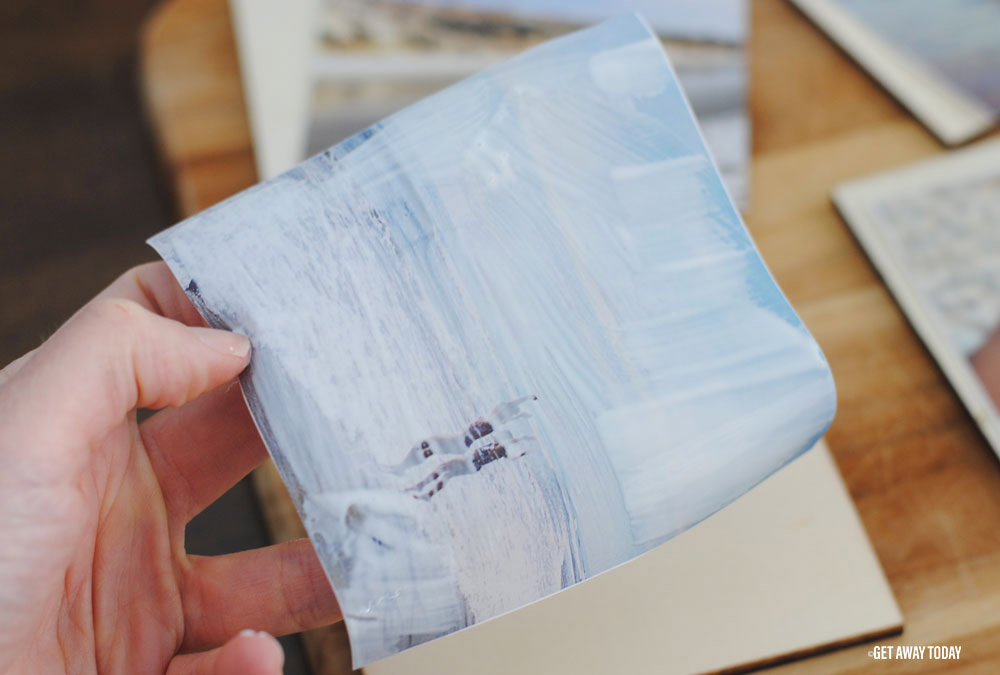 Photo Coasters DIY - Mod Podge
Quickly lay the page onto the wood. Try to get it in place the first time. It is hard to move the paper after it touches the wood. Use a plastic card, like your library card or VISA, to smooth out the paper. Work from the center out towards the edges. Press it firmly, but not so hard that your rip the paper.
Let the Mod Podge dry for at least 90 minutes. You want to be sure the glue is completely set before moving on to the next step.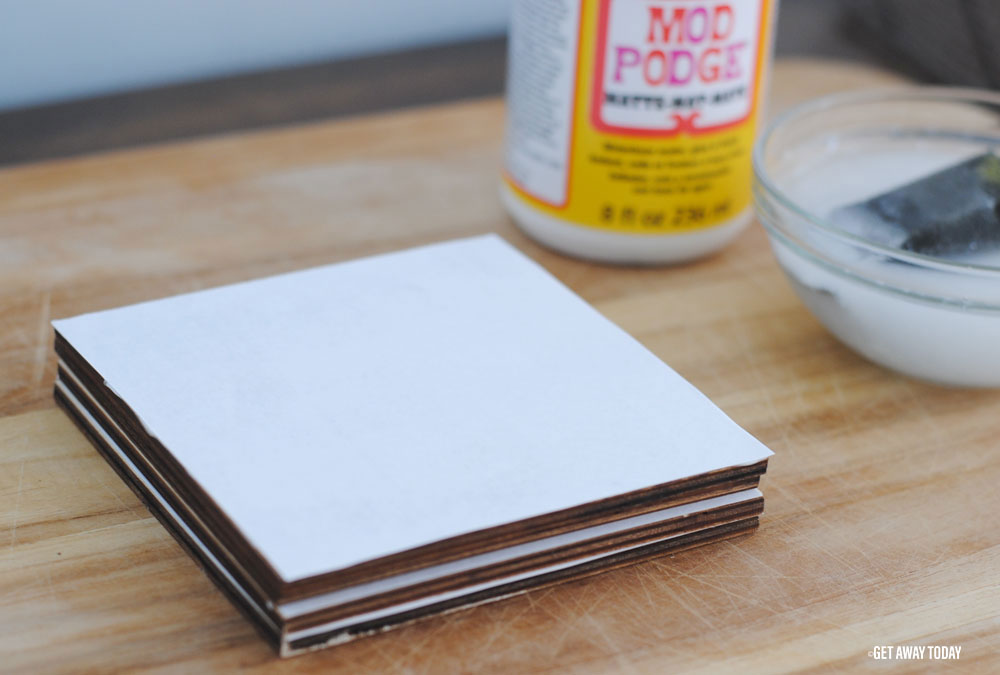 Wet a rag with water. It should be really damp, but not crazy soaking wet. Use the wet rag to apply water to the paper. The paper should soak up the water. Let the water soak all the way through the page. Then, use the wet rag to gently wipe the paper away. It will kind of ball up and then you can brush it off to the sides. Be careful not to wipe the ink from the wood underneath.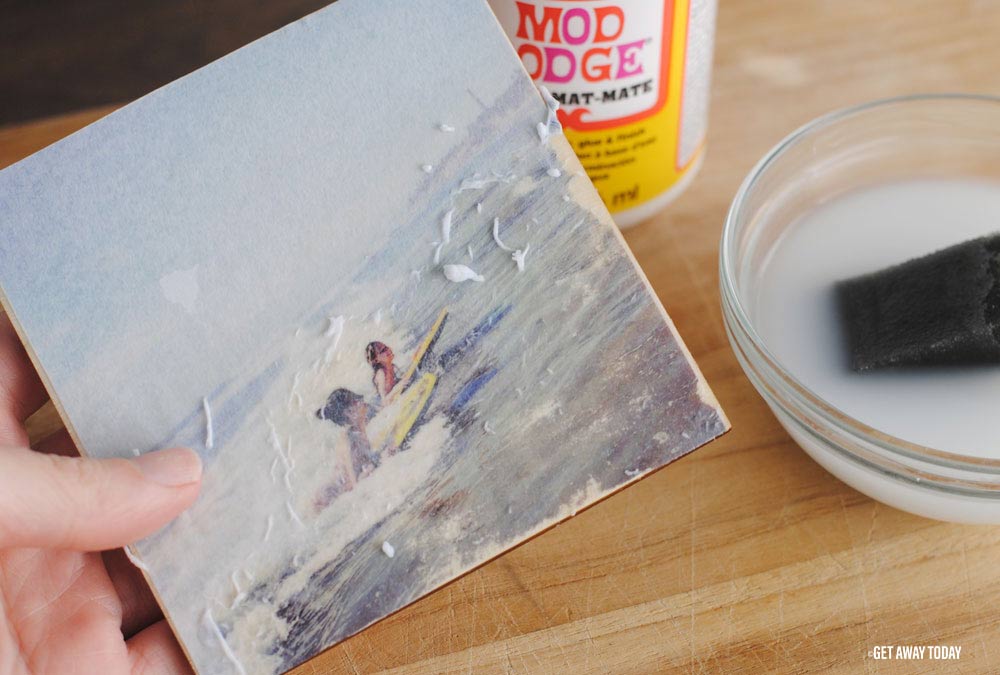 This part takes a whole lot of patience. I had to relax, slow down, and take my time. It is a process. Work in layers. It took me about three wipe sessions on each wooden coaster to get the paper removed completely. When the white paper is gone, you will still be able to see your transferred Instagram image on the coaster. Cover the image with a layer of Mod Podge. Let it dry and then add a second coat.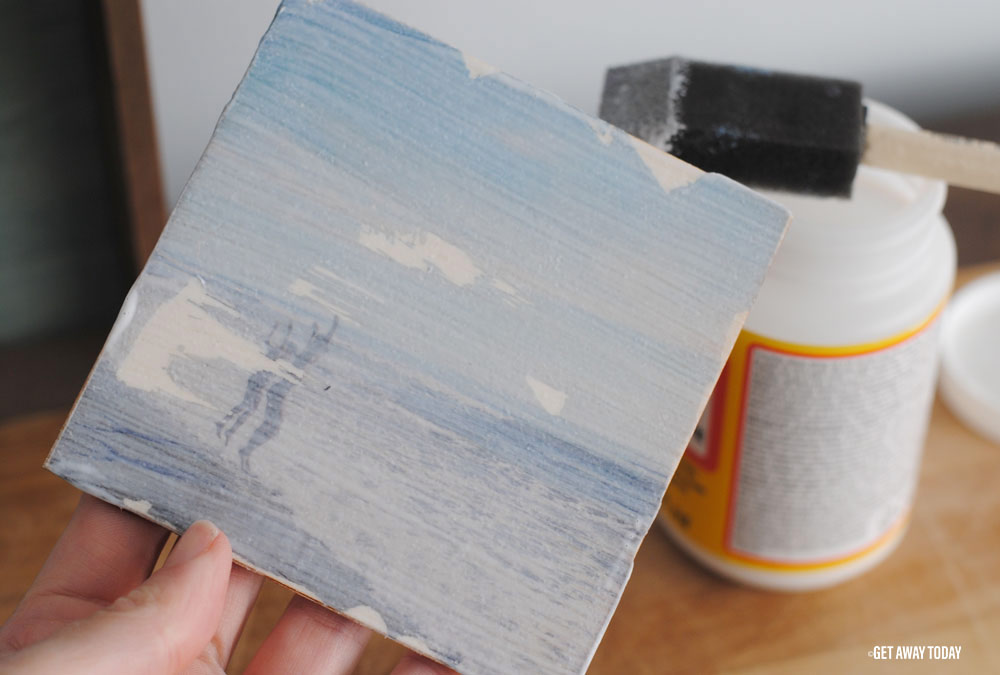 Photo Coasters DIY - Finished Product
When the second coat is dry, your Vacation Memory Craft is ready for display. You can use them on a table or as part of a group on a bookshelf or mantel. I love how the finished look is kind of vintage. It makes them different than just printing a photo in a frame. You can relive your favorite vacation memories every time you see your cute craft!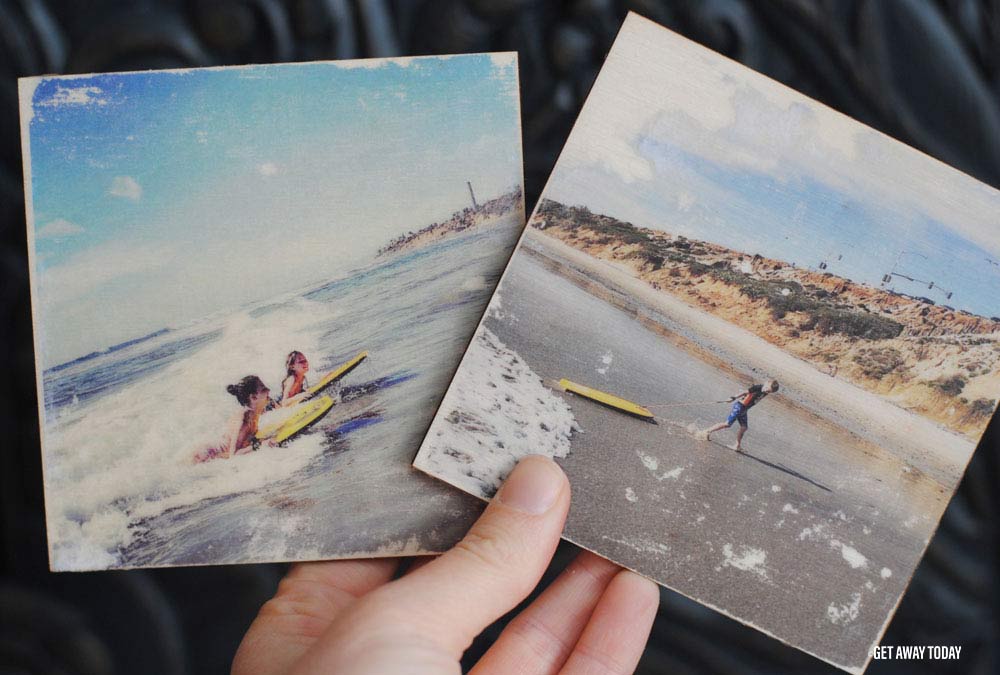 If you're ready to start making your own vacation memories, give one of our travel experts a call at 855-GET-AWAY.