Best vacations for kids should include things that kids love! Here are five reasons why kids LOVE the LEGOLAND Hotel. Today we share a LEGOLAND Hotel California review from real kids!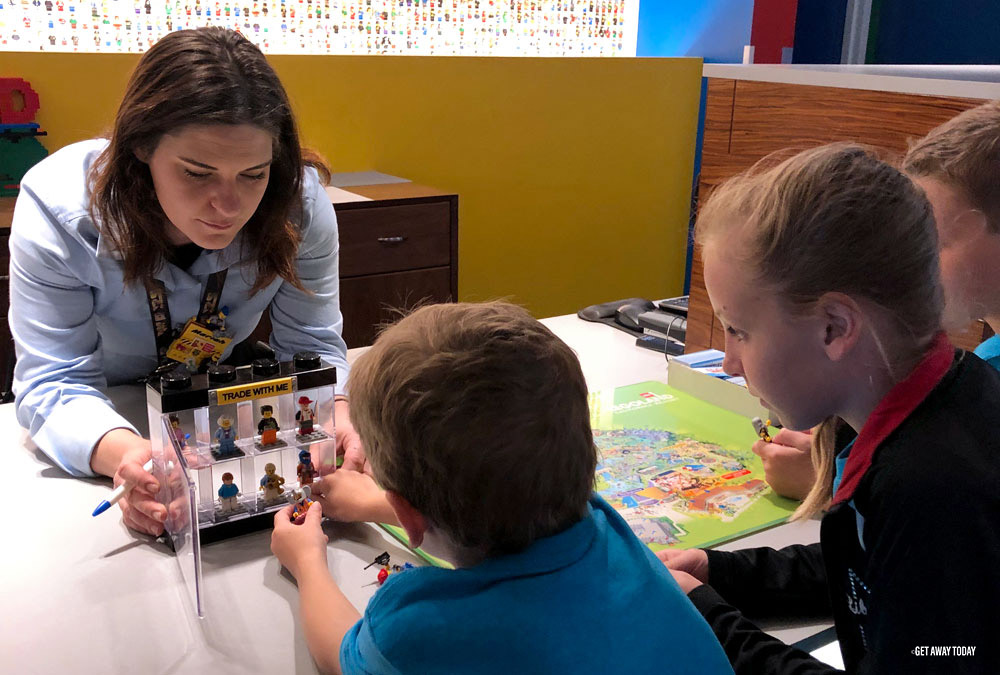 LEGOLAND Hotel California Review
My family just returned from a vacation to the LEGOLAND Hotel. It was one of the best vacations for kids that we have ever enjoyed as a family. (And we have been to a lot of fun places.) I wanted to know what made this specific trip special, so I asked my kids what they thought. Here are the five reasons why my kids loved the LEGOLAND hotel.
LEGOLAND Hotel California Review - Free Souvenirs
Mini-figure Trading Stations
My kids love picking out souvenirs on trips. It is a highlight of every vacation. We have a whole room full of stuffed animals to prove it! So, you can imagine the thrill my kids got being able to pick out a new LEGO Minifigure anytime they wanted at the LEGOLAND Hotel California. The trade stations were like free souvenir stores. Of course, you have to trade a figure to get one, so technically it's not "free." But, the kids didn't mind trading their characters around to get new cool ones.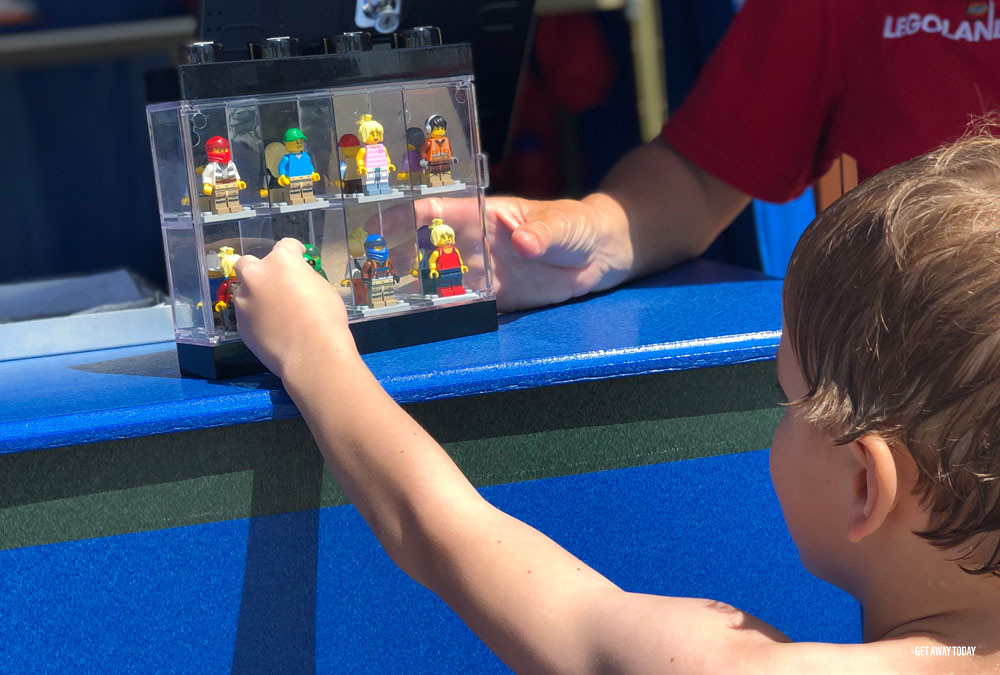 The LEGOLAND Hotel California has trading stations at various places through the hotel and grounds. Our favorite ones were at the pool, valet booth, front desk, and lobby shop.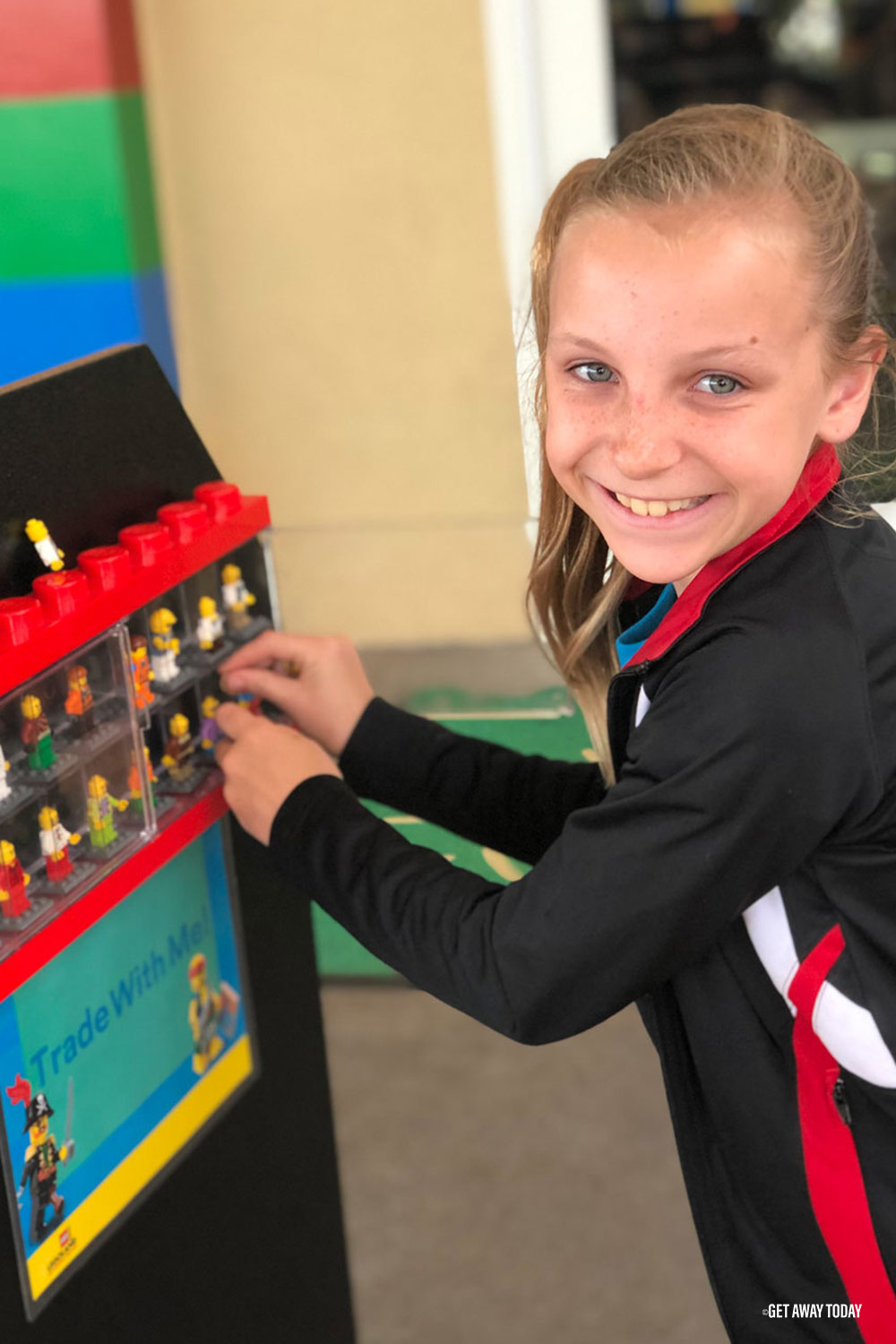 Sometimes, the hotel would stock the trade stations with rare cool mini figurines just to make things exciting. We probably traded 20 times during the course of our stay. It never got old. You check out a little more in our video: 5 Things You Didn't Know About LEGOLAND.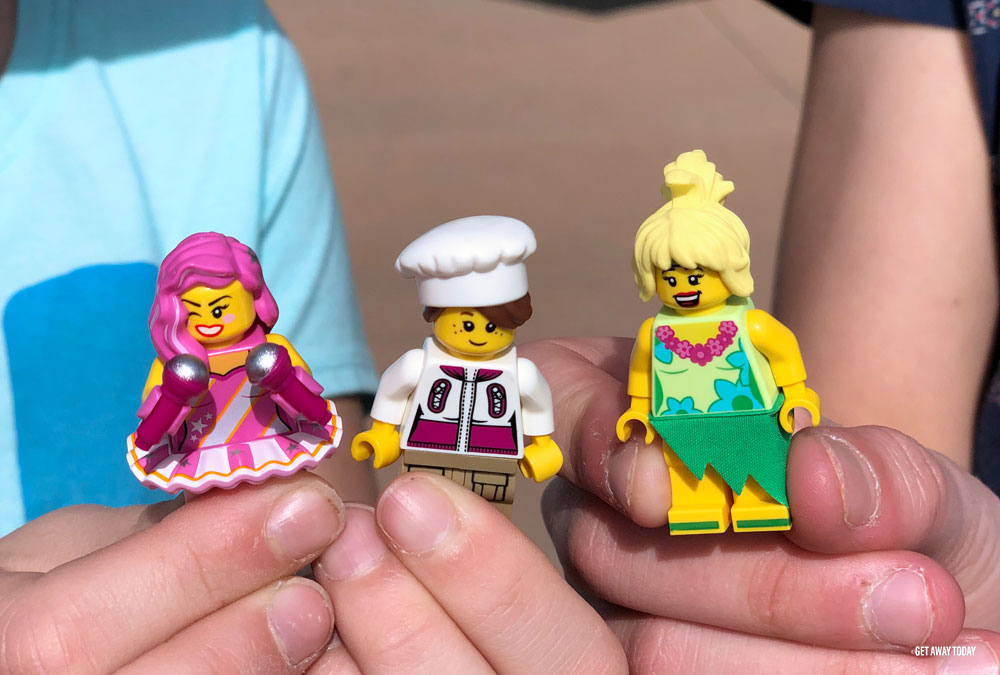 LEGOLAND Hotel California Review - Activities
Treasure Hunt
Number two on the list of why kids love the LEGOLAND Hotel California is daily treasure hunts. Now that I think about it, this activity also includes getting prizes! No wonder they loved this vacation. Each room is stocked with a treasure box. It is actually a safe with a padlock on it. When you check into the hotel the receptionist will give each child a sheet of paper with clues. The clues take the kids on a treasure hunt throughout the hotel. The answers to the clues provide the key to the safe.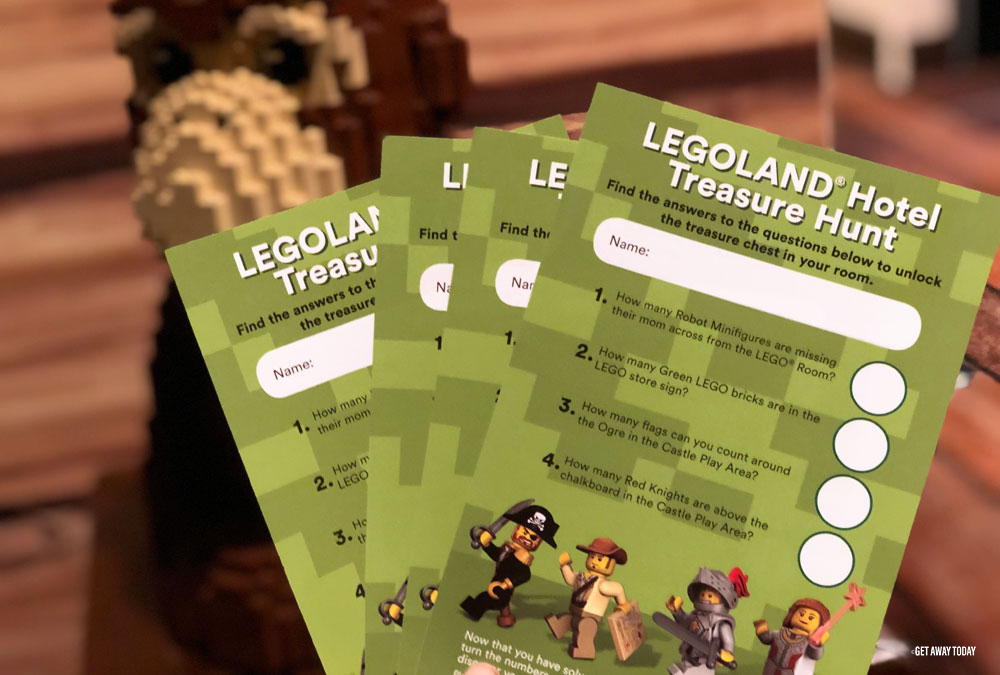 The "treasure" is a LEGO building set. They are totally legit prizes. I would say the sets are worth about $6 if you bought them at the store. My little crew built their LEGO sets in our room each night and played with them for a long time. We got some things from the new LEGO movie and an awesome pirate bird with a treasure box and gems. We had a pirate themed room, so it was perfect!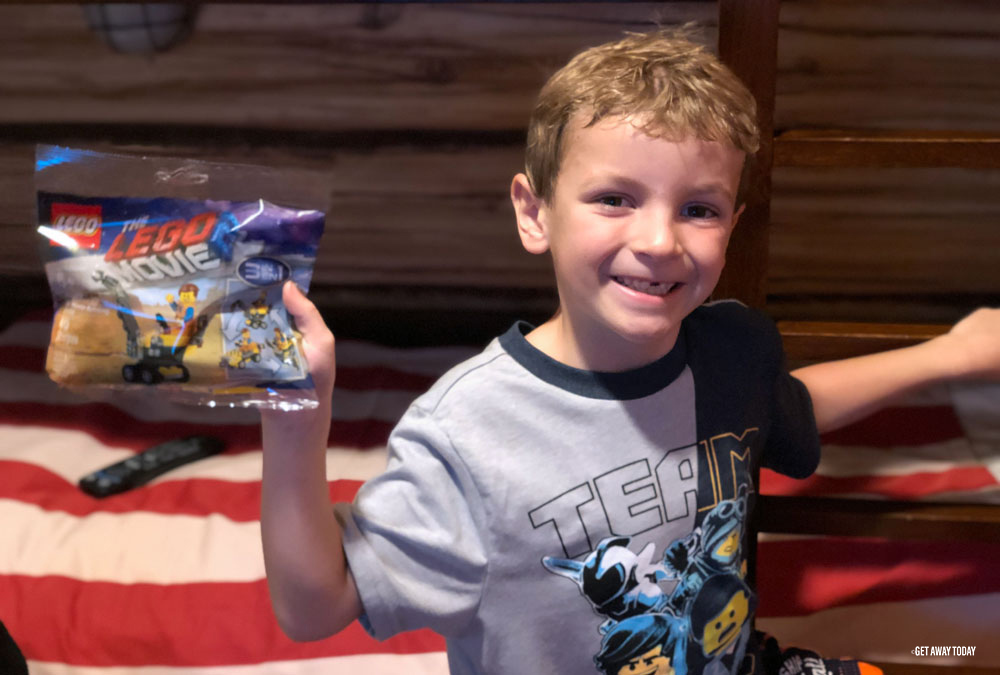 Funny story...the code is the exact same every day. The clue sheets are different and the hunt is unique but the answers end up being the same code. I didn't tell my kids and they didn't remember from day to day. But, it is a little bit funny when you know.
Disco Party in the Elevator
Kids like to be kids! They want to play and dance and run around. The LEGOLAND Hotel California knows how to make that happen. For example, the elevator is not just a regular elevator, but a disco dance elevator! When the doors close, disco lights flash and spin and fun kid-friendly music plays. Even when you ride with other hotel guests, dancing is a must. It is fun to see parents and kids jammin' together. I was not surprised when the disco elevator made it on the list.
The LEGOLAND Hotel California also has brick stations for building, joke time in the lobby, funny LEGO pictures and murals in the halls, silly sayings that play in the bathrooms, and more. It is a children's playground!
Playing in the Pool with LEGOS
Ok parents, you know how much kids love to swim at hotels. We have literally been at Disneyland and had our kids ask to go back to the hotel to swim. Seriously.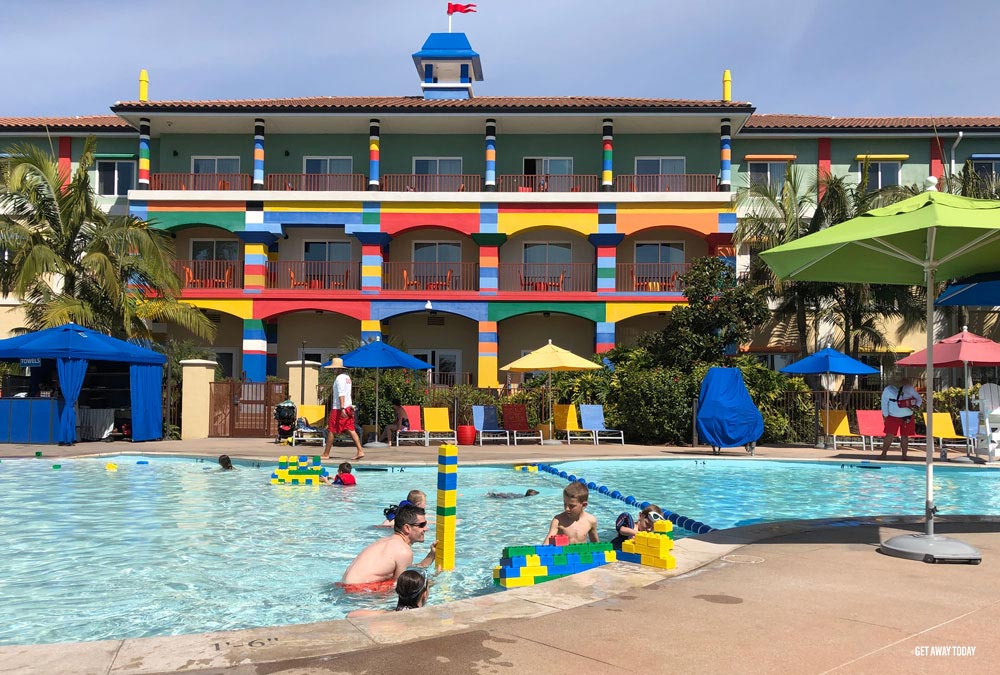 The LEGOLAND Hotel took swimming to the next level of fun with giant LEGO bricks in the pool. The bricks even float!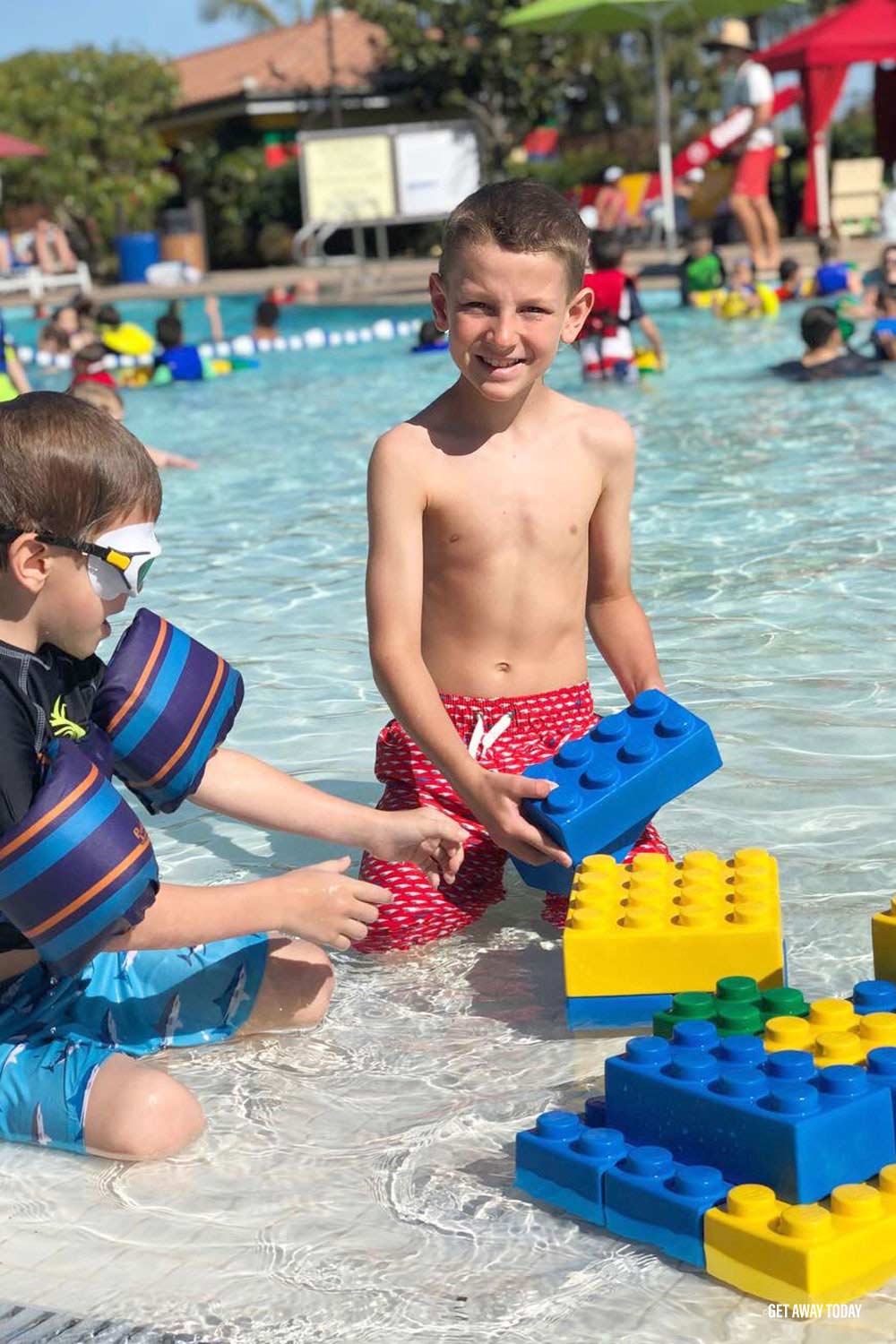 I loved that the pool had a gradual entry into the water. There is a shallow end where my kids sat and built with the bricks for hours. They made boats, bridges, sharks, torpedoes, towers, and rafts.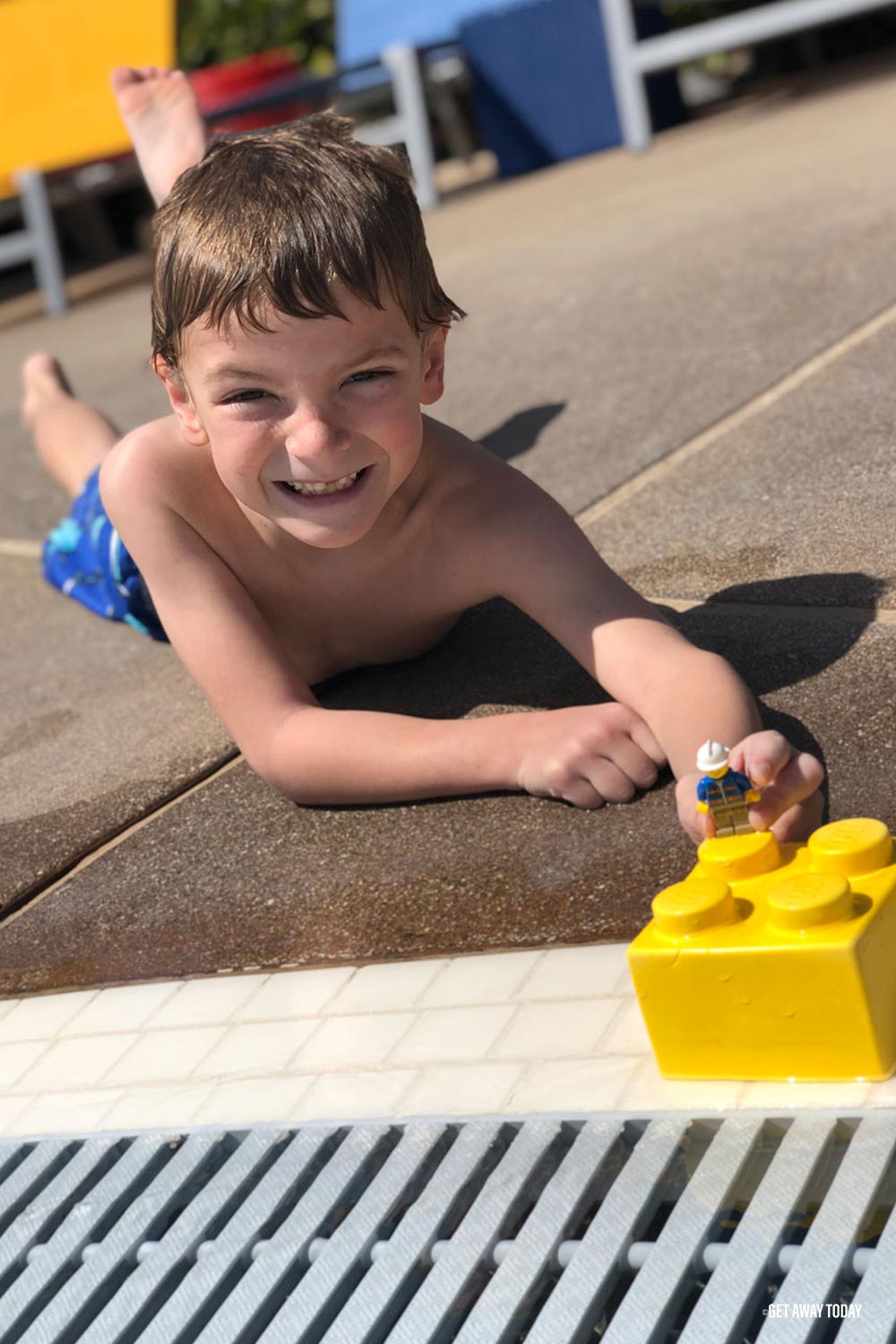 Pool time was interactive. Parents were in the water building and playing with their kids instead of just sitting on the lounge chairs and watching. I am sure that is why the kids enjoyed the pool so much. It was true family time! LEGO pool bricks for the win! Bonus: the pool is open year round and the LEGOLAND Hotel pool is heated.
LEGOLAND Hotel California Review - Dining
Ice Cream for Breakfast
Food is a big part of vacations. And, food that kids like is sometimes hard to find. We were blown away at the awesome complimentary breakfast at the LEGOLAND Hotel California. They know how to cater to little kids and big kids. There is a wide variety of food like hot pancakes off the griddle, French toast sticks, fruit parfaits, fresh fruit smoothies, made-to-order omelets, cereal, chocolate milk, sausage, and my kids' favorite....ice cream! They finished each morning meal with a hefty serving of ice cream.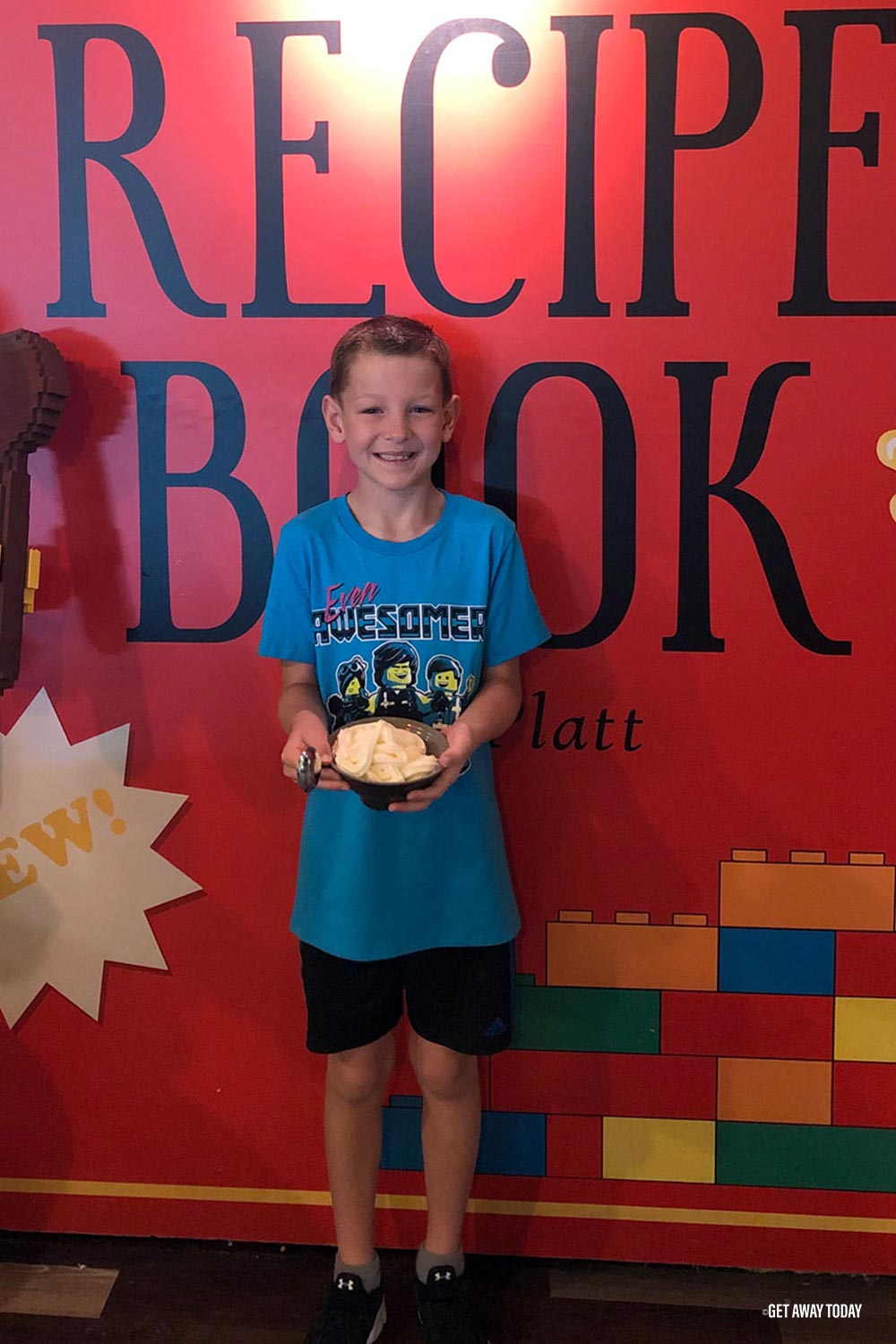 You will not be disappointed at the breakfast haul. There is sometimes a wait to be seated, but the host was really efficient and we even got to meet some cool LEGO characters while we waited for an open table. So, that was a bonus. You can get some tips about making breakfast reservations in this post: 7 LEGOLAND Hotel Tips.
LEGOLAND Hotel California Review - Perks
Bonus Reason Number Six: Early Access To LEGOLAND
When you stay at the LEGOLAND Hotel California, you get to enter LEGOLAND an hour before the park opens to the public. Early access is pretty awesome. Kids get a yellow slap bracelet at check-in that they need to wear to get into the park during the early hour. The bracelet is another fun "free" souvenir from the hotel! My kids were totally excited about getting exclusive access.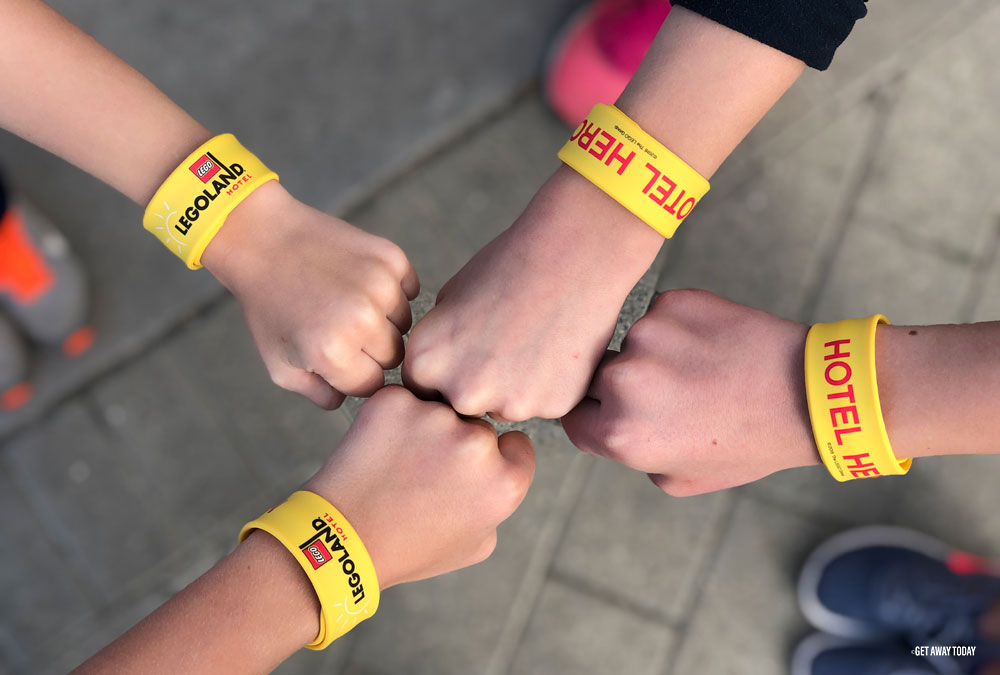 Not everything in the park is open during the early access time, but you should be able to knock out a few big rides before things get crowded. Sweet!
LEGOLAND Hotel California Review - Book with Get Away Today
If you are thinking about staying at the LEGOLAND Hotel, do it! I wasn't sure if it was going to be worth the premium price tag. But, my expectations were met and blown out of the water. With all of the perks that the hotel offers, it is totally worth it. We made the best memories and it was a perfect place for kids. I could give you other reasons why I loved it, but you don't need my reasons. These five reasons why my KIDS loved the LEGOLAND Hotel California are persuasive enough. Book online, or call 855-GET-AWAY.