Cars Land at Halloween Time has completely transformed for the holiday. Watch our video to see the details of the spooky takeover at Radiator Springs. Or should we say, Radiator Screams?
This is the first year that Halloween Time has been in Disney California Adventure Park and it has taken Cars Land by storm. Today, we are so excited to show you all of the details of Cars Land during Halloween Time.
Halloween Time is our most popular time of year to travel and it's not hard to see why. Watch our video showing just some of the festive details of Cars Land at Halloween Time. Enjoy!
Thanks so much for watching! If this video doesn't get you excited about Cars Land at Halloween Time, we don't know what will. Of course we weren't able to show you everything, but here are some details you'll want to find when you visit Cars Land and Halloween Time:
Giant Jack-o-lantern traffic cones
Trunk-or-treat signage
Cars and Halloween themed movie posters
Sugar skull car
Witch car
"Car"-stumed characters; Vampire Mater, Super Hero Lightning McQueen, Clown Red the Fire Truck and Pirate Cruz Ramirez
Listen for all of the Halloween songs on Mater's Graveyard JamBOOree and Luigi's Honkin' Haul-o-Ween
Try the seasonal treats and menu items at Flo's V8 Cafe, Cozy Cone Motel and Fillmore's.
We hope you love seeing the details of Cars Land at Halloween Time even more in person. It is not to be missed. In fact, you'll also want to visit at nighttime when it's a completely different experience. If you haven't booked your trip for this year, there's still time! We recommend getting our 5th Day Free ticket. This way you'll have ultimate flexibility, which is even more important when you're visiting during one of the most popular times of year.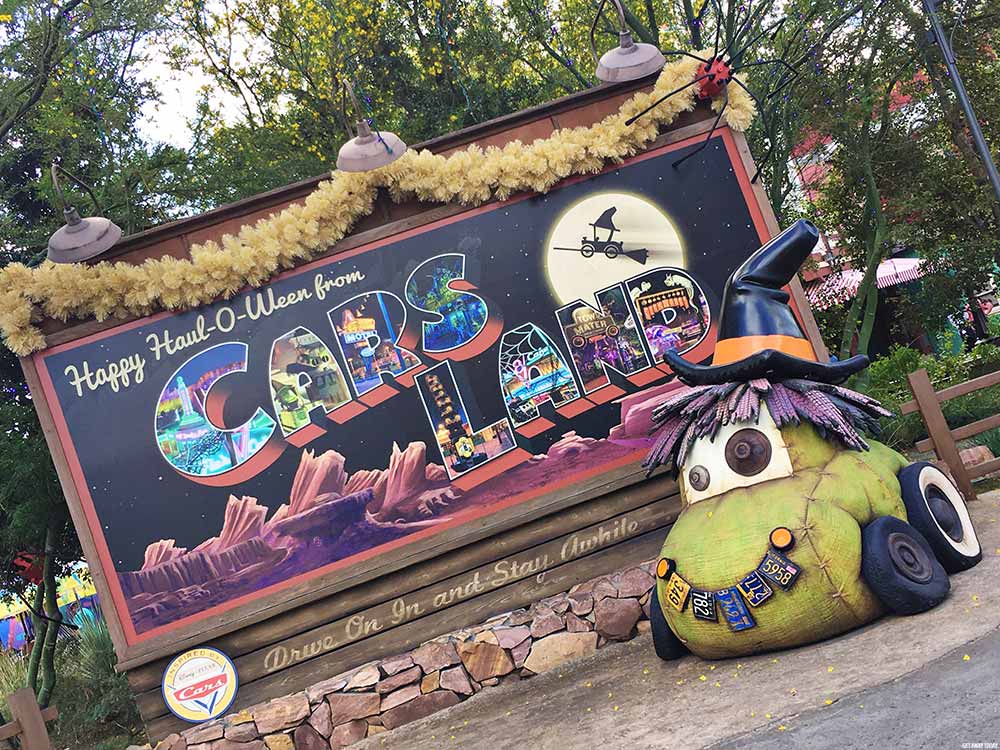 Race to getawaytoday.com, which we've linked to below, to book your trip for this year. Or, start planning ahead for next year and hold your Halloween Time vacation for just $125 down. Either way, you're going to love Cars Land at Halloween Time. Be sure to subscribe to our YouTube channel for weekly videos all about Disneyland and our favorite travel destinations.

Check out these other spooky articles: