Surprise your family with a cruise vacation with a coded message in a bottle. Use this free printable and easy tutorial to help make your surprise cruise reveal easy and fun.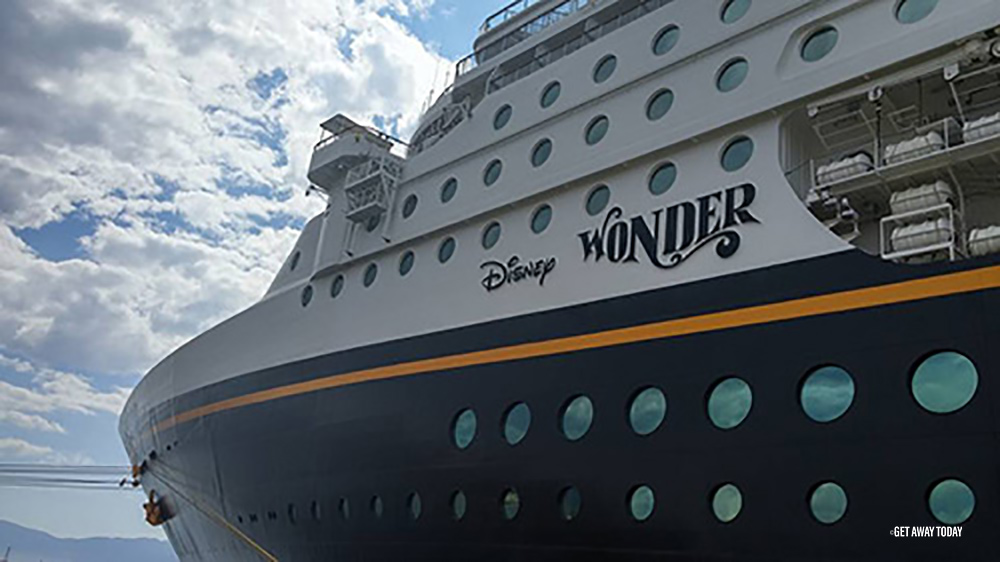 Are you planning on giving your family a cruise vacation this year? Cruises are one of the most popular family vacations, because they can be adapted to accommodate any age range and size of group. There are also a huge selection of cruise ships and destinations to choose between. Picking the cruise might just be the hardest part of the vacation! The rest is smooth sailing.
Once you have your perfect cruise selected, you get to plan how to reveal the cruise to your family. I thought it would be fun to use a message in a bottle for this surprise cruise reveal. Who hasn't looked for a message in a bottle while walking along the ocean shore? It is such a fun tradition. Bring a little bit of that nautical mystery into your home with this cruise vacation announcement!
Surprise Cruise Reveal: Message in a Bottle Printable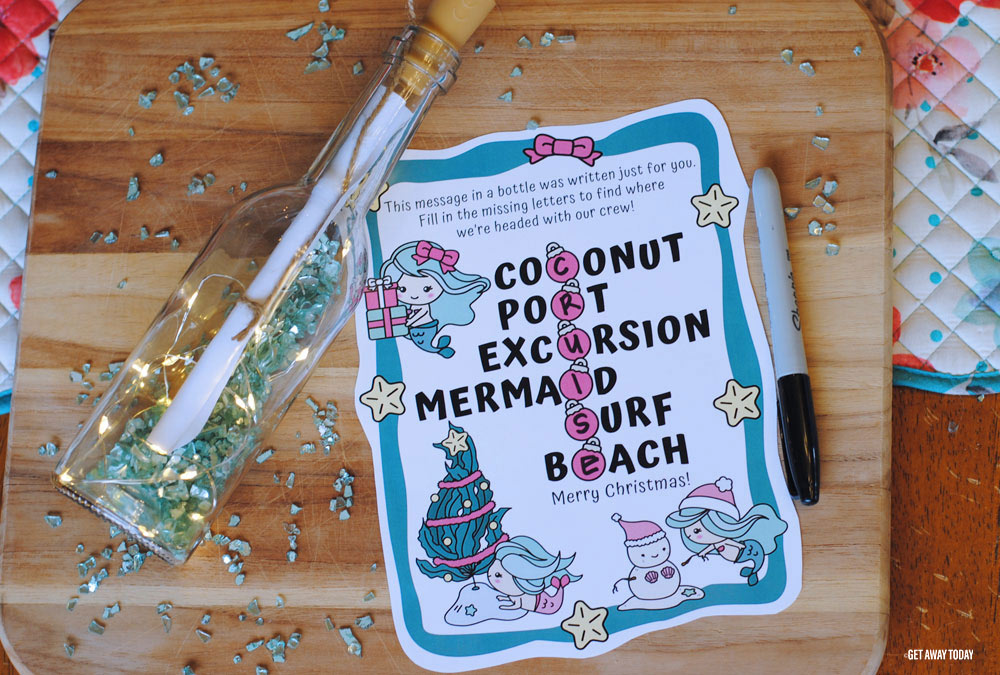 To start, I have two message in a bottle printable templates to choose between. The first one is for a general cruise announcement. It can be used any time of the year. Use it for Spring Break, summer vacation, birthday celebrations, a special anniversary or for just plain old fun. The second option is designed specifically for Christmas! It is pretty holiday-specific so you will only want to select option two if you are giving a cruise vacation for Christmas. How fun would it be to find a surprise cruise reveal under the tree on Christmas morning?
Surprise Cruise Reveal Printables:
Anytime Cruise Reveal Printable
Christmas Cruise Reveal Printable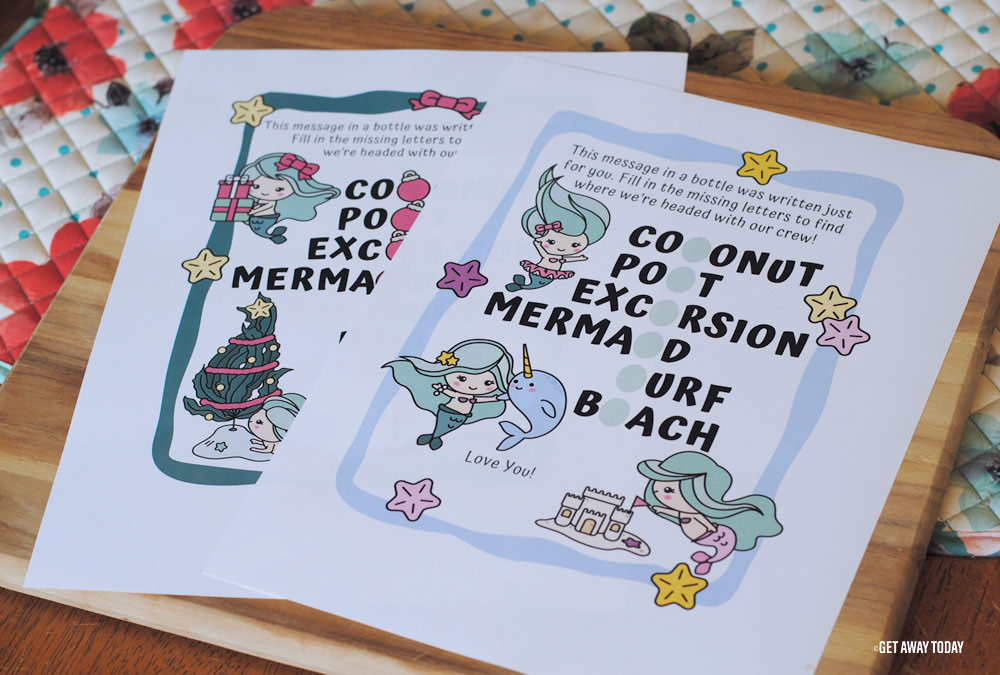 Surprise Cruise Reveal Instructions:
Download the template of your choice and then print it onto regular white paper. Use color ink.
Trim around the outside edge of the message. If you want to get extra crafty, you can burn the edges to look aged and worn.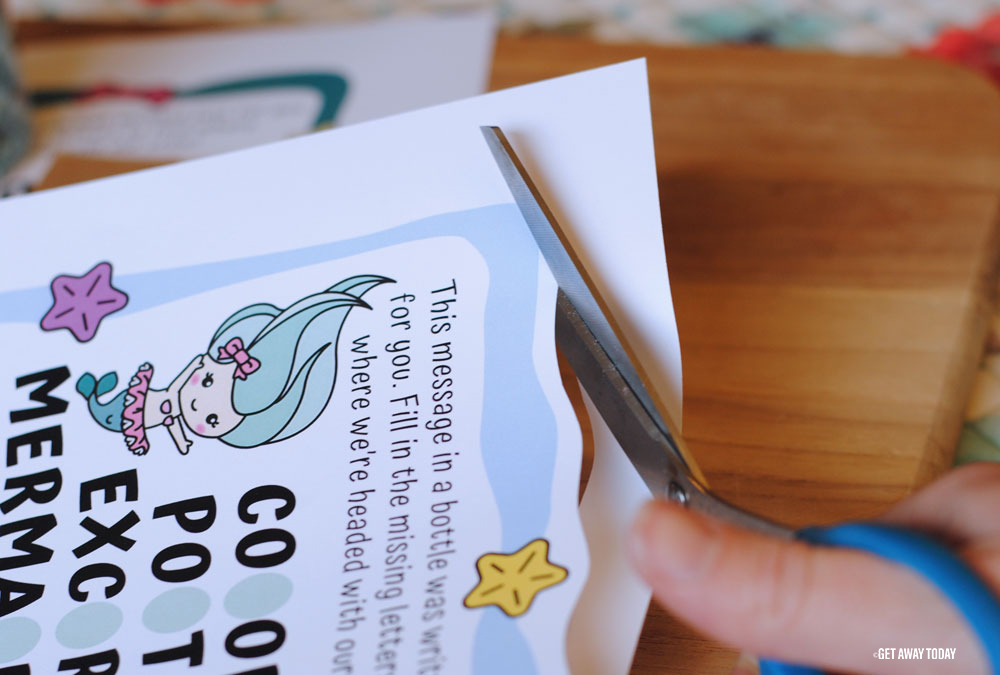 Make sure to sign the paper so they know who it is from.
Next, roll the cruise vacation reveal paper up into a small scroll. I found that if you wrap the paper around a pencil it helps to get the paper nice and tight.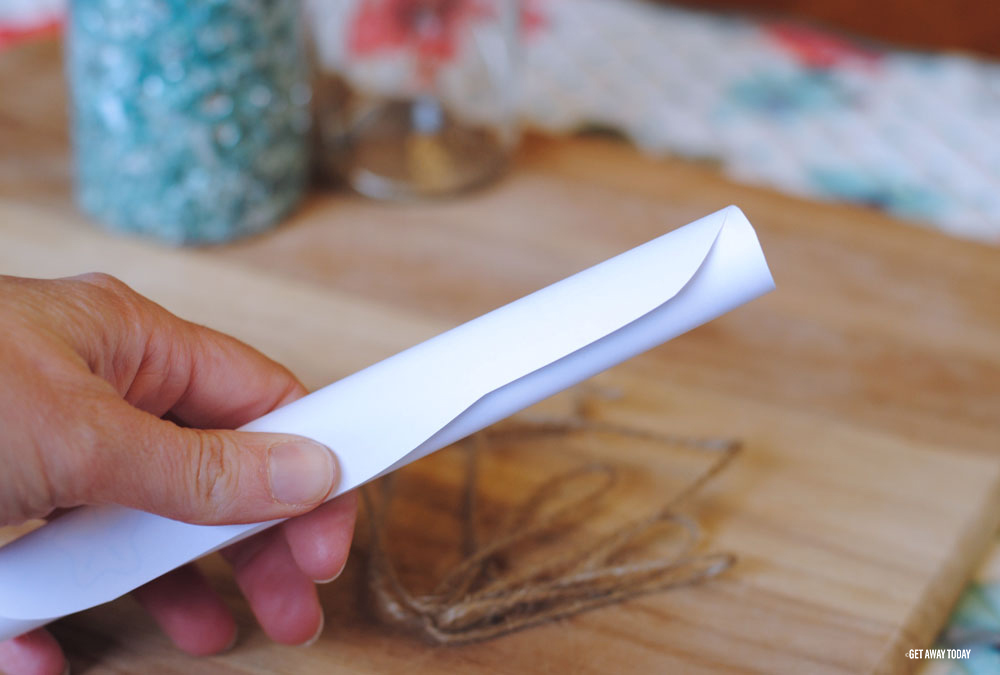 Tie it with a small string.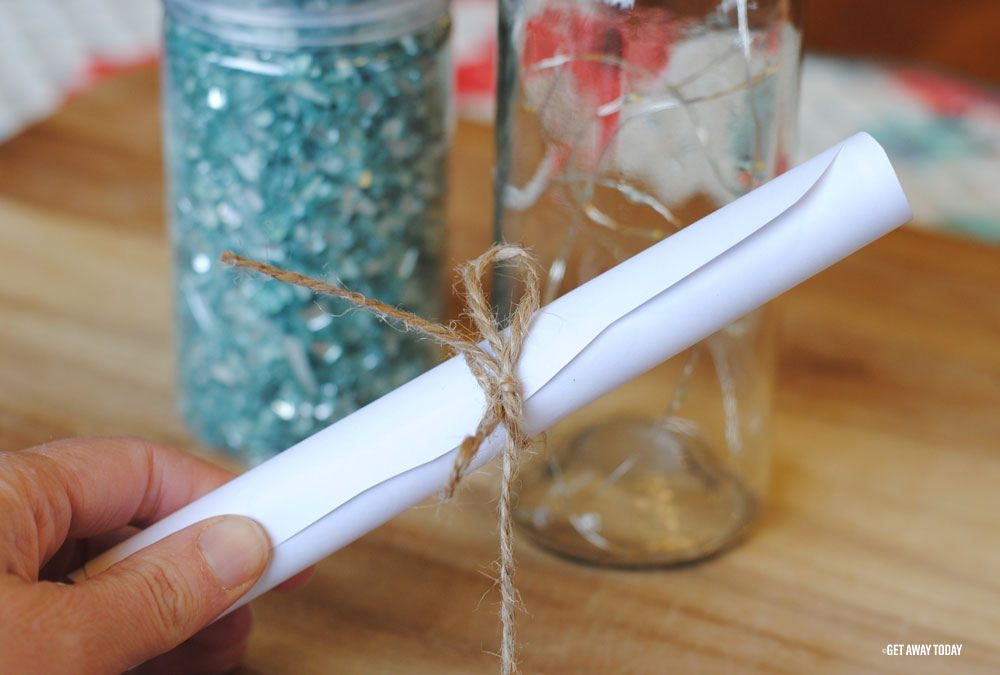 You will need a fun glass bottle for this project. I found my glass bottle at the craft store. I had little fairy lights included. I thought they were too cute to pass up! I also found some glass shells to give the bottle a little bit of bling and color.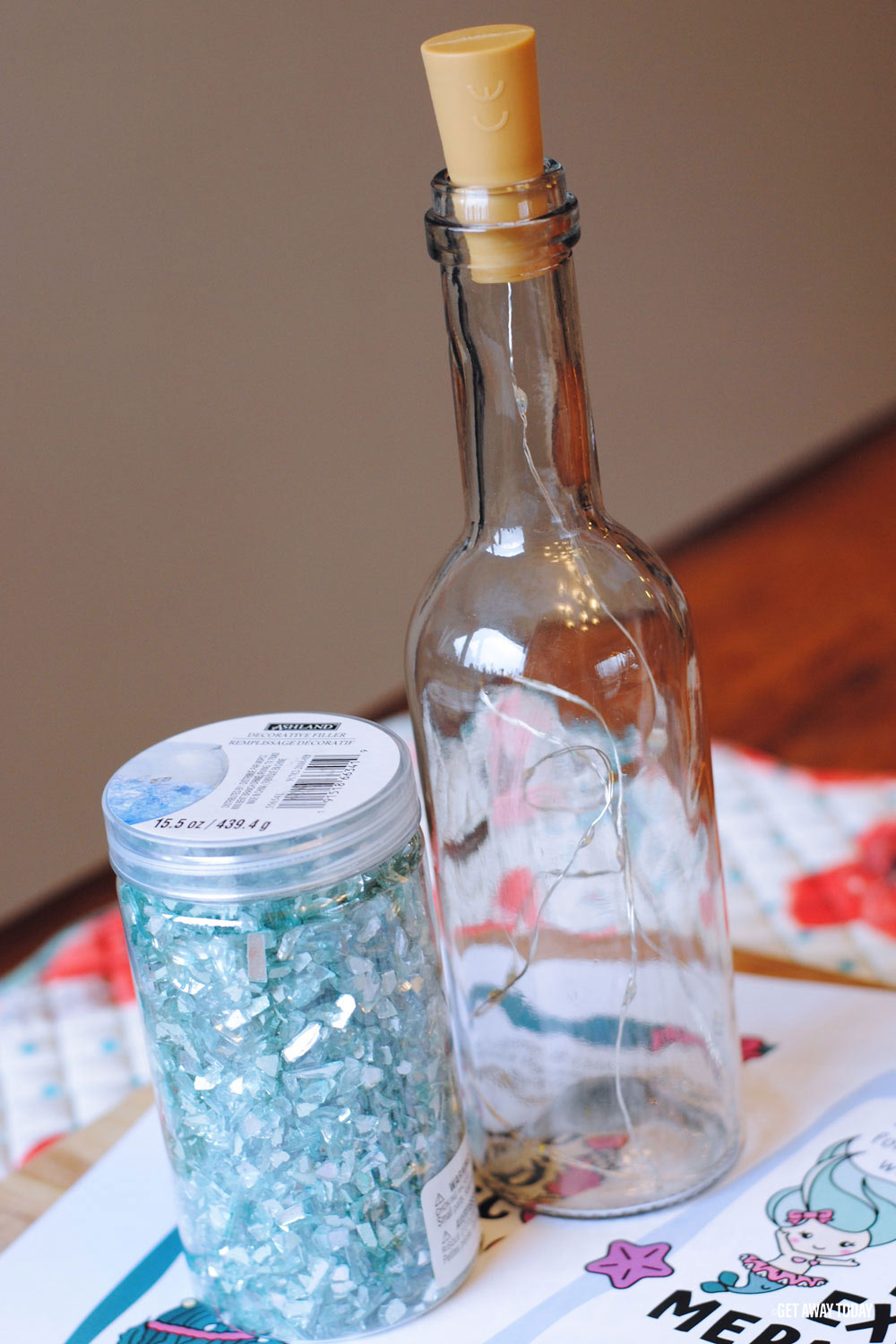 Fill the bottle with sparkles, shells, or even some beach sand!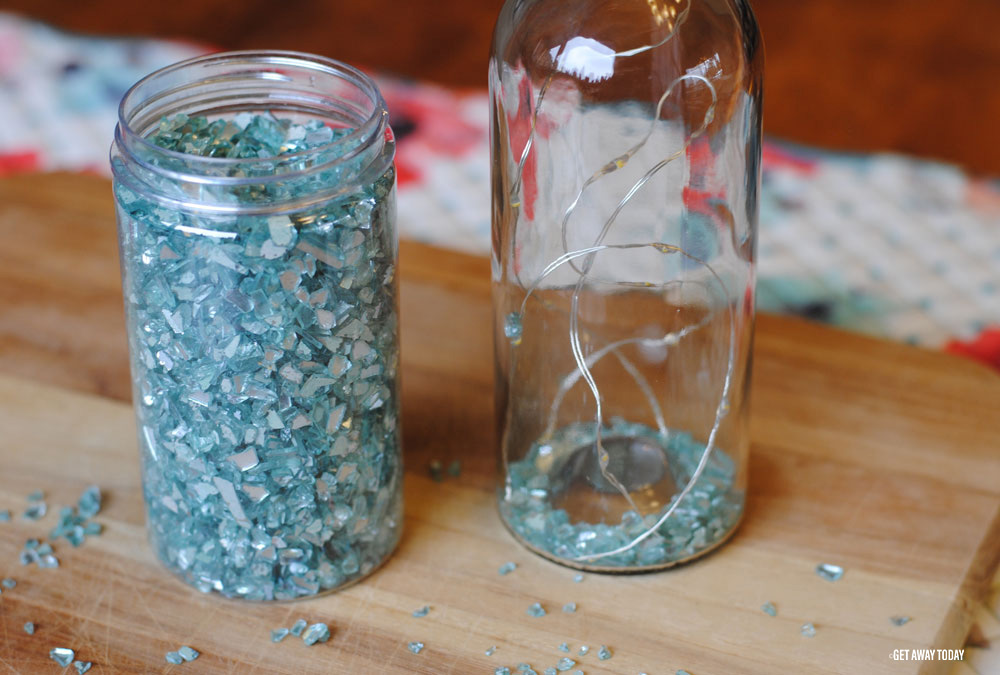 Slide the message into the top of the bottle. I left a little strand of string out of the top to make pulling the message out of the glass jar easy.
Put the cork in the top to secure the little string in place and finish your surprise cruise reveal.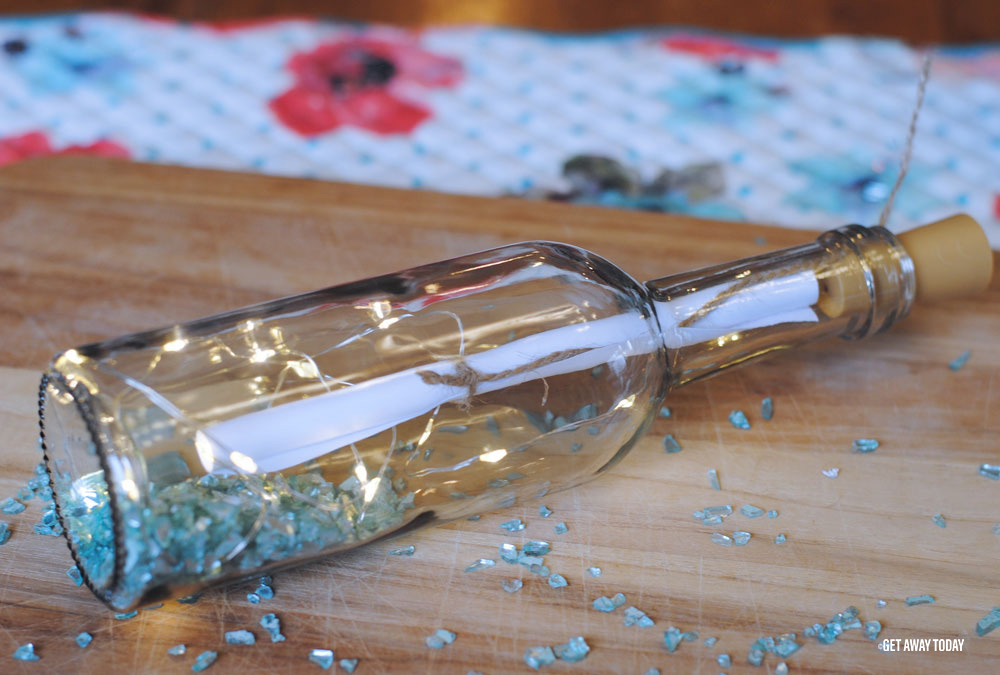 You can wrap the bottle in a box or bag. Or, wrap it in tissue paper and tie it with a bow. You could also put together a fun scavenger hunt and have the bottle be at the end of the clues. The presentation is totally up to you. Be creative.
When your family opens the message there are words written that are missing letters! They will need to figure out what the words are supposed to be.
Fill in the missing letters to reveal the word: "Cruise!"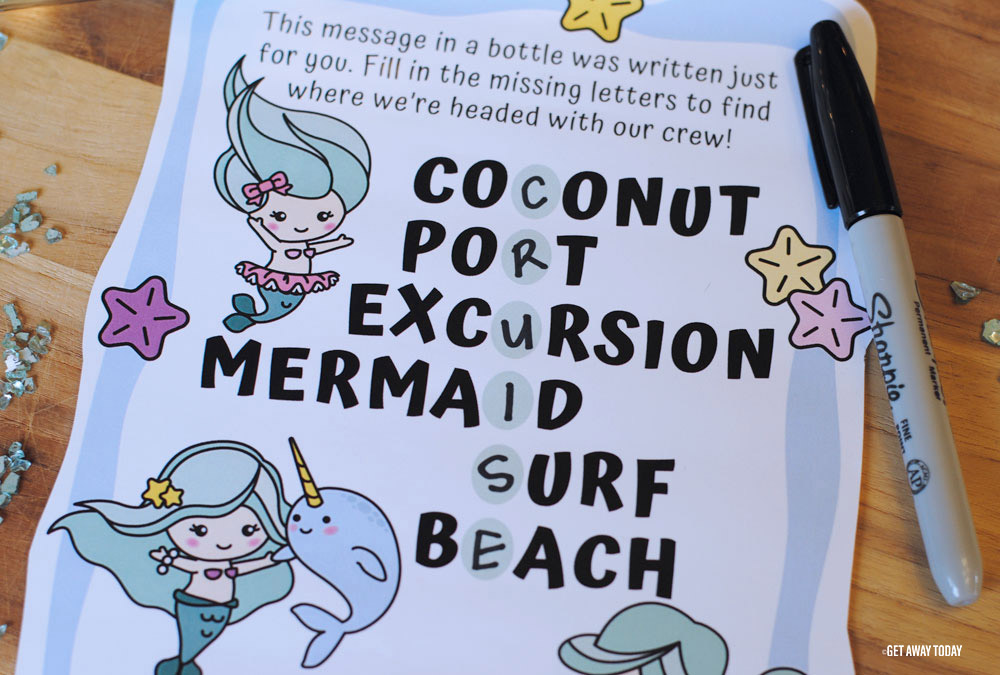 I hope you have fun crafting this surprise cruise reveal. Spending time together as a family is the best way to strengthen relationships and build unity. Cruises are a perfect place for playing together and relaxing as a family. This message in a bottle is going to be a surprise they won't ever forget.
Don't have a cruise planned? There's still time! You can book any of our cruise packages online or by giving our cruise experts a call at 877-510-2929. Whether you want to cruise to Alaska, the Caribbean, Mexico, or beyond, our team can help. And we can't wait to help you make this the most exciting Christmas yet!