This easy cruise vacation announcement makes a perfect gift. Combine a bath bomb with our cute cruise printable and you are set to sail!
Making memories as a family is the perfect gift for any occasion. It is said that families who play together stay together. There is a lot of playing to be done aboard a cruise ship! If you are looking for a way to announce to your family that you are heading on a cruise vacation, then look no further. This gift idea is the bomb! Well...the bath bomb that is.
Bath Bomb Cruise Vacation Announcement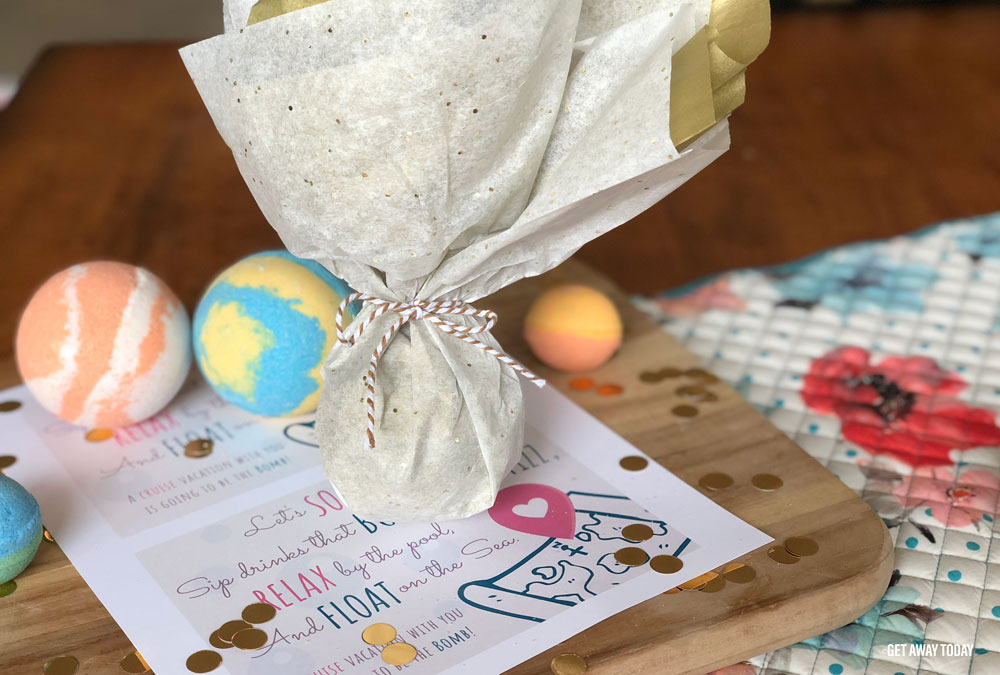 Bath Bomb Cruise Vacation Announcement Printable
Download the free cruise vacation printable below. There are two versions to choose between. The only difference is the size of the card. One has smaller cards and the other has a large version. I wanted to be sure you had options! Print the template onto thick card stock paper. This makes the printable hold its shape like a real card from the store.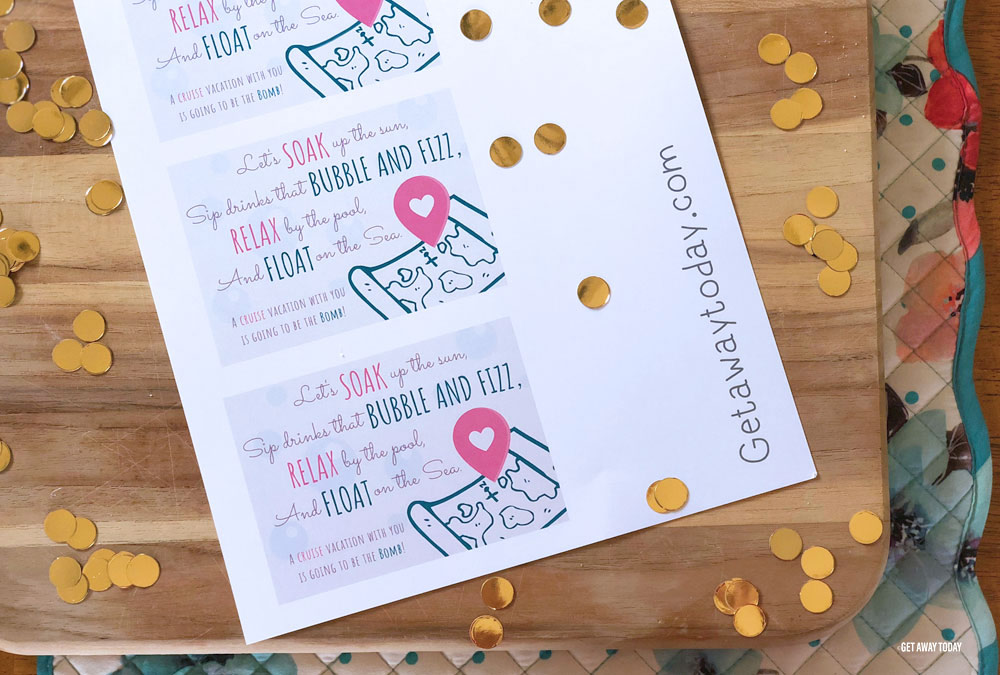 Cut out the cruise vacation announcement. You can leave a small white border around the square or trim right next to the printed area. It's up to you!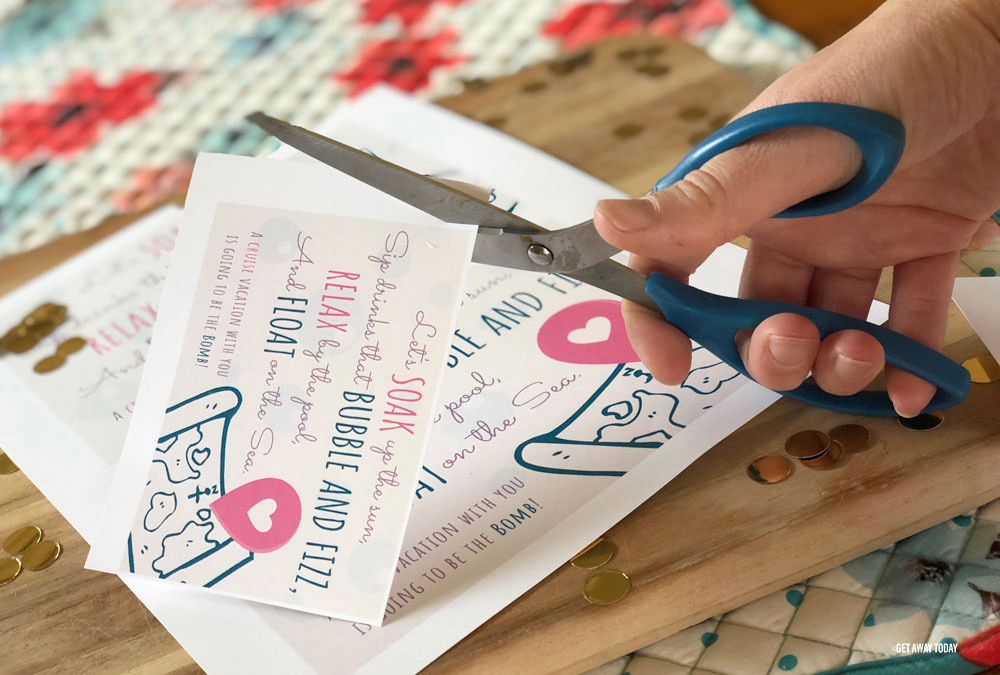 The printable reads," Let's soak up the sun, sip drinks that bubble and fizz, relax by the pool and float in the sea! A cruise vacation with you is going to be the bomb!"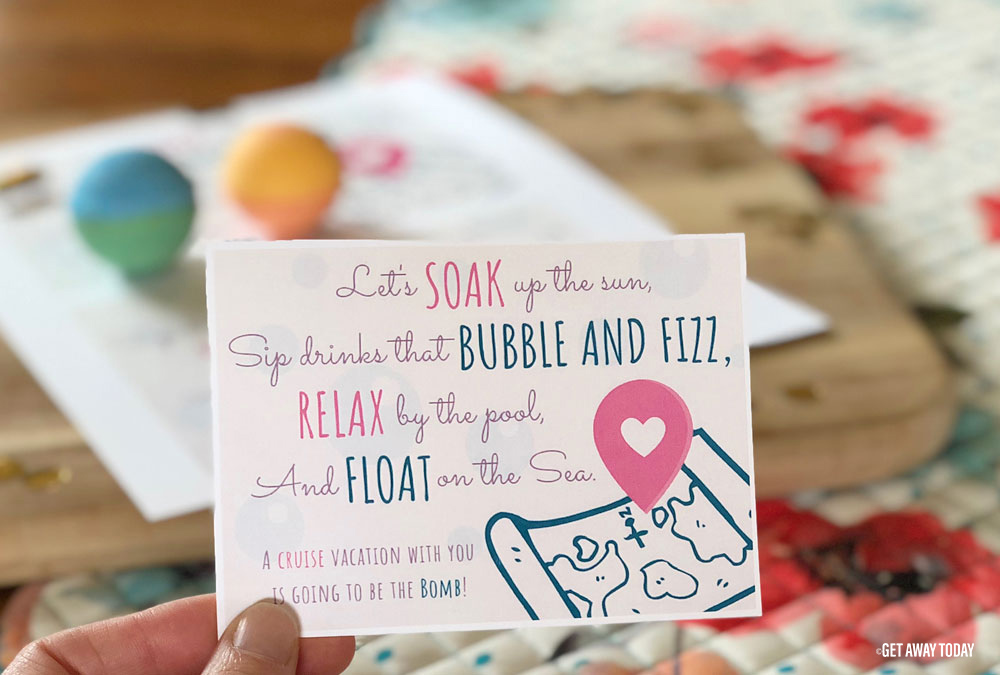 All those key words are referencing the gift that comes with the printable. Can you guess what it might be? A bath bomb of course!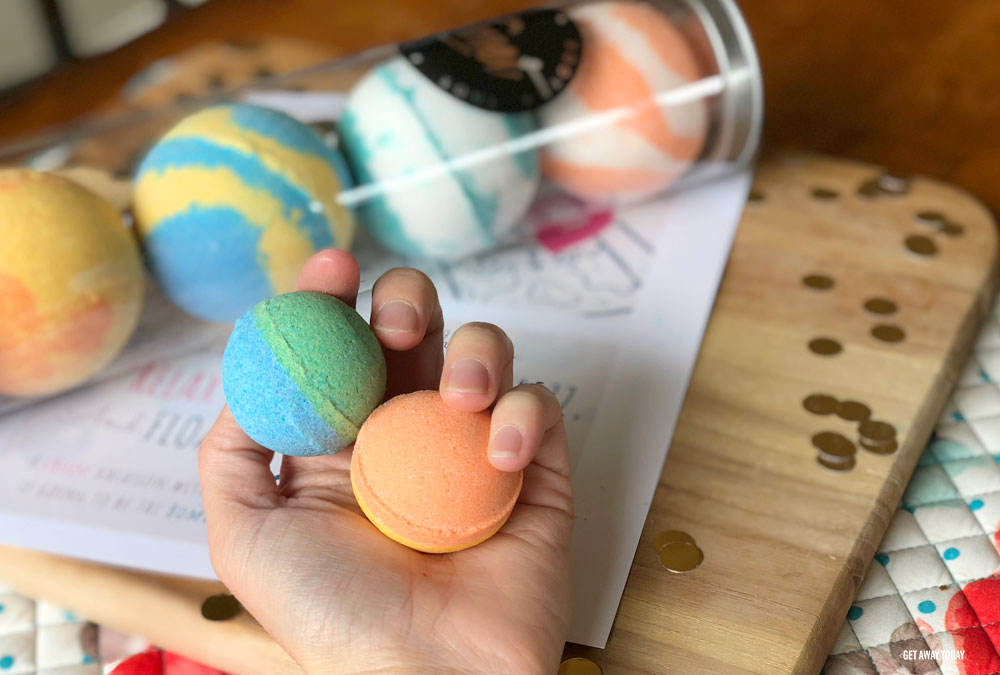 Bath Bomb Cruise Vacation Announcement Instructions
Bath bombs are still really popular even though they have been around for a bit. I tried one out just to see what all the fuss was about...and they are actually pretty awesome! The bath bomb bubbles and makes cool fizzing noises as it dissolves in water. The bath water changes color and has a nice soft oily texture. It smells good too. They are quite satisfying. Very much like a cruise. Bath bombs make a bath relaxing and fun! I recommend giving it a try. Even if you aren't sailing to some beautiful tropical paradise.
You can present the gift in a variety of ways. I decided to use tissue paper to wrap the bath bomb. Lay out the tissue paper on a table. Then, add some bling! I found sparkly gold confetti that made me happy, so, I threw that in with the bath bomb to make it more festive.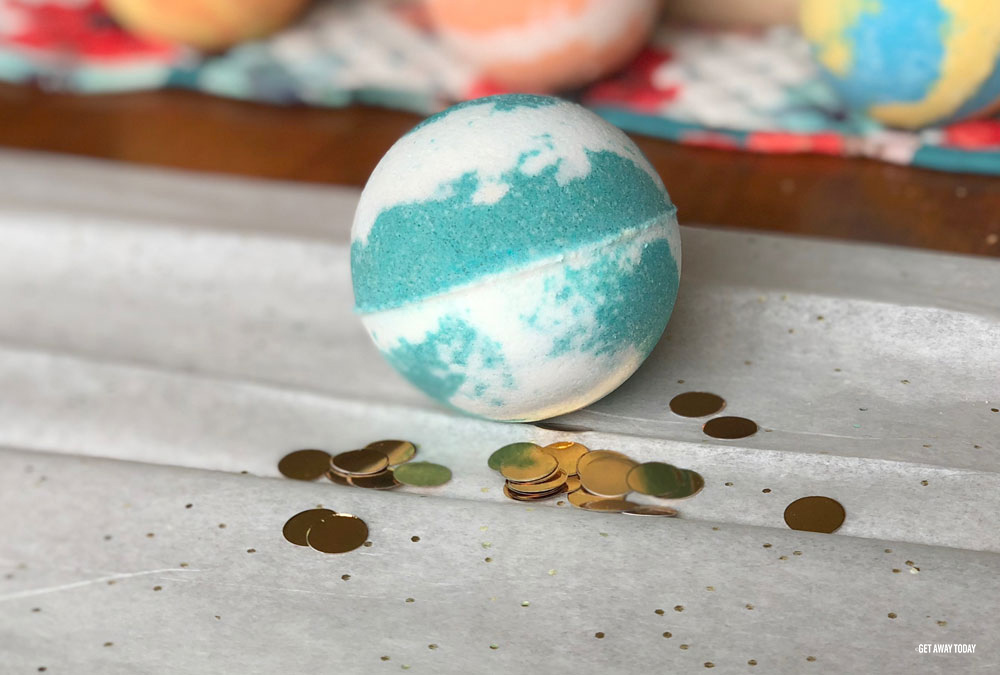 Pull the corners of the tissue paper up towards the sky and then tie a string around the paper next to the bath bomb. Tug the string to make sure it is tight and then tie it in a knot.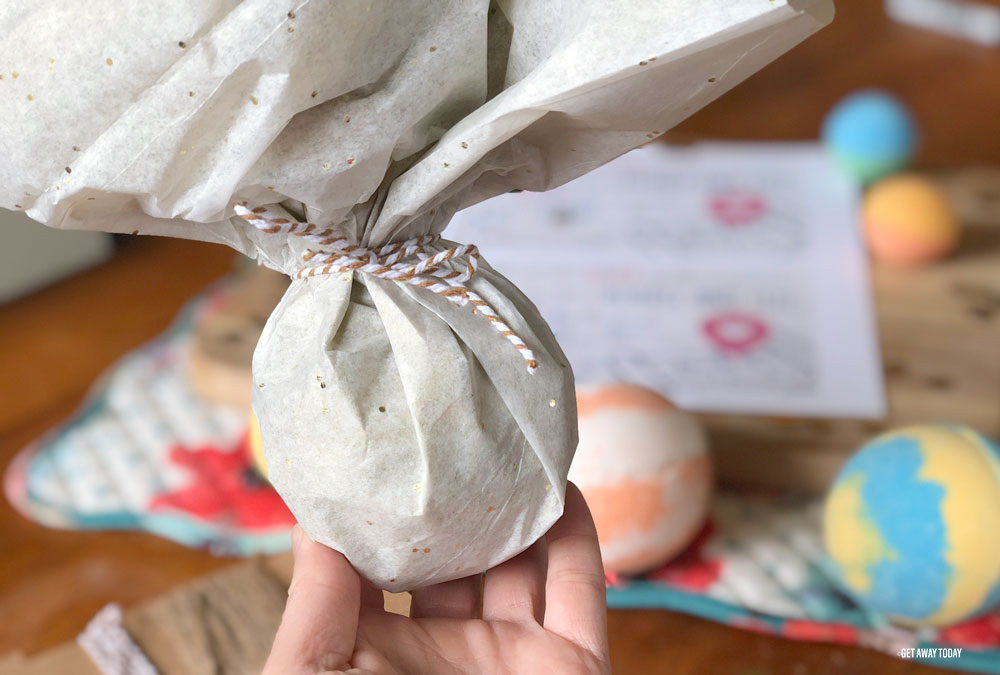 Then, punch a hole in the corner of the cruise vacation announcement card. Tie the card onto the string. Make a cute bow. Your gift is ready for action! You could also put the card in an envelope, if you want to keep the message a secret until the gift is open. There is space on the back of the card to write in a personalized message. You could include your sailing dates, where you are heading, who is coming on your cruise vacation, what ports you will be visiting on your trip, and if you have scheduled any day trip excursions to do while away from the ship. That info makes things even more exciting!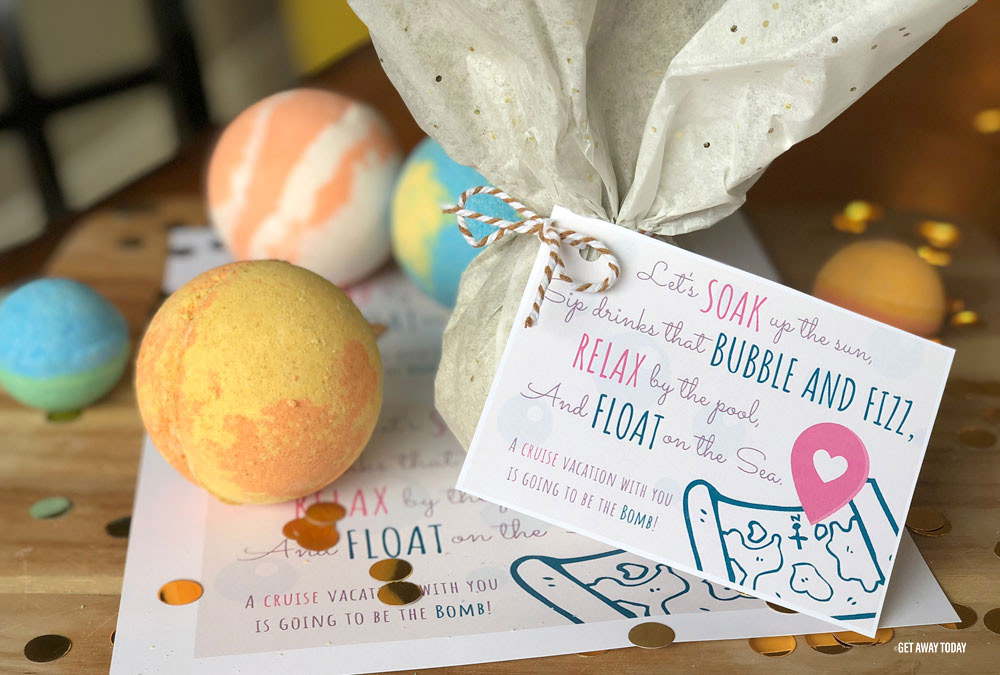 I hope you have so much fun surprising your family with a cruise vacation. I am sure they are going to think you are the BOMB. If you need help selecting the perfect vacation package for your family, we can help! We want to make sure your vacation planning is nothing but smooth sailing. To book your next cruise, feel free to browse our website or call one of our cruise experts directly at 877-510-2929.