The Holidays at Disneyland return on November 9th! Find out all you need to know in our Guide to Holidays at Disneyland 2018.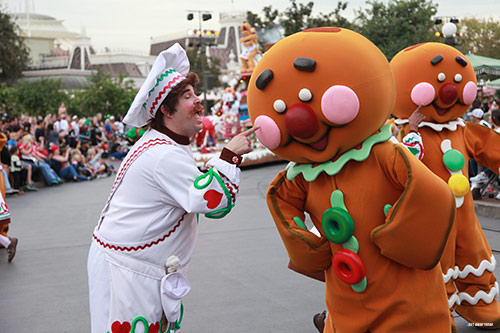 'Tis the season to be jolly! Well, it's not quite Christmastime, but it's still time to be jolly. Why? Because Disney officially announced the 2018 Holidays at Disneyland dates, attractions and entertainment. So grab that Santa hat, put on your favorite holiday song and get merry with our guide to the Holidays at Disneyland 2018.
Guide to Holidays at Disneyland 2018
First things first, when can you expect to see all things yuletide and fantasy at the Disneyland Resort? For 2018, you'll be experiencing the Merriest Place on Earth when you visit between November 9, 2018 and January 6, 2019. That's almost two whole months of the best holiday celebration you've ever seen! From the food to the décor, the Holidays at Disneyland is something you don't want to miss this year.
Holidays at Disneyland 2018 – Décor
No one decks the halls like Disneyland. For the holiday season, you'll find festive garlands, millions of twinkling lights, seasonally dressed characters and more throughout both Disneyland and Disney California Adventure Park.
In Disneyland, Sleeping Beauty Castle is transformed into Sleeping Beauty's Winter Castle with thousands of lights reminiscent of glistening icicles. The castle is always magical, but even more breathtaking each night during the holiday festivities. It's a photo spot must – just like the towering Christmas tree on Main Street U.S.A.. Besides these two centerpieces, you'll also notice holiday bunting, garland and more on nearly every surface.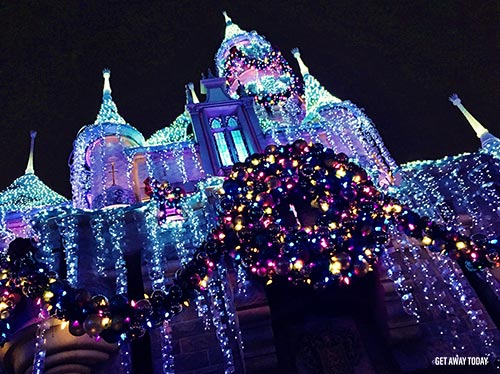 Over at Disney California Adventure Park, the décor isn't any less enchanting. You'll be greeted by a large Christmas tree at the end of Buena Vista Street and just as much holiday garland and bunting. Cars Land is especially beautiful as it's transformed into a winter wonderland, with a whimsical tire tree and all sorts of festive decorations made from car parts.
Additionally, the stores and public spaces in Downtown Disney and the three Hotels of the Disneyland Resort also deck the halls. You're sure to find a Christmas tree in each hotel lobby and will love window shopping all of the fun festive store displays.
No matter where you explore in the Disneyland Resort during the Holidays, you're sure to find a Christmas card worthy spot or two!
Holidays at Disneyland 2018 – Food
While you're enjoying the seasonal decorations, you'll want to enjoy a sweet treat or two. While the exact lineup of holiday food hasn't been announced, we have an idea of what to expect from last year. Gingerbread and peppermint everything treats are always easy to find, especially from the Jolly Holiday Bakery on Main Street U.S.A. in Disneyland.
In Disney California Adventure, you'll be able to taste holiday food from around the world at the Festival of Holidays. We'll update this once the 2018 kiosks are confirmed, of course. But last year, you could experience everything from Eggnog Macaroons and Sweet Potato Pies to Chorizo Queso Fundido and Pineapple Kesari. We're sure that the food items this year will be just as delicious, if not more so!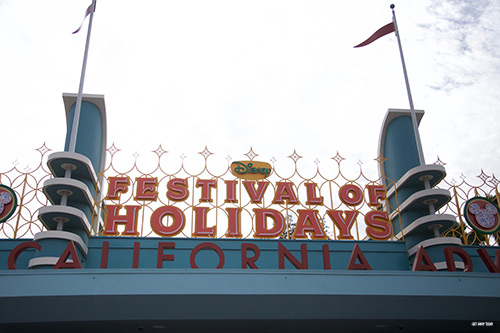 Holidays at Disneyland 2018 – Ride Overlays
The streets and photo-ops aren't the only thing that get a festive makeover during the holidays. Rides in both Disneyland and Disney California Adventure get a fun update to celebrate the most magical season of all.
In Disney California Adventure Park, you'll notice that two of your favorite Cars Land attractions are just a smidgeon merrier. Mater's Junkyard Jamboree is transformed into Mater's Jingle Jamboree, where you can find lit up tires, hub caps and more. Luigi's Rollickin' Roadsters is also decorated for the season, becoming Luigi's Joy to the Whirl. The rides are as fun as before, just with a touch of holiday cheer!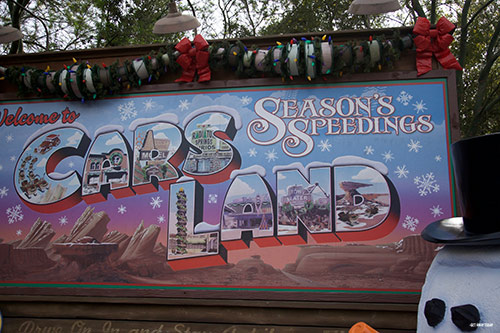 At Disneyland Park, you'll notice major changes to the Haunted Mansion. The Haunted Mansion Holiday actually debuts during Halloween Time, with Jack Skellington and his friends taking over the morbid event. Since it's all about Jack Skellington trying to take over Christmas, the overlay runs through both Halloween and the Holidays. One thing that feels (or should we say smells) especially Christmas-y is the giant gingerbread house that is featured in the mansion each year. This tradition is one of our favorites as a new theme for a freshly baked masterpiece is displayed in the ballroom scene of Haunted Mansion Holiday.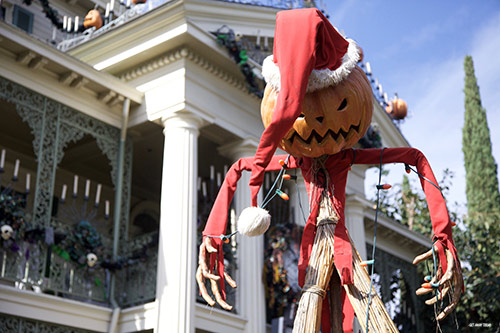 Additionally, you'll find one of our other holiday favorites at Disneyland. "it's a small world" Holiday combines the beauty of different cultures with a sentiment we can all agree with; Peace on Earth. Don't miss the nightly lighting of the attraction's façade – it's almost as magical as watching Sleeping Beauty's Winter Castle light up.
Holidays at Disneyland 2018 – Entertainment
It isn't a true Disney celebration without jaw-dropping entertainment. Holidays at Disneyland are no different, offering exclusive shows and spectaculars in both parks.
The "Believe…In Holiday Magic" Fireworks Spectacular is always a favorite at Disneyland. It combines your favorite yuletide tunes with dazzling fireworks, more than 80,000 lights on Sleeping Beauty's Winter Castle and snow. You'll need to blink twice when you see snow falling on Main Street U.S.A. in the middle of Southern California. It's an experience that's known to cause a happy tear or two to fall.
A Christmas Fantasy Parade is another perfect way to ring in the season at Disneyland Park. Each day during the holiday celebration, you'll be able to watch Santa, Mickey and friends dance through Disneyland. Prancing reindeer, toy soldiers, life-size gingerbread cookies and playful floats are all a part of the magic. It's no wonder so many families love this parade!
The festivities don't end in Disneyland, though. You'll find the Disney Viva Navidad! celebration in Disney California Adventure, a party that lasts all day and is filled with authenticity. You'll want to join the Three Caballeros, musicians, dancers and even giant mojiganga puppets at the Disney Viva Navidad Street Party. Or, celebrate with your favorite Disney Characters dressed in their holiday best. Keep an eye open and ear out for all the different musical groups that play throughout each day during the Holidays as well. Our favorite from last year had to be the Toy Soldier Drummers!
Looking for a nighttime spectacular in Disney California Adventure? World of Color will not be returning this year since it's still undergoing renovation and isn't expected to be up and running for the holidays. However, it was recently announced that Paint the Night Parade has been extended indefinitely! We wouldn't be surprised to see this take World of Color's place for a nighttime holiday celebration. As always, we'll make sure to update you when we hear more on holiday nighttime entertainment.
Holidays at Disneyland 2018 – Overview
Overall, the Holidays at Disneyland 2018 will likely be the best year yet for holiday festivities. Disney knows how to celebrate and the Disneyland Resort truly turns into the Merriest Place on Earth during the Holidays. With beautiful décor, festive treats, ride overlays and more, you can expect the most magical vacation yet.
If you aren't already full of joy and Christmas cheer, you need to book your 2018 Holidays at Disneyland trip right now. That will fill you with a magical wonder like no other! And if you are already full of joy and cheer from just reading about the Holidays at Disneyland, you need to book now too. There's nothing like experiencing the merry magic for yourself. You can book all of our holiday Disneyland packages online or by calling our Disney experts at 855-GET-AWAY. Here's to the jolliest season!

Check out more tips and tricks for your holiday Disneyland trip: