One of the best treats of the Halloween Time season is the food! Disney recently released all of the Disneyland Halloween Food 2018, and we break down what you can't miss.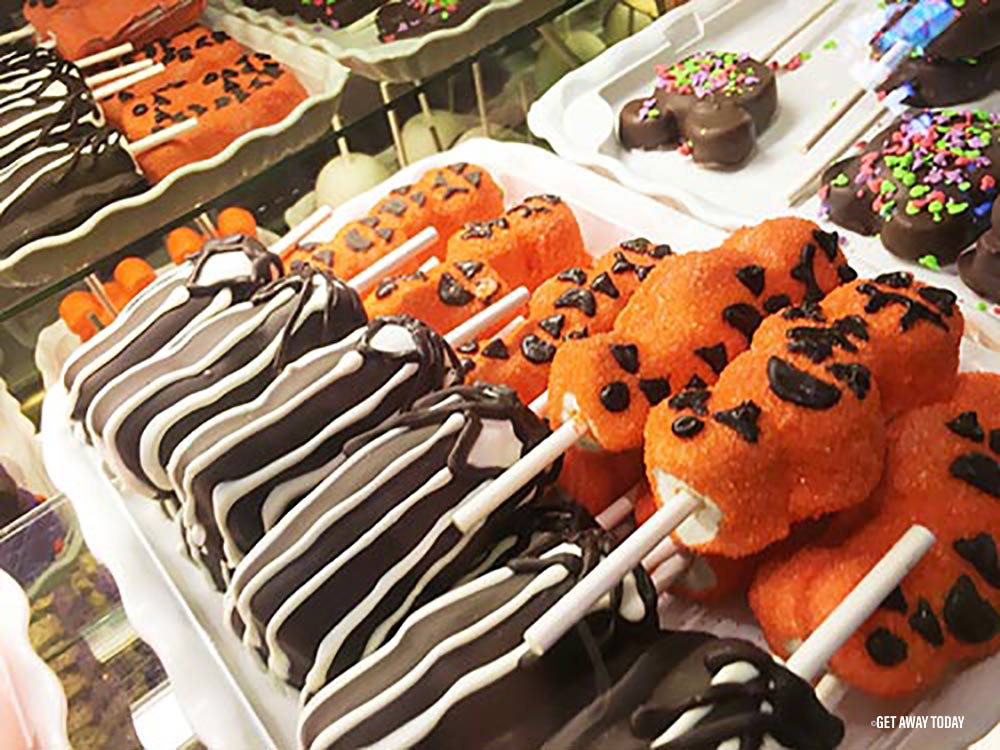 If there's one thing we could talk about forever, it's the food at Disneyland. And lucky for us, Disney is always bringing something new to the table. Today, we're especially excited to share the top Disneyland Halloween food 2018. We put together a video where we go through the new menu of spooky offerings and highlight which items you won't want to miss on your Halloween vacation. Enjoy!
Disneyland Halloween Food 2018 Video
Disneyland Halloween Food 2018 Overview
Phew - that was a lot to cover. To help you keep it all straight, we put together a brief overview of the menu items we covered in the video. We hope it serves as a guide as you eat your way through the Disneyland Resort this Halloween season.
Disneyland Halloween Food 2018 - Churros
With five main varieties of churros, plus two additional churro themed desserts, the Disneyland Halloween Food 2018 is a churro lover's dream come true. You can find an orange sugar churro with candy corn dipping sauce, a s'mores churro, a sour apple churro with optional caramel dipping sauce, a crushed chocolate cookie churro with optional marshmallow dipping sauce and a pumpkin spice churro with cream cheese dipping sauce. There's also a churro/cereal sundae with strawberry ice cream and a churro sundae with a cookie butter gelato. You'll want to try them all.
Disneyland Halloween Food 2018 - Candy:
You can't have Halloween food without candy and there is no shortage at Disneyland! There are four Halloween-themed caramel apples as part of the Disneyland Halloween food 2018 lineup. You'll find a Minnie Witch apple, Jack Skellington apple, an Evil Queen apple and a skull apple. There are also two Halloween themed cake pops; Jack Skellington and a bat, as well as three themed crispy treats; Maleficent, Mickey Mouse Mummy and Oogie Boogie. You can find these treats throughout the Resort.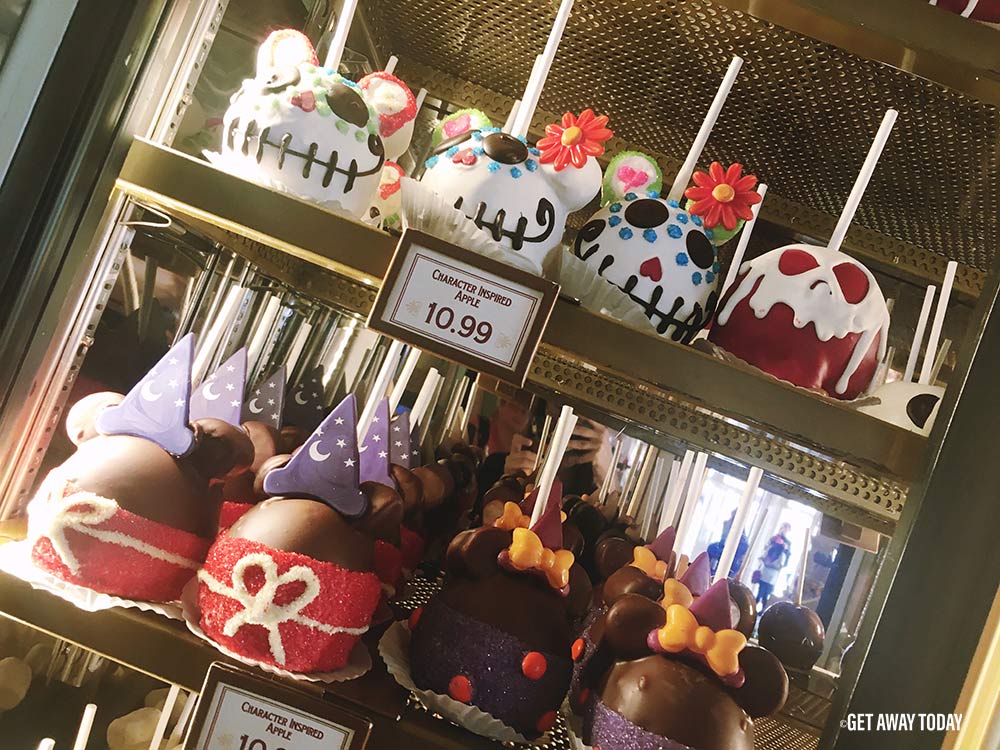 Disneyland Halloween Food 2018 - Mickey Beignets:
These delectable donuts can only be found tucked away in New Orleans Square at the Mint Julep Bar and they are a must for your Halloween Time vacation. The Disneyland Resort switches out beignet flavors seasonally, and we have been missing the pumpkin! We are thrilled the pumpkin spice beignets have returned after nearly three years of not being available at Disneyland.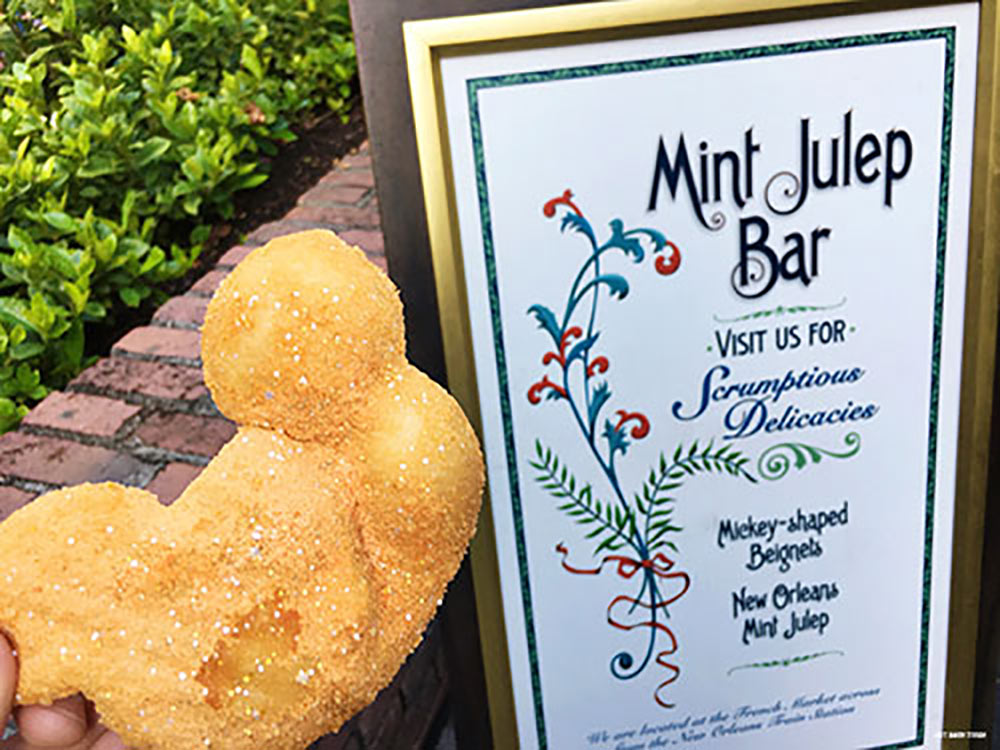 Disneyland Halloween Food 2018 - Secret Menus:
This year nearly all of the restaurants throughout Disneyland and Disney California Adventure Park are featuring a Halloween Time specialty item. The trick is that these items aren't always easily found. Don't be afraid to ask for the secret menu at any of the restarts you visit. However, one of the restaurants with the very most Disneyland Halloween food in 2018 is the Jolly Holiday Bakery. Here you'll find seven menu items only available during Halloween Time.
Disneyland Halloween Food 2018 - Drinks:
It's so much more than Halloween foods at Disneyland. 2018 brings a number of spooky libations. Seasonal beers, ales, cocktails and mocktails can be found at Disney California Adventure Park. With names like Bone Chilling Apple Cider and Supernatural Spirit, you're bound to find something to quench your thirst.
The Disneyland Halloween food in 2018 is out of this world. There are more options available at more places than ever before. If you are fans of fall foods, you'll want to book a trip stat. We're dying to try them all! Remember, Halloween Time at Disneyland begins September 7, 2018 and continues through Halloween.
If you haven't booked your Halloween 2018 Disneyland vacation yet, check out our Disneyland packages online. Or, call our vacation experts at 855-GET-AWAY. Our team would love nothing more than to help you put together your favorite Disneyland vacation yet.