Walt Disney World - what's not to love? You have four amazing parks,two water parks, Downtown Disney for shopping, fun themed hotels for every age group, numerous activities, and wonderful food. Oh yes, the food matches the Disney experience in every way. There is so much of it, that it is impossible to try everything. Let me share some of my tips of where to eat at Disney World - and how to save the most money.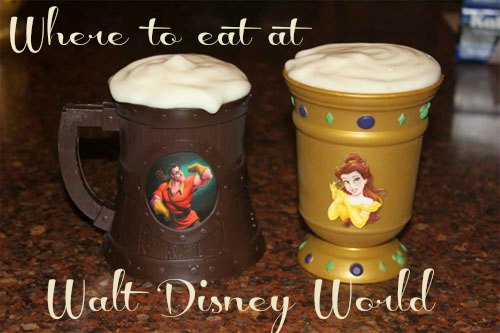 The top two time and money saving tips that I can offer would be...
Firs: Stay on property.
Second: Take advantage of the dining plan.
Staying on the resort, besides all of the many extras involved, just gives your trip that truly magical feel. We love not leaving the resort, taking advantage of Extra Magic Hours each day, and using the Magical Express to get to and from the airport - all included.
As for the dining plan, this is the biggest way we've found to save money on food. Our very first visit, we had one child and one junior and did not take advantage of the dining plan. We figured that we would allot so much money per day for food and we would be fine. Needless to say, we spent more on food than we had originally planned.
Our next visit, both kids were considered juniors, so we decided to try the dining plan. I was skeptical at first, but now I am hooked. It is so nice to be able to go to eat and not have to worry about sticking to a fixed budget. The amount of food that each person receives is more than enough, plus the Character Dining meals are included as a table service!!! I cannot stress how many times we have taken advantage of that and got to see all our favorite characters up close and personal.
Plus, Disney now has three different dining plans to fit any budget; quick-service, regular, and deluxe. The dining plans are all-or-nothing plans and can save your family up to 20% on your total dining. So, what are some of our favorite dining locations and tips you may ask?
First off, our family has learned that the Walt Disney Resort does not do anything small and that includes food. Each meal always consists of more than enough for an adult and sometimes two to share. We have found that we eat our big meal in the middle of the day and then smaller things before and after. This helps us to not get too full when riding all of our favorite rides such as the Rockin' Roller Coaster, Expedition Everest, Test Track and Space Mountain while still keeping our energy up to enjoy the parks as late as we want. My family is not a huge breakfast bunch, so we normally grab a breakfast bar and take advantage of the free hot chocolate in our refillable resort mugs. We never go hungry.
The hardest part about the Disney Dining Plan is deciding where to eat from the many restaurants available. Our family has made it a point to make sure we try at least one new place with each visit, and then of course go to our favorites such as Casey's Corner for a hot dog or The Launching Pad for a cream cheese filled pretzel.
With so many restaurants and snacks to choose from, here are some of our favorites:
Breakfast:
Chef Mickey – Chef Mickey offers an all you can eat breakfast buffet with Mickey and friends. This is a sit down restaurant located within the Disney's Contemporary Resort. Lunch and dinner are also available with the characters present.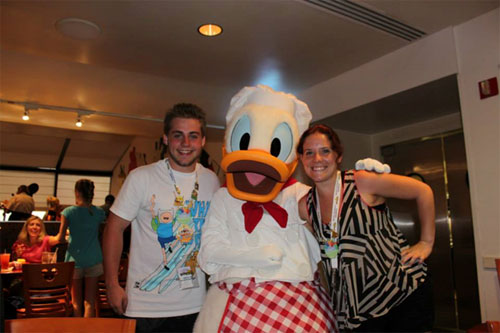 Resort restaurant – No matter what resort you stay at on property, you will receive a refillable mug for soda, juice, coffee and hot chocolate. Our family loves to take advantage of the hot chocolate to start off our mornings. We can even grab a quick snack to go along with it such as fruit or a doughnut.
Snacks: (Aside from the attractions, there are a few snacks that my family always looks forward to.)
Gaston's Tavern – LeFou's Brew – is a new favorite. Gaston's Tavern is located in the Magic Kingdom by the Be Our Guest Restaurant. It serves a variety of snacks and beverages with an average cost around $4 without the Dining Plan.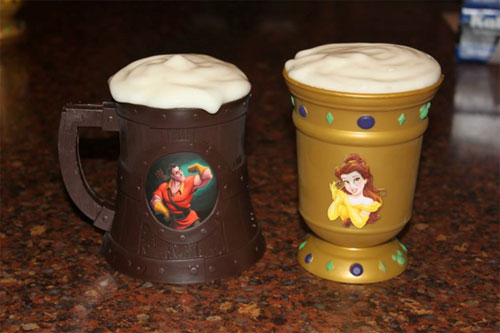 The Lunching Pad – We always grab a cream cheese filled pretzel and a frozen coke! It's our absolute favorite and must have snack from Walt Disney World. The pretzels are under $5 a piece and two people could easily share one. Our family will usually get two pretzels and two frozen cokes to share, which takes care of our snack for the day on the dining plan. The Lunching Pad is located in the Magic Kingdom across from Buzz Lightyear and serves a variety of snacks and lunch items.
Hollywood Scoops – Ice cream, need I say more? Hollywood Scoops is located in Disney's Hollywood Studios. It features hand-dipped ice cream and a few other treats. The average price is about $5, but the servings are large enough to feed two people.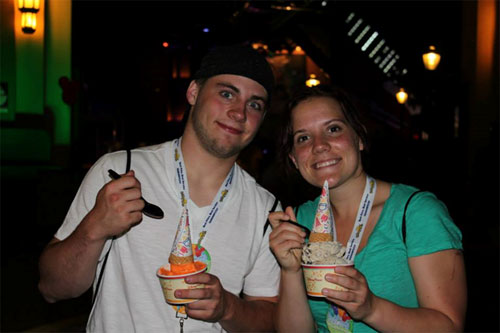 Funnel Cake – The name says it all. These treats are amazing and my family will usually get one to share. Funnel Cake in located in Epcot, between Japan and The American Adventure. Guests can choose from a variety of toppings. The average price is around $5.
Lunch/Dinner:
Casey's Corner – Yummy hotdogs!!! My all-time favorite is the Barbeque Slaw Dog. Nothing beats sitting outside under an umbrella, enjoying a good hot dog and the view of Cinderella's Castle. Casey's Corner is located in Disney's Magic Kingdom at the end of Main Street. The hot dogs are around $9 each and very filling. Dessert options consist of cotton candy and Cracker Jacks.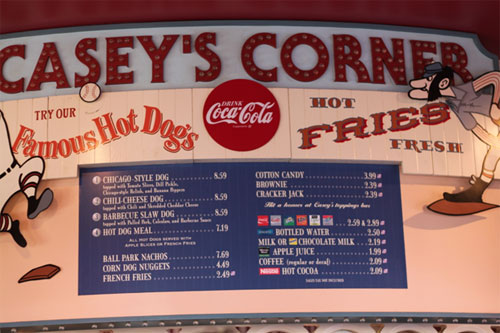 The Crystal Palace – This is where I can dine with my favorite characters, Pooh and friends. The Crystal Palace is an American style all you can eat buffet for breakfast, lunch and dinner. It is located in Disney's Magic Kingdom at the entrance of Adventureland.
Cape May's – While in Florida, you should enjoy a seafood buffet. Cape May's is located in the Disney's Beach Club Resort. They offer a character breakfast and a lunch or dinner buffet. We love variety of seafood that is offered.
Sci-Fi Dine-In – This is an indoor drive-in that serves meals for the family to enjoy while watching old Sci-fi movies. This is a fun experience for the entire family. Sci-Fi Dine-In is located in Disney's Hollywood Studio's. Dinner and lunch are offered.
Be Our Guest – With an ultimate
Beauty and the Beast
fan in our house, Be Our Guest has turned into another favorite. Be Our Guest is located in Disney's Magic Kingdom and they offer lunch and dinner. This restaurant offers quick-service for lunch and table-service for dinner. Reservations go quick for this one, but the experience is absolutely worth it.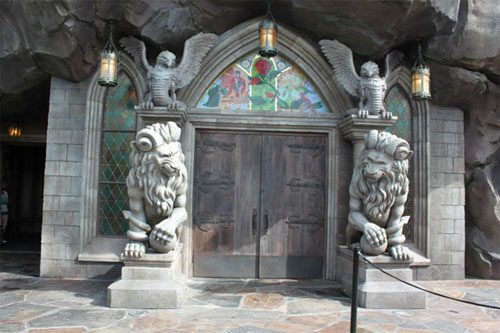 Tusker House – This eatery offers African/ American cuisine with Donald and friends. Tusker House is located in Disney's Animal Kingdom and offers an all you can eat buffet for lunch and dinner.
Pizza Planet Arcade – Toy Story fans can enjoy pizza and video games, just like in the first movie. The Pizza Planet Arcade is located in Disney's Hollywood Studios. It is open for lunch and dinner, offering a variety of pizza, meatball sandwiches and salad. The cost per meal without the dining plan is under $15.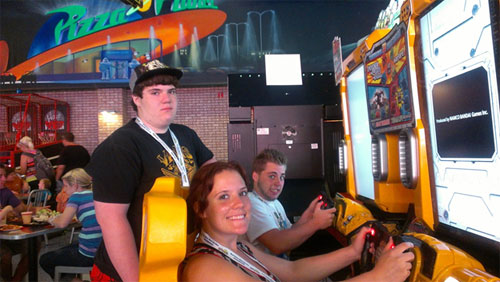 Tastes from around the world – Epcot has so many dining options from across the globe to choose from. A few of our favorites have been Nine Dragons (Asian/Chinese Cuisine), Akershus Royal Banquet (Norwegian) and La Cantina de San Angel (Mexican).
The biggest tip I can give you, is after you have booked your vacation, to make reservations ahead of time. Reservations are taken six months in advance and this is the best way to guarantee that you will get to the restaurants of your choice. You can make reservations over the phone, or online with the new MyMagic+ system. Our family loves going online to view the different restaurants and choosing our favorites. Then, when we get to the park we know that all of our major decisions are made and we can enjoy ourselves.
I hope these tips have helped. There is nothing more magical than a Disney Parks vacation! Leave a comment to share your favorite place to eat or any savings tips that you may have!
Remember to book your next Walt Disney World Vacation by calling our agents at 855-GET-AWAY
.
Check out these other great articles:
Spring Break Specials on Good Things Utah
Walt Disney World Came to Get Away Today
Walt Disney World Resort: Tips for the First Time Visitor