Search
Featured Posts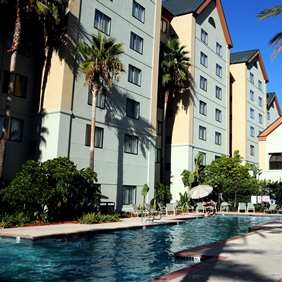 posted by Stephanie Smith
Two weeks ago I had the wonderful opportunity to take my girls and my father to
Disneyland ®
on a birthday trip. We had the privilege of staying at the
Homewood Suites by Hilton
on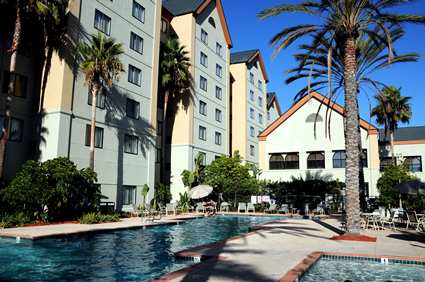 Harbor Blvd - just a mile from Disney's main gate. I enjoyed the hotel so very much. The accommodations were more than comfortable and clean and the staff was warm, friendly and inviting. My stay was absolutely perfect. My girls particularly loved the swimming pool, morning and night and I particularly appreciated the hot tub after walking around
Disneyland
® all day.
The breakfasts were wonderful and the dinners were fantastic, especially Mama's Meatballs! Every morning we were treated to country potatoes, scrambled eggs, cereals, make your own waffles and lots of pastries. The breakfast meat selection changed daily and included ham, sausage and bacon during our stay. In the evenings, it was so refreshing to be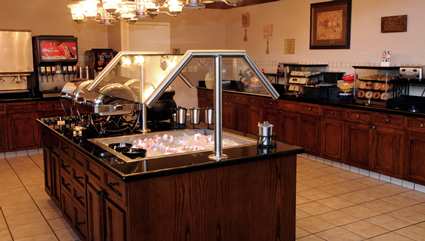 able to come back to the hotel and enjoy a "home-cooked" meal. After all the fast food and restaurant food, the dinners at the Homewood really hit the spot. The first night we enjoyed a taco bar with sodas and they did have wine and beer on tap, which they controlled very closely. The next night we were treated to Mama's meatballs and gravy with mashed potatoes and salad. We enjoyed grilled hamburgers with all the fixings on our final evening. Cookies were served every night and made a wonderful bedtime snack when taken back to the room with a tall glass of milk. The first night we sat in the dining area and ate, but found that we preferred taking the meal back to our room and the little tray in the room was perfect for transporting the food from the dining area back to our room. The Homewood Suites offers complimentary dinner every Mon. - Thurs. night, so if your travel dates are flexible, I highly recommend traveling during the week so you can take advantage of the free dinners offered.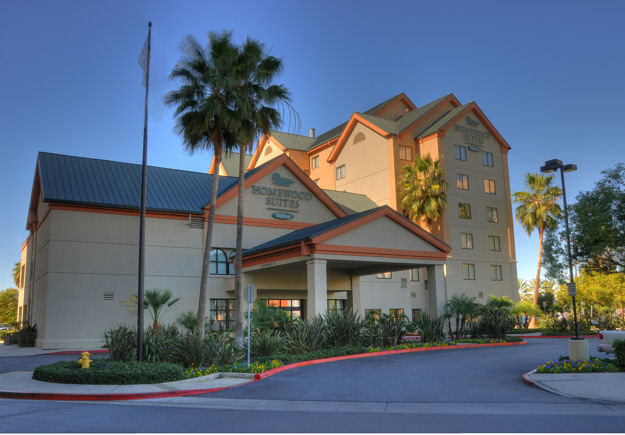 Just to try it out, I bought passes for the PCA shuttle that the Homewood Suites contracts with and we rode it during our stay. I do have to say that I did not enjoy it as much as using the
Anaheim Resort Transit
, or ART for short. The PCA shuttle dropped us off and picked us up at the back of the shuttle pick up and drop off zones which resulted in a pretty decent walk from the park. The Anaheim Resort Transit, which picks up at the Marriott Suites right next door, drops you off and picks you up right up in front of the Disney gates. As we were standing on the curb, waiting for our shuttle to pick us up, the ART would drive right past us and pick up at the Marriott Suites. It couldn't have been more than 30 feet away from where we were waiting for our shuttle. Not to mention, the price for
ART tickets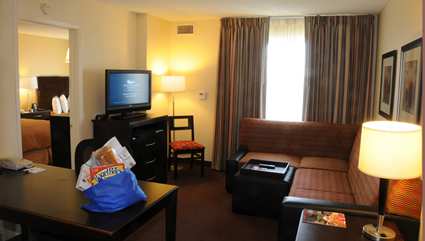 with Get Away Today
are only $10 for adults and kids ride free with each paying adult for 5 consecutive day. For my family we would have only paid $30. Instead, I paid $9 each for the first 3 days and $3 each for the last day for a total cost of $48. I can't wait to stay at this hotel again, but next time I will use the Anaheim Resort Transit instead.
I loved having breakfast and dinner included in our hotel. That freed up a lot of extra money for us and allowed us to experience things that we normally would skip out on due to cost. With breakfast and dinner taken care of we splurged on lunches. One day we enjoyed an amazing meal with all of my girls' favorite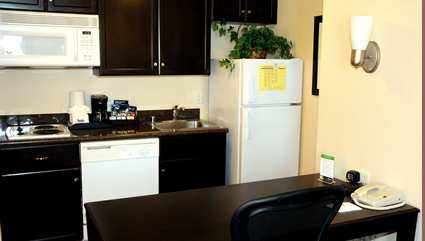 princesses on hand to sign autographs and pose for pictures at
Ariel's Grotto
. On another day my dad loved the waterside seats and the delicious ribs at the Blue Bayou where we could relax, eat and watch the boats full of eager thrill seekers float by on their way to Davy Jones' Locker on the Pirates of the Caribbean.
As for the rooms at the
Homewood Suites
, they were roomy and comfortable, very clean and perfect for a good sized family. We were walking distance from Target and picked up plenty of snack to keep the girls happy and with a full kitchen we could have made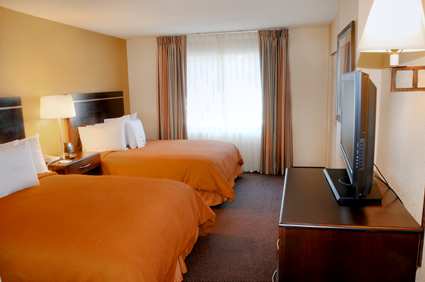 a nice meal, had I wanted to cook. Since my dad does not keep the same hours as my girls and I, having a separate living area with the sofa bed and television was perfect. He could watch television all night and my little girlies could crash after an exciting day of riding tea cups, exploring an enchanted castle and soaring in a hang glider over California's oceans, orange groves and mountains.
I can't say enough about how much we enjoyed staying at the
Homewood Suites
or how perfect our stay was. We all had a wonderful vacation and can't wait for the opportunity to stay at this hotel again. Book your next
Disneyland
® vacation with a stay at the
Homewood Suites
online or by calling our office at 800.523.6116. I'd love to help you plan your next
Disneyland ® vacation
!