If you're considering a trip to the Most Magical Place On Earth, it's likely you're feeling a little stressed and maybe even confused on where to start. Don't worry! You can find everything you need to know to plan a Disney World trip here.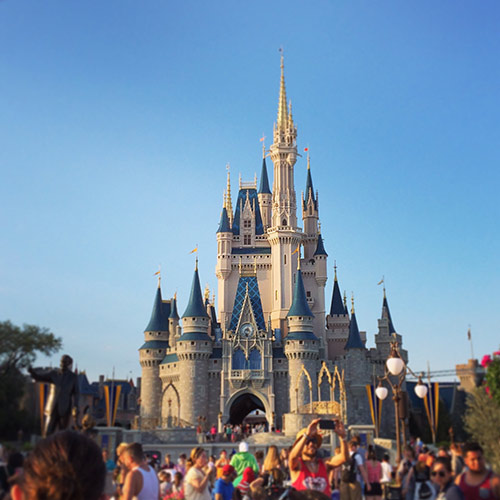 Everything You Need to Know to Plan a Disney World Trip
If you're planning a Disney World trip, you may be feeling a little overwhelmed. With four theme parks, two water parks and a giant shopping district, it's easy to see why. Since planning a Disney World vacation is more in-depth than planning a Disneyland vacation, we wanted to put a guide together to make it easy. Below is everything you'll need to know when you plan your next Disney World trip, including a few money savings tips!

Plan a Disney World Trip – Preparation
The first step you'll want to take when you plan a Disney World trip is getting prepared. This may seem silly, but since Disney World requires more prep than Disneyland, I find it helpful to be organized from the start. I like to have a few things on hand when I begin planning a Disney World vacation – things like a notebook, folders and a binder.
The notebook is for jotting down any ideas and putting together rough drafts of how my vacation will look. I'll typically have a few different folders for the different portions of the vacation (flights, hotel, etc.) and one binder to hold it in for each trip. My husband used to tease that this was unnecessary, so we went on one trip without a binder. After having a few heart attacks thinking we lost papers and then finally finding them crumpled up in our backpacks, he now sees the wisdom. You definitely don't need these components, but I highly suggest them to help you stay organized when planning a Disney World trip.
Have an account created on Disney World's website. This is where you'll be able to access the My Disney Experience that holds your reservations and links your dining reservations and FastPass+ selections. You'll want to download the My Disney Experience app on your phone, too. When you're at the parks, you'll be able to use the app to view maps, restaurant menus, your plans and more. It's a must for any Disney World vacation!
This is also the step where I put the budget together. If you haven't been to Disney World before, you may need to look at some of the steps below before you have an accurate idea of how much you want to spend. For my personal Disney World vacations, I like to write down what I'd like to spend on the vacation. After deciding when to go and looking at pricing for airfare and hotel, I'll go back and adjust if needed. There have been a few times where I have to increase the budget, but a lot of the time I'll actually be able to lower it based on airfare sales or hotel deals.
Once you're prepared to plan a Disney World trip, the real fun begins!
Plan a Disney World Trip – Dates
When can you go to Disney World? Do you have a specific set of days that you can take off from your job or schooling? Are there certain events or festivities that you don't want to miss? How long do you want to stay? These are all questions to consider when picking your dates for your Disney World vacation.
The first part of picking your dates while planning a Disney World trip is looking at when you can go. Things like work and school should be taken into consideration. I'm all for taking the kids out of school, but understand that can be hard when exams, projects and other assignments get in the way. Once you have an accurate idea of your availability, start looking at what's happening in Disney World.
Disney World has four theme parks, two water parks and a sprawling shopping district. With so many places to visit in the Resort, there's almost always something going on. In spring, you'll likely see a few half marathon weekends, the Epcot International Festival of Arts, Atlanta Braves spring training, the Epcot International Flower & Garden Festival and more. Summer typically showcases tons of entertainment and celebrations throughout the four parks, plus the longest hours at the water parks. In fall, you'll find Halloween décor, Mickey's Not-So-Scary Halloween Party and the Epcot International Food & Wine Festival. If you visit during the winter, you'll see holiday décor, Mickey's Very Merry Christmas Party, the Epcot International Festival of Holidays and more. For more information and exact dates, you can check out our 2018 guide to Disney World.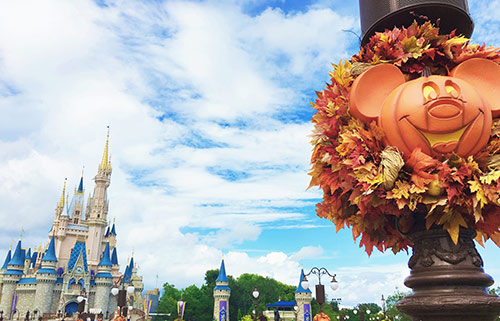 Once you know what's going on at the parks, you'll be able to fit your dates to that. The best part is that you can already start planning your 2019 Disney World vacation with Get Away Today. So, if you're thinking about visiting during spring time next year or even when Star Wars Land opens in late fall, you can book that with a deposit now.
Within picking your dates, deciding how long to stay is another important decision. Since the Walt Disney World Resort is so large we always recommend at least a five-day ticket and six-night stay. With five days, you'll be able to visit each of the parks at least once and have another day to revisit your favorite things. Most families stay even longer, averaging a seven to eight-night stay with a seven to nine-day ticket. Even if you were able to stay an entire month at Disney World, you probably wouldn't be able to do everything that the Resort offers.
But again, make sure to plan around your own availability! If you can only do a three-day ticket and four-night stay, then go for it. Just be aware that your stay will definitely be a little more packed if you're trying to do everything in that time. Or, better yet, be prepared to prioritize and know you'll be missing out on some aspects.

Plan a Disney World Trip – Hotel
Now that you know when you're going and how long you're staying, let's look at how to plan the hotel portion of your Disney World trip. With so much to see and do, it's no surprise that the Walt Disney World Resort offers a plethora of both on-site and off-site hotels. When deciding on the best one for your family, the first choice will be whether you want to stay on-site or off-site.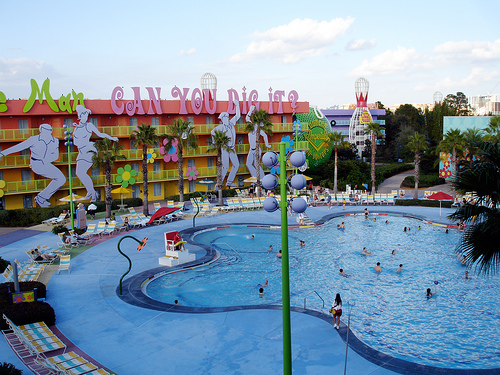 On-site hotels are typically more expensive, but come with a ton of perks for being part of the Walt Disney World Resort. And, since there are so many, there are more budget-friendly hotel options than people realize. You can choose from Value, Moderate and Deluxe properties from all around the parks. Some of my favorite Disney World hotels include the Pop Century (Value), Art of Animation (Value), Port Orleans – Riverside (Moderate), Caribbean Beach Resort (Moderate) and the Animal Kingdom Lodge (Deluxe). Here are a few of the perks you can take advantage of when you stay at any of the Walt Disney World Resort hotels:
Extra Magic Hours. You'll be able to enter one of the four parks either an hour earlier or stay an hour later than the general public.
Complimentary MagicBands. In Disney World, MagicBands can be used in place of tickets. They can also be used as your room key, credit card, dining reservation and more. When you stay on property, you get these included for free instead of paying the $12.95+ if you were to buy them separately.
Free airport transportation. The Magical Express is included to take you to and from the Orlando airport.
Early access to FastPass+ selections. While most guests have to wait until 30 days before their trip begins, Walt Disney World Resort Hotel guests get to choose their FastPass+ selections 60 days before their trip begins. We'll talk more on this further down!
Item delivery to your hotel. Staying on-site also means you'll be able to send any of your in-park purchases straight to your hotel's gift shop. Which is so great when you consider not having to carry any bags around the parks each day.
Access to Disney Dining Plans. Disney Dining Plans allow for you to pay for your food before you even get to the Resort. While this isn't for everyone (something else we'll touch base on further down), only staying on property will give you access to these.
Off-site hotels are just as popular at the Walt Disney World Resort. There are a ton of options, from name brands like Marriot and Hilton to full-house and condo rentals. These can save money, but you'll want to factor everything in. For example, you'll need to rent a car and/or pay for a shuttle, as well as pay cleaning fees if staying at a rental. So just make sure to calculate all costs before you jump right into thinking that the on-site properties cost way too much. And don't forget to consider the convenience. For me, if an on-site property is only going to be $100 or even $200 more over a vacation rental for the week, I'd likely still choose the on-site property for the conveniences and extra perks.
You know your family best, so don't be afraid to go with whichever option suits most. And, if you ever want more information on a hotel, you can give our agents a call at 855-GET-AWAY. Many have been to the Resort and experienced the hotels, making them the perfect resource when picking your Disney World hotel.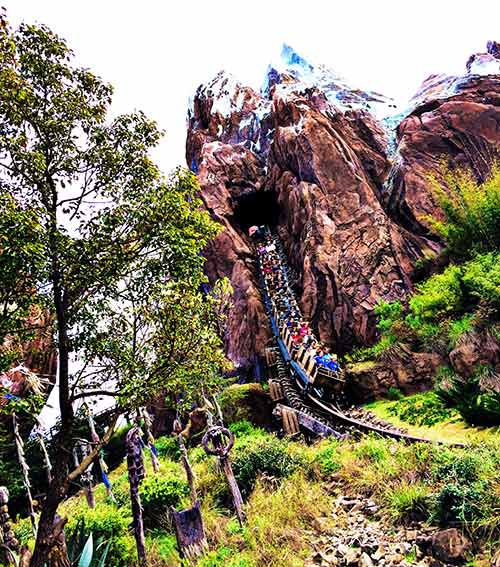 Plan a Disney World Trip – Tickets
The next part of planning a Disney World trip has to do with your tickets. You know when you're going, where you're staying and how long you'll be there. Now, you just need to know how many of those days you want to spend at the parks and how much flexibility you want.
I always like to spend just as many days in the park as nights I have booked. While that last day most likely won't be a full day because of flights, I still like to soak up an hour or two in the parks before I leave. Or, if I get in during the afternoon on my first day, I'll spend my first night just enjoying walking down Main Street U.S.A. in Magic Kingdom. However, if you're looking to save money, doing one less day in the parks based on your nights isn't a bad idea. Especially since you can spend your first or last day enjoying all the shopping, dining and entertainment at Disney Springs.
You'll also need to decide if you want a Base, Park Hopper or Park Hopper Plus ticket. A Base ticket allows you to visit one park per day while a Park Hopper tickets allows you to visit multiple parks in a day. The Park Hopper Plus ticket option allows you to visit multiple parks in a day as well as the water parks. I am a huge Park Hopper advocate because I love being able to jump around the parks to see and do as much as I can each day. However, you'll want to keep in mind that since the parks are so spread out, hopping does take longer. If you have small ones, a stroller or just want to maximize your time each day, a Base ticket might be the better option. It's also a great way to save money since the Base tickets do cost less.
As for the Park Hopper Plus ticket option, this is a great choice if you're visiting in the summer and have planned a day or two to spend relaxing in the sun. Both Typhoon Lagoon and Blizzard Beach offer intense waterslides, tiny tot-friendly water playgrounds, lazy rivers and more to keep your family entertained. I thoroughly enjoyed the one summer trip my family did utilize this ticket option, but we tend to go more outside of summer hours which doesn't make this as viable an option. It's definitely something to think about if you love water parks, though!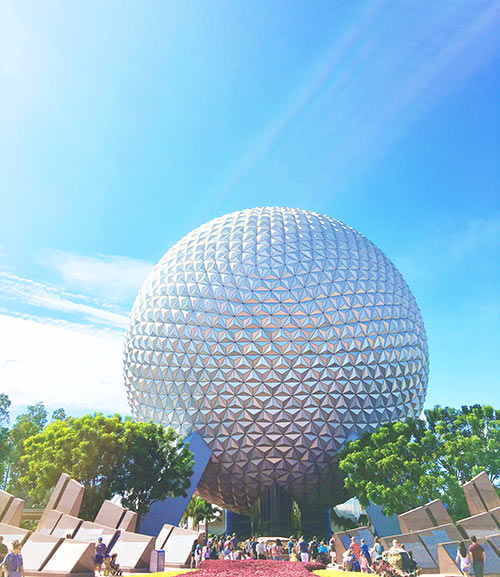 Whichever ticket you decide, you'll want to save by buying with Get Away Today. We offer a discount on all our Walt Disney World Resort tickets, whether you buy them separately or as part of a package. You can find them here or give our office a call at 855-GET-AWAY for pricing.
Plan a Disney World Trip – Transportation
The next portion of planning your Disney World vacation is transportation. You'll want to start looking at airfare pricing and begin comparing rental cars/shuttles if needed. To help get the best price, I like to use flight comparison tools like Google Flights or the ITA Software by Google. Both of these will allow you to look at your exact dates and compare the prices between different airlines, although the ITA Software has a few advanced features as well.
Typically, you'll find the best prices offered during the week (Tuesday – Thursday) with higher prices on the weekends. You can almost always count on spending more if you're flying out on a weekend or near a holiday as well. However, it's always a good idea to begin pricing out flights as soon as you can. I can't tell you how many deals I've seen disappear once you get closer to your actual dates. I recommend purchasing your flights about 120 – 180 days in advance. If you're planning a trip much sooner than that, don't fret. As long as you buy your airfare tickets at least 30 days in advance, you'll still save. Once you get within the 30-day mark, airfare pricing just continues to rise.
If you're staying off-site, you'll also want to make sure you have a shuttle to and from the airport or a rental car set up. These don't usually need to be purchased as early as airfare, but it's always a good idea to start watching as well. And, if you're thinking of visiting other Orlando attractions, don't forget to include transportation. Even if you are planning on an Uber or Lyft, I suggest writing it in your budget and including it within your plan documents to be safe.
Plan a Disney World Trip – Extras
Now that we have our dates, hotel, tickets and transportation settled, it's time to look at the magical extras available at the Walt Disney World Resort. This section is applicable if you're planning on going during Halloween, the Holidays or any special events like the Epcot Festivals. Things like Mickey's Not-So-Scary Halloween Party, Mickey's Very Merry Christmas Party, chef demonstrations, dessert parties and more. These are all events that require a paid ticket separate from your park ticket. Many tend to sell out, so you'll want to purchase them as soon as they are available.
Even if you're not going during these times, keep in mind that there are always magical extras you can add on. From Character Dining to the Bibbidi Bobbidi Boutique, there's something for every family. And while these are not needed to make your trip amazing, they are great options to celebrate special occasions.

Plan a Disney World Trip – Schedule
Putting together a schedule when you plan a Disney World trip can be both stressful and fun. To make it less overwhelming, I always like to remind myself that these are loose plans based upon my dining and FastPass+ wants that can easily be changed. If we decide to eat somewhere else or visit a different park first, it will all be okay!
To help make a schedule, my husband and I each pick our favorite rides and eating spots and then base our days off of that. We typically have one sit-down meal and one must-do ride for each day, and I plan everything else around that. Just knowing these top two things really helps when you go to make dining reservations and FastPass+ selections.
Don't forget entertainment when making your schedule, either! Each park has some kind of "closing" show – like fireworks at Magic Kingdom and Fantasmic! at Disney's Hollywood Studios – that you don't want to miss. It's why I love having a Park Hopper so much. Even if we decide to eat a meal at Magic Kingdom (shout out to Be Our Guest), we can hop over to one of the other parks to enjoy different entertainment to finish our night. Not having a Park Hopper is fine, you'll just definitely want to spend a little more time on your schedule since you won't be able to visit other parks in the same day.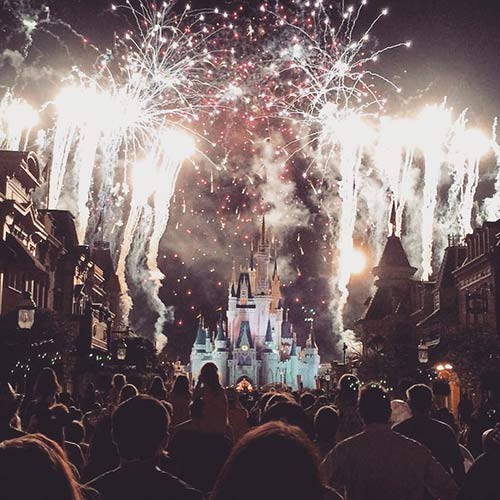 Plan a Disney World Trip – Dining
After you've picked out your top dining selections from your schedule, you'll want to start booking your reservations. Dining reservations can be made up to 180 days in advance and there are several locations – like the Be Our Guest, Cinderella's Royal Table and Ohana restaurants – that sell out almost as soon as they open. If your first choice sells out, don't give up hope! I always recommend calling the Disney Dining Reservations line as well as checking back each day in case any reservations are cancelled.
Another portion of planning your Disney World trip is decided whether to add on the Disney Dining Plan or not. This is only an option if you're doing a Disney World package that includes both an on-site hotel and tickets. You pay in advance for one of the dining plans (Quick Service, Regular or Deluxe) and it gives you an amount of credits to then be redeemed during your trip. This is occasionally offered for free with certain specials and I always recommend getting it then – I mean, who would say no to free food? But, if you are paying for it, you'll want to do the math. It averages around $60-$75 per night per adult and $30-$40 per night per child. It will be up to you to decide whether that's a value for your family or not.

Plan a Disney World Trip – FastPass+
FastPass+ is the next part of planning a Disney World trip. If you're staying on-site, you can plan these 60 days in advance. If staying off-site, you'll be able to make your selections 30 days in advance. Either way, you'll want to refer to your schedule to decide which FastPass+ selections to make for each day.
You'll be able to make three selections in advance, all within the same park. Be aware that you can only have one "A-Ticket" attraction (think Flight of Passage in Animal Kingdom or Toy Story Midway Mania! in Disney's Hollywood Studios) at a time. Once you're at the park and have used all three of your FastPass+ selections, you'll be able to make more via the My Disney Experience app or at each ride's FastPass+ kiosk. I always recommend trying to choose your FastPass+ selections for earlier in the day so you'll be able to make more for the remainder of your day.
The other thing to remember with FastPass+ at Disney World is that entertainment FastPass+ options do count as one of your three for the day. And, since you won't use that until later in the evening, you aren't able to select more during the day. For this reason, I usually recommend holding off on the entertainment FastPass+ selections.
Once you have your FastPass+ selections, you can breathe a sigh of relief. It's almost time for your vacation!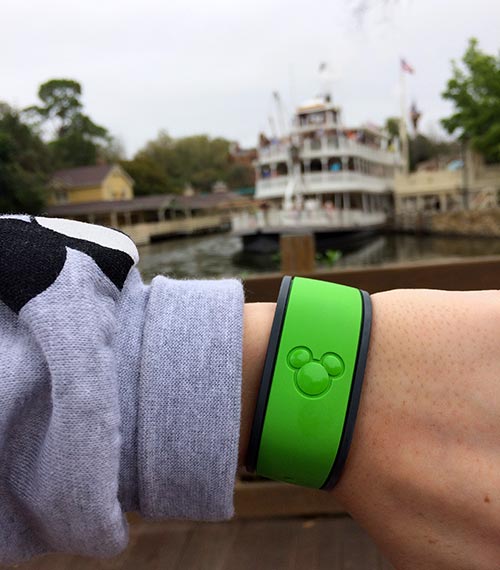 Plan a Disney World Trip – Packing
But wait – you can't forget about packing when you plan a Disney World trip! I highly suggest putting a list of needed items together to check off as you pack. Don't forget to check the weather for when you'll be at Disney World either. While Orlando is usually pretty humid and hot, it can also get a lot of rain. Make sure you're prepared with the proper clothing and a poncho or two, just in case. Things like comfortable walking shoes, a light jacket, a hat, snacks and boredom busters (either for traveling or in lines) are all good things to bring.
To save a bit of money, you can always purchase Disney souvenirs ahead of time or even use Disney gift cards to stick to your budget. These are items, along with your MagicBands and itineraries, that you won't want to forget. I've found it's much harder to leave an entire binder behind than it is some papers, another point for why a trip binder is always a great idea.
Plan a Disney World Trip – Go!
You are now ready to go on your Disney World trip – woohoo! You may have some time between having the trip planned and actually going, but I think knowing a Disney World trip is on the horizon makes every day better. You can also check out our Disney crafts for ideas on how to surprise your family and countdowns that make the time fly by. Once you're at the Walt Disney World Resort, there's only one more thing to do: enjoy the magic!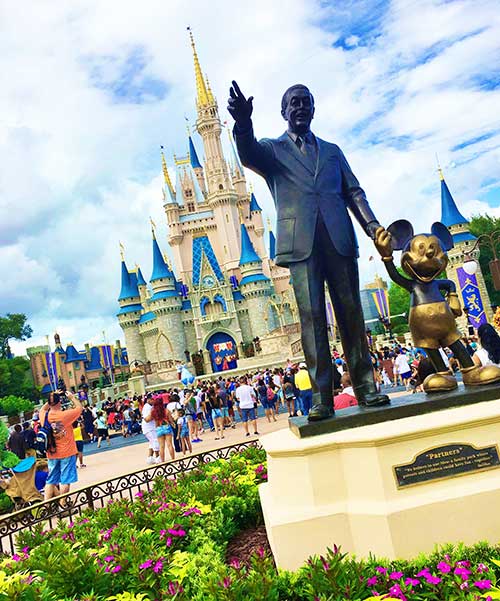 Get Away Today would love to help you save on your next Disney World vacation. We have several Disney World experts on hand ready to help with recommendations, insider tips and the best discounts. You can book any of our Disney packages online or give our agents a call at 855-GET-AWAY. We can't wait to help you plan a Disney World trip!

Check out more Disney World articles: