Search
Featured Posts

posted by Kimberly Fidler

"Dear Get Away Today,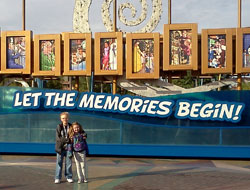 We just returned from an incredible time at Disneyland, set up through your company. It went off without a hitch and we were able to enjoy ourselves without the logistical worries of planning a trip. It was my daughter's first visit and I believe we have made memories that will last a lifetime. I also appreciate that a percentage goes back to my children's school. Thanks for everything.

Sincerely,
Chris G."


"I've been using Get Away Today for every Disney trip I've taken since 2001 and they've always been great! We've never encountered any issues whatsoever and the prices are always great. We purchased the "Peace of Mind" insurance on this trip because I thought we might need to change our travel dates. We did, and it was very easy to do and no hassle from the Get Away Today rep. We had a great time at the park! It was my 3rd time going when decorated for Christmas, but the 1st time for my husband. Disneyland is absolutely magical during this time! Thank you for another great vacation!

- Gina C."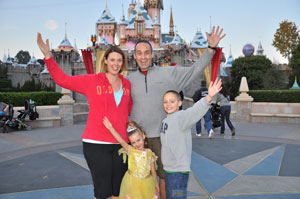 "Our trip to Disneyland Resort during the Christmas season celebration was AMAZING! Your prices were the absolute best and we loved our hotel. The ART shuttle service was very convenient. The parks were so much fun and so beautiful all decked out for the holidays. It was truly magical!! The kids (and us too!) had stars in their eyes the whole time! My daughter got to meet all of her favorite princesses and my son met his favorite character, Goofy!

Thanks Get Away Today for making it so easy for us to plan a trip that we'll never forget!

The French Family"

"Thank you for helping my family with our annual holiday vacation. Using the getawaytoday.com website was easy. I liked that a quote could be sent to me so that I could still research alternatives and have access to easily log in and compare pricing. I belong to a travel club through my employer and still chose to book my Disneyland vacation through getawaytoday.com. The deals could not be beat. We saved $180 off the entire vacation, even when using our AAA membership to book.

Our Hotel was OK, it was what I expected for the price. We choose a more affordable hotel this year because on a Disney vacation you spend so little time in your room. Next year we may spend the extra to book a better hotel. The service a the hotel was great, the furniture in the room was updated, but need to be remodeled.

Using our tickets was easy. We booked a day at Universal Studios Hollywood and the rest of the trip was spent at Disneyland.

Thank you for the hospitality,

- Jennifer R."

We love helping families have magical, affordable vacations so that they can create memories together. Let Get Away Today help you plan your holiday vacation for an unforgettable holiday season.