UPDATED September 2019: The famous New York based Black Tap Craft Burgers & Beer has found a new home in Downtown Disney and we couldn't be more excited. The Black Tap Downtown Disney is quite different from other Black Tap locations and we're going to tell you everything you need to know about this unique location.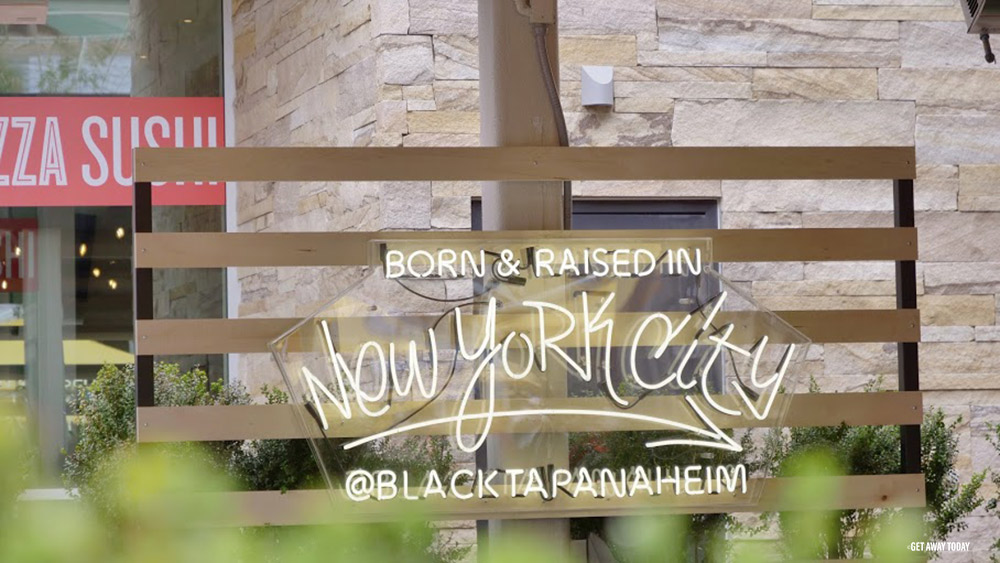 Black Tap Downtown Disney
Black Tap Craft Burgers & Beer is a new restaurant located in the Downtown Disney District at the Disneyland Resort. It is one of a handful of locations throughout the world for this New York based eatery known for its gourmet burgers. But more than that, it is known for its literally over-the-top Crazy Shakes. When you come here you can expect food just as fun to photograph as it is to eat.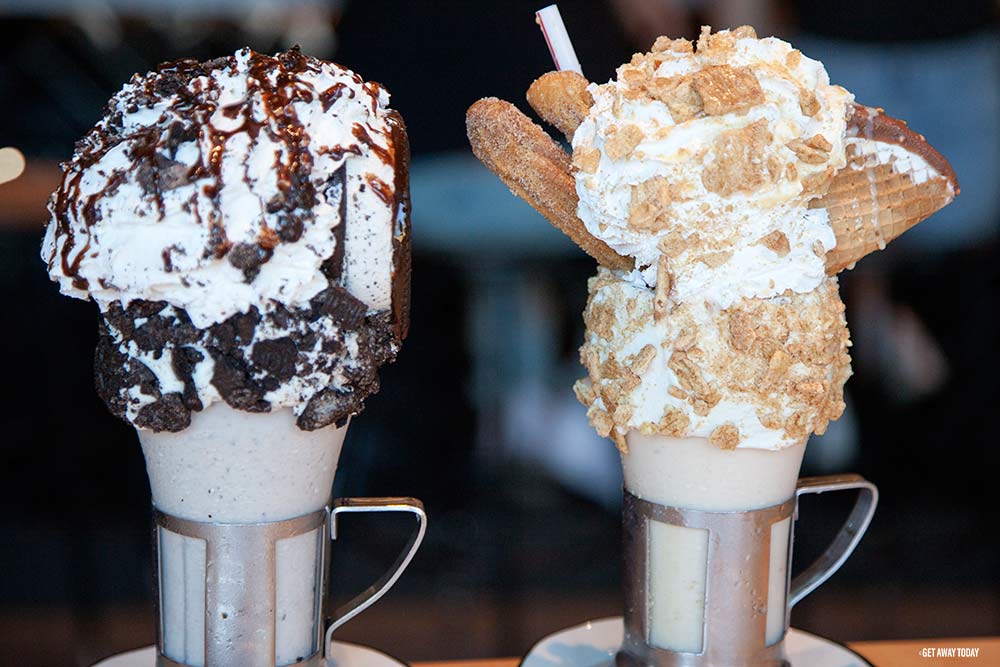 Because the Disneyland Resort's Black Tap restaurant is located in Downtown Disney, you don't need a park ticket to access it. It's a great dining experience for a Disney park or non-park day. However, because Downtown Disney is a secured location, you will have to go through security to get to the restaurant.

Black Tap Downtown Disney Shake Window
One of the most unique aspects of the Downtown Disney Black Tap location is that it is the ONLY Black Tap that has a shake window. In addition to having a restaurant, you can order just a shake at a take out window, which is a much shorter wait than dining in the restaurant.
If you're not sure you want to tackle a Crazy Shake, but want to see what they're all about, there is a large window where you can watch each Crazy Shake being meticulously crafted right before your eyes. You can order all of the Crazy Shake flavors at the window that you can find in the restaurant, including the Strawberry Shortcake Shake that can only be ordered in the Downtown Disney location. The Strawberry Shortcake Shake is a gourmet strawberry shake topped with cake crumbles, whipped cream, a twisty lollipop and a full sized strawberry shortcake ice cream bar.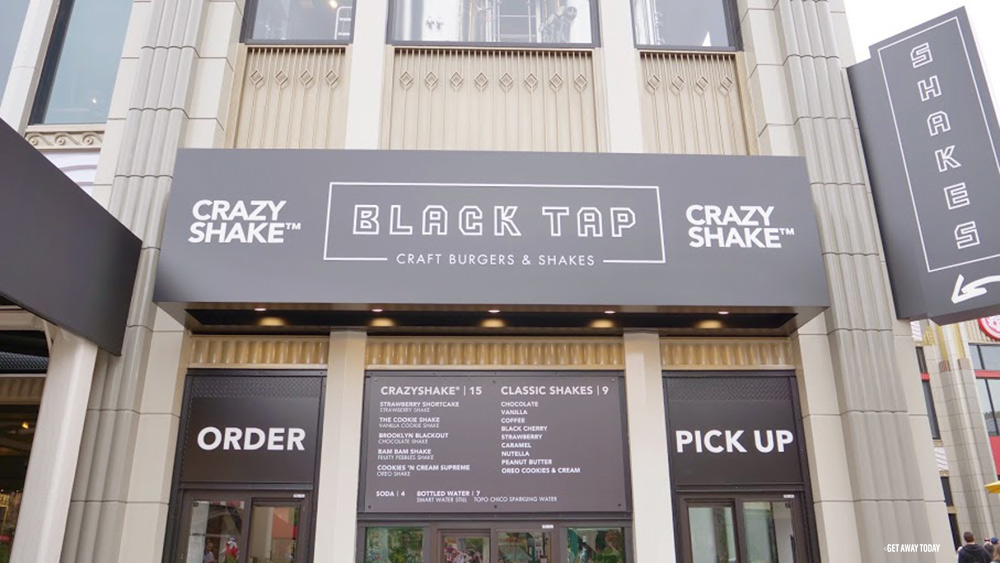 Two other insanely popular shakes include the Bam Bam Shake and the Cake Shake. The Bam Bam Shake is a breakfast lover's dream come true. Not only does the shake have a Fruity Pebbles base, it is garnished with Fruity Pebbles, a Fruity Pebbles Rice Crispy Treat and Strawberry Pop-Tarts. The Cake Shake has a cake batter base and is topped with a full slice of Funfetti cake. Another stand out is the Cotton Candy Shake, which is a strawberry shake that comes adorned with pastel pearl chocolates, rock candy, a lollipop, whipped cream and of course, cotton candy. With such bright colors, it's easy to see why these are such hits.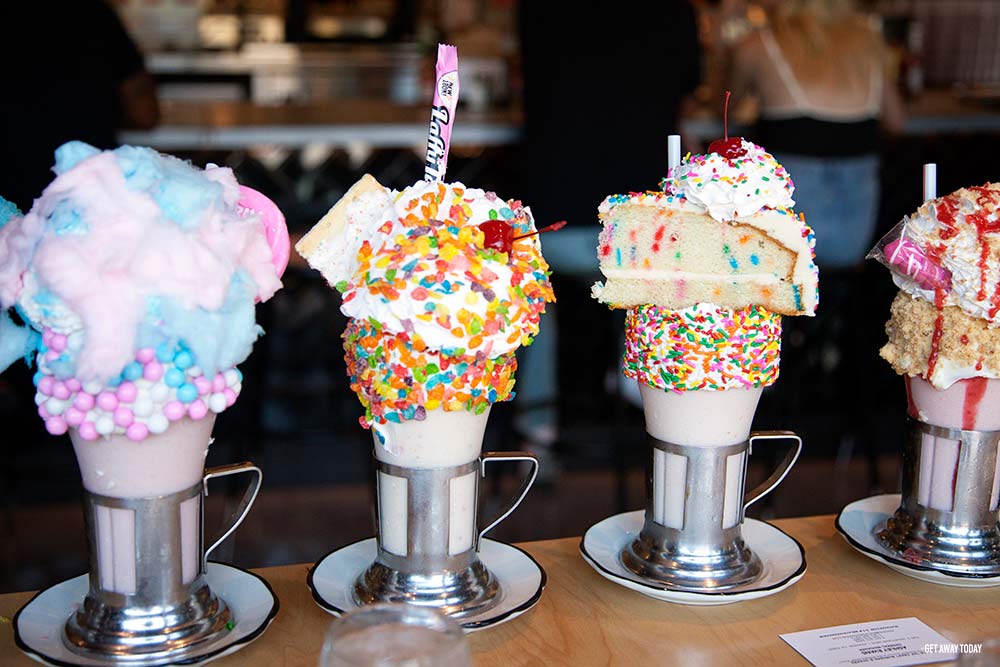 If you want to try your hand at making one of the Crazy Shakes at home, we have a couple of copycat recipes that you can try. We might be biased, but we think they are pretty close!
Copycat Black Tap Milkshake - Perfect for Celebrating Your Disney Birthday

How to Eat at the Black Tap Downtown Disney Restaurant
Now that you know all that there is to know about the shake window, let's talk about the restaurant. The Black Tap Downtown Disney location is considered a quick service location, which means no reservations are accepted. So what do you do?
The first thing you'll do is wait in line outside of the building. The line has been somewhat long (roughly 30 - 60 minute waits) since it opened. As you get in line you can ask for a menu to study as you wait. Once you get to the front of the line, you'll go inside where you'll order. When I was there, there were three operating registers, so it felt like it was going fairly quickly.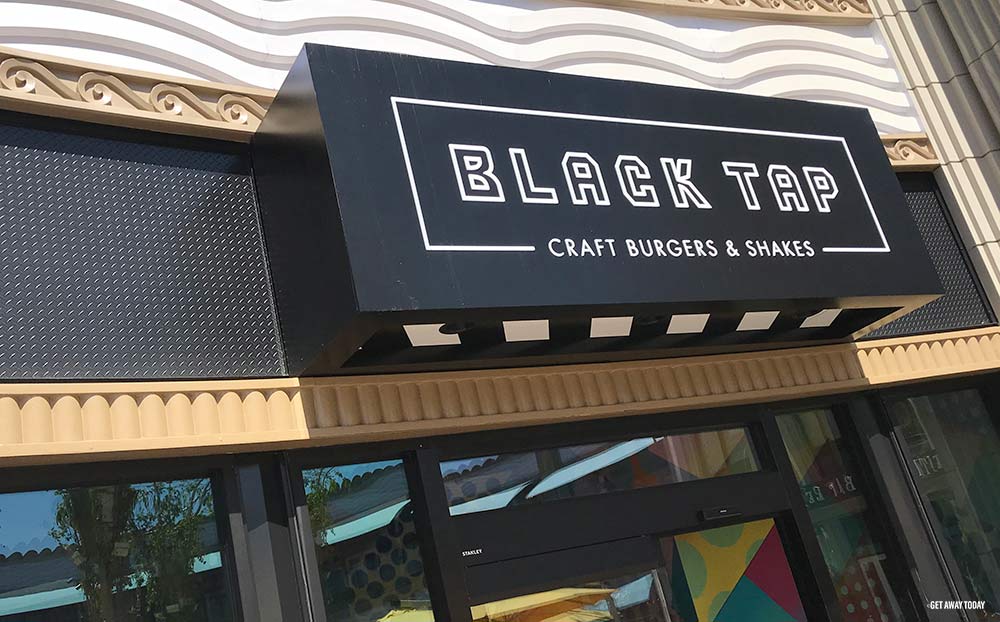 You'll place your order and be given a disc to place on your table. You'll also get cups for any fountain drinks you've ordered. Then, you'll go find a spot to sit. Even with the long waits to order, there seemed to be plentiful seating both inside and outside the restaurant. You'll place your disc on the specified spot on your table. That is how the servers will find you. Once your food is ready, they'll bring it right to your table. It will likely come out in shifts as soon as your items are made. If you'd like something in a particular order, you'll want to request that. You'll want to note that although you won't have an assigned server like you would at a table service restaurant, there are employees regularly walking around who are available to help should you need assistance, including ordering additional menu items.

Black Tap Downtown Disney Menu
Of course you already know that Black Tap is famous for their shakes so, obviously, they are popular menu items. Crazy Shakes are $15 a piece. But if you just want an good old fashioned shake without all of the extras, you can order those for $9 each.
Black Tap Downtown Disney is also known for their gourmet burgers, brews, salads and assortment of appetizers. You can find the full menu on the official Disneyland app. Burgers start at $15 and go up to $20. Each burger comes with a side order of fries. Kids meals are also on the menu at around $9 per meal.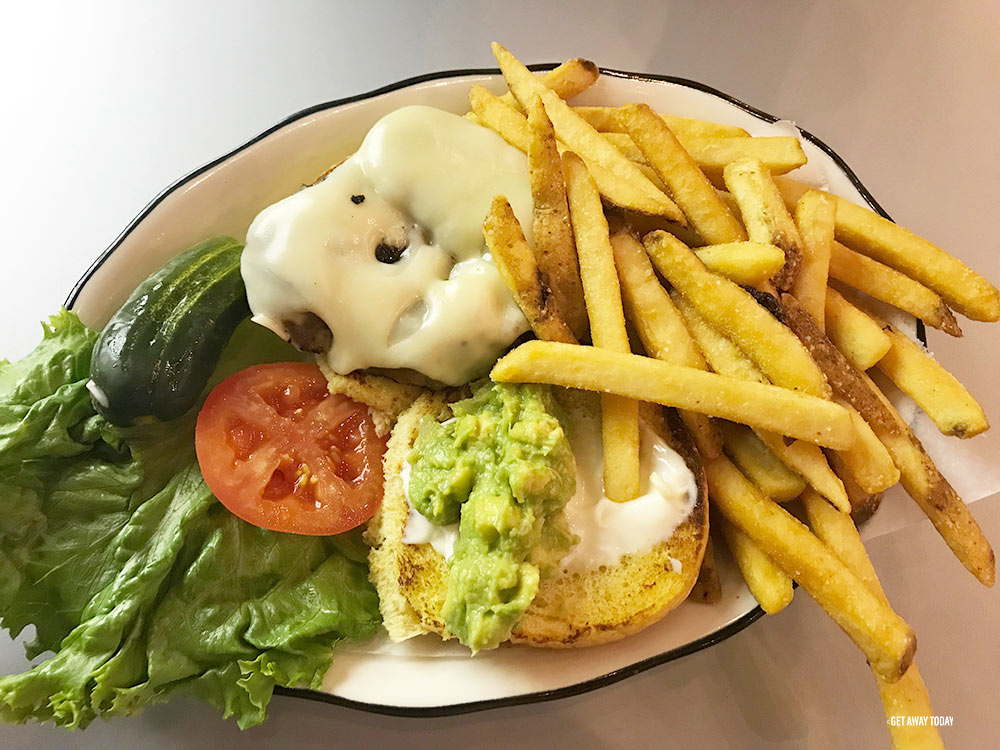 For our meal, we wanted to try a good assortment. Here is what we ended up with:
Fried Pickles
All American Burger
The Greg Normal (winner of the People's Choice Award three years running at New York City Wine and Food Festival's Burger Bash)
Crispy Chicken Sandwich
French Fries
Onion Rings
Kid's Grilled Cheese Sandwich
Cookies 'N Cream Supreme Shake
Everything was awesome! We don't think you can go wrong with anything on the menu at Black Tap. One thing to note about the burgers is that they are thick, and typically prepared to medium. If you'd like it cooked otherwise, you'll want to note that when ordering.
Black Tap Downtown Disney: This and That
In addition to knowing how the ordering and menus work, there are a few things worth pointing out. First, Black Tap Downtown Disney opens at 11:00am daily. If you want to get right in, get there around 10:30am and you'll likely be among the first in the door.
Second, because you're ordering off a menu and it's quick service, not everyone in your party has to stand in line or even be present to order. You could easily send someone in your group to order your food, then come meet you at the table when you're ready.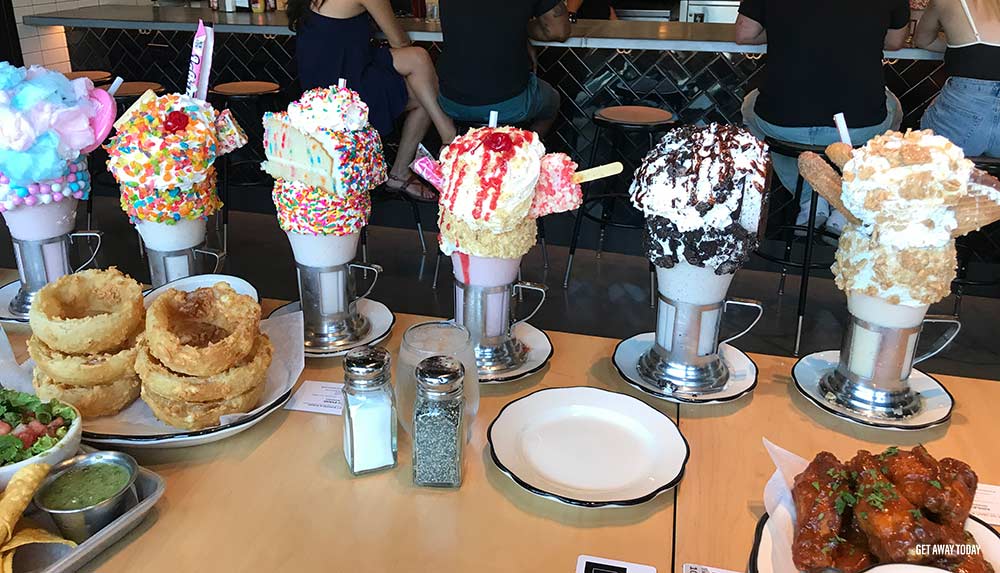 Third, the Black Tap Downtown Disney location does not allow strollers. You can wait in the outside line with your stroller, but when you get to the front, you'll need someone in your party to drop the stroller off at the designated stroller parking. Black Tap shares a stroller parking spot with Splitsville, which is located right next to the Black Tap Shake Window. If you end up eating outside, you'll be right next to the stroller location.
And finally, as we mentioned at the beginning of the article, the restaurant is located in Downtown Disney. This means you'll need to go through security, but you don't need a theme park ticket. If you are parking in the Downtown Disney parking lot, Black Tap will validate your parking for up to three hours.
Experiencing Black Tap Downtown Disney
And that's a wrap on everything you need to know about Black Tap Downtown Disney. It makes a whimsical dessert and a hearty burger. Eating at Black Tap is bound to be a memory for years to come. And if you visit the Disneyland Resort regularly, it will likely become a family tradition.
Speaking of vacation memories and family traditions, we'd love to help you book your next Disneyland vacation. Be sure to check out our Disneyland ticket and hotel specials. You can find our Disneyland packages online, or you can call our agents at 855-GET-AWAY.