If you were asked which city in the US is the most patriotic, you might be surprised to find out that it's sunny San Diego. But, once you realize its home to the three Naval Bases (Point Loma, Coronado and San Diego), as well as the Marine's Camp Pendleton, Recruit Depot San Diego and Air Station Miramar, it's not that surprising. When you're in San Diego you can almost feel the patriotism in the air. If you really want to celebrate the American spirit, here are five patriotic things to do in San Diego, sure to make you proud to be an American.

1. Tour the USS Midway Museum. The San Diego Bay is the permanent home to the USS Midway, a now retired aircraft carrier used by the Navy for nearly 50 years. You can see what daily life was like aboard the aircraft carrier, explore a wide variety of war aircraft, hear stories from some of our nation's heroes and more. It is a reverent place with a special spirit and one that is worth a few hours of your San Diego vacation. There are audio tours available for everyone, including one specifically for kids with personal stories and interesting facts.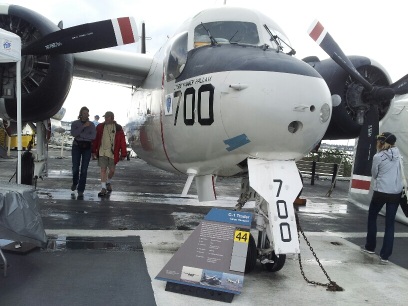 2. Visit the San Diego Air & Space Museum at Balboa Park. Balboa Park is a San Diego landmark, and here you'll learn all about the history of flight from hot air balloons to space ships and everything in between. History buffs will appreciate exhibits displaying and honoring aircraft from World War I, World War II, Korea and Vietnam.

3. Go to a baseball game. There is no more American past time than baseball and San Diego's Petco Park is one of the most beautiful and patriotic stadiums there is. Each Sunday home game is a Military Salute and there is a giant model of the USS Midway on the inside of the stadium. Of course all Major League Baseball games begin with the National Anthem, but Petco Park also honors our military each game by asking all active and retired military to stand and be honored between innings. If you have younger kids who get restless, there is a huge grassy area and fantastic playground perfect for toddlers on the ground level.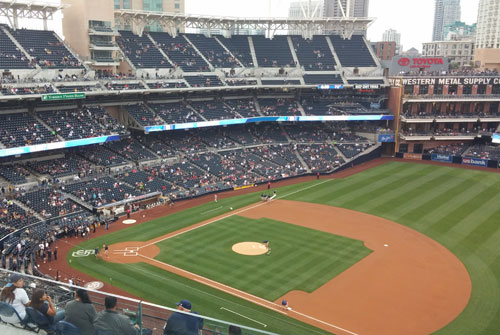 4. Visit LEGOLAND, no really. Their Miniland USA is incredible with intricately recreated LEGO versions of San Francisco, Las Vegas, New Orleans, and of course, Washington D.C. The Whitehouse, Capitol Building, monuments and even the President's motorcade are all featured. The President even makes an appearance and the figures change with who currently holds the office. It's pretty awesome and a great way to teach your kids about our country. Your family will also be able to see a replica of Mount Rushmore and get an up-close viewing of it on the Coast Cruise.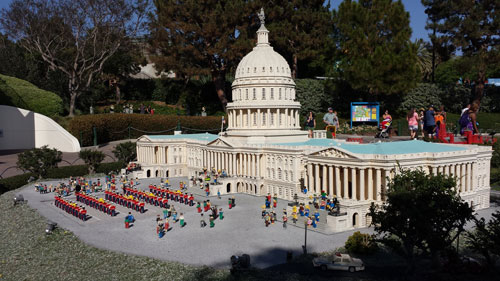 5. Take a tour of San Diego Bay. There are a few options to choose from, and most will take you by at least one of the naval bases. We love the Flagship Harbor Tour, which is a traditional bay cruise with a north and a south bay tour. The north bay tour features the San Diego skyline, Star of India and the iconic ships of the Maritime Museum, Harbor Island, Shelter Island and North Island Naval Air Station. The southern bay tour highlights the U.S.S. Midway Aircraft Carrier, U.S. Navy Surface Fleet, Coronado waterfront, Naval Amphibious Base Coronado (home of the Navy SEALs) and the Coronado Bay Bridge. You can also opt for a two hour tour which combines the north and south bay cruises. This would be best for older kids. Kids of all ages will love the San Diego SEAL Tour, which is on part land, part sea on an amphibious vehicle. The San Diego Speedboat tour is another unique option that allows you to get up close and personal to some of San Diego's sites, like the USS Midway in a 2-person speedboat. It is incredible to look up at the aircraft carrier from the water. It's a whole new perspective. This is best for older kids, as you will hit high speeds. Teenagers especially love it as they may be able to drive the boat themselves.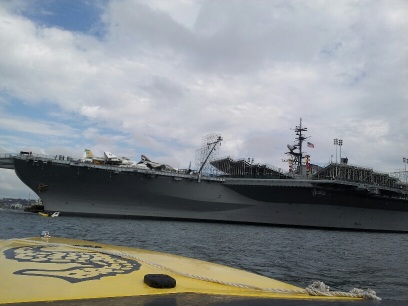 In addition to these five year round (or nearly year round) patriotic activities, SeaWorld San Diego presents a fireworks display almost nightly during the summer and their sky tower is lit up in the colors of the flag. The Miramar Air Show takes place each October and brings in visitors from across the country. The Blue Angels are just one highlight of the show. We hope you enjoy your time in the country's most patriotic city and we'd love to help you get there. You can get the best deal on our San Diego vacations, including reduced rates at San Diego hotels and discounted attraction tickets, online or by calling our San Diego experts at 855-GET-AWAY.


Check out these other great articles:

8 Fun Games to Play at the Beach
How to Get the Best Photos On Your Beach Vacation
Disneyland Forever: In-depth Look at the History of Fireworks