There's always so much to see and do when you visit the Disneyland Resort. To make sure you don't miss a thing, we've gathered 9 fun things to do at Paradise Pier in Disney California Adventure Park. You won't want to miss experiencing these on your next Disneyland vacation!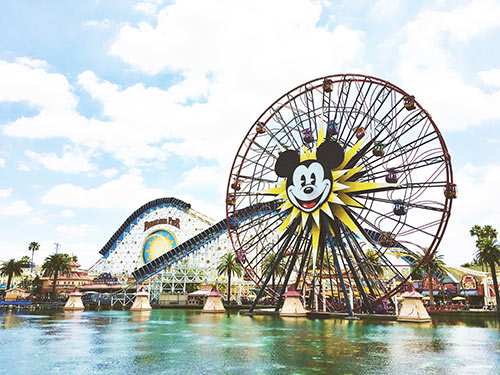 We love all the themeing and detail that can be found at the Disneyland Resort, especially in Disney California Adventure. The newest of the two parks, Disney California Adventure opened early in 2001. What began as the idea of a theme park for adults, soon transformed into a celebration of California and its golden moments.
Disney California Adventure features themed lands where guests can immerse themselves into the by-gone era of California. The Paradise Pier in Disney California Adventure does just that, surrounding you with the style of classic boardwalks and piers still popular near American coastal cities. The authentic land creates a classic environment, featuring boardwalk barkers, midway games, hot dogs and ice cream. It's a land full of fun and imagination for the whole family.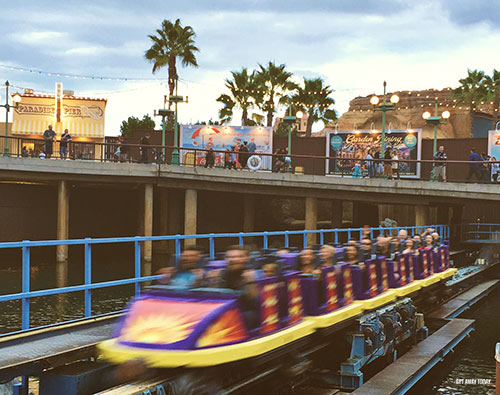 The next time you're in Disneyland, make sure to stroll through Paradise Pier and enjoy all it has to offer. It's a classic experience with a Disney spin. To make the most of your adventure, don't miss our top 9 things to do at Paradise Pier in Disney California Adventure:
1. Toy Story Midway Mania!. Toy Story Midway Mania! was created with classic turn-of-the-century amusement parks in mind. The ride is a perfect mix of nostalgia and Pixar fun. It allows you to virtually play boardwalk games while interacting with your favorite Toy Story characters in 3-D.
Your carnival car will contain an "action shooter" that throws as many rings, darts and balls as you need during the game. You'll be ready to take aim at the targets, complete with some 4-D surprises! Keep an eye out for a hidden Mickey on the wall as you enter the game, too. It's a great reminder about the magic of details at Disneyland.
Toy Story Midway Mania! is fun for all ages and located near the back of Paradise Pier in Disney California Adventure. The ride recently added FastPass service, making it even easier to enjoy Toy Story Midway Mania! multiple times a day.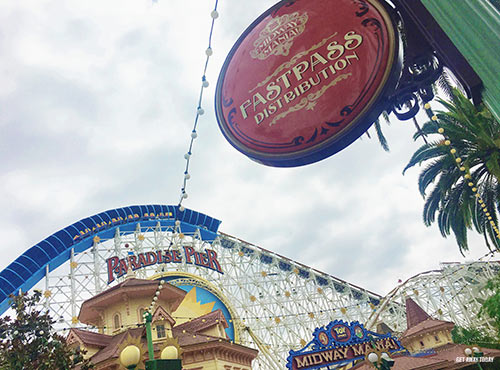 2. Mr. Potato Head. This big tator is technically part of Toy Story Midway Mania!, but deserves his own mention. As you enter the line for the virtual game, Mr. Potato Head will be there to entertain, "Ladies and gentlemen, boys and girls! Hurry, hurry, right this way, step right up! Toy Story Mania is a ride that's a game, a game that's a ride!"
Mr. Potato Head is a reminder of boardwalk barkers from ages past as he encourages you to enter Midway Mania at Paradise Pier in Disney California Adventure."Step right up, how about you sir, I am going to guess your weight….My guess is that your wait is about 10-15 minutes!" The technology that drives the character allows him to interact with guests; he can even recognize members of the crowd.You will have a ball watching him call out jokes "to the guy in the green jacket" or to the "little girl with the blue dress."
Don't miss this magical piece of the attraction – you might even be disappointed when the line starts to move! "You folks act like you have never seen a talking potato, so what? I'm a potato, I make comments, I guess that makes me a "commen-tator!" Disney/Pixar and Toy Story fans everywhere will want to make sure to stop by and pay homage to Don Rickles, the voice of Mr. Potato Head and famous comedian who recently passed away.
3. California Screamin'. You can't have a midway without a rollercoaster. California Screamin' adds Disney magic while taking your experience at Paradise Pier in Disney California Adventure to the next level! While the ride looks similar to wooden coasters of the past, it uses electric induction motors to launch guests over 50 mph. You'll reach heights of nearly 120 feet and even drop 108 feet! As a matter of fact, Disney expected so many screams that they added a "Scream Tunnel" to contain the screams and quiet noises for the park's neighbors.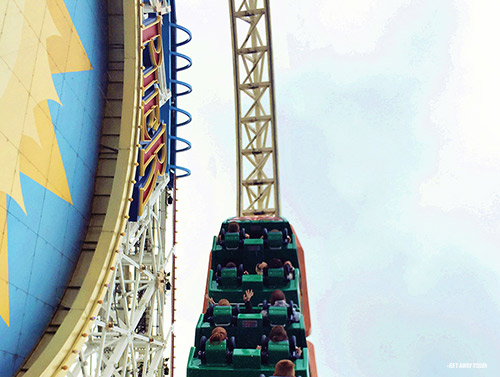 Still not convinced you'll have a screamin' time on California Screamin'? It's one of the top 10 longest roller coasters in the world and is THE longest coaster with an upside-down loop in its track. The added touch of boardwalk tunes as you twist and turn along the track makes it even better. While many people think the voice sounds like Regis Philbin, it's actually Neil Patrick Harris who is the voice of California Screamin'. This is one coaster thrill-seekers won't want to miss on their next visit to Paradise Pier in Disney California Adventure.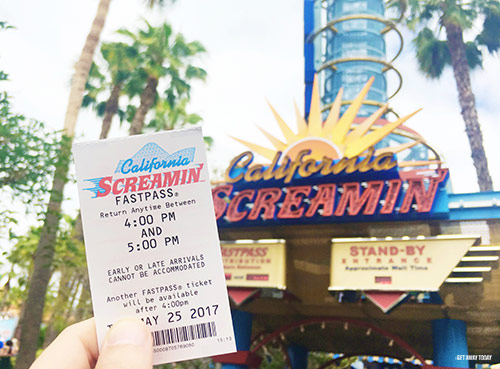 4. Mickey's Fun Wheel. Mickey's Fun Wheel is a 150-foot-tall Ferris wheel attraction on the boardwalk of Paradise Pier in Disney California Adventure. Because it's so tall, it has one of the best views in the entire Disneyland Resort. You can see all of our favorite mountains from the very top, like Big Thunder Mountain, Space Mountain, the Matterhorn, Grizzly Peak and Splash Mountain.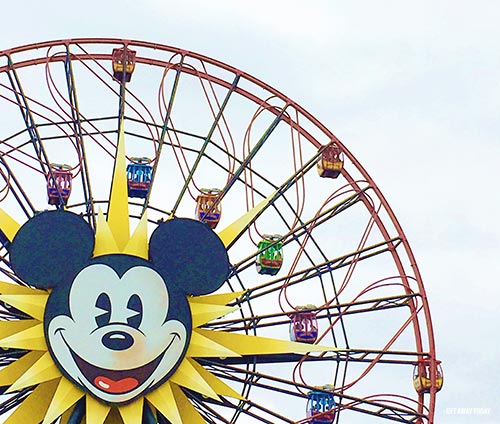 There are two options for experiencing the beautiful view from Mickey's Fun Wheel. The first will keep your gondola stationary as you rest your feet on the 9-minute ride. The second will have your gondola swinging back and forth in the sky as you ride, adding a thrill to the gorgeous outlook. Fun fact, there's only one other ride like this in the United States; the 1920 Wonder Wheel at Coney Island. Mickey's Fun Wheel truly is a testament to the innovation of ages past. Don't forget to visit Paradise Pier in Disney California Adventure at night just to catch a glimpse of the wheel and its dazzling light display.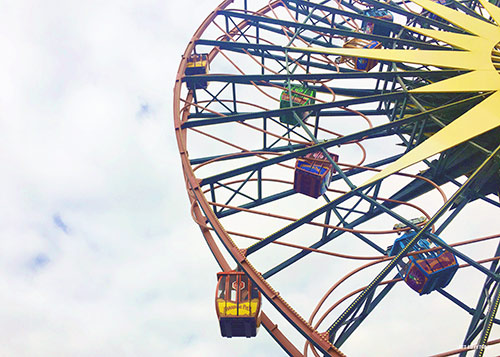 5. Midway Rides and Attractions. There's plenty to see and do along the boardwalk at Paradise Pier in Disney California Adventure. You can slip into Embarcadero Souvenirs to see examples of midway attractions that once graced the California Coast. Items like old carousel horses and bumper cars are used as decor here, letting guests relive fond memories of the past. You'll also see a fun homage to classic boardwalk attractions while strolling along the pier. Look for signs detailing Point Mugu Tattoo, Man Hat'n'Beach Swimwear and more!
You'll find classic midway attractions with an unforgettable Disney spin at Paradise Pier. You can ride a whimsical sea creature on King Triton's Carousel, fly high at the Silly Symphony Swings, bounce around on the Jumpin' Jellyfish and learn how to fly at Goofy's Sky School. Or, stop by the Games of the Boardwalk to try your hand at a few iconic boardwalk games. You could almost spend a whole day just playing boardwalk games at Paradise Pier in Disney California Adventure!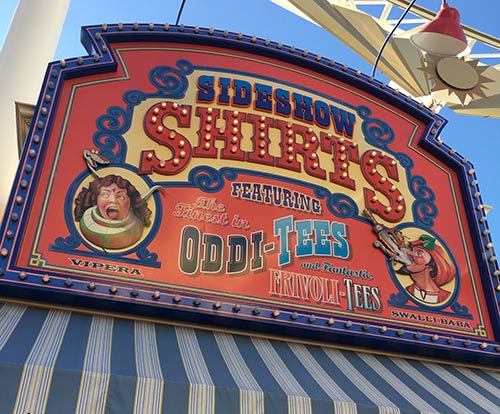 6. Ariel's Grotto. Looking for amazing food and Disney characters? Look no further than Ariel's Grotto, a premium Character Dining experience at Paradise Pier in Disney California Adventure. Reservations are highly recommended for breakfast or lunch and can be made up to 60 days in advance. While you enjoy a delicious meal, you'll meet some of the most iconic Disney princesses. They'll come right to your table and sign autograph books, take pictures or both.
It's a fun way to rest your feet, re-fuel and meet some great Disney characters! The restaurant also offers World of Color packages for dinner only. While these don't include meeting any Disney characters, they do come with reserved viewing for the nighttime spectacular.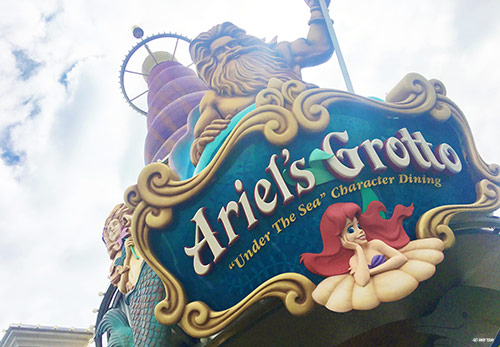 7. The Little Mermaid - Ariel's Undersea Adventure. Located on the opposite shore of Midway Mania is a ride that celebrates the Disney movie, The Little Mermaid. Throughout the air-conditioned dark ride, you'll join Scuttle as he tells you the story of Ariel and her quest for love.
You'll find hidden treasures wherever you look, including homage to the author of the fairytale that Ariel's story is based on. Guests will spot Hans Christian Anderson's profile in the cabinet near the end of the attraction. Isn't it neat? Wouldn't you think Disney's collection's complete? Their collection of intricate details and stories that is!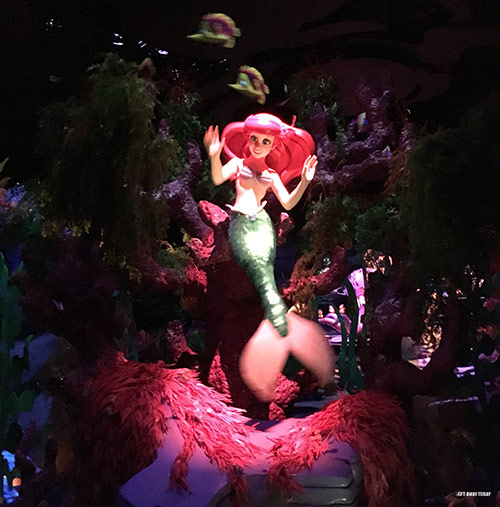 8. Pixar Play Parade. Get a close look at your favorite Disney and Pixar friends in the Pixar Play Parade. The parade marches throughout the Paradise Pier in Disney California Adventure, with lots of fun music and character appearances. Keep an eye out for appearances by the Green Army Men from Toy Story and Phineas and Ferb from the famous Disney Channel show. Check your park map or Disneyland app for times and location each day. It's fun for every member of the family!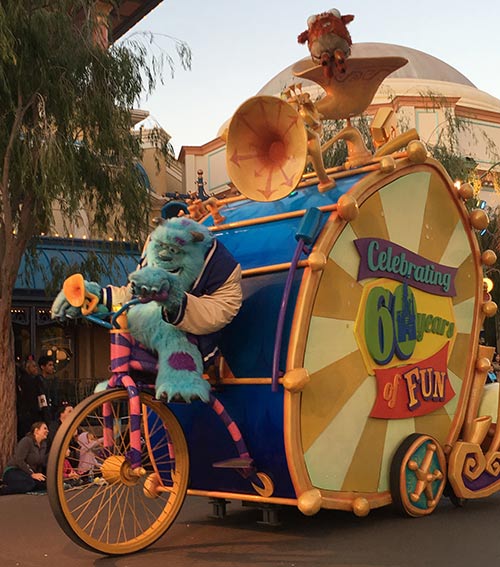 9. World of Color. This is a nighttime spectacular you will not want to miss! The World of Color is an incredible water, light, fire and visual effects that takes place at Paradise Pier in Disney California Adventure. The original show focuses on Walt Disney and the wonderful world of color he saw each day. You'll laugh and you'll cry as the water begins to showcase the past, present and future of Disney.
The show uses a submersible platform that is bigger than a football field, with more than 20,000 points of control and revolutionary lighting. Nearly 1,200 fountains and a 380-foot-wide screen are used, making it one of the largest show systems ever built. Depending on when you visit, you may see a different show. Technology allows Disney to add and subtract as many sequences as needed, giving possibility to specialty holiday editions. No matter whether you watch the original or a holiday edition, you're sure to enjoy watching the World of Color at Paradise Pier in Disney California Adventure.
As part of the World of Color experience, Disney has created a game for guests to play while they wait. Once you've staked out your spot for the nighttime show and are enjoying a frozen lemonade or corn dog, pull out your smart phone. Follow the directions given over the park's announcement system to join the game.
After you've joined, you'll play against other guests in the park as Mickey's Fun Wheel flashes different colors. When the color sequence is done, you'll need to enter that same sequence on your phone as fast as you can. Whichever guest gets it correct in the least amount of time gets to control the colors on Mickey's Fun Wheel. It's a fast-paced game that will keep the whole family entertained. Plus, you might even get to control the Fun Wheel!
A day at Paradise Pier in Disney California Adventure is exciting and fun. The themed land is a great way for all members of the family to enjoy time together while experiencing the charm of ages past. Add in everything else to do at the Disneyland Resort and you've got the family vacation of a lifetime planned!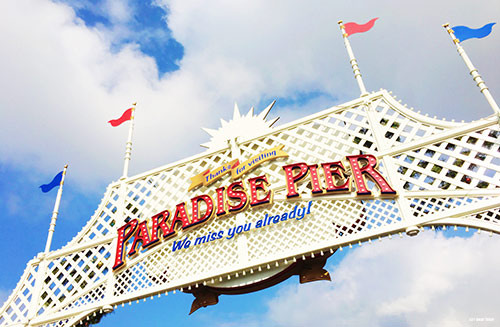 Get Away Today can help you plan your Disneyland vacation with everything from discount Disneyland tickets, a list of tips to make your trip special and information on the most affordable hotel accommodations. Book your Disneyland package online or give our Disney experts a call at 855-GET-AWAY.

Check out these other great articles:
Chris Dallin is a Disneyland fanatic. He travels to Disney Parks several times a year and continues to find hidden gems, adventure, joy and magic in the Happiest Place on Earth. Tune into future blogs for additional ways to experience the magic of Disney Parks.