We can't believe how quickly our annual FAM Trip seemed to go this year! Our final two days were spent in San Diego, and we must say, it was a fantastic way to spend the weekend. Here's an overview of what we did and of course, links to all of our great giveaways:
Friday:
Friday started out perfectly with breakfast and a hotel tour at
Hyatt Regency Mission Bay
, one of our very favorite hotels in San Diego. It is located overlooking Mission Bay, has marina rentals nearby and they have a great pool area with water slides for kids. It is a definite favorite for couples and families alike. As an added bonus, when you book with Get Away Today for travel now through March 31, 2015, you get your 3rd night free and a $30 resort credit. It is such an awesome deal for an equally awesome hotel!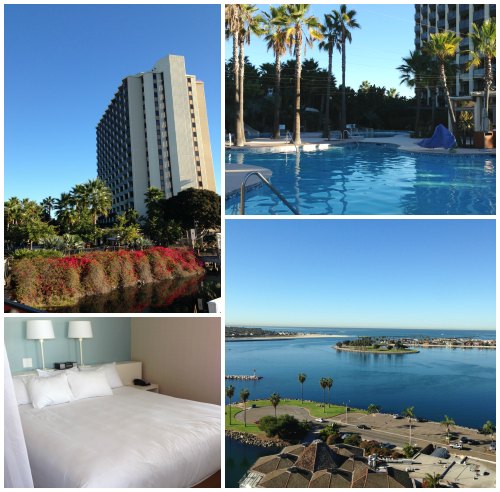 Next we were able to visit some of our other favorite San Diego hotels, the
Dana on Mission Bay
with two outdoor swimming pools and on-site marina rentals, the
Pacific Terrace Hotel
which is the only 4-diamond hotel on the beach in San Diego,
Humphrey's Half Moon Inn
which hosts a show stopping line-up of concerts April through October and the
Best Western Island Palms
located on Shelter Island with views of the private marina and San Diego Bay.
Our next stop of our San Diego hotel tour was the
Holiday Inn San Diego Bayside
, which has recently been renovated. We can't believe the transformation! The new look is fantastic and they've still kept the features that make them a stand-out among San Diego hotels. Their pool area is fantastic and offers "dive-in" movies during the summer as well as shuffleboard, ping pong and other games, there's a putting green on property and the hotel offers complimentary beach cruiser rentals. Plus, kids eat free and they offer complimentary shuttle service to and from the airport and cruise ship terminal.
Next on our itinerary we visited the sister properties, the
Catamaran Resort Hotel
and the
Bahia Resort Hotel.
We love both of these hotels located directly on Mission Bay. We were lucky enough to be able to spend a little more time at the Bahia and got to have lunch here as well. The Bahia has a great pool, access to the beach on Mission Bay, and they're home to two rescued harbor seals, Gracie and Billy.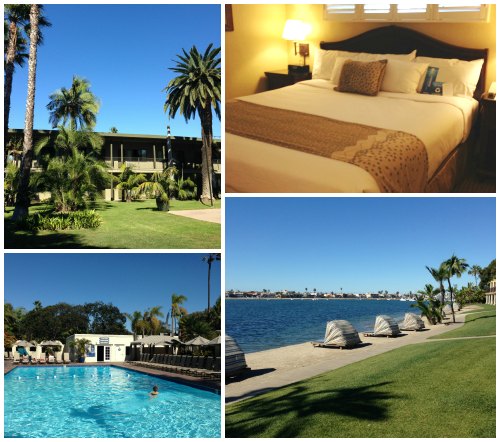 Here's Gracie, hanging out. You can watch Gracie and Billy during daily feedings at 9am and 2pm for an extra fun treat!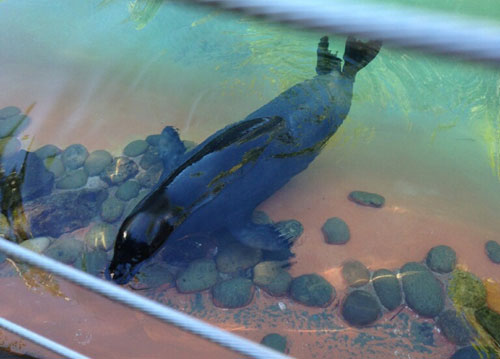 Next, we were onto more animal encounters at
SeaWorld San Diego
where we experienced their new Explorer's Reef right when we entered the park. You are immediately immersed in sea life and it is a great addition. We had a blast visiting the encounters, watching the shows and riding the attractions. As part of SeaWorld's 50th Anniversary, they are celebrating a Sea of Surprises where guests regularly and randomly get selected for special experiences. Our team got a taste of that with an exclusive animal encounter with a few of their animal ambassadors, including Penny the penguin!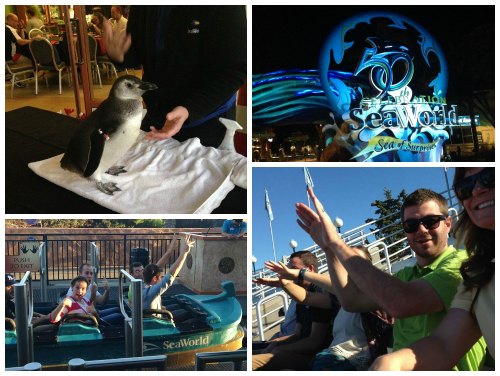 Saturday:
Our final day in San Diego started with breakfast at our host hotel, the
Hampton Inn Mission Valley.
It was so great to be among their first guests and experience everything as our guests do. Next we headed over to the
Days Hotel on Hotel Circle
. This full-service hotel regularly wins awards and is one of our very best values for families. Their guest rooms come with a microwave and mini-fridge and they have a great pool area tucked back behind the hotel.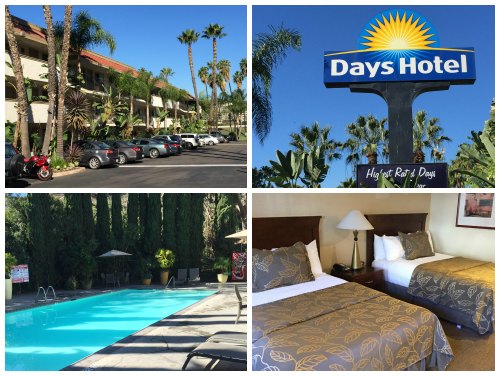 Our next stops were to the
Residence Inn by Marriott Mission Valley
and the
Hilton San Diego Resort
for hotel tours. Both are great hotels for different reasons. The Residence Inn has all suites with a full kitchen area, plus, they serve a hot breakfast daily and light meals Monday - Thursday. The Hilton San Diego Resort is a sprawling deluxe hotel located on 18-acres on Mission Bay. It is an ideal spot for a relaxing San Diego getaway.
Next our team headed over to SeaPort Village for a fun-filled afternoon on our own of shopping, dining and soaking up the last of our time in the San Diego sun.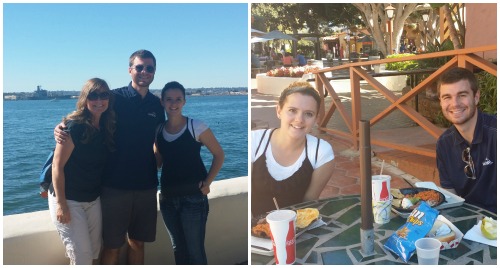 And speaking of "soaking," we split into two groups during our time at SeaPort Village and got to take a ride on the Patriot Speed Boat tour. This speedboat goes up to 50mph and their goal is to get their riders soaked. It was such a fun way to see San Diego, just be sure to bring your poncho if you want to stay a little bit dry. It was a blast!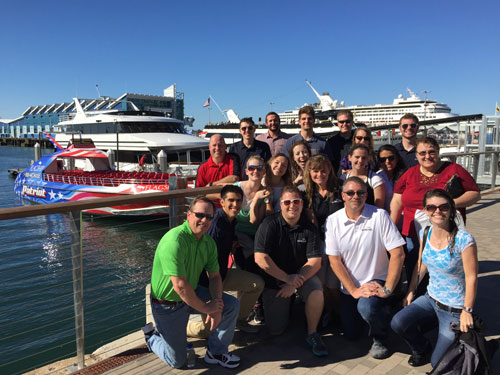 Our final activity in San Diego was an
Old Town Trolley Tour,
which is a highlight of any San Diego vacation. If you've never been to the city before, we highly recommend it for the beginning of our trip to get acquainted with the area. You can catch a trolley at any of their stops (normally beginning in Old Town) are taken on an informational and entertaining tour along San Diego's most popular hotspots. The best part is, you can hop on-and-off at any of the stops that catch your fancy, like SeaPort Village, Coronado Island and Balboa Park.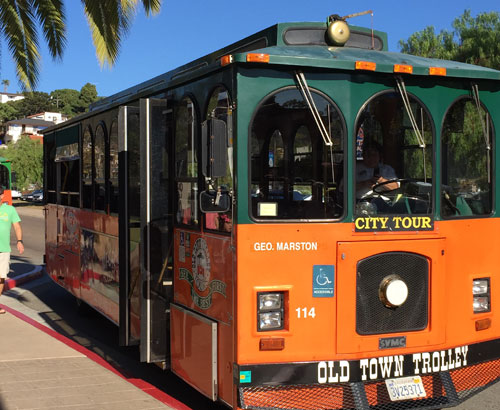 Overall it was an unforgettable trip. Thanks for following along! We are grateful that we get to work with so many incredible partners and love helping families plan vacations that are memorable and magical. If you're planning a vacation to Southern California, let our experts help. We truly have the hands-on insider's experience and love to pass our tips and tricks on to you! Also, be sure to enter the giveaways below as part of our 25th anniversary celebration:
Hyatt Regency
San Diego Bayside
Bahia
Sea World
Day Hotel Circle
a Rafflecopter giveaway
Don't miss any more of our adventures or giveaways:
What's New at Universal Studios, Knott's Berry Farm and More!
Get Away Today's Perfect Day at the Disneyland Resort
Anaheim Hotels, the Anaheim Packing House, Saddle Ranch and more!
Anaheim Area Hotels and Our Last Night at the Disneyland Resort
Win One of 25 Giveaways This Week Only