"We want to thank you for helping us with our trip to Disneyland. Our family is so busy and it's so hard to find time to just be with each other. My husband and I decided we needed to do something about that and on a whim decided that we would take our kids to Disneyland.
My husband went to Disneyland once as a child but the kids and I had never been before and I didn't really know what to do to get started. I was so glad that my kids had just brought a Get Away Today magazine home from school. I started looking through your site to find places we could stay and what tickets we wanted. We picked our dates, we both scheduled the time off work, my kids got all their homework finished before we left (yeah), and we were off.
I had been told that Disneyland was truly magical, but you can't really understand that until you are actually there. We loved every minute of all three days we were there. My husband and my three older kids Dylan 12, Mickell 10, and Tyce 6 went on some of the bigger rides while my 4 year old Cambree and I did a lot of meet an greets with Princesses and Characters. They were all so cute with Cambree and she felt so special and happy. We also had tons of fun on all the rides that we could do together like Pirates of the Carribean, Radiator Springs, Star Tours, Haunted Mansion, etc. We also absolutely loved all the shows (my favorite part of the trip).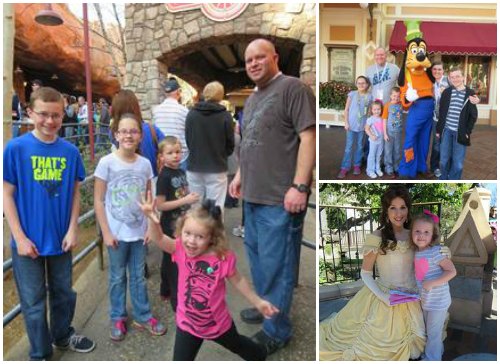 It was so awesome to just be a family without all the other distractions from our daily lives. I am already thinking ahead of when we can go again!!
Thanks for helping us plan this trip and making it so stress free for us!
Candace S."
We love helping families connect and spent meaningful time with each other. Let us plan your perfect Disneyland vacation. Book online or call our Disney Experts at 855-GET-AWAY.

Read what other Get Away Today guests are saying about their vacations:
Layaway Plans - Sharing the Good News!
Get Away Today Makes Birthday Wishes Come True
Vacations With No Surprises