We made the very most of our last full day in Anaheim, Orange and Garden Grove by seeing as many of our hotel partners as possible. Our first stop was the
Embassy Suites Anaheim Orange
where we were treated to a great breakfast. It was the same breakfast that the guests get to experience and it was amazing. The cook-to-order omelet station was a hit! This was the first time our staff got to see this hotel since it was transformed from the Hilton Suites to an Embassy Suites. Families love the separate bedroom and living room area, free hot breakfast daily, indoor and outdoor pools and its close proximity to the Outlets at Orange. We love it too, and thought the lobby, atrium and guest rooms were especially fresh and fun.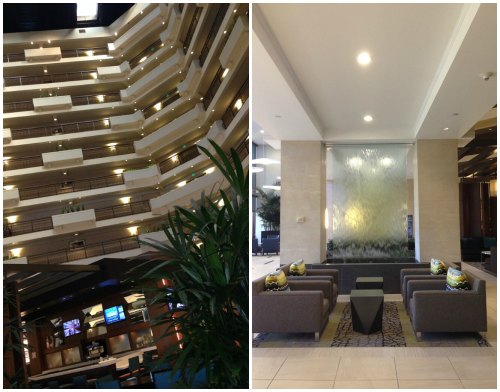 Our next stop of the day was to one of the newest hotels in the area, the
Ayres Hotel Orange
. We have been counting down the days until it opened just a few weeks ago and we were so impressed. The rooms were even nicer than we anticipated, and we knew they'd be nice! This is such a great addition, located right next door to its sister property, the Ayres Inn.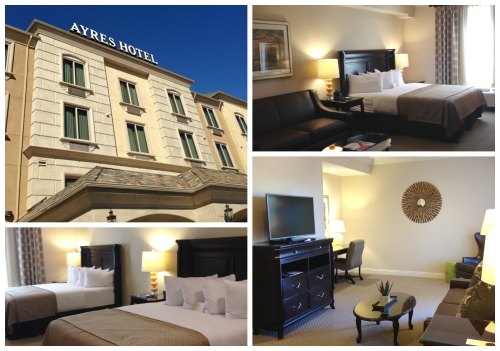 So, our very next stop was just next door at the
Ayres Inn
. This hotel looked just as great as ever and it's so easy to see why so many of our families like to stay here. The Ayres Inn is warm, inviting, and comfortable. The free hot breakfast every morning is incredible and the pool is the perfect place to soak up some sun.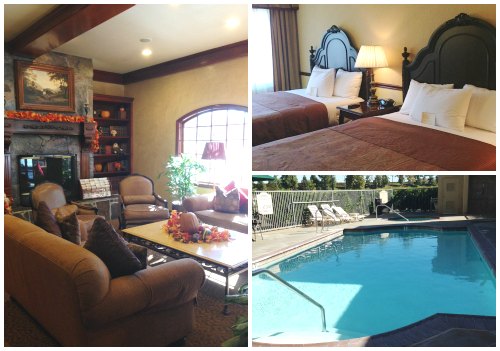 Our next stop was the
Best Western Raffles Inn.
This is one of our most popular properties for families for a few reasons. One is the rooms are so comfortable and all come equipped with a microwave and refrigerator. Another is they serve a deluxe breakfast with hot items daily. And one of the biggest reasons is their wide variety of suites including kid suites with bunk beds. They also are one of the only area hotels to offer a family suite that sleeps up to eight travelers.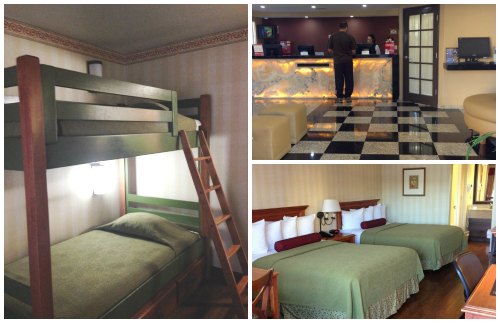 Our next stop on our hotel day was the
Staybridge Suites
, one of the other hotels that has suites that sleep up to eight guests. They Staybridge offers studio, 1-bedroom and 2-bedroom suite options. The 2-bedroom suites also have two full bathrooms, so it's perfect for larger families or even extended family or friend groups traveling together. Each of their suite types is equipped with a full kitchen and a living room area. It is so comfortable! They also offer a free hot breakfast daily and have a manager's reception Tuesday - Thursday evenings. It is a top pick for sure!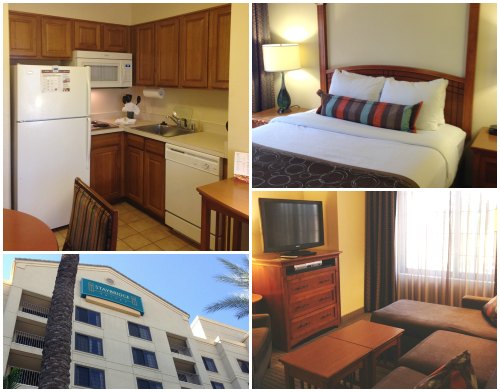 We then walked next door to the
Holiday Inn Anaheim Resort
, another guest favorite. They share one of the largest pools in the area with the Staybridge Suites, and it is great. One of the exclusive perks of staying at the Holiday Inn Anaheim Resort as a Get Away Today guest is that you get a free cook-to-order breakfast daily - up to a $35 value! (just pay gratuity)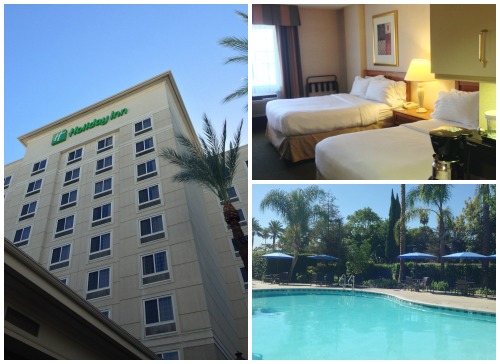 Our next stop on our whirlwind day of hotel tours was the
Desert Palms Hotel & Suites.
This is another hotelt hugely popular with families because of their varied room types including standard rooms, kid suites with custom bunk beds, a kitchenette suite and more. They are within easy walking to Disneyland and they serve a deluxe breakfast each morning. If that wasn't enough, here's a picture of our team hanging out on their breakfast deck. That's a view we could used to!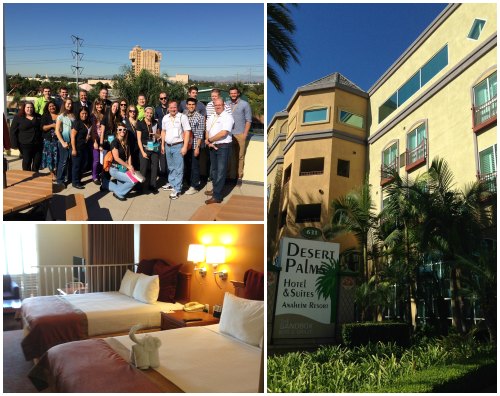 Last year when we toured the
Springhill Suites Anaheim Maingate
, we were some of their first guests. In fact, we were so early that the hotel was still under construction! This year we got to see the difference a year makes and we were so impressed. Plus, it's kind of hard not to love a hotel that has their staff wear "I Love GAT" t-shirts and serves us a gourmet lunch!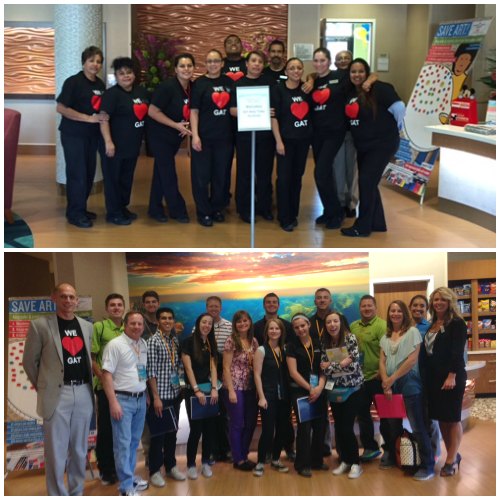 The guestrooms at the Springhill Suites are spacious, comfortable and come with a microwave and fridge for added convenience. The hotel offers breakfast daily and Get Away Today guests get free parking - a $15 per day value. The hotel also has a limited amount of rooms with a view of the Disneyland fireworks, so be sure to request that if you're coming down for a special occasion or won't be in the park for the show.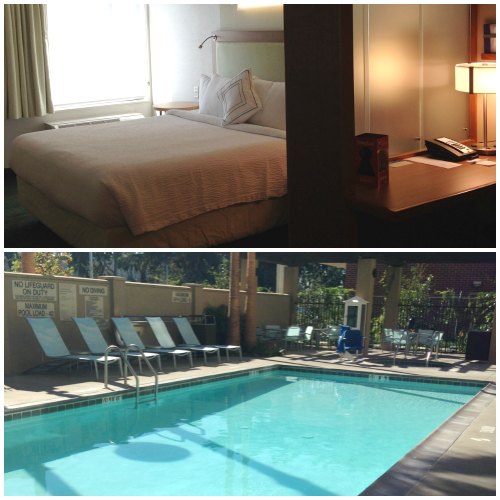 The
Hotel Menage
is one of the coolest hotels in Anaheim and was next on the agenda. Their rooms are comfortable, but sleek and modern. Their pool area is one of the largest in the area, and it's open 24-hours, because let's face it, sometimes you just want to sit in the hot tub at midnight.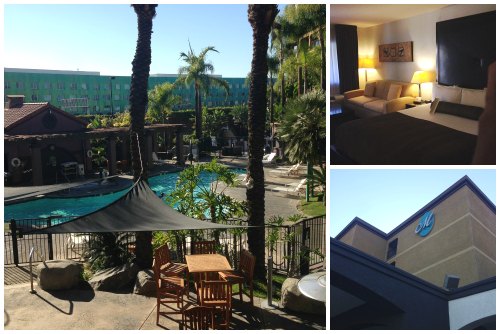 Next on our tour schedule was the
Anaheim Residence Inn Maingate
, a condo-style hotel that really feels like your home away from home. Well, except they serve hot breakfast daily and you don't have to do the dishes, or make your own bed for that matter. Oh, and they also have a great pool area and a sports court and are just a few minutes away from Disneyland. So, I guess it's better than home.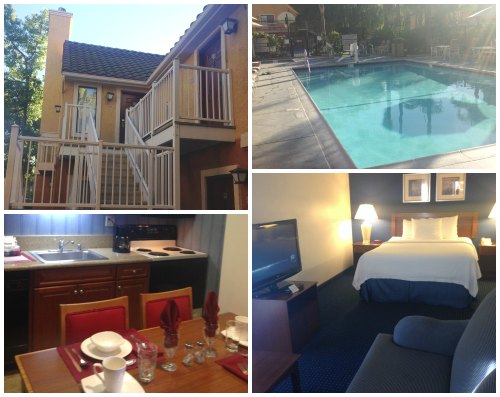 We then headed even closer to Disneyland and toured the
Best Western Anaheim Inn
and
Del Sol Inn
before walking to the
Tropicana
Inn and Anaheim Camelot Inn. The Tropicana and Camelot are sister properties that are both within walking distance to Disneyland. We love them both. Especially the rooftop pool with a view of the fireworks at the Camelot!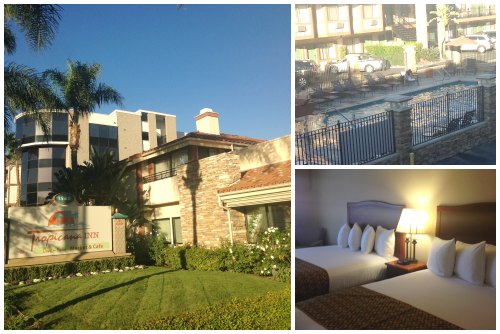 Our final hotel visit of the day was to the
Carousel Inn & Suites
, also located right across from the main entrance to Disneyland. We love their rooms that all come with a microwave and mini-fridge, rooftop pool and of course, our exclusive 4th night free offer!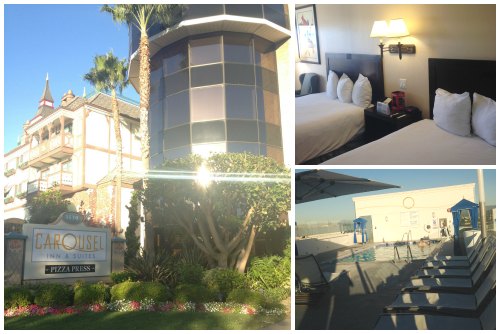 Our final night (why is it so hard to say good-bye?) at the
Disneyland Resort
was another incredible surprise. We got to have dinner at the Storyteller's Cafe inside our hotel,
Disney's Grand Californian Hotel & Spa
. Each morning this restaurant is home to Chip 'n Dale's Critter Breakfast, but they serve a scrumptious lunch and dinner menu sans characters. After dinner our contact, David, surprised our entire team with a private dessert reception from one of the balconies of the Grand.
And can you believe the view?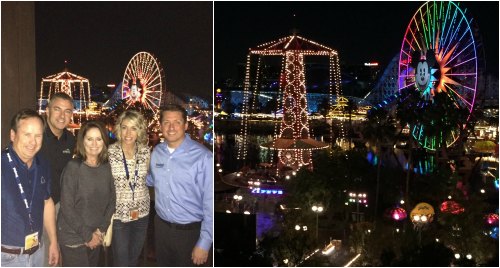 (Thank you, David, for making it a magical night for our team!)
After dessert, we got to watch World of Color, which is one of the most magical ways to end a day (or stay) at the Disneyland Resort. It is unlike anything you've ever seen and a definite must on any Disneyland vacation itinerary. One fun thing about World of Color is that it's always changing, so no matter how many times you've seen it, it always seems that there's something new added in.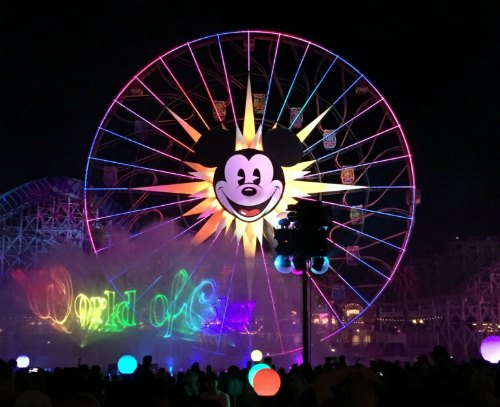 Our team had an amazing time! Luckily for us, the fun isn't over. We're headed to Carlsbad and San Diego to continue the adventures. And luckily for you, the giveaways aren't over either! All giveaways will remain open until November 10 and winners will be announced on November 12. Good luck!
Be sure to enter these giveaways from some of our stops on our last full day in Anaheim:
Ayres Inn
Ayres Hotel
Best Western Raffles
Tropicana
Camelot
Desert Palms
Springhill Suites
Hotel Menage
Anaheim Residence
Holiday Inn Anaheim
Staybridge
Don't miss any more of our adventures or giveaways:
Anaheim Hotels, the Packing House, Saddleback Ranch and More
Get Away Today's Perfect Day at the Disneyland Resort
What's New at Universal Studios, Knott's Berry Farm and More!
Win One of 25 Giveaways This Week Only