Our annual FAM trip has just been full of wonderful surprises. Yesterday started with a surprise 25th Anniversary Party thrown by our friends at the
Clarion Hotel Anaheim Resort.
We've been working with our friend Cathy since the very beginning and we're so glad that she's taking care of our guests at the Clarion. She invited us for breakfast and completely outdid herself with a fantastic spread, 25th anniversary treats and a celebration banner. We felt so welcome!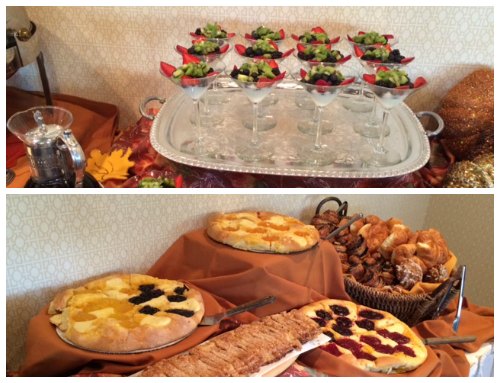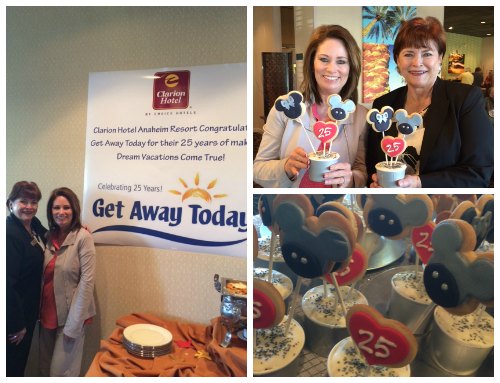 Cathy Dutton, Director of Sales for the
Clarion Hotel
, and Julie Smith, CEO of Get Away Today, celebrating almost 25 years of partnership!
After the celebration, our team toured the hotel. The Clarion is one of our most popular hotels because of its great location and they have some of the nicest employees around. We're always hearing about how they've gone the extra mile for our guests. Get Away Today guests also receive an exclusive free breakfast and free parking - that's up to an extra $50 per night savings! Combine that with our 3rd or 4th night free specials available for both the Clarion's standard rooms and studio suites, the Clarion is one of our very best values.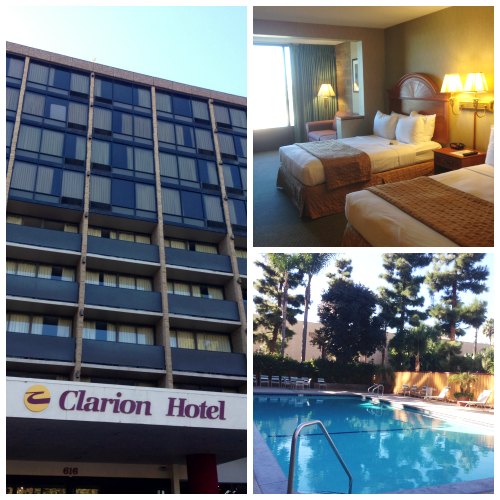 Next, we were able to tour the
Cortona Inn & Suites
, a popular choice for families because of their free breakfast and their wide variety of rooms - including two different types of kid suites. Then we were headed to the
Hyatt Place Convention Center.
This brand new hotel is right next door to the Cortona and is already a huge hit with families. Their guest rooms are spacious and modern and their breakfast is fantastic. From there we toured the
Hampton Inn
,
Embassy Suites Anaheim South
,
Hilton Garden Inn
, and
Homewood Suites.
Each of these hotels are again, fantastic choices. We're always impressed by how great our properties are and the service they provide our guests.
Our next stop on our hotel tour was the
Wyndham Anaheim Garden Grove
where we were spoiled with a gourmet lunch of tomato soup, grilled cheese, sliders and a s'mores dessert. It was too pretty not to share.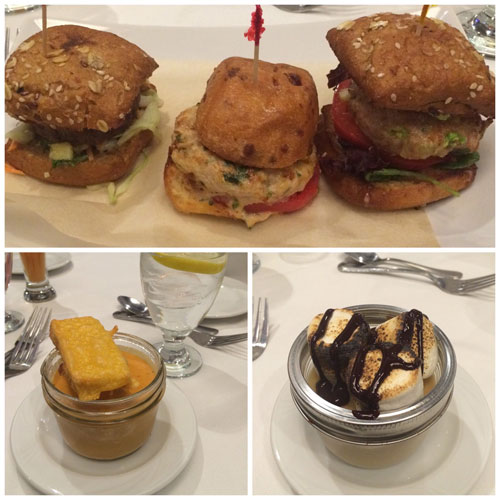 We then got to to see the
Wyndham Anaheim Garden Grove
with its new look since it was changed from the Crowne Plaza Resort. The rooms are gorgeous and comfortable. The pool is fantastic and has free cabanas on a first come, first serve basis. Get Away Today guests get a 4th night free on most dates and waived resort fees, including free shuttle to/from the Disneyland Resort. When you stay at the Wyndham Anaheim Garden Grove you get a deluxe experience at a value price, which is just one of the reasons we love to send guests here.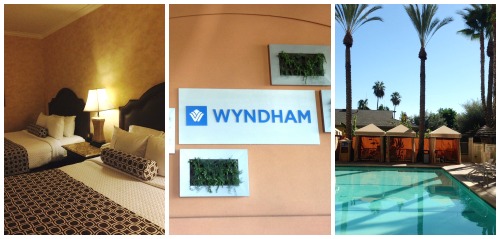 Our last hotel visit of the day was to the
Sheraton Garden Grove
, another deluxe hotel that we offer at a value price. We found out that we are their #1 wholesale partner - how exciting!
After our hotel visits, we headed to the Packing House, Anaheim's newest hang out for foodies. It's like a deluxe farmer's market and food hall all-in-one. There are over 20 adorable, trendy eateries and it's only minutes from the
Disneyland Resort
. Best of all, we were able to meet and network with so many of our hotel and attraction partners, including some that we weren't able to tour personally on this trip. We definitely recommend a trip to the Packing House to anyone visiting the Disneyland Resort, especially if you love food!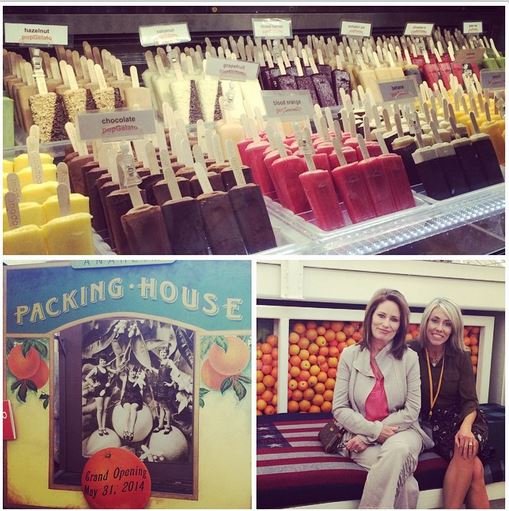 Next, we packed up our group and headed over to the Outlets at Orange for some more fun! The Outlets at Orange are located about a 10 minute drive from Disneyland and are also worth a visit. There are over 100 unique outlets, shops, restaurants, and entertainment options - including a movie theater and bowling alley.
We spent our evening at the Saddle Ranch, once again with our awesome contacts. The Saddle Ranch Chop House is just one of the unique dining options available here and we had a blast. Good food, good friends and good fun are all to be found here. And, no visit to Saddle Ranch is complete without a friendly bull riding contest!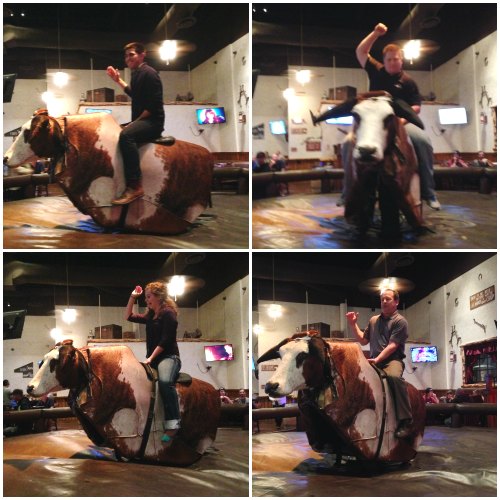 We are so lucky to work with such fun people and we want YOU to be lucky too! Be sure to enter these giveaways from our partners:
a Rafflecopter giveaway
a Rafflecopter giveaway
Don't miss any more of our adventures or giveaways:
Get Away Today's Perfect Day at the Disneyland Resort
What's New at Universal Studios, Knott's Berry Farm and More!
Win One of 25 Giveaways This Week Only