Cabana Bay Beach Resort at
Universal Orlando Resort
is one of our favorite hotels of all time. This '50s - '60s beach resort themed property is affordable, convenient, comfortable and so much fun! We are excited to show our Cabana Bay Beach Resort room tour of our favorite room here - the family suite.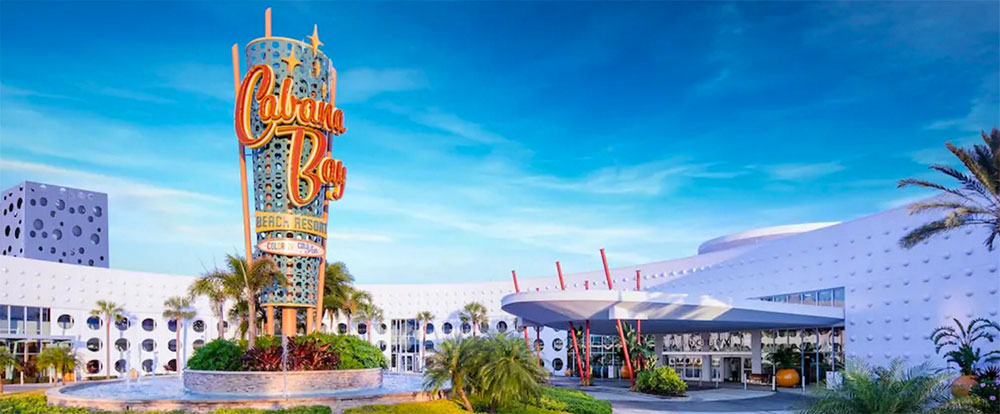 Photo coutesy of Cabana Bay Beach Resort
Cabana Bay Beach Resort Family Suite Room Tour
There are three room types available at the Cabana Bay Beach Resort at Universal Orlando Resort: standard, family suite and two bedroom suite. Our team was lucky enough to have the opportunity to stay in their most popular room type - the family suite that sleeps up to six guests. Our room tour of the family suite at the Cabana Bay Beach Resort will show you what it's really like to stay at this family friendly hotel. Watch and enjoy:

Other rooms at the Cabana Bay Beach Resort
You can see why the family suites are so popular. And luckily, there are lots of them at the Cabana Bay Beach Resort. The other two room types at the hotel are similar in style, but have different layouts. The standard room is most similar to the bedroom area of the family suite, but it's smaller and does not have the living room or kitchen area. Additionally, the bathroom is more compact. Cabana Bay also has a handful of two-bedroom suites available. The two-bedroom suites have more of an apartment configuration and sleep up to eight guests.
Amenities at the Cabana Bay Beach Resort
There are so many things that we absolutely adore about the Cabana Bay Beach Resort. One is that they have not one, but two large pools.... AND a lazy river! There's also a bowling alley on-site. We could have easily just spent an entire day at the hotel.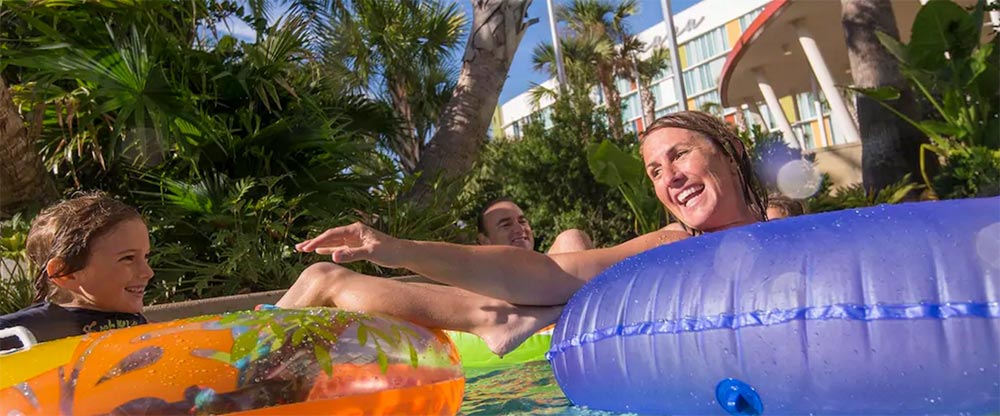 Photo coutesy of Cabana Bay Beach Resort
Although the hotel offers quite a few restaurant options, our favorite by far is the Bayliner Diner. It's more like a sprawling cafeteria with a wide variety of dining options including burgers, pizza and comfort food. The Bayliner Diner also offers deli and grab-n-go items that are reasonably priced. Even the pickiest eaters are bound to find something they'll love. Another fun feature of the Bayliner Diner that we thoroughly enjoyed was the selection of '50s and '60s commercials that were played on giant screens in the dining area. You really feel as though you are transported back in time!
Exclusive Cabana Bay Beach Resort Perks
When you stay at any of the Universal Orlando Resort hotels, including the Cabana Bay Beach Resort, you get into a theme park an hour early. Just show your room key with your theme park ticket, and you're in!
And an exclusive only for Cabana Bay Beach Resort guests is the private entrance to Universal's Volcano Bay. Not only is the entrance private, Cabana Bay is the only hotel that has its own entrance to the park. You are just a hop, skip and a jump from all of the fun!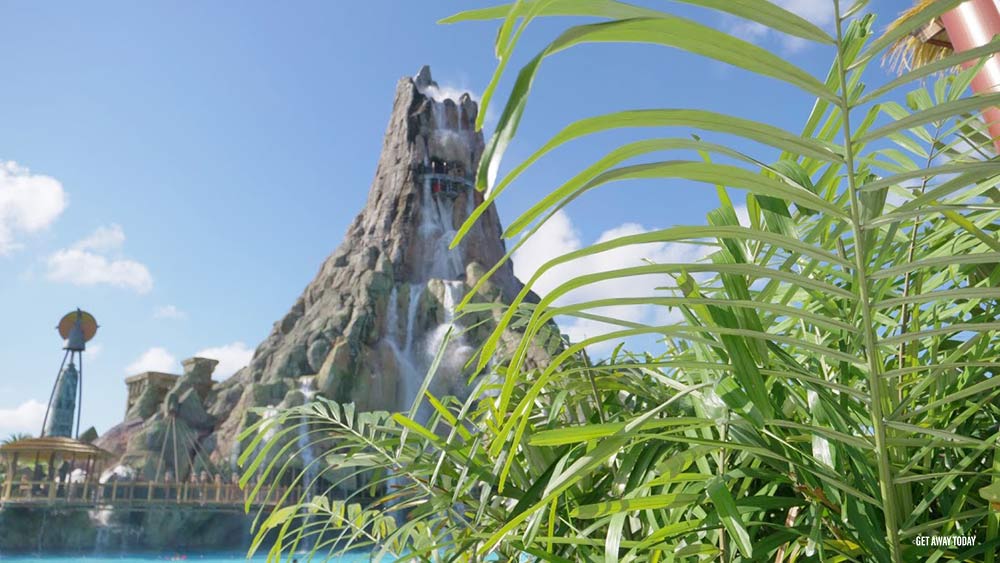 Booking your stay at the Cabana Bay Beach Resort
If you're considering a trip to Cabana Bay Beach Resort, we're here to help. You can get a free quote on our website, or for more personalized help, call our agents at 855-GET-AWAY. Our team would love to customize something for your family.