I will be the first to admit it, I'm spoiled. I like the finer things in life. My first cruise, I splurged and got a balcony cabin and I thought I'd never go back. Having a balcony cabin on a cruise is a true delight. You are never fighting for deck space on the public decks, mornings and evenings can be spent watching the sun come up or the sun go down. Room service can be brought right to your cabin and enjoyed on your own private balcony, overlooking the ocean. My sweet husband will order breakfast and have it all set out on the balcony for me when I wake up. Why would I give that up?
Well, never say never! I booked my most recent cruise with less than two weeks notice! Not a good decision in an industry that sells six months to a year in advance! So all that was left for us was an inside cabin. But, we took it!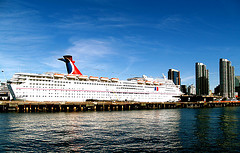 As I arrived on board the ship, and found my stateroom, I was pleasantly surprised. The room was spacious enough for the two of us with a nice bathroom, a spacious three compartment closet with a small safe, two separate twin size beds and a spacious desk. Our cabin also had two pull-down upper births, which remained up and out of the way our entire cruise. At the far end of the cabin there is a blank "window", complete with a window sill & curtains in front of a blank wall. But you would be surprised at how spacious & open it that makes the inside cabin feel. The two of us are comfortably accommodated & it could reasonably fit a family of four with small children, but if you have teens I would recommend getting two cabins.
The bathroom is small, but does the job and I felt that there was more than enough closet & drawer space for the two of us. The desk & mirror combo is a great place to get ready for the day... especially when someone else is showering. The showers had shampoo & shower gel dispensers and a small basket on the sink included amenities such as lotion, conditioner, toothpaste and breathe right strips for the convenience if those who prefer to travel lite.
There was a single, household style, 110/220 outlet next to the desk. We used it for everything from curling irons & blow dryers to phone chargers and camera batteries. The television in the corner provided music and shows like CNN and Discovery as well as about six different Carnival Channels talking on everything from Shore Adventures and Ship-Board activities to live cams of different decks and the sealine at the front of the ship.
Room service was a fabulous perk. I could order continental breakfast items the night before and specify a time for them to be delivered or I could call anytime for pizza, burgers, wraps and treats. All complimentary, all it cost me was a small tip for the server.
Every morning I would leave for my daily activities and when I returned in the evening, my bed would be made, fresh towels would be hung and my room all tidied up. In the evenings, I would arrive back to my room, after a full day of activities, to find my bed turned down, a copy of the next days activities with a couple chocolates and a new towel animal. The first time I saw my cabin, I was greeted by Richard, my stateroom host. He greeted me, introduced himself, asked my name and inquired about my travel. Since then, he has always greeted me by name, a custom almost forgotten, but always appreciated.
Overall, I did miss the ability to step outside on my own private balcony and watch the sunrise or set over the ocean with no one around but my sweetheart. But, for the price, an inside cabin is a really great value. Amazing Food, great company and a lovely place to sleep, exotic new ports daily and plenty of entertainment, all for one fabulously low price! Cruising, inside, ocean view or balcony cabin, really is the way to travel!
To Plan a Cruise, Call Our Cruise Specialists at 877-510-2929!
Check out these other great blog articles:
Booking a Cruise: Easy as 1, 2, 3!

Royal Caribbean's Ship: Quantum of the Seas