UPDATED JANUARY 2019 Greetings from Southern California! We are so excited to be here for our annual FAM (short for familiarization) trip where we tour our hotel partners and experience our attractions. One thing that sets us apart from other agencies is our in-depth knowledge about our destinations because we experience them first hand on a regular basis. We love sharing that information with our guests to make your vacations as fun, personal and customized to you. Another thing we have come to look forward to each year is hosting giveaways from our partners all week long. We hope you enjoy following along with us and enter to win some prizes.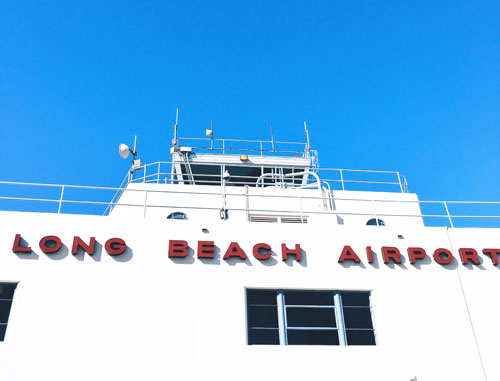 Our trip began yesterday morning as we flew into Long Beach, one of our favorite area airports. It's so close to both Disneyland and Universal Studios, plus it's small enough that you don't have to wait long for bags or to get transportation. In fact, if you rent a car, the car rental facility is right there. It doesn't get much easier! After getting our luggage, we took the Grey Line bus to one of our favorite attractions, Universal Studios Hollywood where we were able to spend the bulk of the day playing.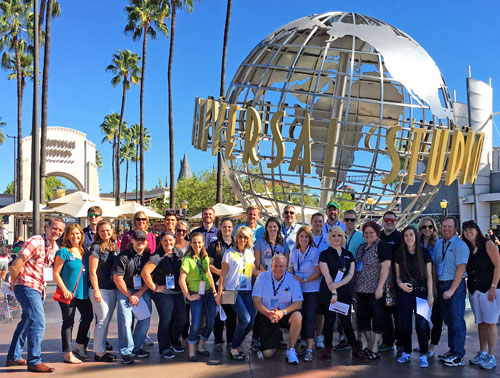 Universal Studios Hollywood is so much fun for everyone! We were lucky enough to be treated to Front of the Line tickets. We each got a lanyard that gave us access to the front of the line once on each attraction.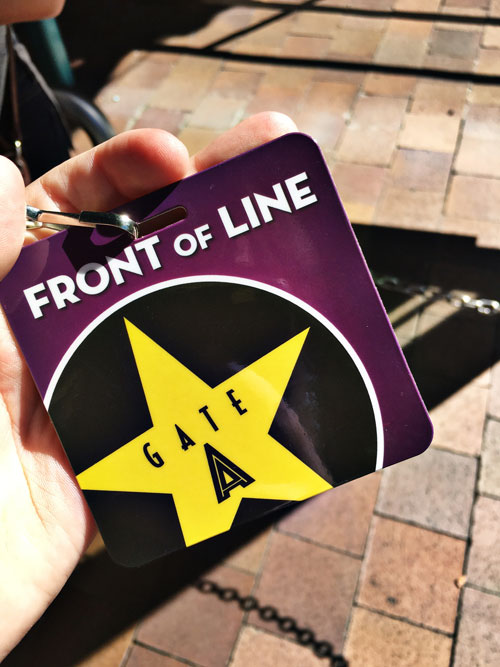 It's hard to pick what our staff's favorite attraction was, but perhaps the one we were most looking forward to was the new Fast & Furious - Supercharged attraction that is part of the Studio Tour. We all have always loved the tour and didn't think there was a way to make it better, but Fast & the Furious takes it to a new level. You won't want to miss it. Although we weren't able to stick around long enough to experience it, Universal Studios now offers the Studio Tour at night on select dates for a whole new experience. I'm sure it would be equally amazing!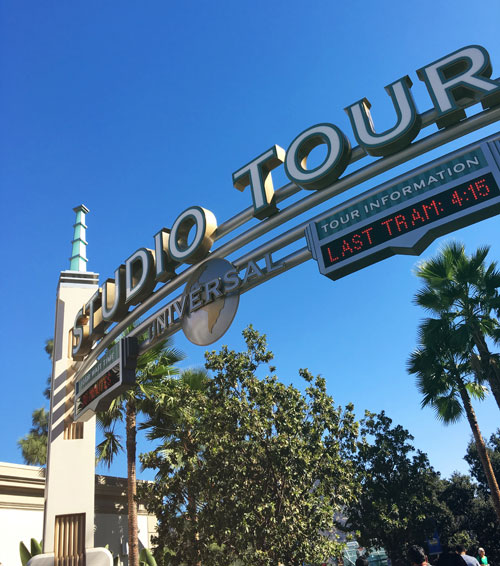 Transformers the Ride, Jurassic Park the Ride, and Return of the Mummy are some of our other favorite attractions.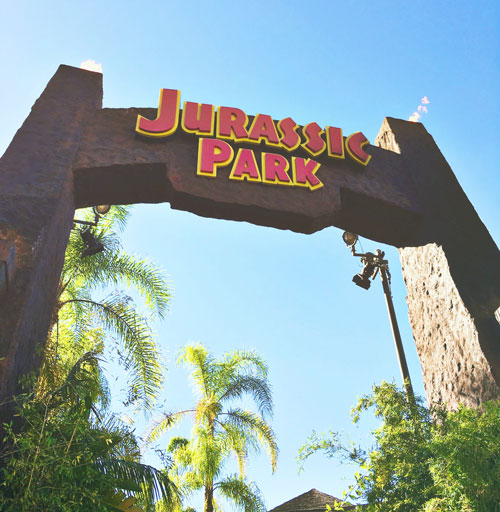 We were so impressed with the new addition

of
Springfield, home of the The Simpsons Ride. Even if you have younger kids who don't watch the show, they'll be mesmerized by the bright colors and fun shops and restaurants. It really does feel like you stepped into the cartoon.
If you're looking for a treat, I highly recommend the donuts from Lard Lad Donuts. You can also taste for yourself why Homer loves the Ribwich from Krusty Burger so much. Watching the Simpsons will never be the same after visiting Springfield.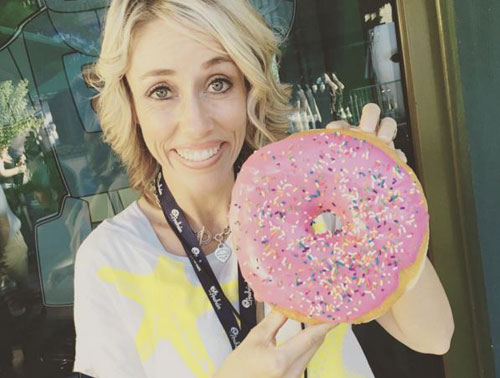 If you have younger kids, they'll love the Despicable Me: Minion Mayhem attraction and the surrounding area where you can meet Gru, his daughters, and minions. You'll want to spend some time over by Super Silly Fun Land, a carnival inspired by the one in Despicable Me. It would be hours of fun for little ones.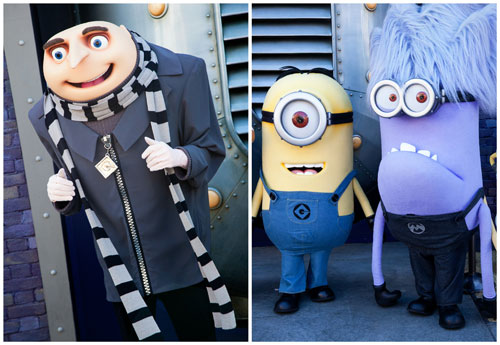 Another thing that we got to do is get a glimpse of the soon-to-be Wizarding World of Harry Potter - opening in Spring 2016. We got to take just a little peak of Hogsmeade and could see the tip top of Hogwarts.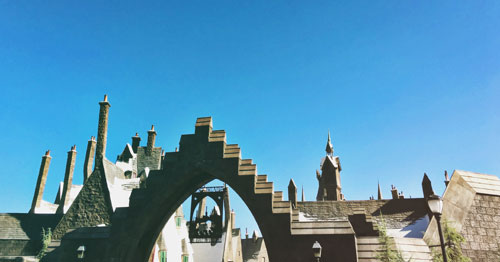 It will be amazing, but in the meantime, you can shop for all kinds of wizarding merchandise, like these delicious peppermint frogs and these delicious and perhaps not-so-delicious Every Flavour Beans.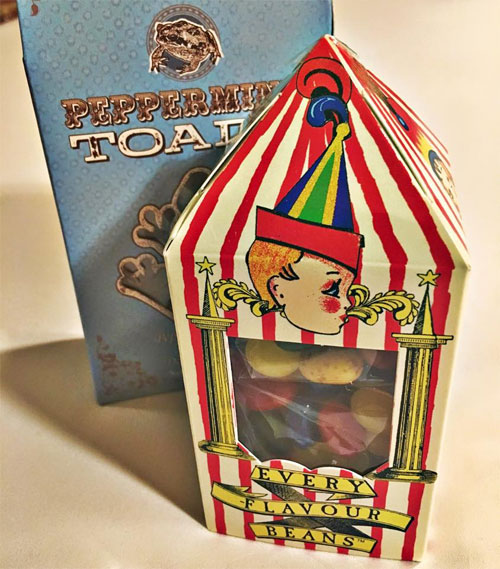 To help you get even more excited about Harry Potter (if that's possible), you can enter to win some here:
After our awesome day at Universal Studios, we headed to Disney's Grand Californian Hotel & Spa where we checked into our gorgeous rooms.This hotel is one of our staff's favorites because it is the only hotel located inside a theme park with its own private entrance into Disney California Adventure Park. But, because the hotel is so wooded and tranquil, you'd never know you were right in the middle of the magic. Unless you have a park view room of course, then Mickey's Fun Wheel kind of gives it away...
After getting settled in, we were treated to dinner at the Disneyland Hotel before heading into Disneyland for a night of fun.
We found a spot on Main Street U.S.A. near the Plaza Inn to view the new Electric Night Parade created just for the Diamond Celebration,
Paint the Night. It is vibrant and larger than life. Even those of us who have seen it before were once again blown away by how awesome it is. We stayed put immediately after the parade to watch Disneyland Forever and we must say, it was the perfect end to our first day. The fireworks can be viewed from five different areas in the park, and each is incredible and immersive.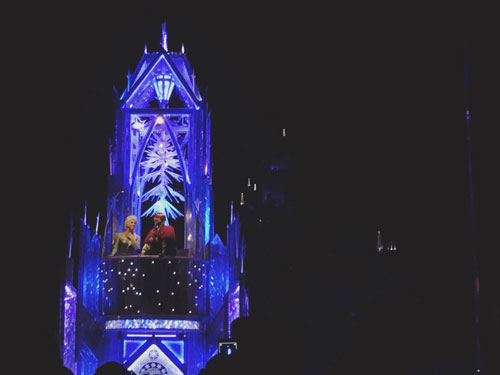 We hope you'll join along with us this week to learn more about our destinations, get excited about planning your next vacation, and maybe even win a prize! We'll be posting all of our giveaways now through November 7 on our Giveaway Page, so be sure to follow along so you don't miss anything.
Remember, this week only, you can save an extra $20 when you use promo code: FAM2015 on any 2-night or longer Southern California vacation that you book online. As a bonus, this can be combined with our free night specials, and our layaway plan. Book now and hold your vacation for just $175 down.
Check out these other great articles: