We've been having such an incredible time on our 17th Annual Southern California FAM Trip! Our partners have gone above and beyond to show us the best there is in Orange County. We left Disney's Grand Californian Hotel for the last time and left for a fun-filled day of visiting more of our amazing hotels.

We started our day with breakfast and a tour of the Desert Palms. One thing we love about the Desert Palms Hotel & Suites is the variety of room types they offer. They have standard rooms and all kinds of suites, even some with the coolest custom made bunk beds. They are within walking distance to Disneyland, and serve a great breakfast each morning. As an added bonus, their outdoor breakfast patio has a killer view of the Tower or Terror.

Next we toured the Anabella Hotel, a unique Anaheim hotel. This mission-style property is spread out on lush gardens and has both a family and adults only pool. Their guest rooms are comfortable, their restaurant is great, and Get Away Today guests get their resort fee waived - a $5 per night savings.

Our next stop was the Stanford Inn & Suites, one of the best values for families looking to travel on a budget. They have standard rooms, plus two different types of kid suites perfect for larger families or parents who want some privacy. Their breakfast in the morning and their 4th night free help families save some extra cash.

The Embassy Suites Anaheim South was the next stop on our itinerary. This gorgeous hotel features all of the amenities that you'd come to expect from the brand, including a full breakfast with a cook-to-order omelet station, nightly manager reception hours, and comfortable suites. We love the spacious rooms with a living room, comfortable beds, and TVs in each room. One of the things that we love about the Embassy Suites Anaheim South is their atrium complete with koi ponds with live turtles and an animatronic lion that roars every hour on the hour.
You'll roar with excitement if you win the 2-night stay we're giving away at the Embassy Suites Anaheim South. Enter here:
Next up was the Hilton Garden Inn, just a mile from the Disneyland Resort.We love that this hotel has a fridge and microwave in each room, and a 4th night free is pretty great too. Families that are looking to save will appreciate the discounted parking for Get Away Today guests (only $8 per day instead of $14 per day), and the fact that kids eat fee at their in-house restaurant (one per paying adult).
We then visited the Residence Inn Anaheim Resort next. We love that this hotel feels like your home away from home, but with all of the extras you wish you had at our house. The rooms all have a full kitchen, and the hotel will even deliver groceries for you. You may not need them though, because they serve a full hot breakfast each morning. They also offer a "Residence Mix" Monday thru Wednesday evenings with light appetizers. They also are continuing to add tons of healthier options, like egg white omlets to their menu, to help families stick to their individual diets while on vacation.
Their large pool area also features a kiddie pool and grills that guests can use to BBQ.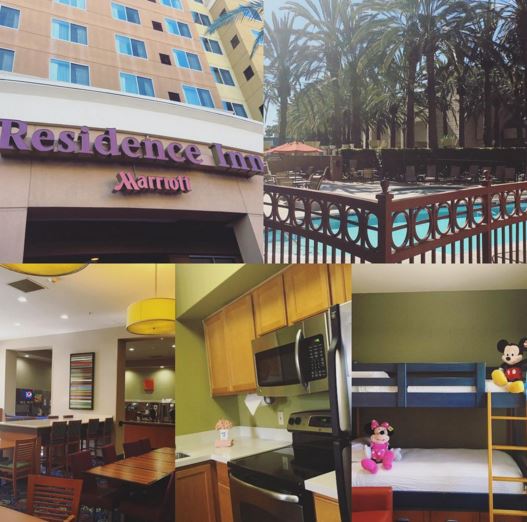 Be sure to enter to win a 2-night stay at the Residence Inn Anaheim Resort below:
Another family friendly hotel was next on our list. We stopped by the Homewood Suites Anaheim Maingate for a tour. This all-suite hotel features full kitchens, and a sofa bed in the living room. Their hot breakfast is served daily, and for an even better value, when you stay Monday - Thursday, they serve a light dinner. It's no wonder this is such a popular choice!

We were ready for lunch by the time we got to the Anaheim Wyndham Garden Grove, and we were so spoiled! After a gourmet lunch of surf n' turf bahn mis, and house made ice cream sandwiches, we took a quick tour of the hotel.
Their lobby is gorgeous, their pool area has fabulous cabanas (free on a first come basis), and their guest rooms are so comfortable. Get Away Today guests have always enjoyed waived resort fees, which includes free parking and free shuttle service to/from Disneyland, but recently, Get Away Today guests also receive a free hot breakfast daily. It's no wonder why they Wyndham is one of our favorite hotel partners.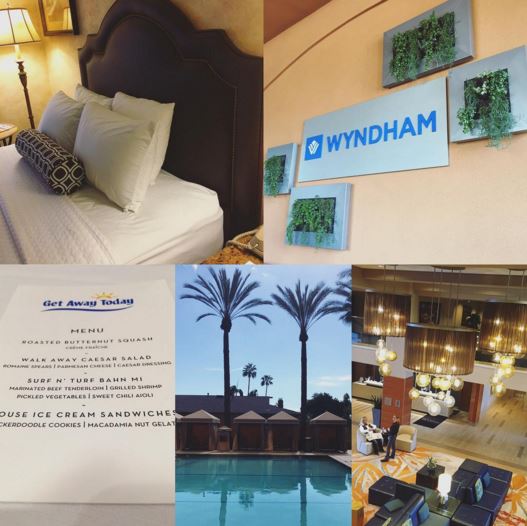 You can win a 2-night stay at the Wyndham here:
a Rafflecopter giveaway
After lunch we walked over to the Anaheim Marriott Suites located right next door to the Wyndham. This all-suite property is a huge hit for families because of their spacious guest rooms, poolside fire pits, and the free hot breakfast exclusive for Get Away Today guests.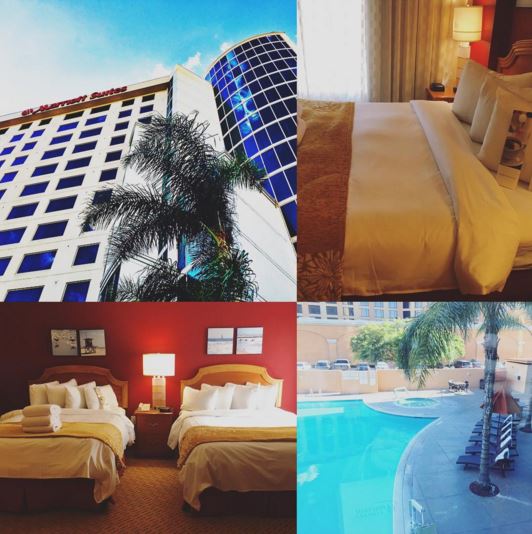 You can enter to win a 2-night stay at the Anaheim Marriott Suites below:
a Rafflecopter giveaway
We then walked over to the Sheraton Garden Grove. This hotel is a great one because although it's a deluxe hotel, their 4th night free oftentimes makes it a real value for families. We think you'll agree.

Next we headed down to Harbor Boulevard and got the royal treatment from the Castle Inn & Suites. This may be a budget hotel, but their staff goes above and beyond to ensure that each guest feels like royalty here. Kids love staying in a "real" castle, and it's just a few minutes away from Disneyland. It's no wonder that families have been making magical memories here for 25 years!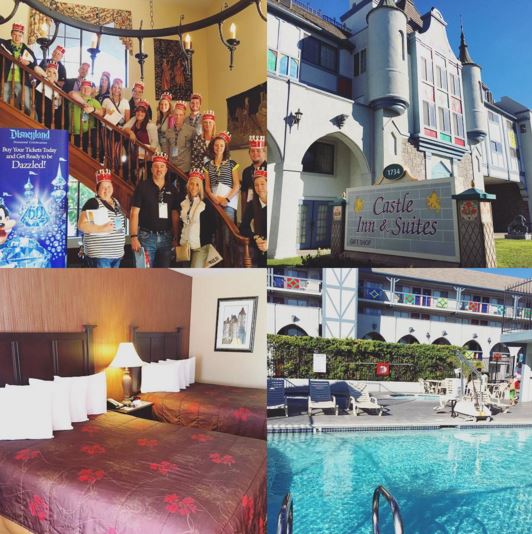 We also toured the Del Sol Inn Anaheim Resort, a quaint hotel that is tucked just off of Harbor Boulevard. Although it's small, it offers every amenity you could want and then some. Each room has a microwave and refrigerator, and a breakfast buffet is included each morning.

We stopped by the Tropicana Inn for a quick walk-through. As one of the closest hotels to the Disneyland Resort, it is incredibly popular. They also boast having the largest swimming pool of the hotels directly across from the Maingate to the Disneyland Resort. Their standard rooms are spacious and comfortable, but they also have a handful of the largest family suites in the area. These family suites are two standard sized rooms each with two queen beds and are connected by a kitchen in the middle. These rooms go quickly, so if you want to book one, your best bet is to book as early as possible.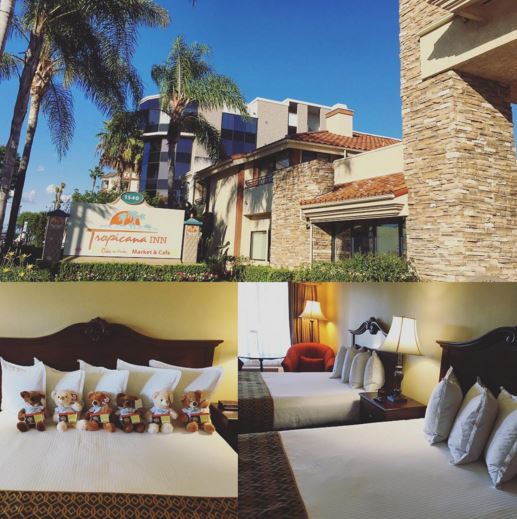 Next we headed next door to the Anaheim Camelot Inn, another hotel located a hop, skip and a jump from Disneyland. We love that each of their guestrooms has a mini fridge and microwave. We also love that their pool is on the fourth floor and has a view of the fireworks. The Anaheim Camelot Inn also has a few family suites that will sleep up to 7, but they are based on availability, so you'll want to book well in advance.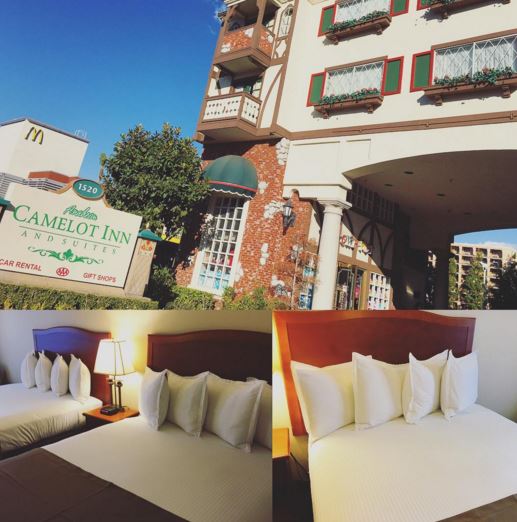 Enter to win a 2-night stay at the Camelot Inn & Suites below:
a Rafflecopter giveaway

Next on our walk along Harbor Boulevard was the Fairfield Inn Anaheim Disneyland Resort. There are so many things in addition to its great location that we love. The fact that each room has a single sized sofa pull out and a mini fridge is incredibly convenient. Get Away Today guests get the added perk of free parking (a $15 per night savings) and free in-room wi-fi (a $12 per day value). Plus, the hotel has a handful of Disney themed rooms available for a small upgrade to carry the Disney magic throughout your entire vacation. Oh, and we love our contacts, which is why we had to take a selfie with them.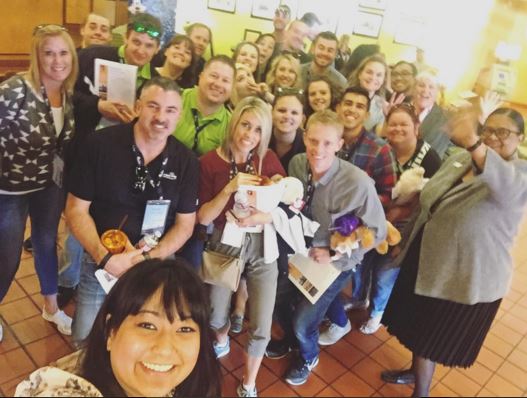 Enter to win a 2-night stay at the Fairfield Anaheim Disneyland Resort below:
a Rafflecopter giveaway
Our final hotel stop along Harbor Boulevard took us to the Howard Johnson Hotel & Waterpark, right across the street from the Disneyland Resort. Families love the themed pool area and super convenient location.
Half of us then checked into the Ayres Hotel Orange, while the other half checked into the ALO Hotel. The ALO Hotel was formerly known as the Ayres Inn and was so popular, that they built the Ayres Hotel right next door! Both hotels are known for their spacious guest rooms, awesome free breakfast, and their impeccable service. And, each hotel is offering a 4th night free for Get Away Today guests! Here is an idea of what you get when you stay at the Ayres Hotel Orange.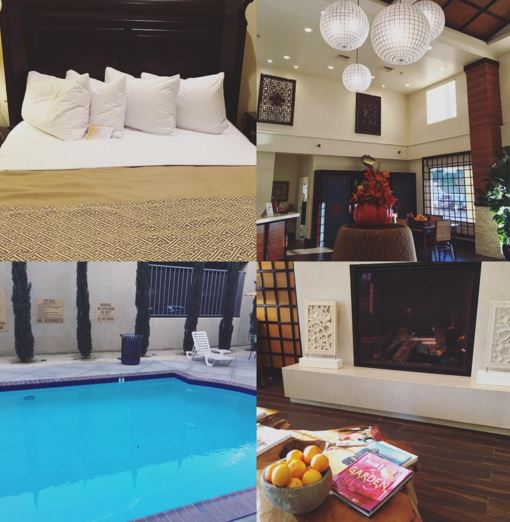 Enter to win a 2-night stay at the Ayres Hotel Orange:
a Rafflecopter giveaway
Next we headed over to the Lucky Strike Lanes & Lounge at the Outlets of Orange where we were lucky enough to have a party with some our partners, both those that we got to visit, and those that we weren't able to get to this time.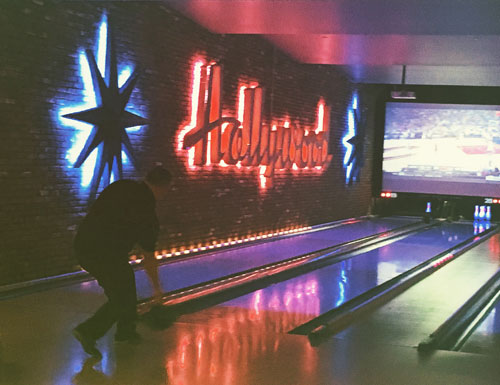 We chatted about what's new and had a great time bowling and learning more about some of the great products we sell. For example, we got to meet with our fantastic contact Deb, from Karmel Shuttle, who told us about a new texting feature for their guests. We also got to visit with our contact from Medieval Times, who was so generous to offer us 10 tickets to share with you! One lucky couple will win two tickets, and two families will win a four pack of tickets for the tournament and dinner.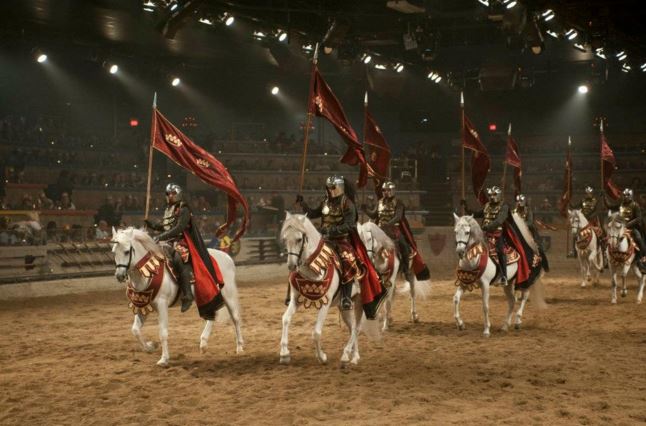 Image credit: Medieval Times Buena Park
Four tickets to Medieval Times
For our final night in Anaheim we went back to Disney California Adventure Park, because we just couldn't leave without seeing the all-new World of Color - Celebrate! specially created for the Diamond Celebration. This is heartwarming show had us all reliving our favorite Disneyland memories. If you've seen it, you know exactly what we mean.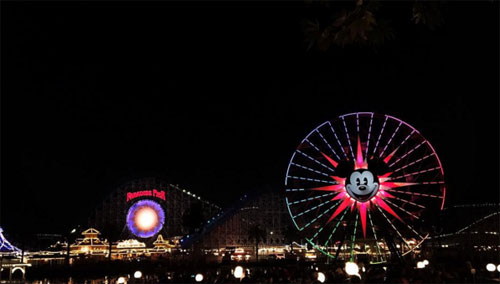 We hope you've enjoyed following along with us so far! We hope you'll continue along our adventures as we head south to sunny San Diego! Follow us on Facebook and Instagram for immediate updates, and then check our blog for a recap of the previous day's adventures.

Remember, this week only, use promo code: FAM2015 to save an extra $20 off any 2-night or longer Southern California vacation booked online.