We started our beautiful day in San Diego in the most ideal way, breakfast at the
Hyatt Regency Mission Bay
. The breakfast was as delicious as the hotel is beautiful. This hotel has spa like guest rooms, an enormous pool area with water slides, access to the boardwalk, and so much more. It is the perfect San Diego hotel for either a romantic getaway or for family fun! You can't go wrong with their location, service and amenities. The only thing you'll regret is not staying longer!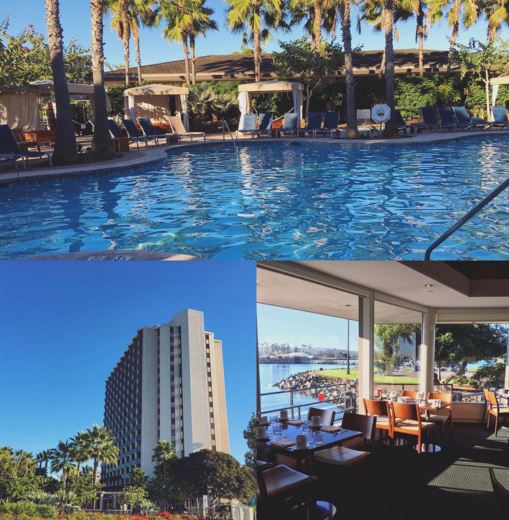 Enter to win a 2-night stay at the Hyatt Regency Mission Bay:
a Rafflecopter giveaway
Next our group visited the
Pacific Terrace Hotel
, a gorgeous luxury hotel located right on Pacific Beach. All rooms come with a private patio or balcony, plush bedding, a refrigerator and more. You won't want to leave.
Our pack then headed to the
San Diego Zoo
where we were lucky enough to be given a behind the scenes tour. The highlight was definitely being able to get up close and personal to the giraffes! Of course, the Zoo is world-famous and one of the only places you can find koalas, panda bears and more than 3,700 other endangered and rare animals from around the globe. And, it's located in Balboa Park, a destination in and of itself.
Enter to win a family 4-pack of San Diego Zoo tickets for your wild animals:
a Rafflecopter giveaway
After our fun morning at the zoo, we went to
Humphrey's Half Moon Inn & Suites
for lunch and a tour of this awesome hotel right on the marina. This hotel is known for its concert series that brings in a wide range of bands and artists from April through October. But, of course, because it's in San Diego, Humphrey's is delightful year round. Their rooms are gorgeous, their pool is great, and their location on Shelter Island is perfect. You'll love your stay at Humphrey's Half Moon Inn & Suites.
We then went to the
Holiday Inn San Diego Bayside
for a tour. We love so many things about this recently renovated hotel. We love their fresh guest rooms, huge pool, outdoor game area, location near the bay, and free beach cruiser rentals to name a few.
We then left the bay and headed to Hotel Circle, where we started at the
Days Inn Hotel Circle
. This Days Inn is not your typical motel. It has won multiple awards for service and cleanliness, has a fantastic pool area, comfortable rooms, and a delicious in-house restaurant. It is such a great value for families, and an even better one if you win a stay here!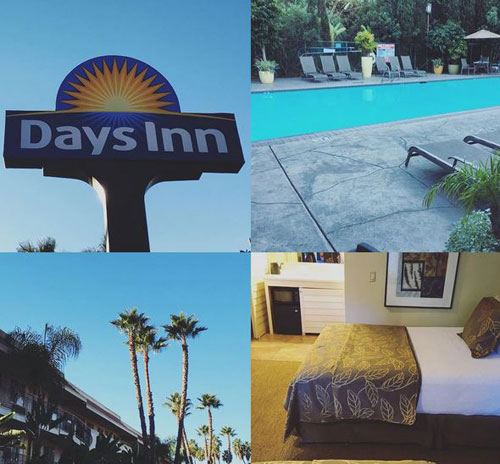 Enter to win a 2-night stay at the Days Inn Hotel Circle:
a Rafflecopter giveaway
Our staff was so excited to visit the brand new
Holiday Inn Express San Diego Hotel Circle
. This is a great option for families in San Diego. It offers both standard rooms and suites for larger families, and serves a hot breakfast each morning. For a limited time you can even get your 4th night free, making it an even better choice for your San Diego vacation!
We then stopped by one of the most popular San Diego hotels for families, the
Residence Inn Mission Valley
. They have suites that really feel like home, some even with two bedrooms that sleep eight. Each guestroom has a full kitchen, and all guests get a free hot breakfast daily and a light dinner Monday - Thursday. They have a great pool area with a fire pit, grills, a basketball court, and more.
Next we were off to the
Hampton Inn San Diego Mission Valley
. We first fell in love with this hotel when we got to stay their last year right after they opened. It looks just as great as it did when we saw it a year ago. We love that their guest rooms have everything you need for a comfortable stay, including a microwave and mini fridge. Their pool area has fire pits and they serve a hot breakfast each morning. It's a wonderful choice for any San Diego vacation.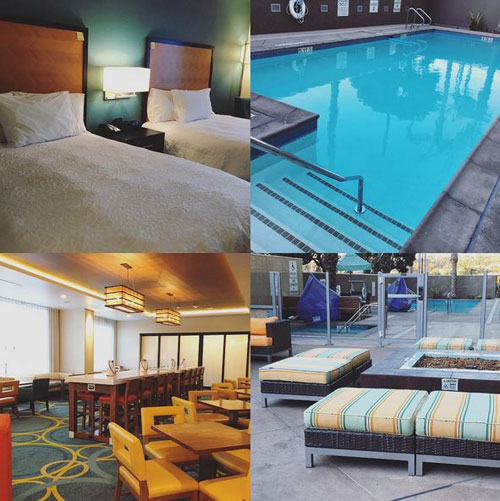 Enter to win a 2-night stay at the Hampton Inn San Diego Mission Valley:
a Rafflecopter giveaway
We then stopped by the
Comfort Inn & Suites Zoo/SeaWorld
for a quick visit. They have great rooms for families. There are rooms that offer two queen beds, some with a sofa bed, and kid suites that feature one king bed and bunk beds. All of their rooms come with mini fridges and there's a free breakfast daily.
After a full day of visiting our partners, we headed to Old Town San Diego for dinner. No trip to San Diego is complete without going to Old Town or Mexican food. Luckily, Old Town has some great options for dining, shopping, and exploring. We love San Diego!
We hope you're enjoying reading about our time in Southern California and that it gives you some helpful information for when you're ready to plan your next vacation. Our agents will be back in the office on Monday pumped up and ready to give their personal recommendations for your customized vacation. Or, you can book this weekend online only and
save an extra $20 on any 2-night or longer Southern California vacation when you use promo code: FAM2015
. Either way, we are excited to be a part of your vacation!