Coming in 2016, young Padawans and Jedi Masters alike can sail to a galaxy far far away on select Disney Cruise Lines! With help from the Force, you will experience a day long celebration of Star Wars aboard eight special sailings on the Disney Fantasy cruise ship. On this "Star Wars: Day at Sea" you will get to experience everything there is to love about this one of a kind galactic adventure.
For one day, your cruise will be transformed into your favorite spots throughout the Star Wars universe. With a deck party, character meet and greets, activities for kids, unique food and drinks and merchandise you won't be able to find anywhere else, this is something no Star Wars fan can miss.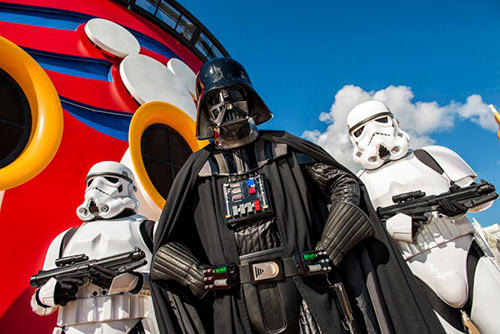 Photo courtesy of Disney Parks
Only the magic of Disney could put together a full day of immersive Star Wars fun on the ocean. Here is just some of what you can experience during the celebration of Star Wars:
Film Screenings and Star Wars Celebrities:
You can watch all six of the Star Wars films from beginning to end following the epic adventure of the galaxy's heroes.
You can also catch full episodes of the popular Disney XD animated series, Star Wars Rebels throughout the ship.
Celebrities and crew from the Star Wars universe will be on board each of the cruises to share their insider experiences and memories, meet and greet fans and sign autographs.
Deck Party and Fireworks:
You can meet all of your favorite characters from across the galaxy on board the Disney Fantasy! Darth Vader, Chewbacca, Boba Fett, Stormtroopers and more will be around for scheduled meet and greets, but will also be roaming around the ship. You never know where they might end up, so be sure to keep your eyes out for your favorite characters!
The cruise deck turns into a Star Wars themed party filled with exciting music, dancing and games!
All of your favorite Star Wars characters make their way to the deck party to put on a show with special effects and guest interactions.
It all comes together for the final bang with a huge display of fireworks with lasers, sound effects, lighting and Star Wars music.
Star Wars Fun for the Whole Family:
A on board adaptation of the Jedi Training Academy that can be found in Disney Parks, invites young Jedi trainees to learn how to use a lightsaber from a Jedi Master. They will face off in an epic battle against Darth Vader as their final test to become a Jedi.
Families and friends can compete in Star Wars trivia games encompassing fun facts from all of the Star Wars entertainment.
At night, adults can enter the night club that has been transformed into the Mos Eisley cantina! Filled with original characters and cantina music, it feels as if you walked straight into the scene from the movies!
For the young Padawans, different Star Wars themed games, activities and crafts will be provided throughout the day in different sections of the ship.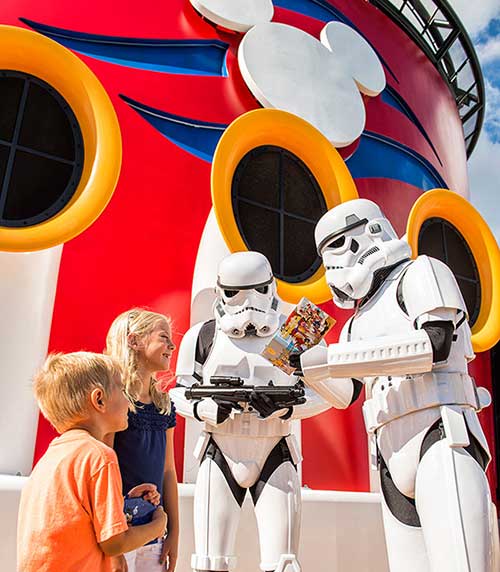 Photo courtesy of Disney Parks
With all of the exciting Star Wars announcements and upcoming movies, there is no better time to experience all the intergalactic action for yourself. Immerse yourself in the world of Star Wars on the sea in this limited time event you don't want to miss! You can book your
Disney Cruise
online or call our cruise experts at 877-510-2929. May the Force be with you all.
Check out these great articles: