It's always great when Disneyland comes to visit and today was no exception! David, our contact from the Disneyland Resort and Aulani: A Disney Resort & Spa came to our office to update our agents with all of the fun stuff going on at the Resorts.
First, David talked to us about Aulani: A Disney Resort & Spa located on Oahu. Aulani is already completing a major expansion to this new resort including new pools, restaurants and guest rooms. The Resort is currently open and the additions will debut October 1 of this year. As a reminder, your vacation at Aulani includes access to the great pool areas including a children's play area and a lazy river, the fitness center, Aunty's Beach House and so much more!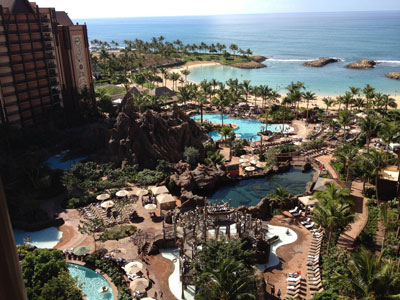 Plus, for a limited time, when you book your Hawaiian vacation at the newly expanded Aulani for most travel dates October 1-December 13, 2013, you'll get your 5th night free! You must book by October 15 to take advantage of this special and it is subject to availability, so you'll want to book soon!

Next, David shared some exciting updates and insider information about what's going on at the Disneyland Resort. Earlier this year at Disneyland the Fantasy Faire and Mickey and the Magical Map opened. Both have been huge hits. Over in Adventureland Indiana Jones underwent some major refurbishments featuring cooler than ever special effects and the Tiki Room celebrated its 50th Anniversary! Just for fun, David shared this fun insider's look at the Enchanted Tiki Room:
David also let us know that the Treasures of Asgard will be coming to the Innovations inside Disneyland on November 1. This will feature a meet-n-greet with Thor! Also, Starbucks will be opening on Main Street U.S.A. soon. Right now the Starbucks inside Disney California Adventure Park is the busiest in the country! We imagine the new location in Disneyland could take that title soon. Due to its overwhelming popularity at the Resort, Starbucks is also coming to Downtown Disney next to the World of Disney store.
Of course Halloween Time is a huge celebration at the Disneyland Resort and it has been going full force since kicking off on Friday the 13th! Seasonal favorites like Space Mountain: Ghost Galaxy and the Pumpkin Festival on Main Street U.S.A. are back until October 31. The Holidays at the Disneyland Resort will begin November 12 and run through January 6. Haunted Mansion Holiday, "it's a small world" Holiday, Believe... In Holiday Magic Fireworks and more promise to delight families traveling during the holiday season.
If you're planning on a Disneyland vacation this year (and we think you should be!), you'll want to book now! The earlier you book, the better availability you'll have. Remember, at Get Away Today, we are your Disney experts!

Check out these other great blog articles and insider tips:
Halloween Time at the Disneyland Resort 2013
Holidays at the Disneyland Resort 2013
Disneyland Resort: What's New for 2013
Aulani: Firsthand Experiences