If you haven't heard, something BIG is coming to the Disneyland Resort on May 22, 2015. Disneyland is celebrating a huge milestone - 60 years of making dreams come true with their Diamond Celebration! Last week we were invited to the Disneyland Resort for a special sneak peek to see a little glimpse of what's in store for guests that will visit the Resort this summer. We can't wait!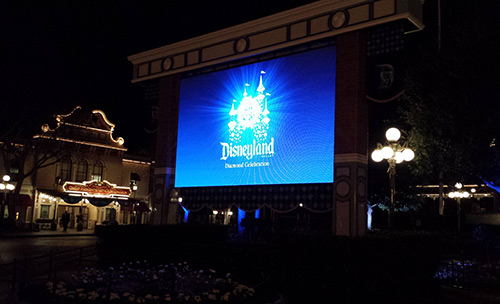 The Disneyland Diamond Celebration is sure to be full of all sorts of surprises, but the big announcements from last week involve three new nighttime spectaculars that are not to be missed. Tom Staggs, Chairman of Walt Disney Company Parks and Resorts, and Steve Davison, Lead Creative Executive of Parades and Spectaculars, gave us an overview of what each of the shows will involve and we even got to see a little sample of one of them. Here's what you will want to know: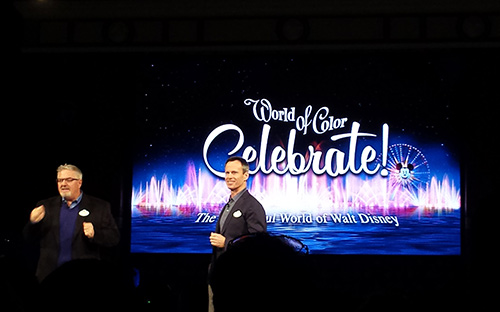 World of Color - Celebrate! The Wonderful World of Walt Disney: First, they shared that what we currently know as World of Color will be replaced with an all-new show - World of Color Celebrate. Mickey Mouse will host this new presentation celebrating Walt Disney and his dream of Disneyland. It is promised to be a very different show and full of heart. We'd of course expect no less. Expect to be awed with the famous fountains, lights and special effects mixed with new surprises, technology and music.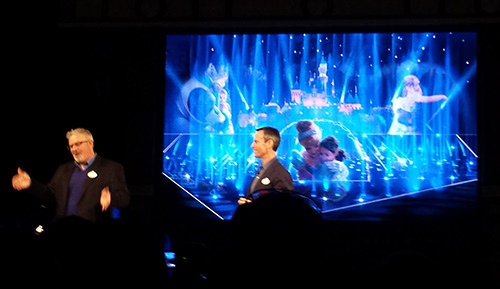 Paint the Night: Next, we were treated to a look into Paint the Night, an all-new nighttime parade that takes its inspiration from the classic Disney's Electric Parade and amplifies everything. In addition to new technology, the parade will feature more than 1.5 million LED lights that will light up the floats and performers alike. You'll see favorite characters from Disney and Disney•Pixar films including "Monsters, Inc.," "Cars," "The Little Mermaid," "Beauty and the Beast," "Toy Story," and "Frozen." Mickey will lead the grand finale down Main Street U.S.A. and you will not want to miss it.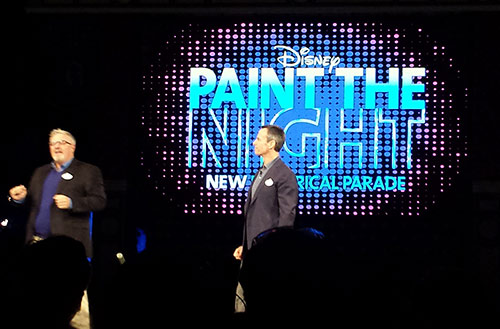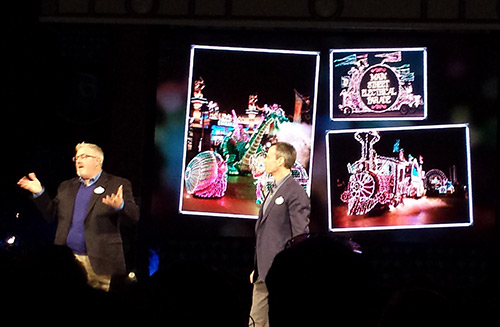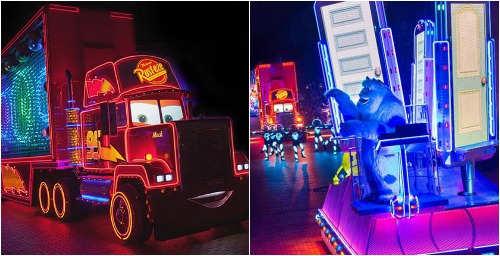 Image credit: ©Disney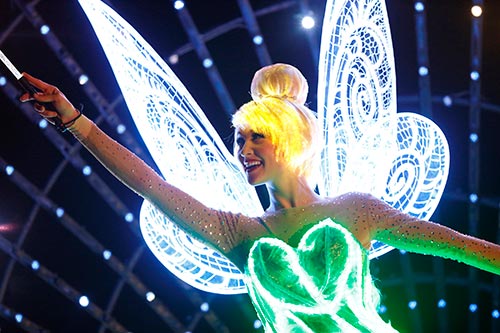 Image credit: ©Disney

Disneyland Forever: The grand finale of the evening was the announcement of the new fireworks spectacular that will be unlike any fireworks show ever before seen in a Disney park. The idea is that you will be completely immersed in the fireworks display, no matter where you are experiencing it in the park. Using the largest installation of projection mapping technology ever used in a Disney park and incredible special effects, the show will be displayed near the castle, Main Street U.S.A., the Matterhorn, "it's a small world," and Rivers of America. It will seem like a different show depending on your perspective.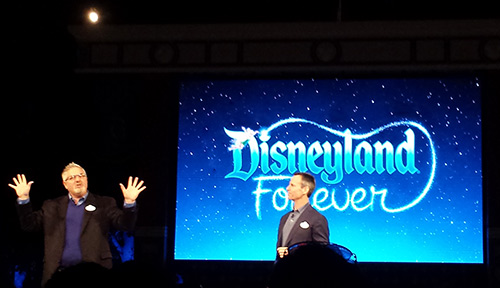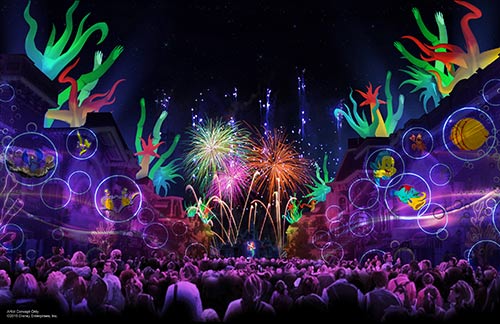 Image credit: ©Disney Artist Rendering

The show itself will highlight scenes and music from Disney and Disney•Pixar films, as well as two original songs, "Live the Magic" and "Kiss Goodnight," both written by none other than Disney Legend Richard Sherman. We were able to get a little preview of what the show may look like on Main Street U.S.A. and got to hear a snippet of "Live the Magic." You can get a small idea of what it was like, but I assure you, it was spectacular in person:



In addition to these three thrilling new shows, Sleeping Beauty's Castle and the Carthay Circle Theatre will both be "diamond-ized" for the occasion. Crews are already working around the clock to get the castle glammed up, and the Carthay Circle is sure to be next to get bedazzled.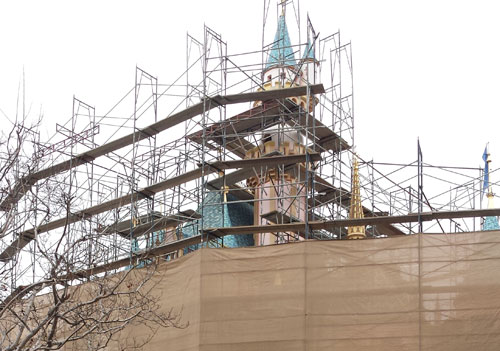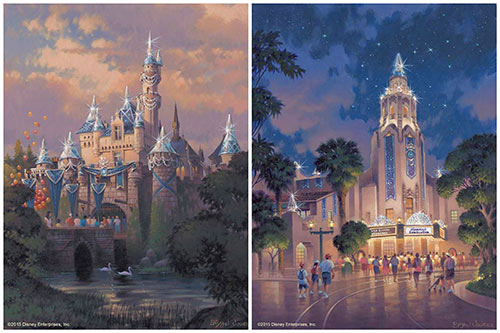 Image credit: ©Disney Artist Renderings

If you haven't already booked your 2015 Disneyland vacation, you'll want to book now! These shows begin on May 22 and will last through at least the end of the year. Be there for the kick-off and get Adults at Kids' Prices on 3-Day or longer Disneyland tickets, or visit in September or November to get the same deal during the Diamond Celebration. Or, book any of our Disneyland packages for travel through 2015 for a limited time and you'll get an extra day free when you purchase a 4-day Park Hopper ticket! Combine that with our 3rd, 4th or 5th night free Anaheim area hotel specials for the lowest price on your Disneyland Diamond Celebration vacation. With so much excitement, you'll definitely be glad you have the extra nights!


Check out these other great articles:

New Package Inclusions for 25th Anniversary
25 Tips for a Great Disneyland Vacation
Disneyland: Tips for Your First Trip