"I wanted to compliment our agent Sherlene who helped us get reservations for our trip to Disneyland. I was a little concerned about our hotel being some distance from the park, but the Doubletree Hotel Anaheim Orange County was fabulous and I wished I could stay longer and just enjoy being there. Thank you Sherlene for working for us to have such a great vacation. We've had a hard year - both my parents died and my husband was ill for an extended period, and it was so nice to have some fun and relax.

-Jacque F."

"This was the Best Vacation we have had in a long time, with the passing of my aunt and grandma this year, my Dad had a real hard time being happy. We planned this trip for his 50th birthday, my mom said when they arrived to the hotel he hugged her and smiled and said we're here! We loved the staff and hotel everyone treated us amazing. We will definitely stay at the Clarion Hotel again and use Get Away Today.

Thank you for helping make this a special trip for all of us, even with the rain everyone had smiles.

-Angelica L."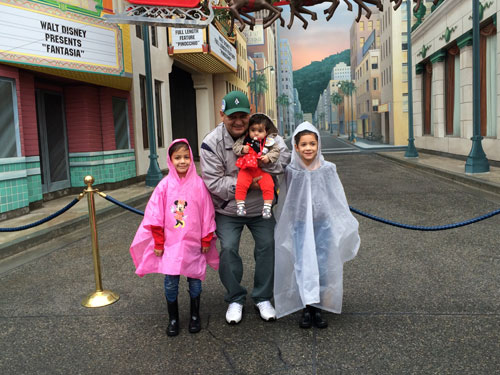 "This was my first experience traveling with Get Away Today. I had seen the travel brochures sent home with my children for years. Last May, I won a trip from Get Away Today; as a partner with Deer Valley Education Foundation the trip was a random prize drawing at the 2014 Teacher of the Year dinner.

I was honored to be selected as teacher of the year; and my night improved when I won the trip!

We decided last minute to use the trip voucher. Everyone has been amazing to work with-from organizing a great trip last minute, to calling to check on us while at Disneyland, to the follow up emails. My family and I are very impressed and will recommend Get Away Today to our friends.

This trip was just the thing we needed! My husband has been unemployed since August and the time together in Disneyland gave us time to appreciate all the wonderful things we do have in our life as my husband continues his job search.

Disneyland was amazing and the Ayres Hotel was beautiful with a very nice staff.

Thank you again for supporting the Deer Valley Education Foundation and providing my family with this trip.

-Kim"

While Disneyland may not mend broken hearts, it certainly is a magical place where families can spend meaningful time together away from their day-to-day struggles. We love being able to help loved ones connect and make memories that will last a lifetime. No matter the reason you want to get away, we want to help. Our discount Disneyland tickets and Disneyland packages make your Disneyland vacation affordable. Book online or call our Disney Experts at 855-GET-AWAY.


Read more about what Get Away Today guests are saying about their vacations:

Get Away Today Customer Service Helping Families
Guests Love Walt Disney World and Get Away Today
Who says you can't buy peace of mind? Get Away Today guests can!