The
Disneyland Hotel
is my favorite of the three Disney properties; add the concierge level to that and I am in Disney heaven! Disney knows exactly what to do to make your vacation as unforgettable as ever and by upgrading to the concierge level, you will have the most magical vacation you and your family could possibly dream of!
The concierge level at the Disneyland hotel is also known as the E-Ticket Club to make you truly feel like a VIP in a Disney club. It is located on the 11th floor of the Dreams Tower, for that reason I would request a room in the Dreams Tower or the next closest, the Fantasy Tower. When you upgrade to the concierge level, you and your family will receive exclusive access to the E-Ticket Club, Priority check-in and check-out at the front desk, table games, DVD's, and books available for check out, and lots of food to keep your belly happy until your next big meal!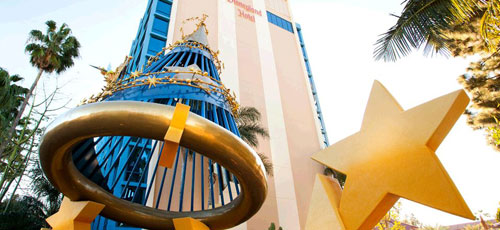 Photo Credit: Disneyland.com
When you are in the Concierge Lounge, you have a view of Downtown Disney and the parks. You even have a great view of Remember Dreams Come True… Fireworks Spectacular with the soundtrack! There is also a desk with wonderful staff that will help you arrange dinning reservations and any other personalized vacation planning services you may need. On a side note, not included in the concierge level, consider a Character Dining meal; they are SO delicious and SO much fun!
As I mentioned before, the E-Ticket Club offers refreshments nearly all day long. In the mornings you will receive a continental breakfast which consists of fresh fruit, pastries, and cereal. For the afternoon, you will find fresh fruits and a variety of snacks. Around dinnertime, they will have a wonderful selection of appetizers, a cheese tray, and even complimentary wine or beer for the adults and in the evening they have assorted cookies and other wonderful desserts. Beverages are also available to you all day long.
Because they charge per room not per person for the concierge level, this is especially a great value for larger families who want to spend less money eating inside the park.
For more information or to book your dream Disneyland package, please call our reservation staff at 855-GET-AWAY!


Check out these other great blog articles:
Top 10 Reasons to Stay at Disney's Paradise Pier Hotel
Disneyland Hotel: Top 10 Reasons to Stay Here
Disneyland Hotel: New Room Tour