At Get Away Today we have made a business of saving families the most money possible on their Disneyland Resort vacations. One of the ways we do that is by offering the lowest ticket prices around, but as we reported on our blog a few weeks ago, unfortunately there are those out there that will try to bend the rules and be dishonest (whether intentionally or not) to save a few bucks. (Read the full article about Disney Cracking Down on Ticket Fraud by clicking here.)

When a Disneyland Resort ticket is sold, it is intended to be used by the purchaser and the purchaser's immediate group. Tickets are also to be used by the same guest during the entire length of stay on the tickets, which is printed directly onto all Disney tickets. If it is discovered that Disney has begun some extra measures to stop the ticket rental fraud which has disrupted so many families' vacations recently. If Disney discovers that a family's tickets are not being used by the same person, they will revoke the tickets and the family will have to repurchase their tickets from an authorized Disney ticket seller. The Disneyland Resort is doing its best to encourage families to ensure that they are purchasing their tickets from an authorized Disney ticket seller from the very beginning.

Most recently, the Disneyland Resort has designated special gates for all guests with 4 and 5 day tickets. In a statement prepared for our friends over at MousePlanet, Suzi Brown, spokeswoman for the Disneyland Resort said, "In an effort to mitigate 'ticket renting,' we are requiring the guest's name on all 4- and 5- day tickets, and will be checking IDs. Tickets that are purchased at the Resort will have the guest's name printed on them; tickets purchased at other authorized sellers will require that the guest name be added at the gate with indelible ink."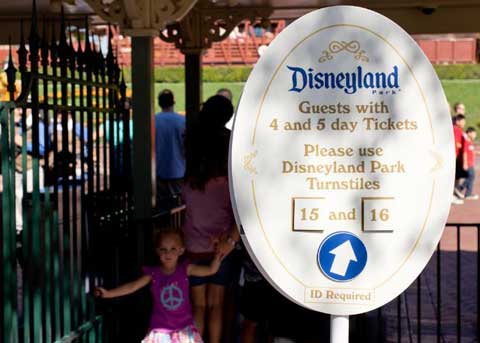 Photo by Bryan Pugh as seen on MousePlanet.com

According to Brown, the Disneyland Resort doesn't anticipate that the new policy will have a big impact on guests to the resort and that they are also looking at additional options for addressing this problem.

Rest assured that when you purchase your tickets with Get Away Today, you are guaranteed that you are getting the best deal on your tickets AND are purchasing through a reputable company and authorized Disney ticket seller. We are your advocate to make sure that everything goes as smoothly as possible for your vacation, no matter what happens. Our 22 years of strong partnerships with the Disneyland Resort and area hotels ensure that you're getting the best deals and service on your vacation and tickets. We LOVE being your Disneyland expert and truly appreciate you putting your trust in us to take care of your vacation details, all while getting the best price on your hotel and tickets!





Check out these other great blog articles:
Disneyland Resort Cracks Down on Fraud
Disneyland Vacations Starting at $73 per Person per Day
Holidays at the Disneyland Resort 2012
Top 10 Reasons to Stay at the Disneyland Hotel