The
Grand Californian Hotel & Spa
is the perfect hotel if you are looking for the best of the best with a resort feel you won't find anywhere else on your Disney vacation. This unbelievable hotel will have you in awe your entire vacation! It has an incredible Mandara Spa, specialty restaurants like Napa Rose and Storytellers Café, and SO many other amenities that your magical Disney experience won't have to end at the gate! And on top of it all, there is an exclusive theme park entrance to Disney's California Adventure Park!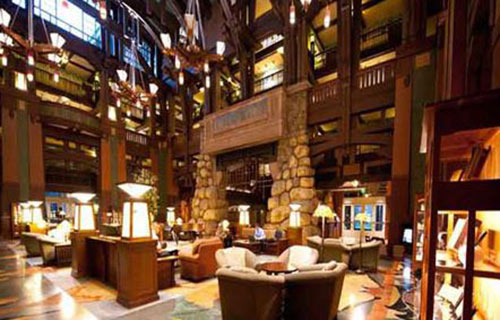 The Craftsman's Club Concierge room is located on the 6th floor near the Great Hall elevators and is the perfect way to upgrade your vacation. With the concierge level upgrade, you will get a great view of the fireworks with the soundtrack available to play and the kids will enjoy the nightly bedtime reading. You will also receive priority check-in and check-out and you and your family will be able to check out an assortment of DVDs, games, and books.
All throughout the day they will serve different foods for you to enjoy. Fresh fruit and beverages will be served all day long along with these tasty refreshments (times and menu subject to change):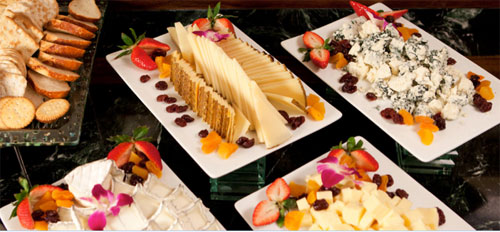 Grand Beginnings
- 6:30am-10:00am  Assorted fresh fruit, pastries, and cereal. This is a perfect continental breakfast and you won't have to spend your money for breakfast in the park!
Afternoon Tea
- 11:00am-4:00pm Variety of fresh fruit and finger sandwiches. If you are looking for a light lunch or something to hold you over until your big dinner, stop by for the Afternoon Tea and fill your bellies.
Grand hour
- 5:00pm-7:00pm A selection of delicious appetizers, cheese tray, and even complimentary wine or beer for the adults. You and your family are going to enjoy this wonderful wind and cheese reception!
Sweet Endings
- 6:30pm-10:00pm- Assorted cookies and other delicious desserts. Well this one pretty much speaks for itself; you are not going to want to miss out on the delicious sweet treats at the Craftsman Club.
If you would like to reserve a room on the Concierge level at Disney's Grand Californian Hotel & Spa with any of our Disneyland packages, book online or give our reservation staff a call at 855-GET-AWAY!
Check out these other great blog articles:
Disneyland Resort Hotels: Upgrade Your Stay!
Disneyland Resort Hotels: Video Highlights
Disneyland Resort Hotels: Extra Magic Hour