One of my personal favorite times at the Disneyland Resort is coming right up - Halloween Time! Pumpkins and seasonal surprises pop-up September 12 - October 31, 2014. Space Mountain: Ghost Galaxy, Haunted Mansion Holiday, Pumpkin Festival, the Twilight Zone Tower of Terror, and Halloween Carnival at Big Thunder Ranch are all festive reasons to celebrate at Disney's Halloween Time. The Mad T Party and World of Color even get into the fun with seasonal overlays. And, it's all included with your regular theme park admission!
For those looking for extra fun, you may want to check out Mickey's Halloween Party - an exclusive party inside Disneyland with trick-or-treating, costumes (guidelines apply) and a spooky fireworks show you won't see anywhere else! Mickey's Halloween Party requires a separate ticket (priced from $63-$77 per person) and is only available on these select dates:
Friday, September 26
Tuesday, September 30
Friday, October 3
Monday, October 6
Wednesday, October 8
Friday, October 10
Tuesday, October 14
Friday, October 17
Monday, October 20
Wednesday, October 22
Friday, October 24
Monday, October 27
Wednesday, October 29
Friday, October 31
For those that are traveling during Disney's Halloween Time, Disneyland Park will close early for the ticketed party. Disney California Adventure Park and the Downtown Disney District will stay open later for those that don't attend the party. If you'd like to purchase tickets for Mickey's Halloween Party, they go on sale to the public on July 30, 2014. The party dates sell out, so you'll want to get yours ASAP. For more information about the event or to purchase tickets, visit
Disney's official Mickey's Halloween Party page.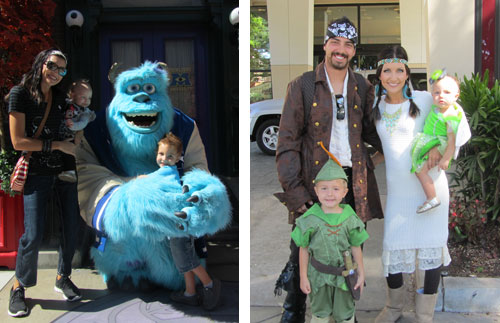 If you haven't planned your Disneyland vacation during Halloween Time yet, book now for the best availability. For extra savings, visit during September and you'll get Adults at Kids' Prices on 3-day and longer Disneyland Resort tickets! Book online or call our Disney vacation experts at 855-GET-AWAY.

Check out these other great articles:
Easy Minnie Mouse Hair Costume
Happy Halloween Memories
DIY Alice in Wonderland Costume