Craft this darling pom pom embellished DIY tulle skirt in a matter of minutes with this easy tutorial. It is perfect for a day of dress up at home or to wear during a visit to the Disneyland.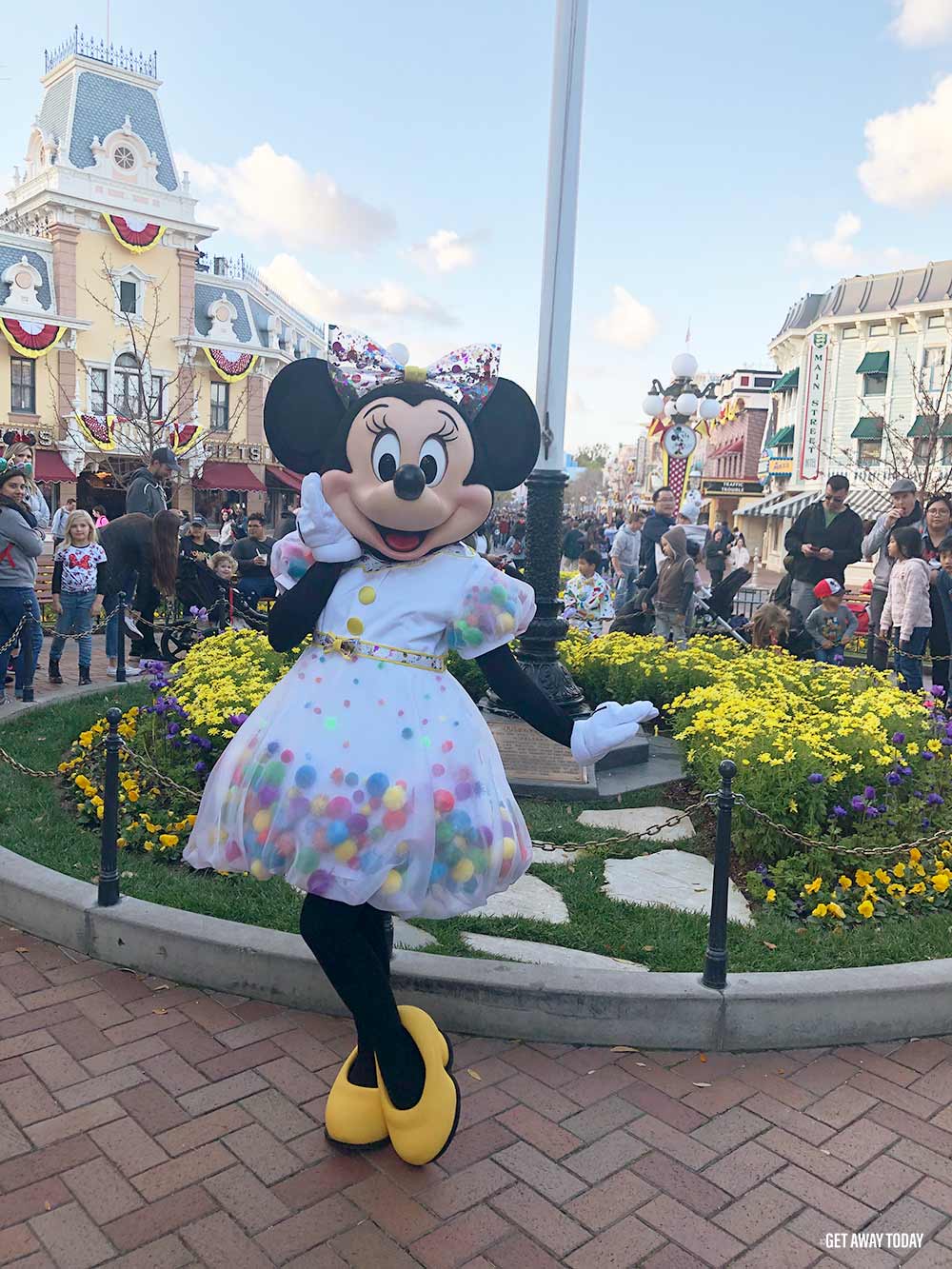 This year, Mickey and Minnie Mouse are celebrating their 90th birthdays. Can you believe they have been around for almost a century? Disneyland is making a pretty big deal out of the special occasion with a year long party! As you all know, Disney knows, almost better than anyone, how to make an event festive and magical.
The Get Your Ears On: A Mickey and Minnie Celebration
is full of darling memorabilia, festive party food, a new fireworks show, parades, photo opportunities and so much more. You are going to want to
put your ears on
and party along with the famous birthday couple!
Minnie Mouse is always very fashionable. She picked out a birthday dress for the Get Your Ears On Celebration that is totally colorful and fun. This simple tutorial will help you create a pom pom embellished, DIY tulle skirt that mimics Minnie's new 90th birthday dress. It is easy to make, and is entertaining to wear with all the little pom poms bouncing around with each step. Your little princess will feel like she is part of the birthday action in this happy little Minnie Mouse skirt.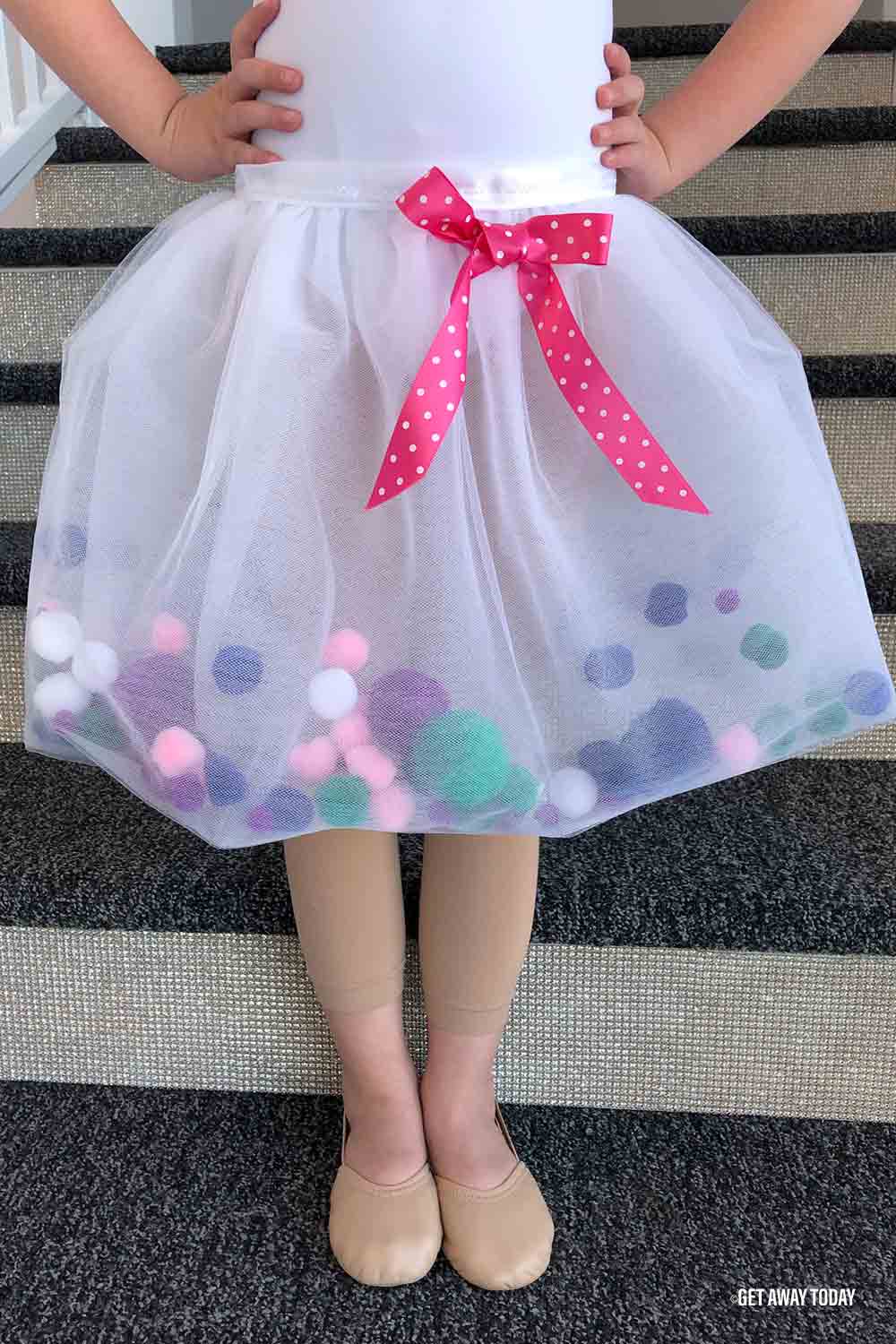 Minnie Mouse Pom Pom Embellished DIY Tulle Skirt
Supplies you will need:
2.5 yards of White Tulle Fabric
White 2 inch ribbon (3 times the length of her measured waist)
White thread
Handfuls of Colorful Pom Poms
Straight Pins
Sewing Machine
Scissors or Rotary Cutting Blade
DIY Tulle Skirt with Pom Poms - Getting Started
The process to creating this DIY tulle skirt is very straight forward and simple. You can do it! I promise! Start by laying your tulle onto a flat surface. Line up all the fabric edges. Tulle usually comes folded in half off the bolt. You need to fold it one additional time. So there will be 8 layers of tulle stacked up.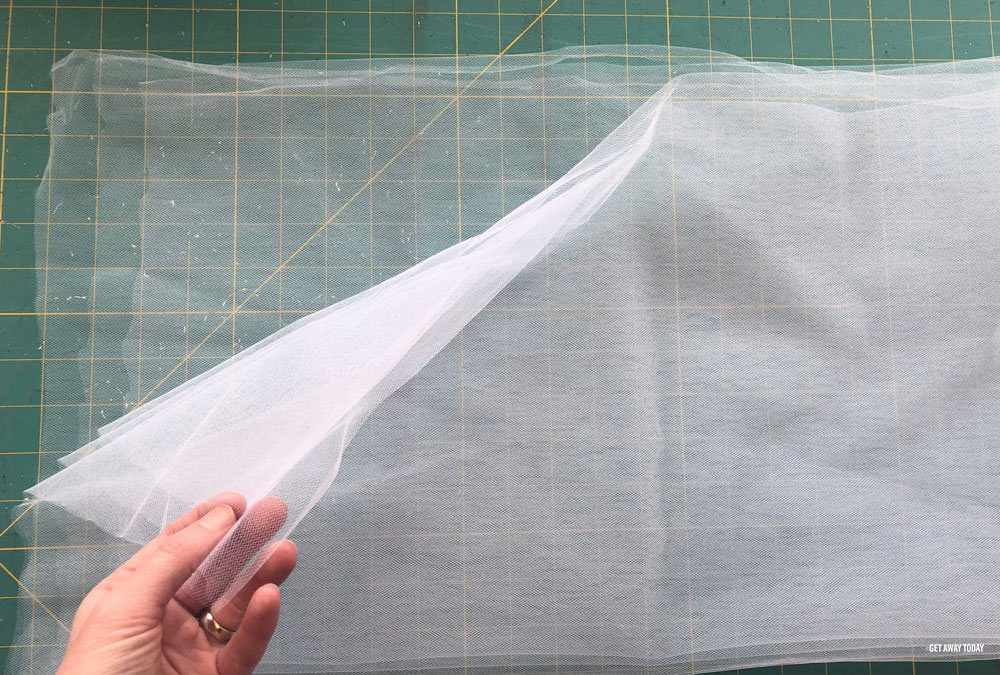 Use straight pins along the top open edge to secure the layers in place so they don't slide around while sewing. Then, stitch across the entire top of the fabric. Use about a 1 inch seam to makes sure you catch all of the layers of the tulle.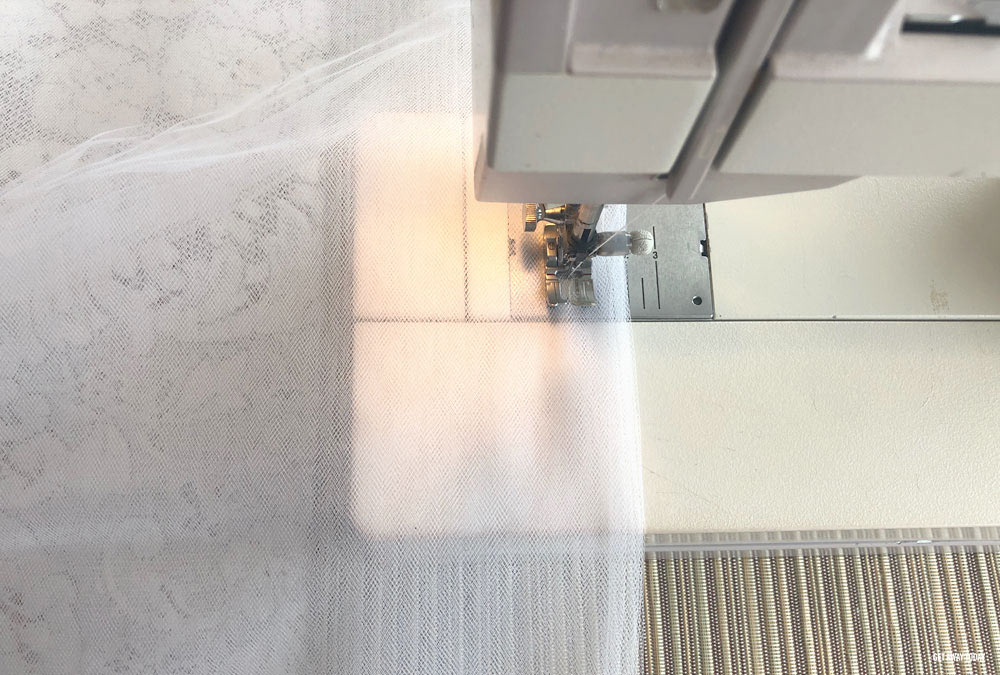 Then, place a ruler above the seam and cut off the scrappy edge.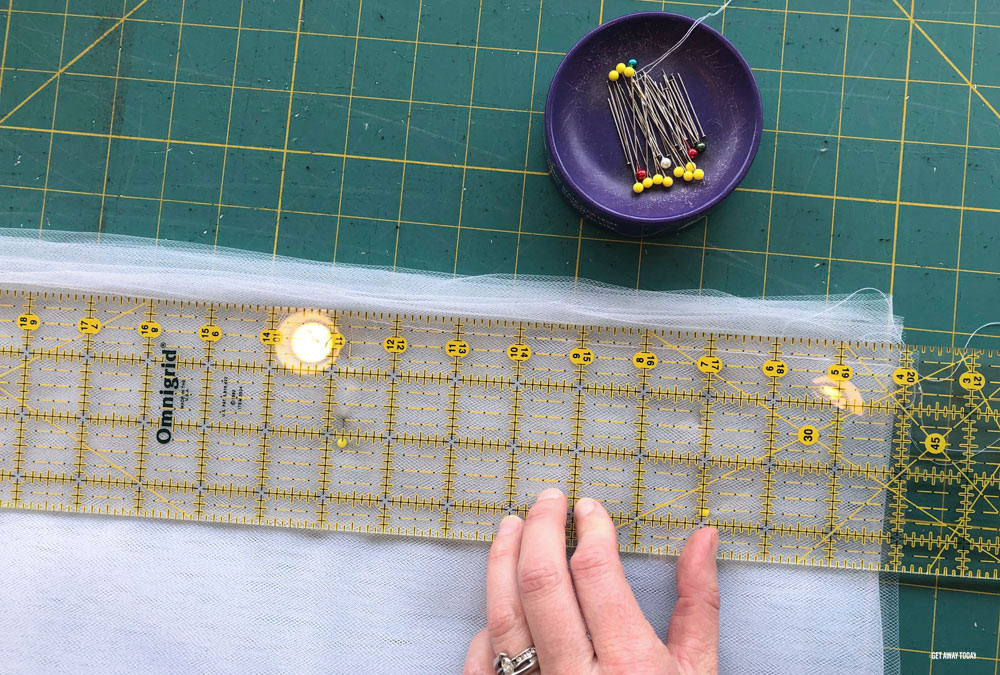 Next. you need to close one side of the skirt. There will be one end that has a nice folded seam and the other side will be the scrappy seam. Close the scrappy side! Roll the edges over once about 1/4 inch and then roll it a second time. Pin it in place with straight pins.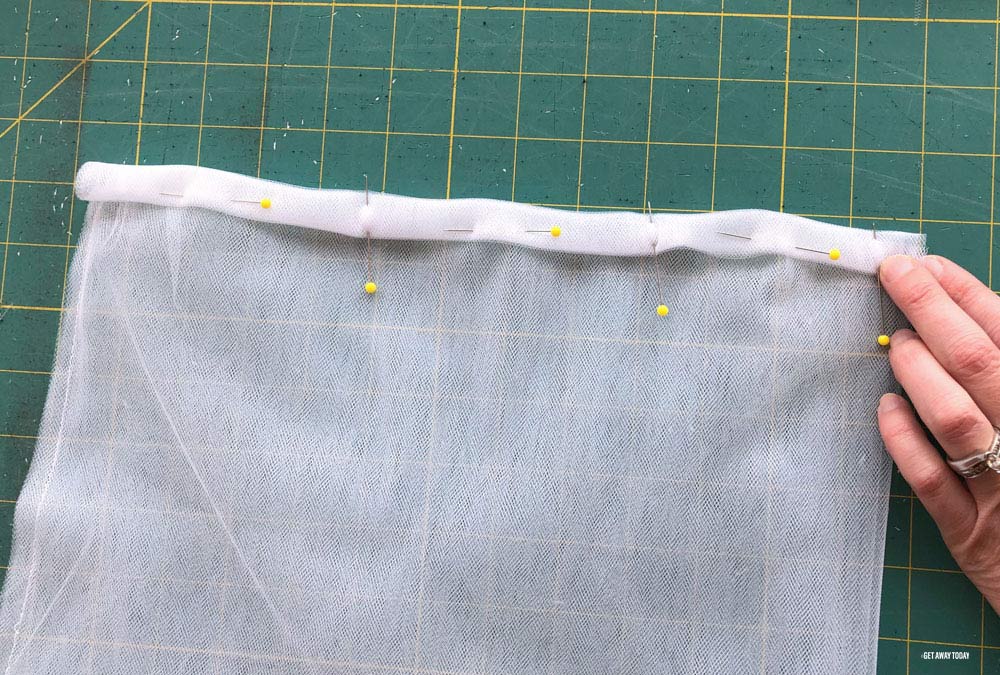 DIY Tulle Skirt with Pom Poms - Sewing the Skirt
Sew along the fold. Make sure to track the thread along the inside of the folded section.
Next, you need to create a gathering stitch so you can gather the fabric to make it into the skirt shape. Sew two lines across the top of the tulle. They should be about 1/8 inches apart from each other. Do not backstitch them. You want the thread to be loose on the ends.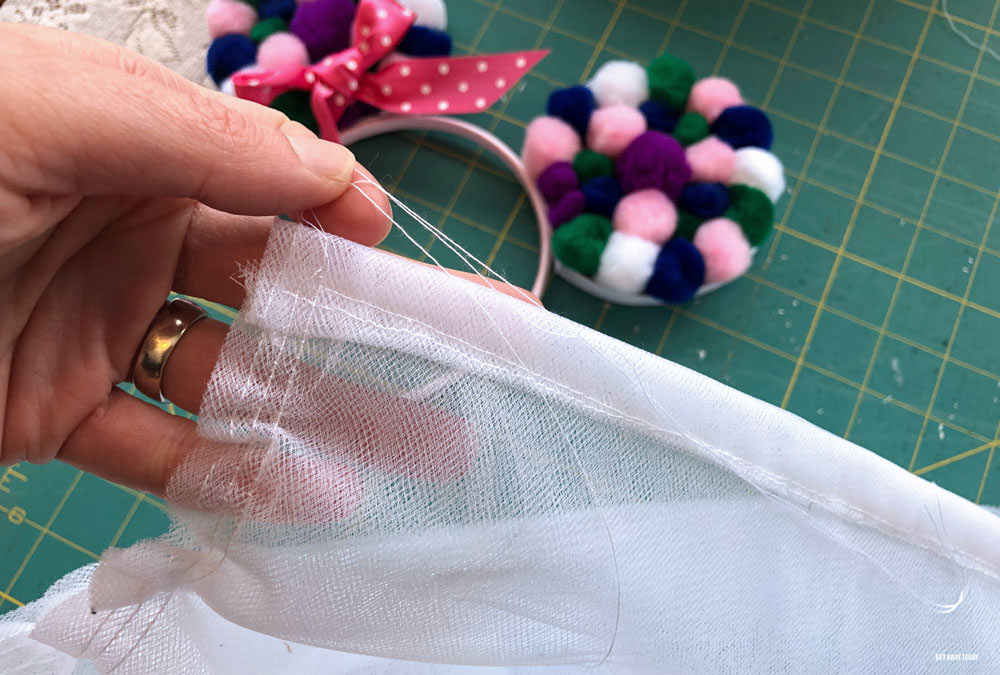 DIY Tulle Skirt with Pom Poms - Gathering the Skirt
Start at one end of the fabric and hold the top two threads with your fingers and thumb. Then, slide the fabric along the threads to gather it. You want the finished gather to be the size of your child's waist. Mine was 21 inches.
Cut a piece of white ribbon to be three times the size of your child's waist. Since my measurement was 21 inches, I cut the ribbon to be 63 inches long. Use straight pins to mark 21 inches in from each side. (Or, whatever your measured length is!)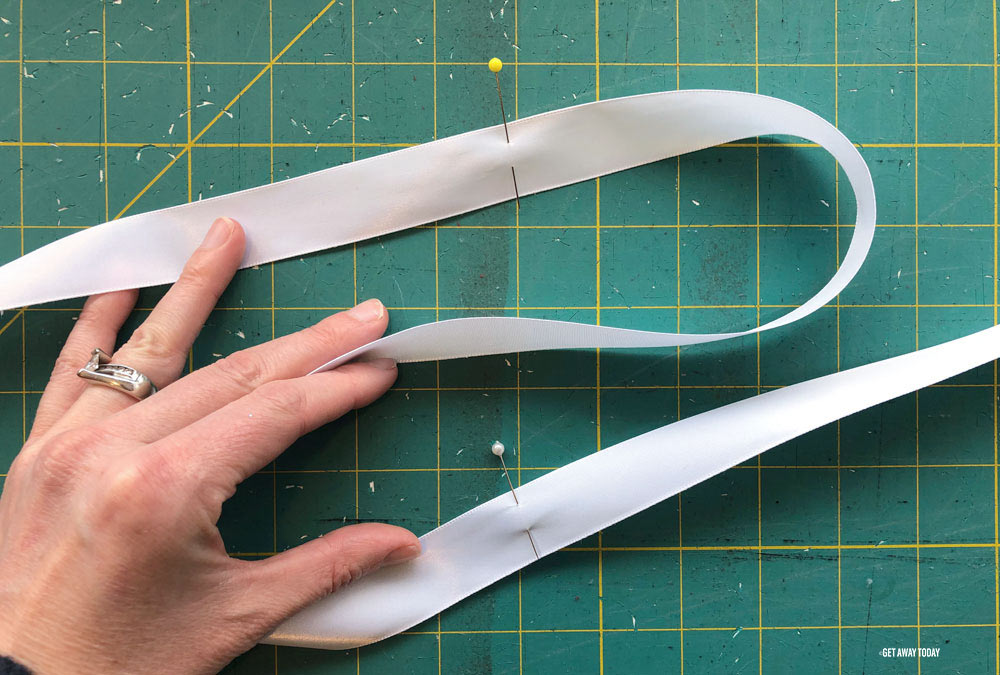 The place that your pins are marked on the ribbon shows you where to attach the skirt. Place the wrong side of the ribbon flat on top of the top of the skirt. Then, sew a zig-zag stitch along the top, middle, and bottom of the ribbon. This will keep the top of the skirt flat and prevent rolling.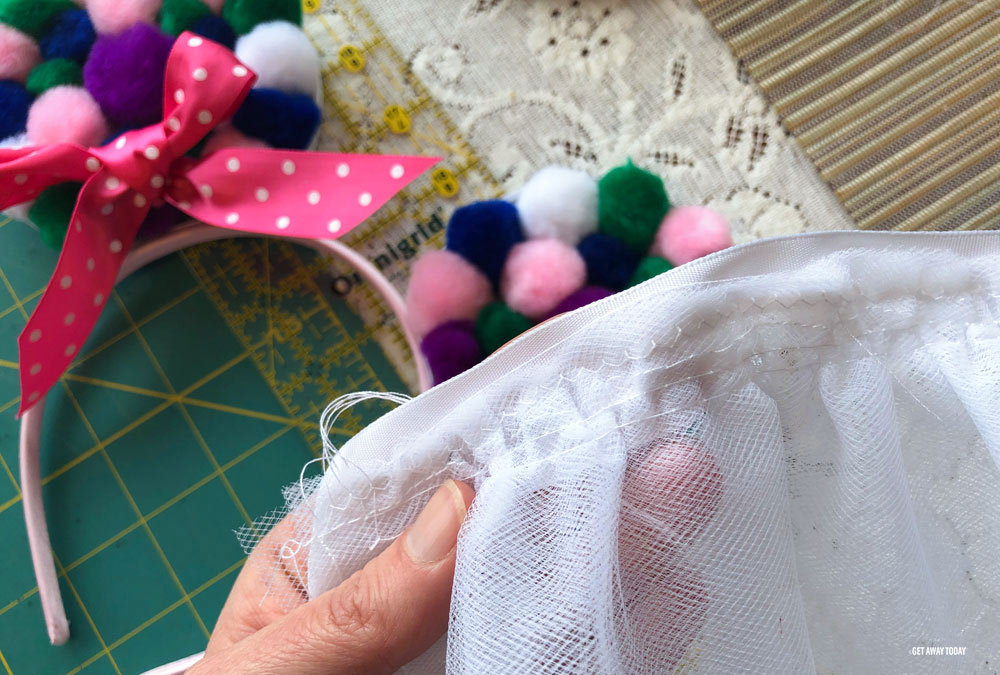 DIY Tulle Skirt with Pom Poms - Embellishments
Now for the fun part! Stuff your pom poms inside the tulle. Put them in the very center. I used a lot of colorful poms. I put in three different sizes too. Pom poms are super cheap. You can get a whole pack for about a dollar.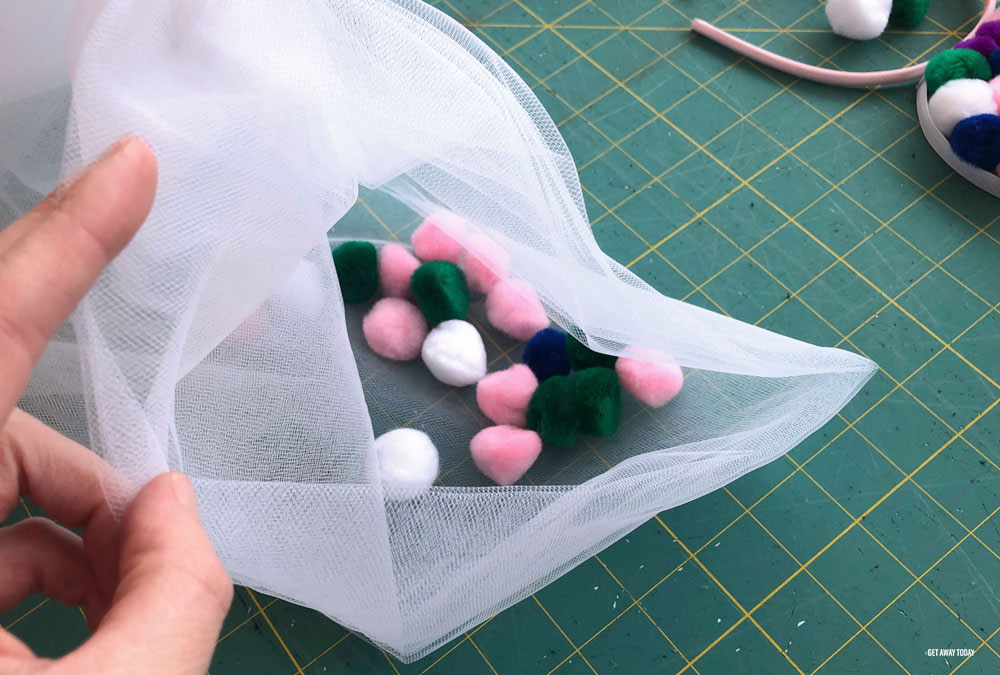 Next, close up the back of the skirt. Simply lay the finished edge over the opposite edge of the tulle. Make sure they are straight and lined up well at the bottom. Then, pin it in place. Make sure to leave a 5 inch gap at the top of the skirt for getting in and out.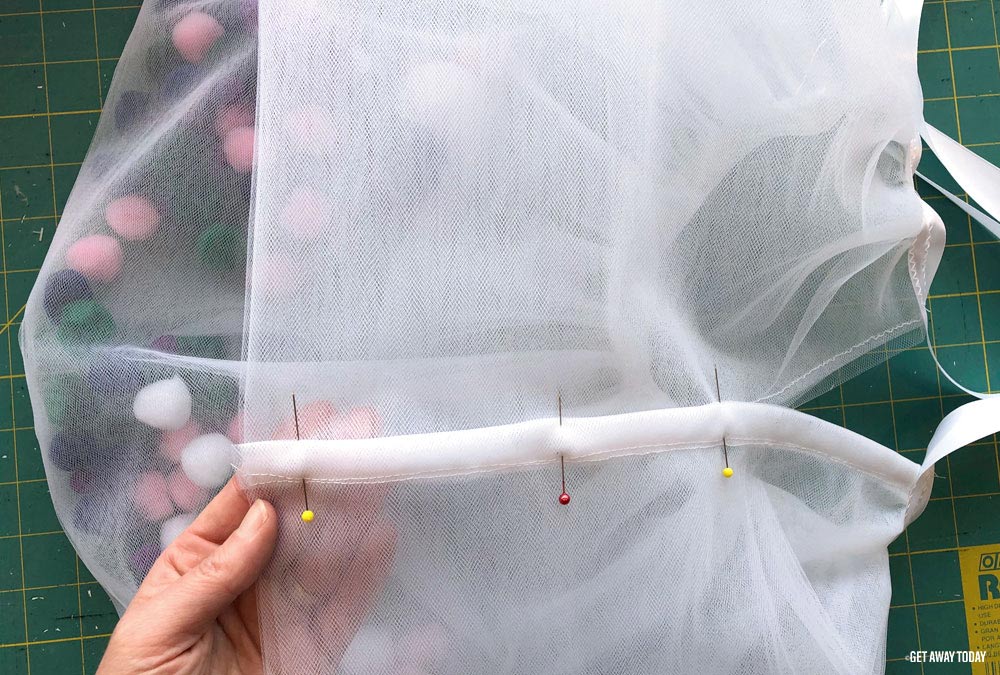 Sew a box pattern around the closure. Up, across, down and across!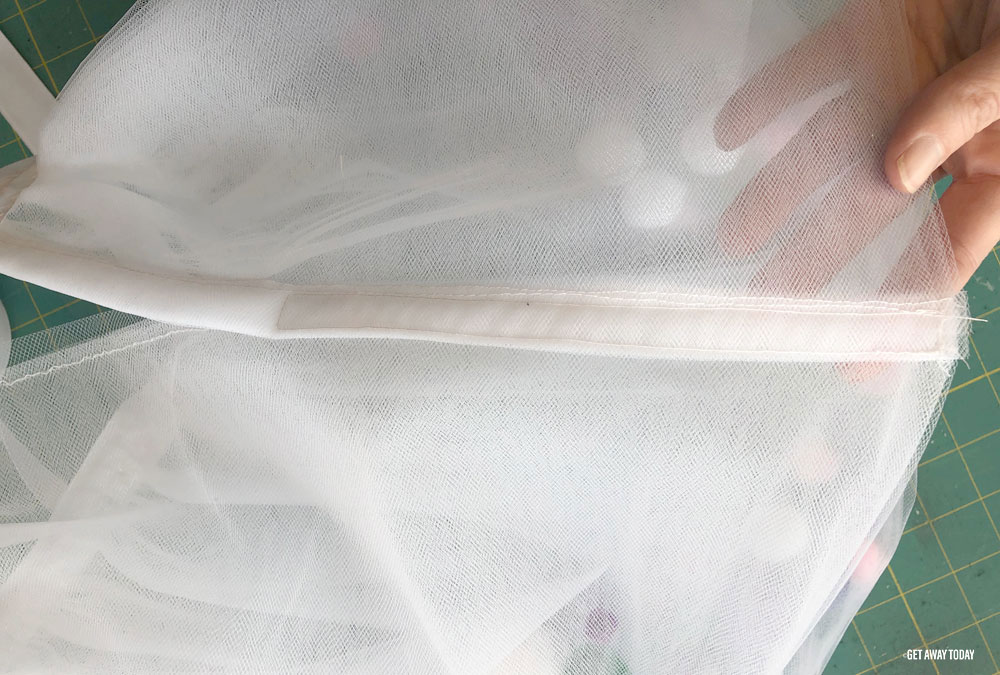 I wanted to add a little pop of color and cuteness to the pom pom tulle skirt, so I tied a ribbon bow to put on it. It is just a basic bow tied like a pair of shoelaces. Attach the bow to the skirt with a few stitches, using just a needle and thread. It really doesn't feel like Minnie Mouse without a bow and a few polka dots!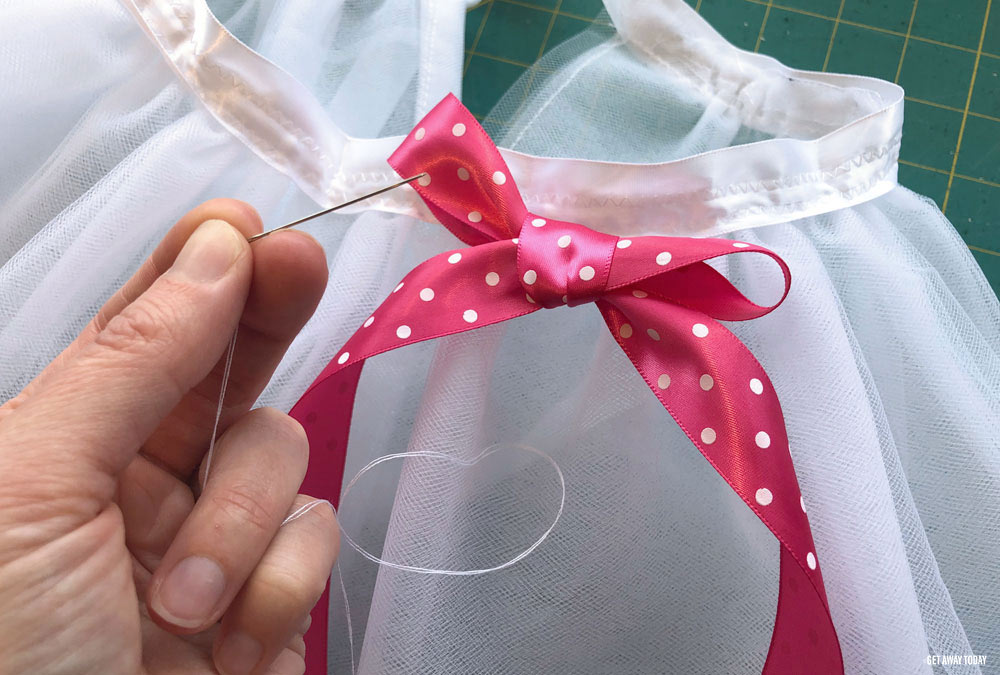 That is a wrap! Pretty easy right?!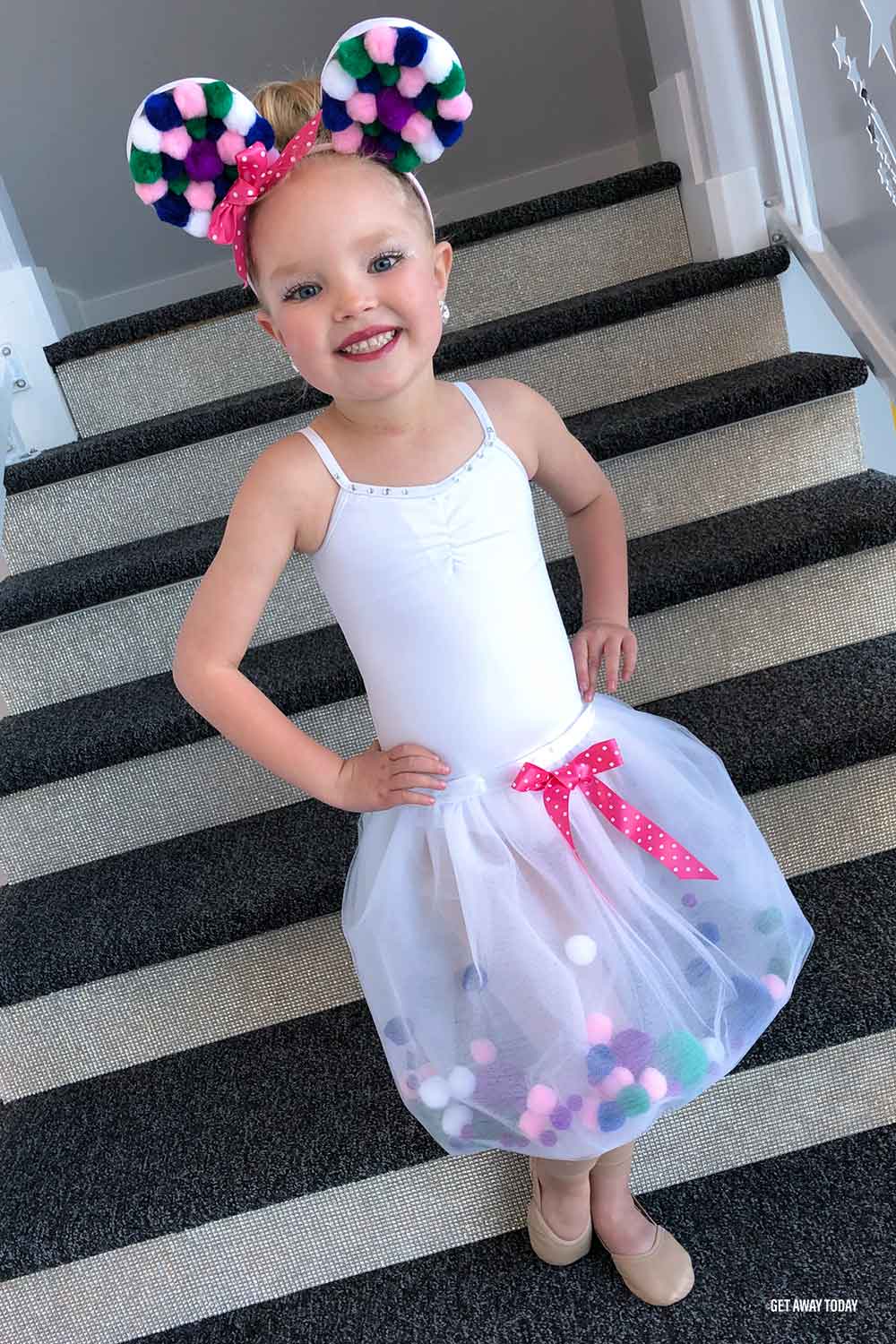 This cute Minnie Mouse Pom Pom Tulle Skirt pairs perfectly with our Pom Pom Minnie Ears. We have a tutorial for those as well. This happy outfit is just the thing for exploring Disneyland and for celebrating Mickey and Minnie's 90th Birthday!
You won't want to miss the Get Your Ears On Celebration at the Disneyland Resort this spring! Combined with our Spring Savings that offer the deepest discounts on Disneyland tickets we've seen in a long time, it makes right now the perfect time to travel! Find all of our vacation packages online, or give our helpful agents a call at 855-GET-AWAY.