Get your ears on with this adorable Pom Pom Minnie Mouse Ears Headband. Our simple tutorial makes crafting Minnie Mouse ears easy and fun!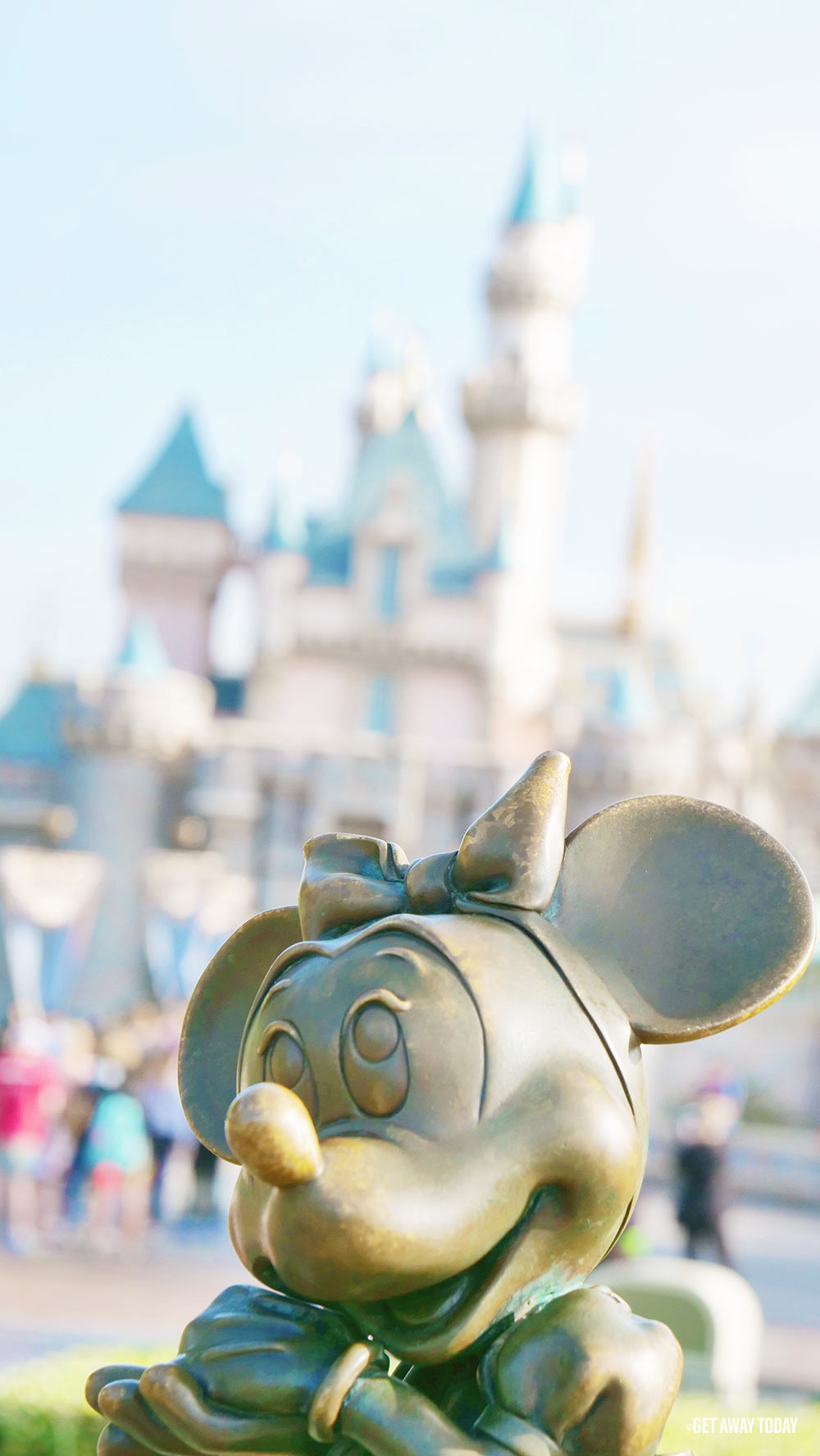 Did you know that Mickey and Minnie Mouse are celebrating their 90th Birthday this year at Disneyland? The famous couple have been entertaining fans for almost an entire century. That is one awesome milestone. You know Disney hasn't pulled any stops in making this year one giant celebration.
Mickey and Minnie's 90th Get Your Ears On Celebration is in full swing with a magical musical party! Park guests can enjoy special entertainment, Mickey and Minnie meet and greet opportunities and photo sessions, mouse themed menu selections, and super cute merchandise. Mickey and Minnie have always played a big role at Disneyland, but this year, they get to take their hosting to the next level. So, grab your ears and get on over to see what all the fuss is about.
Pom Pom Minnie Mouse Ears Headband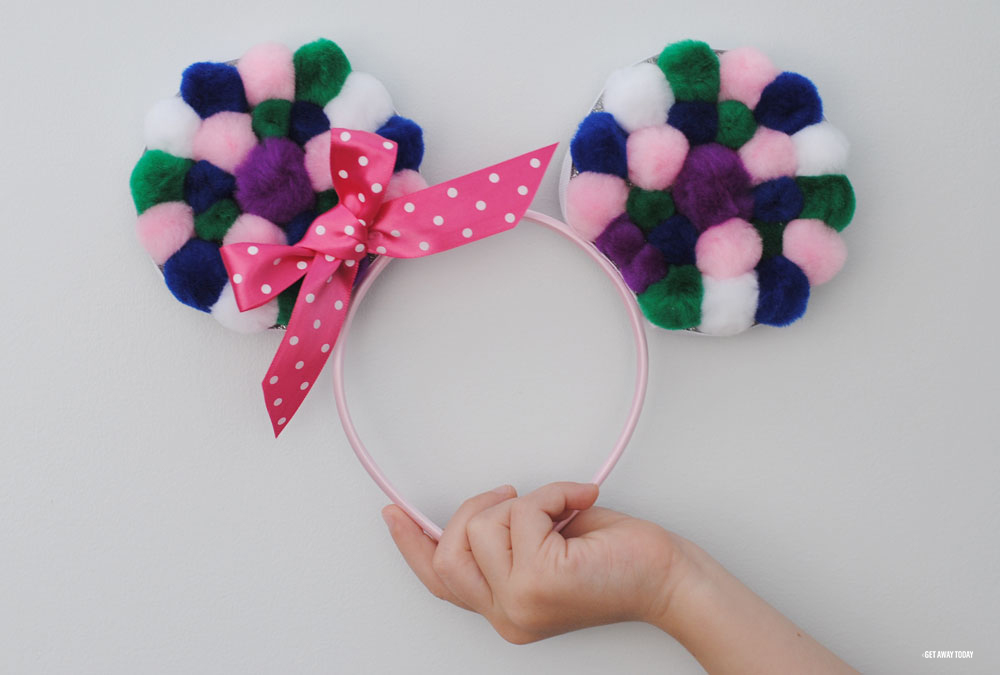 Dressing up for a day at Disneyland is always in style. This year, Mickey and Minnie ears are even more popular with the special Get Your Ears On Celebration. This tutorial is for a special birthday pom pom Minnie Mouse ears headband. They are so happy and playful. Are you ready to get crafting?
Pom Pom Minnie Mouse Ears Headband Supplies
Pom Pom Minnie Mouse Ears Headband - Getting Started
Start by drawing a circle on the stiff felt sheet that is about 3.5 - 4 inches in diameter. You want the felt to be the firm kind that doesn't bend and flop. You could also use stiff interfacing.
For my pattern, I traced a big lotion bottle. Look around for something that is the right size. You could try a wide mouth canning jar or a large mug from your kitchen. You will need two circles that are the same size for the Minnie Mouse ears.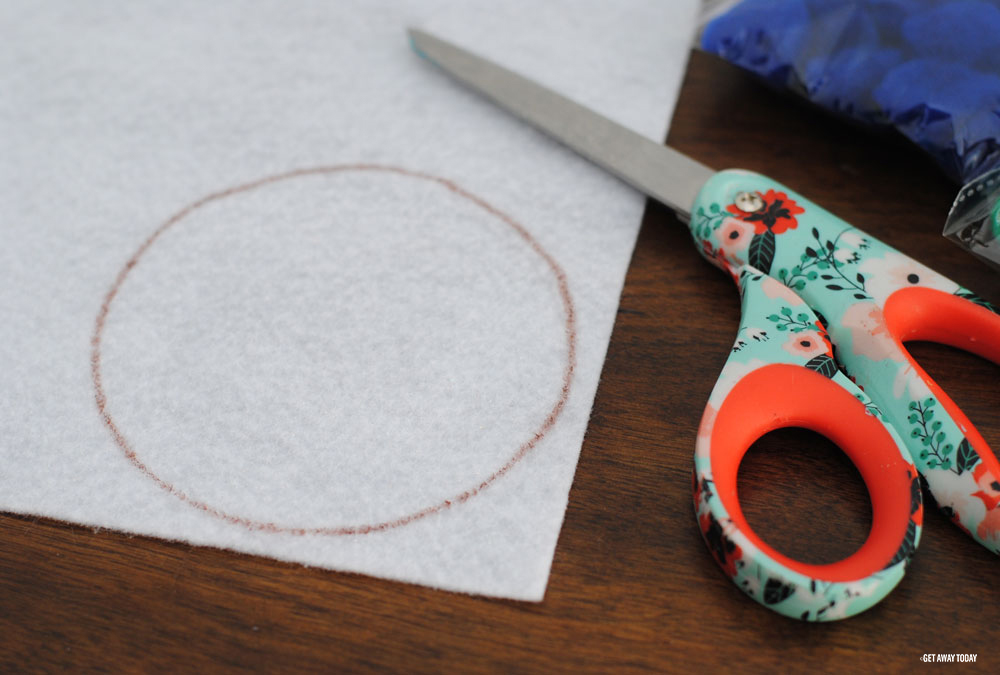 Then, use your felt circles as a pattern to make four circles out of your grey foam sheet. I got the kind of foam that sparkles! You can find foam sheets in the craft section of a superstore.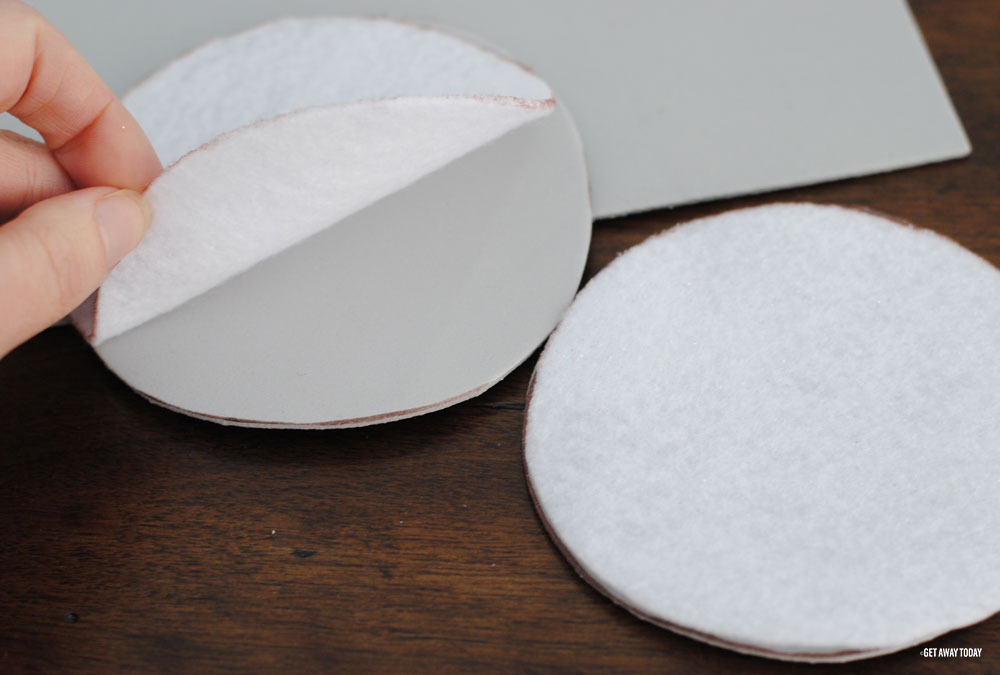 You will have three layers to each of the Minnie Mouse ears: foam, felt, then foam again! Cut a little rounded edge off the bottom of the circle pieces.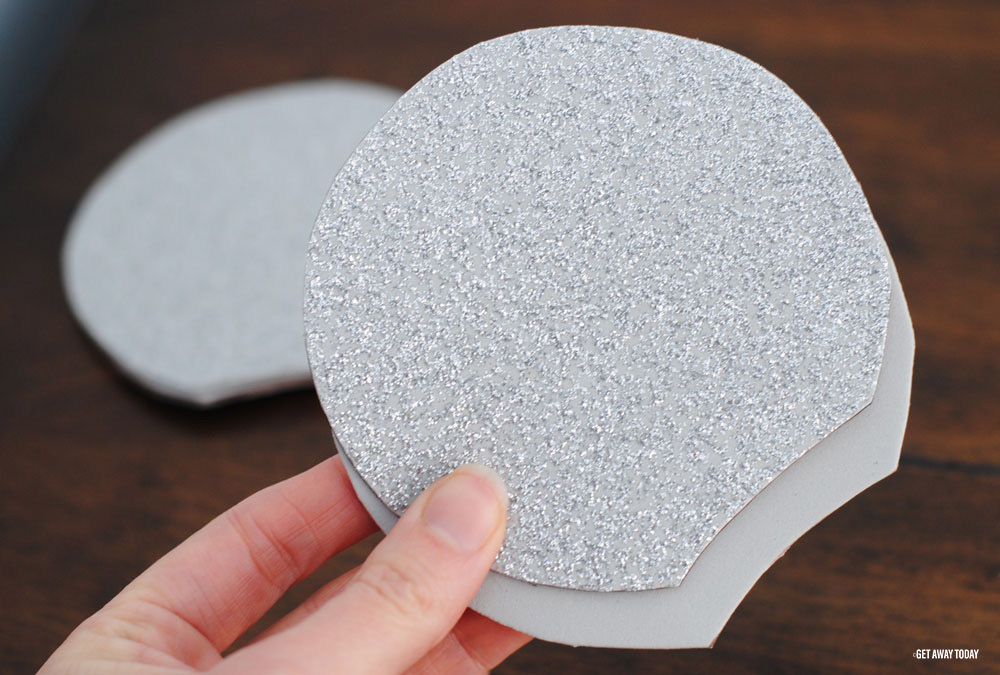 Pom Pom Minnie Mouse Ears Headband - Assembly
Now, glue them all Minnie Mouse ear pieces together with layers of hot glue. Just add a few lines on the back of each ear piece and squeeze them tight.
To hide the not so pretty edge, wrap a piece of ribbon around the Minnie Mouse ear. Secure it in place with hot glue. I like to glue about two inches at a time to keep the glue from getting hard and to keep the ribbon straight.
Note: If you start gluing the ribbon from the bottom of the ear where it is curved, then the seam is hidden when the ear gets attached to the headband later.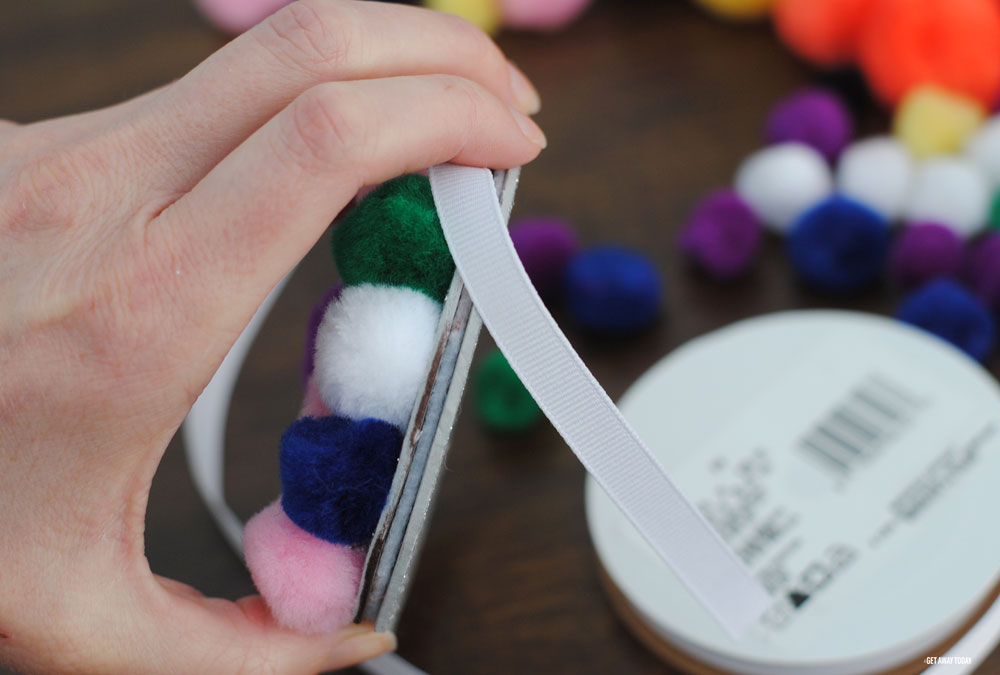 Now for the fun part of the Minnie Mouse ears headband! POM POMS! I bought a bag of pom poms from the store that had a whole bunch of sizes and colors mixed together. I thought having a variety would make my pom pom Minnie Mouse ears headband extra cute. You decide how big your want your poms and what color combo you think is best.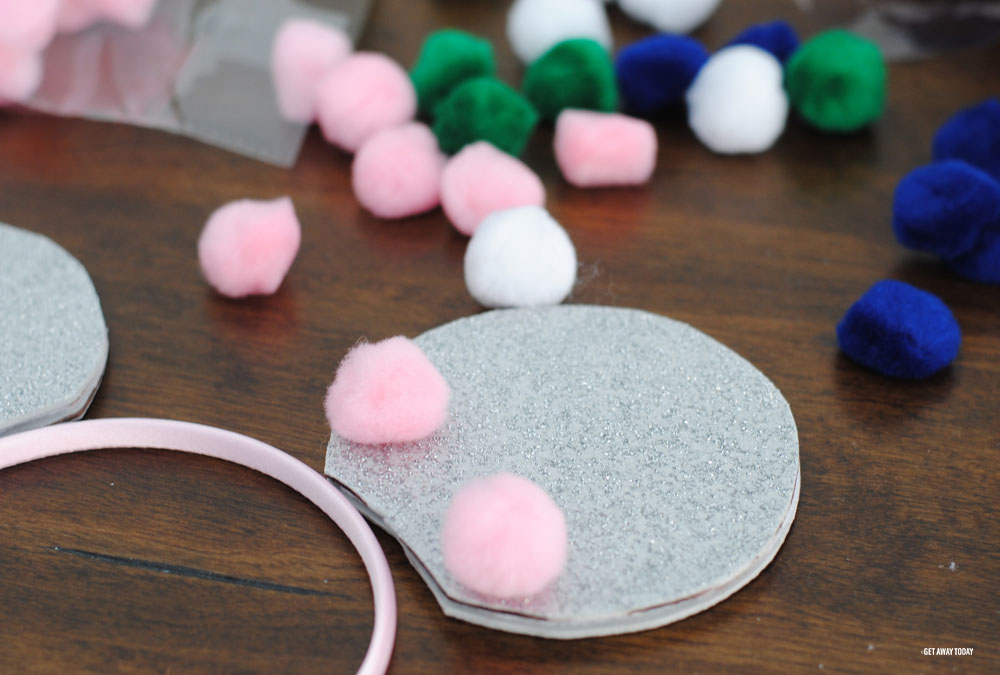 Lay the pom poms on each Minnie ear to get a feel for what looks good. I did a pattern around the outside edge and then a second row of poms inside of that. When you like how the colors are meshing, then use your hot glue to attach the poms to the foam on the ear. Put a dab of glue on the back of the pom pom and then hold it in place for a few seconds to let the glue set up.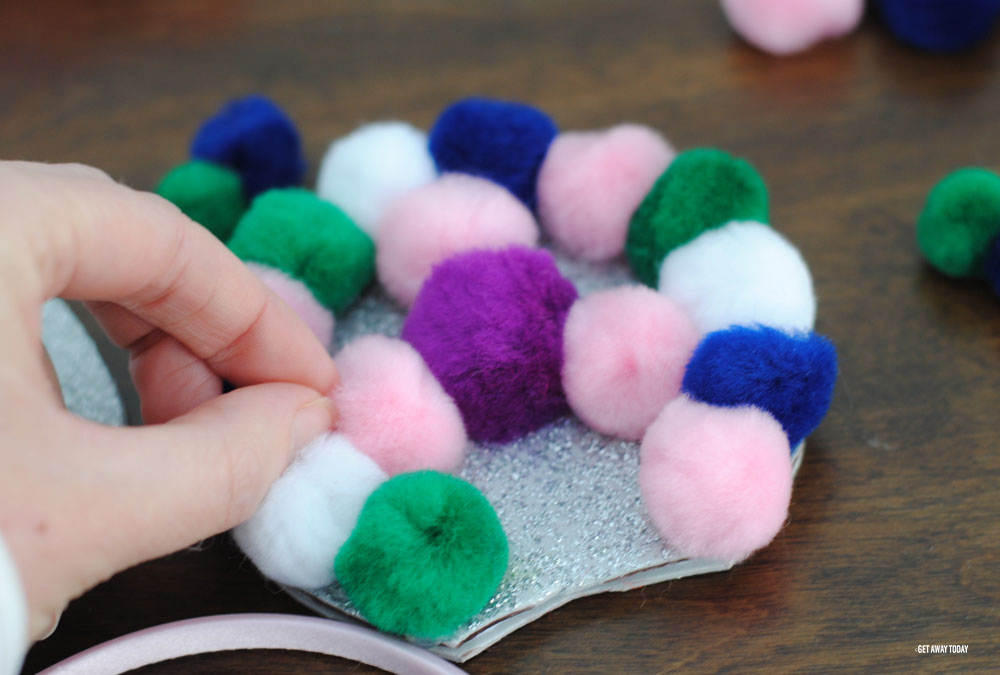 Glue the ears into place on the headband. The ears look spaced different when you put the headband on compared to when it is just sitting without being stretched around someone's head. Test the positioning of the ears with the headband stretched open a bit before you secure them in place. I left about two inches of space between the two ears.
Pom Pom Minnie Mouse Ears Headband - Finishing Up
You can leave your pom pom Minnie Mouse ears headband simple and be finished, or, add a cute bow! Minnie seems to like bows quite a bit. I tied a simple bow out of ribbon and glued it onto the pom ear at a little bit of an angle. Just a dab of hot glue and I was done!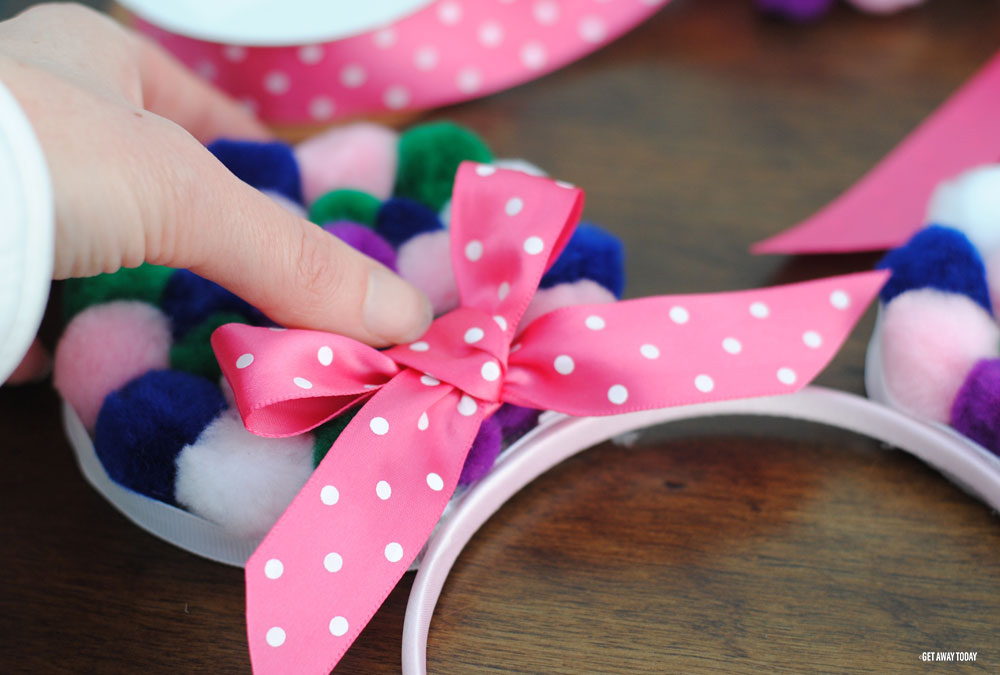 Just like that, your adorable Pom Pom Minnie Mouse Ears Headband is ready for a big 90th Birthday Celebration. I hope you have fun putting your ears on at Disneyland this year. It is going to be one fun party.
Take Your Minnie Mouse Ears Headband to Disneyland
If you're ready to book your trip to Disneyland, now is a great time to start! This Spring has so many celebrations and savings available that you won't want to miss. Give us a call at 855-GET-AWAY to speak directly to an agent. You can also find all of our vacation packages online.