"First and foremost and I would like to thank you all you guys who work at getawaytoday.com. You saved me a lot of money with hotel stay and Disneyland tickets.
Before I decided to purchase my vacation had been shopping for this vacation for about three weeks. None of the companies who offer discounted vacations including my work, who could beat your prices. What a great company you are to help people. I will recommend you to other people and will for sure use getawaytoday.com in the future.
After purchasing my vacation, I happen to Getaway -Today two times. One to exchanged the power bands and the second time about free parking at the hotel that came with vacation package. Your customer service is exceptional! I haven't been treated like I was for a very long time. Way to go and keep it up. Other than saving money the vacation was a blast for my little family. We enjoyed every second of it."
Kenneth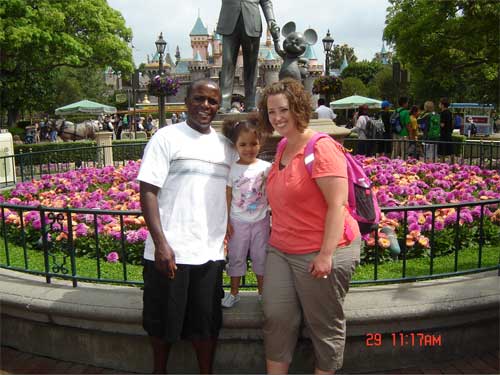 Kenneth and Family
"We had a fabulous trip to Disneyland and a wonderful stay at the Ramada Plaza in Anaheim. This was our children's first time to Disneyland. They absolutely loved it and are saving money in a jar for next year. What a blessing it was to see the joy and excitement in their eyes as we made our way through the attractions, shows, and rides. Thank you so much for booking a wonderful trip for our family."
The Coverick Family
To Plan Your Magical Disneyland Getaway, Go Online or Call 855-GET-AWAY!