Experience Disneyland as it comes to life with twinkling lights, shows and magic as the park sparkles up the night with lights, fireworks and excitement!
Steve Martin said it best "For a lot of us, Disneyland's best magic trick happens every day at dusk when all the lights come on and the Magic Kingdom is transformed before our very eyes." The dark of night brings amazing possibilities to Disneyland. The attractions provide an entirely different experience. Each part of the Disneyland Resort has a great offering of shows,parties and nighttime spectaculars to enjoy. The following list ispresented in ascending order of "most immersive experience" and willprovide you with secrets to make it fun and exciting for your family. Use these tips and tricks from our Entertainment Guide to Disneyland After Dark to get the most out of your vacation:
Fantasmic!:
A nighttime spectacular that features the power of dreams through the eyes of Mickey Mouse. Fantasmic includes appearances by many Disney characters, and the Mark Twain and the Sailing Ship Columbia., and 45 foot tall fire-breathing dragon. Fantasmic is a must see. Disneyland recently changed the Fantasmic viewing options and added on a FASTPASS system and dining options (similar to World of Color). You can find all the new information on our 
New Fantasmic! Viewing Options blog post
.
World of Color:
An experience that is filled with memories, water projections, music and fun. Each viewing location offers a unique experience. Viewing World of Color next to the water allows you to be emerged in the show. Watching from behind allows you to see the entire picture, complete with bubbles and fountains of water. Either way, World of Color is inspiring. And it changes with the seasons or to celebrate a new movie or event. The Christmas version is amazing - it is called Winter Dreams and is hosted by everyone's favorite snowman, Olaf!
3. Upon entering Disney California Adventure Park, immediately make your way over to Grizzly Rapids River Run to pick up your FASTPASS for the night's show. The tickets are color coded and the earlier that you get tickets, the better viewing you are assigned. World of Color is a standing attraction within different terraced areas. Plan on arriving 45 minutes prior to showtime to get the best spot in your section and make sure that shorter guests get in the front for best viewing. *The World of Color FASTPASS tickets do not put any restriction on immediately getting a FASTPASS for another attraction.
2. Make dinner reservations at Wine Country Trattoria or Arial's Grotto for reserved seating and an amazing meal. You'll get a preferred viewing ticket with each World of Color prix-fixe meal ordered. You can also get a ticket with a prix-fixe lunch at Wine Country Trattoria.
1. Carthay Circle Restaurant is a replica of the theatre where Walt Disney premiered Snow White and the Seven Dwarfs, and offers preferred seating for World of Color with your prix-fixe lunch or dinner.
Pro tip: Disneyland Park offers "Glow with the Show" Mickey ears hats that use radio frequency technology to make the Mickey ears glow different colors, which makes you part of the show! You can buy them throughout the park for about $25. "Glow with the Show" hats connect at the Mad T Party, Cars Land, World of Color, Fantasmic! and the Fireworks. Check out the Glow with the Show video from Disneyland:
Fireworks:
Disneyland's fireworks feature explosions that create the likeness of hearts, Mickey's head, smiley faces and other unique shapes synchronized to music that offers an emotional experience exciting for all ages. In addition, Disneyland offers specific versions of the fireworks during special times of the year. During Halloween Time, the show is hosted by Jack Skellington and his ghost dog Zero and only plays during Mickey's Halloween Party, a private ticketed event. The holidays are especially magical when the show ends as it snows on Main Street, U.S.A. during a special version of "White Christmas." For great viewing areas, arrive 1.5 hours early, for all other areas, 30 minutes prior.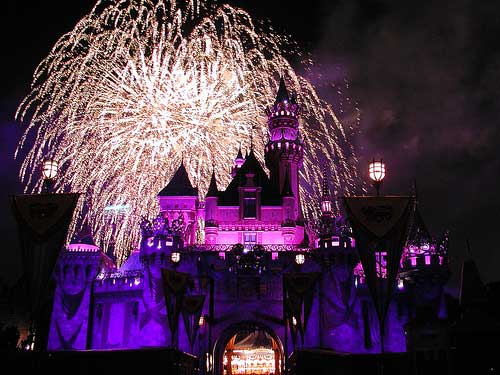 3. If you don't like crowds, watch the fireworks by Big Thunder Mountain or the side
areas within Frontierland or Fantasyland.
2. Stay back and watch the fireworks near the fire station or the plaza between the parks. In addition, several local hotels have views that allow you to see fireworks, however, there is nothing like "being in the moment" at the park.
1. Immerse yourself in the magic by arriving early. For the best viewing find a spot right in front of the castle, by the Walt and Mickey statue.
The Parades:
Find a spot, grab a treat and watch the magic happen. Currently, Mickey's Soundsational Parade is marching through Disneyland and the Pixar Play Parade is bouncing in Disney California Adventure Park.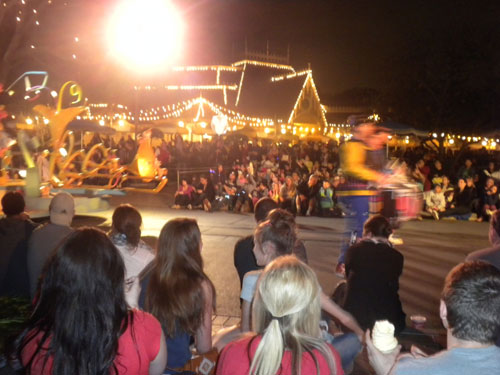 3. Mickey's Soundsational Parade travels from a gate near "it's a small world" to Town Square. The Pixar Play Parade in California Adventure travels from The Silly Symphony Swings to the Twilight Zone Tower of Terror. The parades offer great views anywhere along the route. However, try your best to get the shorter guests a front row view.
2. Disneyland: Restrooms next to Alice in Wonderland and the benches near the center hub on Main Street, U.S.A. are great places to immerse yourself in Mickey's Soundsational Parade. California Adventure: The Pixar Play Parade is filled with bubbles and it seems that there are more at the beginning and at the end of the parade.
1. Disneyland: Best spot: The plaza in front of the train station on Main Street, U.S.A. California Adventure: Best spot: Carthay Circle Theatre. There is more room to spread out.
Pro tip: The parades march through the parks during daylight hours and after darkduring busier times. Check out both versions for a fun and differentexperience. Also, Elsa, Anna and Olaf are part of a special pre-show that begins approximately 15 minutes before the first showing of Mickey's Soundsational Parade. Don't arrive late or you'll miss it!

Radiator Springs "Sha-Boom" neon lighting ceremony:
is a magical moment when Radiator Springs' neon lights come on at dusk. The signs switch on during the "Sha-Boom" lighting ceremony and kids of all ages scream that it is just like the movie. On most days Lighting McQueen and Mater join in on the fun. Be in the area before dusk and ask a cast member what time the lights are scheduled to go on. Any location within Radiator Springs is an ideal spot!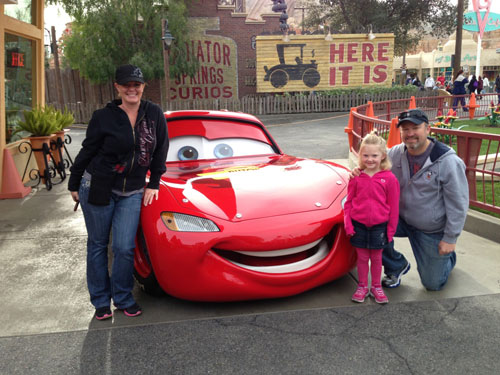 Mad T Party:
a night-time-only event at California Adventure where Tim Burton's Alice in Wonderland themed street-party comes to life. The atmosphere is full of energy, bright colors and excitement. The street party is complete with a live band featuring Alice, the Mad Hatter, the Caterpillar and other surprise guests. Street performers awe the audience in the "House of Cards" and everyone can have a great time in the Alice-themed arcade.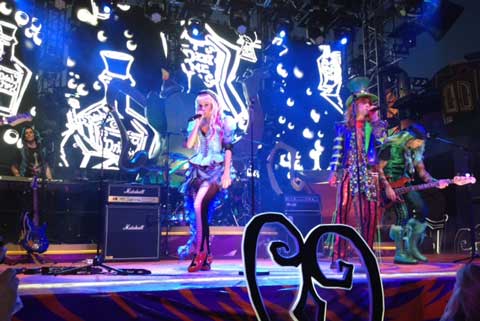 No matter how you choose to enjoy your nights at the Disneyland Resort, there are many more opportunities to create memories that will last a lifetime. We'd love to help! In addition to helping you have magical nights at the Disneyland Resort, we can help you get free nights at Anaheim area hotels. Be sure to check out our
Disneyland packages
with 3rd, 4th or 5th night free specials for the most savings on your Disneyland vacation. Book online or call our Disney Experts at 855-GET-AWAY.

Check out these other great articles:

Tips for Your First Disneyland Trip
15 Ways to Reduce Wait Times at the Disneyland Resort
8 Things You Didn't Know You Can Do at Disneyland
10 Things You Didn't Know About Main Street U.S.A.