One of the most magical and memorable moments of any Disneyland vacation is the beautiful fireworks show that lights up the night sky. It is nice to take a moment from all the hustle and bustle to just sit and enjoy a beautiful show with the people you love. I can't think of a better way to end your day at Disneyland.
For the last few years families have enjoyed Remember... Dreams Come True, which began when Disneyland celebrated their 55th Anniversary. We were lucky enough to be there this past November when it hit the night skies for the last time. Following its final performance, Believe in Holiday Magic took to Disneyland's nighttime backdrop during Holidays at the Disneyland Resort. But don't worry, they Disneyland Resort is not without a fireworks show! We are so excited to let you know that now you can take a stroll down memory lane with the limited return of the Fantasy in the Sky fireworks show.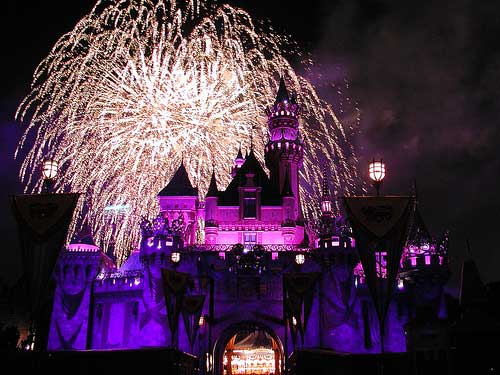 Over the years Disneyland has had many incredible fireworks shows and now for a limited time they are bringing back one of the classics. The nighttime spectacular Fantasy in the Sky fireworks returned to Disneyland on January 9th won't be there much longer. 
This fan favorite show premiered in 1958 and was the first ever fireworks display at Disneyland. Isn't that amazing? It continued strong for 41 great years until 1999. It has been shown sporadically throughout the years between all of the Disney theme parks, but the last time it was seen was in 2004. 
Now, 11 years later, it is back for a limited time with the classic Disney soundtrack, but with an all new program. With new technologies and opportunities, Disney is able to make a whole new presentation, with the same songs and feel as before.


There is always a sense of nostalgia when visiting Disneyland over the years, especially when they bring back a fan favorite show you saw as a child. Our agents would love to help you get to see the incredible fireworks show light up the night sky over Sleeping Beauty's Castle one more time with all of our great deals on
Disneyland tickets
. Disneyland puts on a show like no where else.
As one of our expert tips, we recommend visiting the entertainment schedule on Disneyland.com 30-45 days prior to your trip to verify when the fireworks will take place during your trip. Keep in mind that the fireworks will most likely be shown nightly during peak travel times, but may only take place on the weekend during some of the slower travel seasons. Also, be sure to plan seeing the fireworks at the earliest opportunity on your trip just in case there's weather or schedule changes. Again, you don't want to miss it!
Another fireworks tip is to get a viewing spot early! Consider grabbing a turkey leg, churro or Mickey pretzel and make yourself comfortable to make sure you get the best view.
We love being your Disneyland experts! You can book any of our
Disneyland packages
online or call our experts at 855-GET-AWAY.

Check out these great articles: