"Thank you for another flawless vacation. My two college age girls, wife and I had a great 5 days at the
Disneyland Resort
. Our last family visit was 2010, but my wife and I went Halloween 2012.
We stayed at the
Sheraton Garden Grove
, a newer and Disney Good Neighbor hotel. Not walking distance, but free shuttle. We selected this hotel for the 4th night free promotion, resort fees and parking included. Across from a very large Target with market, for those forgotten items.
Luckily my daughters' Spring Break was the week prior to most others. Both parks were crowded, but manageable. I suggest taking advantage of all FastPass options while visiting, however, not happy with Disney's new policy of only returning in the allotted hour printed.
Looking forward to our next trip Walt Disney World, January 2016 for my 50th!
Sincerely,
Pimental Family"
"Hi- I wanted to email and tell you about our recent family vacation to Disneyland. This is our second year booking through Get Away Today and we had a fantastic trip from start to finish. Our son has disabilities and we struggle with vacation planning due to his needs. Get Away Today was able to answer all our questions and put us in touch with all the right people to make sure our vacation went off without a hitch. Thanks so much for providing such great packages with fantastic customer service to match! The pure joy on their faces says it all!
~The Portnoys"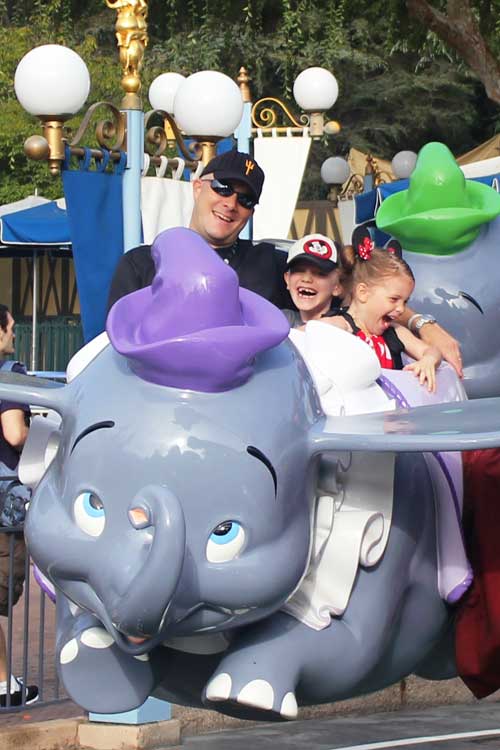 "My wife and I hadn't been to Disneyland in years, and with our last child graduating from college, we felt we deserved a vacation - without the kids.
Our getaway couldn't have been better! Three days in Disneyland made us feel young again - We enjoyed a romantic dinner at the Blue Bayou Cafe. We found many of the rides had been modified to allow my wheel-chair bound wife to enjoy such adventures as the Jungle Cruise for the first time.
Thank you Get Away Today for a memory that will last a lifetime!
- Tom C."
"Thank you for the check up via phone & email during our vacation stay. I never had a chance to respond to the phone call, but sincerely appreciate the follow up. We were just having tooo much fun on our vacation!
Get Away Today made my daughter's 10yr birthday "surprise" perfect! From the ease of use for booking our accommodations, getting our Disneyland passes and transportation to/from the airport/hotel and to the parks as well!
Holiday Inn Express Garden Grove
met and exceeded our expectations; the staff was very helpful and the breakfast was awesome!
We will definitely be using you again!
Thank you again,
The Hernandez Family"
No matter what stage your family is in, Disneyland is always a perfect vacation destination and we will always do everything we can to make sure your experience is flawless! Whether you're planning a special surprise or occasion, have special needs or are just looking forward to a good old fashioned family vacation, we do all that we can to make it as magical as possible. We think your perfect vacation starts long before you go online or call our office, which is why we are constantly negotiating the very best specials so you're getting the best price. Then we do our best to make it as easy to book your vacation, whether you book online or call our specialists. We are the experts, so part of making your vacation flawless is having all of the answers. Our Reservation Specialists are highly trained and our blog is full of helpful tips and information to make your vacation the best yet. Let Get Away Today plan your flawless Disneyland vacation!

Check out these other great blog articles:
Last Minute Vacations Are Our Specialty
Each Vacation is a Family Experience to Remember
A Picture Paints a Thousand Words
Priceless Vacation Memories at a Great Price