Olaf from Frozen knows that some people are worth melting for! Melt hearts this Valentines' Day with our free printable and easy Olaf Valentine tutorial.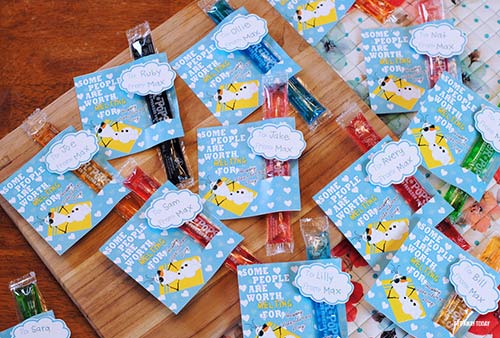 Olaf is one happy snowman. He may not have bones, but he does have a really big heart! He gives warm hugs and associates with some trolls known for their expert love advice. You may not have to thaw any frozen hearts this Valentine's Day, but this cute printable could do the trick if necessary! Attach an Otter Pop to the card and your Olaf Valentine will be ready in no time.
To make your own Olaf Valentine, you will need:
(These may be affiliate links.)
Straight Edge Cutting Knife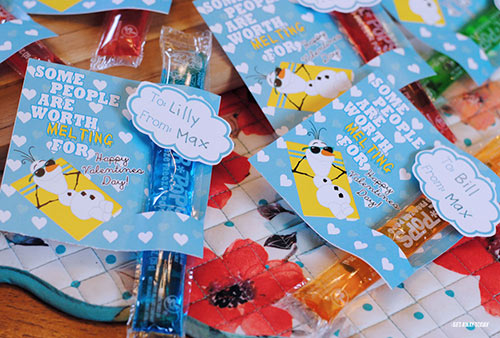 Are you ready to get started? Download the free printable Olaf Valentine file here. Each printed page will make four valentines. Use a heavy cardstock paper and print in color ink.
Start by cutting off the clouds from the bottom of the page. Set them side.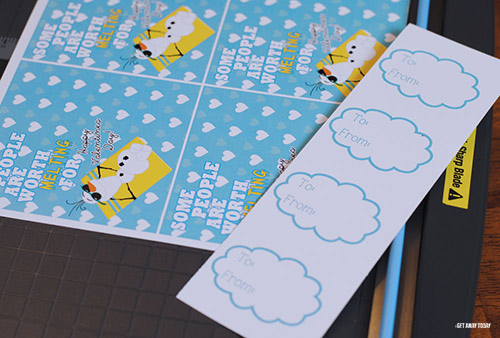 Then, cut out each individual Olaf Valentine. Trim off all the white borders.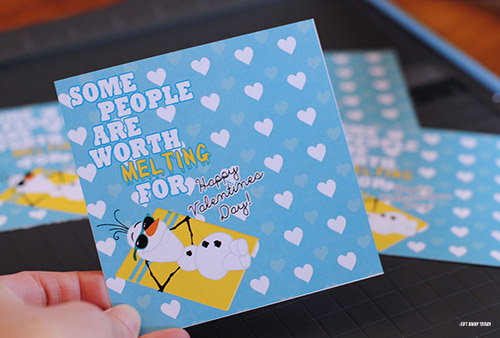 Use your straight edge cutting knife to slice two sections for the Otter Pop to slide through. I used the hearts on the paper as a guide. Use a ruler to help you make the lines straight. You will cut about 1.5 inches along the second set of white hearts from the top of the paper and along the second set of white hearts from the bottom of the paper. Use the tiny blue hearts as a guide. I cut along the bottom of the three blue hearts on the right side of the printable.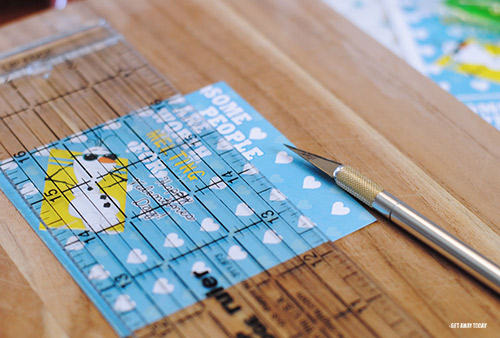 Thread the Otter Pop though the slits that you made. Do it carefully so you do not rip the Olaf Valentine.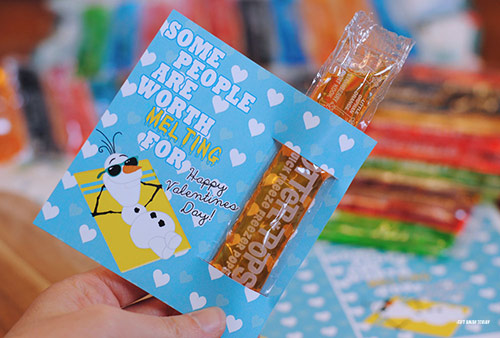 Next, bubble cut around each of the clouds. They carry Olaf's own personal flurry! The clouds will also be where you write who the Olaf Valentine is for and who it is from.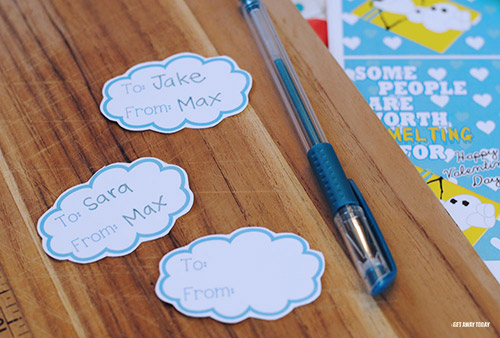 Use a little strip of double sided tape to attach the name cloud to the Otter Pop.
Just like that, your Olaf Valentine is ready for delivery! I am sure you know some people who are worth melting for.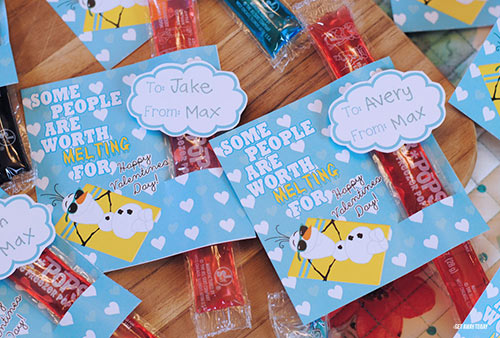 Did you know that you can rub noses with Olaf at Disney California Adventure Park? You can! Olaf is ready and waiting to give warm hugs to visitors in Hollywood Land. You can check out the times that Olaf will be available each day in the park map that is handed out at the entrance gates or on the Disneyland App. He is available for meet and greet sessions during every season at the park. Get your camera ready, because you will want to capture the moment and freeze it in time forever!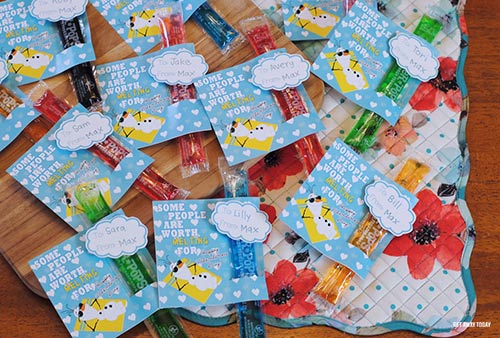 Another one of my favorite places to catch a glimpse of Olaf at Disneyland is actually when he is live on stage at the Hyperion Theater in Disney California Adventure Park. The Frozen Broadway-style play is absolutely something you can't miss. The music is beautiful, the theater is state-of-the-art and the overall production is just magical. Olaf will make you laugh as he and his friends act out the exciting story of Elsa and Anna that we all know and love. The best part is that the show is included with your park admission – just make sure to line up early. Or, if you're visiting during peak seasons, the park may have FastPasses available.
I hope you have fun making this Olaf Valentine at home and even more fun seeing Olaf at Disneyland!
Looking for the best deal on your Disneyland vacation? Book with Get Away Today to take advantage of discount Disneyland tickets, reduced hotel rates and all the expert tips to navigate the parks like a pro. Plus, you'll have access to all the Disney magic on our blog – magic that you can create both on vacation and at home. Book online now or give our travel agents a call at 855-GET-AWAY.

Looking for more Valentine's Day fun? Give these crafts a try: