UPDATED MARCH 2019 Do you have any Star Wars fans at your house? Are you super excited about Star Wars Land Disneyland opening May 31, 2019? If so, you are going to love today's Star Wars post. Let me introduce you to our R2-D2 Valentines Box. This adorable character is so quick and easy to create. I had so much fun designing all of the robot buttons and details. Give me a craft that takes under 30 minutes and I am one happy mama. Your creative force will awaken with the first cut of tape. I guarantee it. What little Jedi wouldn't love bringing this epic Valentines Box to his or her class party? It is certainly the droid you are looking for.

You will need a few basic supplies to get building. I ordered a white swing-top garbage can from Amazon. There are a ton of options to choose from. Mine is kinda little, but you could totally supersize your robot with a bigger garbage can. I have also spotted these type of garbage cans at the dollar store before. That would be a total score.

The designs are all made with colored electrical tape.You'll want one roll of each of these colors: blue, black and silver. You can grab a multi color pack online, or get some at your local hardware store.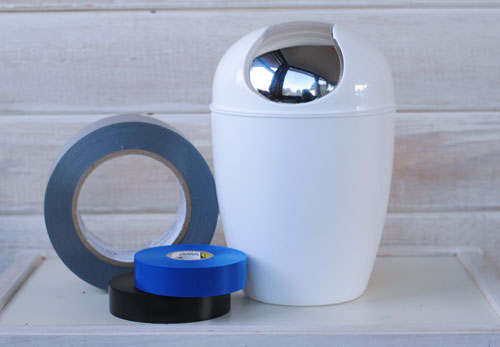 Start with your blank garbage can. Then, cut shapes of tape and stick them to the can. Just follow a basic design. You can use mine as a guide, or look at a photo of the real R2-D2 for direction. The electrical tape is awesome, because you can remove it easily if you aren't happy with the placement. It doesn't leave any sticky gooey stuff behind.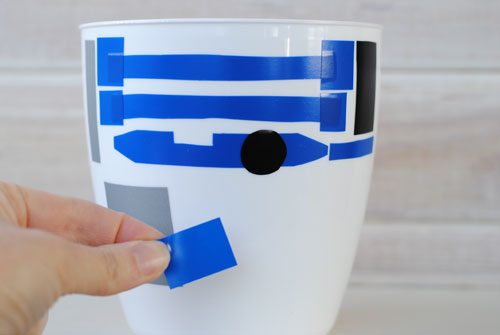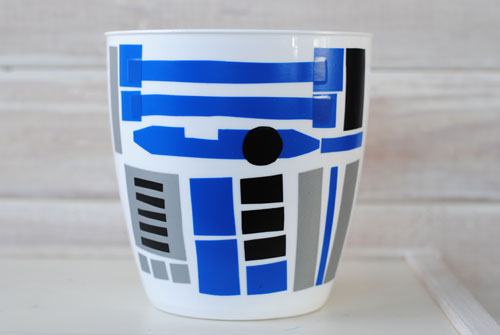 Once you are happy with the body, then design the head. R2-D2 has a red light on the front. Since it is a Valentines Box, I decided to make the light in the shape of a heart. Awwwww. Cute, right? I pulled out some red acrylic paint for this step. Paint a square of grey electrical tape with a red heart. Make sure the paint is nice and thick and even. Then, sprinkle it with red glitter to give it some bling. When it dries, cut around the tape, leaving just a small border around the heart. Then, stick it on.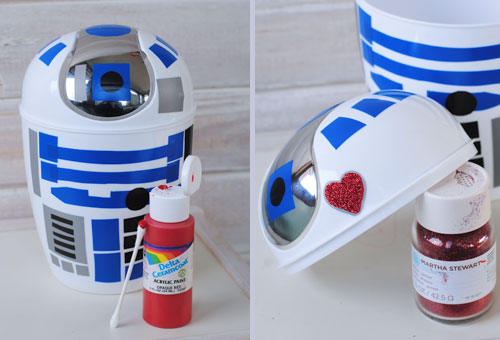 Now, your droid is ready to be stuffed with love notes, cards, and treats. R2-D2 can interpret any language, but he won't need to translate this stuff, because the language of love is universal.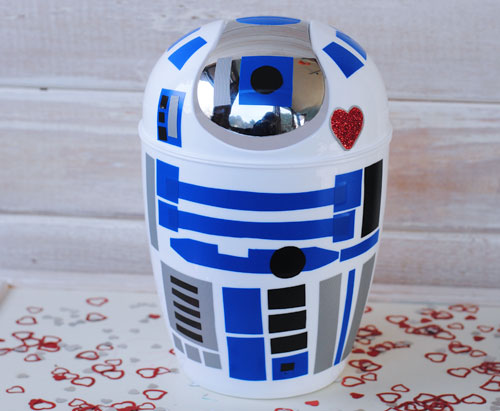 To make it easier to make your R2-D2 Valentines Box, here's a quick list with links for all of the supplies you'll need:

Garbage can
Multi colored electric tape
Red acrylic paint
Red glitter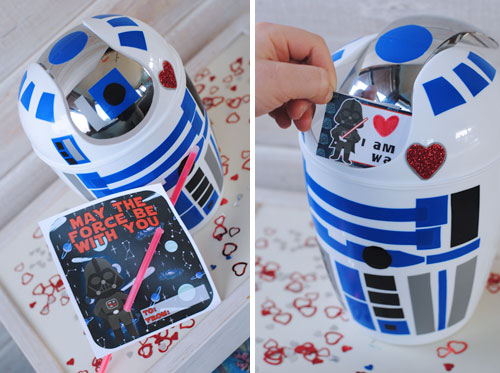 I hope your Valentines Day is out of this world amazing. As a reminder, if you LOVE Star Wars as much as we do, you'll want to book your
Disneyland vacation
to experience everything that the limited time Star Wars Season of the Force has to offer. Book any of our
Disneyland packages
online or call our Disney experts at 855-GET-AWAY.
Check out these other great articles: