This Free Pirate Valentine Printable will help you to steal hearts this Valentines Day. Combine the Pirate Valentine Printable with Chips Ahoy cookies or chocolate gold coins for a Valentine your crew will treasure!
Ahoy Matey! There is a treasure awaiting you in this post and you won't even need a map to find it. With this cute and free pirate valentine printable, you can fly right into Neverland to give your pirate crew a tasty valentine they will certainly treasure. Jake and the Neverland Pirates are always finding ways to trick that nasty Captain Hook from stealing their treasure. You can be a pirate and steal hearts this Valentines Day with Chips Ahoy Cookies or chocolate Gold Doubloons.
When you hand out these pirate treasures in class on Valentines Day, you won't have to walk the plank. Your crew will love them. Three cheers for pirate treasure!
You will need:
Tape
Black marker
Scissors
To start this adventure, download the free Pirate Valentine Printable to your computer. You can print it onto regular printer paper, but I prefer using cardstock to make it nice and sturdy. There are five valentines per sheet. So, you may need to print several copies to get enough for an entire school class or friend group.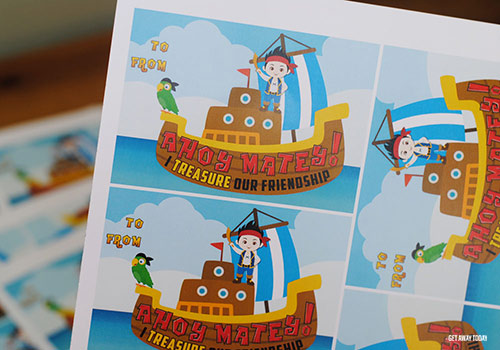 Cut along the edges of the cards to make them individual pirate valentines.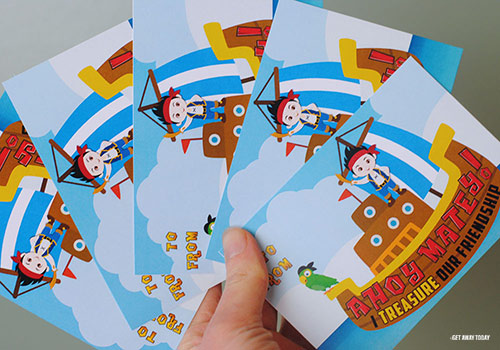 Then, personalize the pirate valentine printable cards with your name and your crew mates names. I love letting my kids write their own valentines, because little kid handwriting is adorable.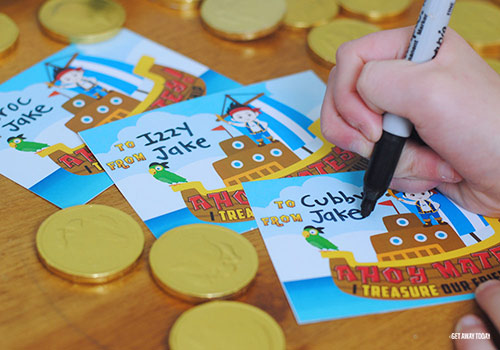 Attach the valentine onto the package of mini Chips Ahoy cookies. Do you see the pirate connection? "Ahoy!" I also added a single gold chocolate coin, or Gold Doubloon, as Jake likes to call them. Double sided tape makes this really easy!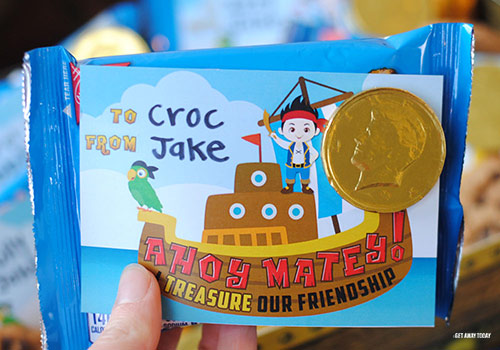 When I designed this card, I wanted to make it versatile. There are so many ways to match the pirate theme and saying with the perfect valentine treat. I used the Mini Chips Ahoy single serving packs along with a single gold chocolate coin.
You could also buy a package of regular Chips Ahoy Cookies and put a few cookies into a ziplock bag and tape the valentine onto the front. Add a few Hershey's Treasures chocolates to the bag as well to make it a really tasty treat bag. The saying on the card is "Ahoy Matey! I Treasure our Friendship." So, anything that ties into the "Ahoy" word or the word "Treasure" will certainly work perfectly.
Don't you like it when things are easy? I sure do! The jolly pirates in your life are certainly going to love this pirate valentine printable and the accompanying treasure.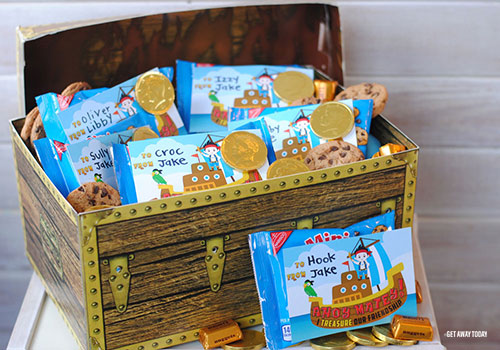 Did you know that you can visit Jake and the Neverland Pirates at Disneyland? You can! It is one of my favorite things to do with small children at the Disney parks. There is a show called Disney Junior - Live on Stage! It is a puppet show, but like all things Disney, they aren't just ordinary puppets! They sing and dance and interact with the audience in a magical way. It is 23 minutes of upbeat interactive songs, kid-friendly set design, flashing lights and even bubbles.
There are no chairs or seats in the theater, however there are benches lining the walls. Kids and parents sit on the floor for the best view. This layout makes it possible for tiny children to have wiggle room and plenty of space to dance and pop bubbles. I love the relaxed atmosphere. The whole production is designed to make sure the pre-school aged kids have a really great time. Disney knows how to cater to families. It is awesome.
The show is in Hollywood Land at Disney California Adventure Park. There are plenty of showtimes throughout the day, but be sure to get to the theater a little bit early to reserve a spot for your group. You can find the showtimes in the park map brochure at the park entrance, posted on the theater marquee, or look on the Disneyland website to find the times for your day at the park. Enjoy!
When you're ready to take your crew to Disneyland, we'd love to help. Hey, we'll even help you save some of your own treasure with our vacation deals! You'll feel like you've found some real booty when you get deals like your 4th night free at select hotels or Adults at Kids' prices on select Disneyland tickets. Book your
Disneyland package
online or call any of our experts at 855-GET-AWAY.

Check out these other great articles: