This printable DIY Harry Potter Valentine is a Golden Snitch with a personalized message for your Harry Potter fan. The printable wings make creating this Golden Snitch Valentine as easy as if you were using magic.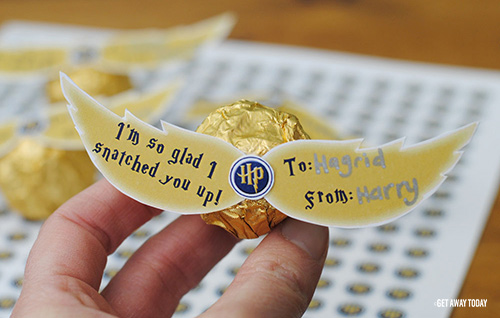 If you are seeking the perfect valentine for the little witches and wizards on your valentine list, then look no further. This DIY Harry Potter Valentine is a Golden Snitch with an added element of wizardry love. Download the printable snitch wings that carry a special message and get ready to fly into your valentine's heart. It is an extra magical way to share love and friendship this Valentine's Day.
DIY Harry Potter Valentine with Free Printable
Making the Golden Snitch DIY Harry Potter Valentine is so easy you will think it is magic. You will need the printable Snitch wings, Harry Potter logo template, a container of Ferrero Rocher chocolate candy, tape and a magic wand (wand optional).
Print the Golden Snitch Wings and Harry Potter Logo template onto cardstock paper and use color ink.
Harry Potter Valentine Supplies
Free Harry Potter Printables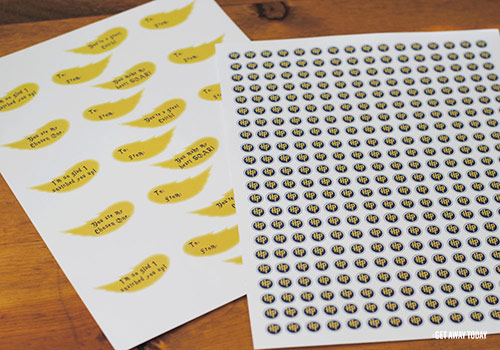 There are four different Harry Potter valentine phrases on the Golden Snitch Valentine template.
They read:
You are a great catch!
You are my Chosen One.
You make my heart soar.
I'm so glad I "snatched" you up!
You can pick your favorite saying or use them all. I think it is fun to have a variety.
DIY Harry Potter Valentine - Golden Snitch
Cut carefully around the wing's edges. I left a small white border around the edge to make it easier to get an even cut.
Address them and sign them with your name. I chose Harry for the example. He is good at collecting Golden Snitches.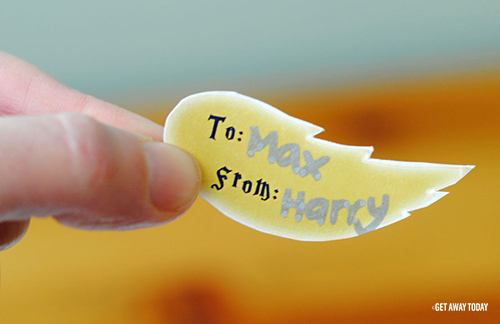 Tape the wings onto the top of the Ferrero Rocher chocolates. (You will have to take the tiny white sticker off the top of the candy first.) I used double sided tape to make attaching the wings super easy. Just put a little square of tape at the tip of each wing and press them down onto the top of the golden candy foil.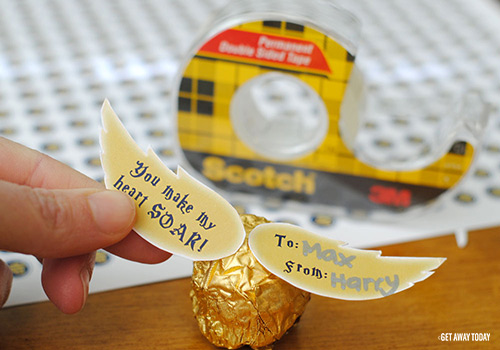 To finish the look, add the Harry Potter logo to the center of the wings. I thought it would be handy to print the circle logo onto label paper. This basically makes them stickers. You could also just print them onto cardstock and then place a glue dot or tape on the back. The logo gives it that extra Harry Potter vibe that I like!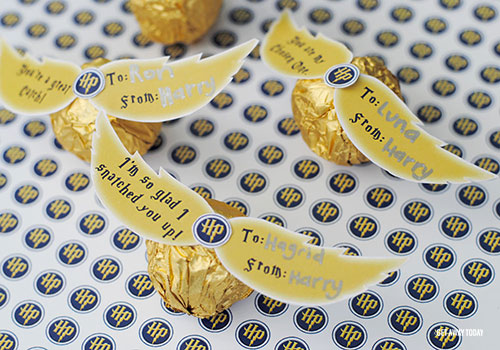 It is that simple. I told you it might feel a little bit like using magic. These Golden Snitch DIY Harry Potter Valentines are the perfect way to "snitch up" your sweet valentine and keep them in your heart forever.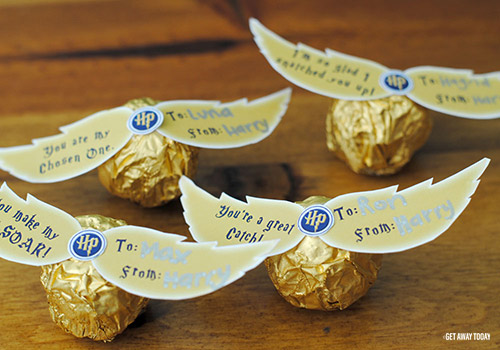 Did you know that the Wizarding World of Harry Potter is now open at Universal Studios in California? It is an amazing land of witches, wizards, magic wands, fantastic beasts and action-packed adventure. Walking the streets of Hogsmeade is just like stepping into a Harry Potter novel or movie.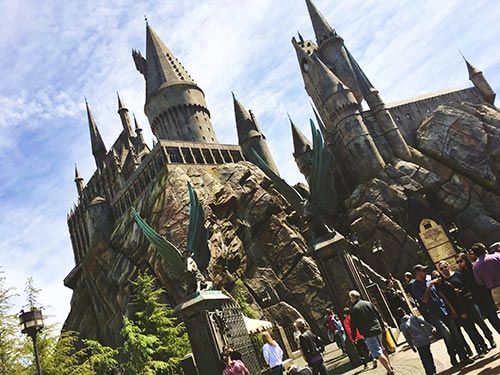 There are so many things to LOVE about the Wizarding World of Harry Potter at
Universal Studios in Hollywood
. Here are just a few of the special things about the park that I love:
The Wizarding World of Harry Potter has recently introduced some new fantastic beasts to the park at Universal Studios Hollywood. Did you have a chance to see Fantastic Beasts and Where to Find Them, the most recent addition to the Wizarding World films? I loved it. The movie is full of spectacular new magical creatures that are sure to add a little fright and delight to your walk through Hogwarts Castle and around the shops of Hogsmeade. Watch out for the niffler!
The famous Three Broomsticks restaurant is now serving warm butterbeer. This sweet buttery beverage is a favorite among the wizarding community. You can share a mug with your sweetheart as you talk about the latest game in the Quidditch World Cup. It's a perfect time to give them their Harry Potter Valentine, too!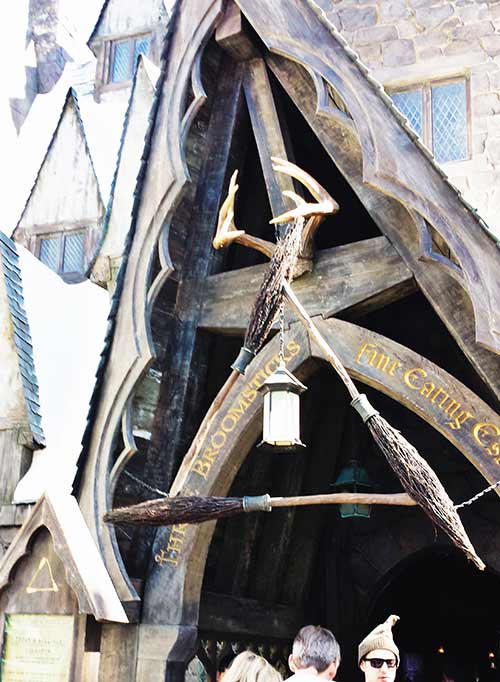 Another amazing addition to the Wizarding World of Harry Potter is the interactive wands. You can actually cast magic spells at certain spots along the streets of Hogsmeade. Cast a spell by waving your special magic wand, say a few magic words and watch the magic come to life before your eyes. Isn't that exciting?
There is so much adventure to be had when one enters the Wizarding World. I hope these DIY Harry Potter Valentines add a magical touch to your Valentine's Day celebrations. You could even use these Harry Potter valentines to announce your next trip to the Wizarding World of Harry Potter! A trip to one of the most magical places around is never a bad idea. Book online or give our travel experts a call at 855-GET-AWAY.