UPDATED MARCH 2019 There's no better choice than our free printable Star Wars Valentine templates for the Ewoks and Wookies in your life. Choose from four unique Mad Lib stories to create a Star Wars adventure everyone will love this Valentine's Day.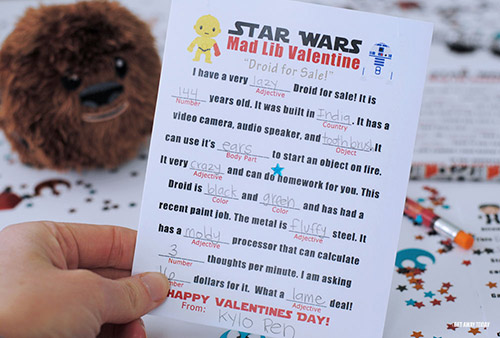 Are you searching for something epic for your special valentine this year? You don't have to be in a galaxy far, far away to join the Rebel cause and give a Valentine's Day card that doesn't come with a sugary treat, but with a galactic adventure instead! This is the Valentine's Day card idea you are looking for.
These
printable Star Wars Valentine templates
let your valentine choose his or her own adventure with a Star Wars Mad Lib story. Complete the story by filling in the blank spaces. It is always a laugh to see what crazy adventure unfolds. And, with the Star Wars twist, who knows what might happen? You will love it, I know.
These printable Star Wars Valentine Mad Libs make a perfect valentine for classroom handouts or for your own kids. Couple them with a Star Wars pen or pencil or pair it with a cute and cuddly plush Star Wars character.
First,
download the free templates
for the printable Star Wars Valentine. There are four unique fill-in-the-blank Mad Lib inspired stories on the page. Be sure to print them on nice paper. I prefer cardstock. Use color ink as well.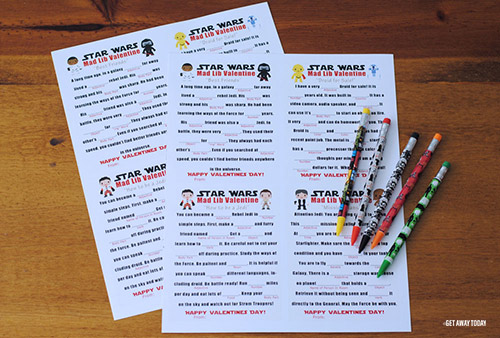 Cut out the stories and sign the bottom of the Star Wars Valentine with your name. Or, let your child sign them if they are being used for a class party or for friends! I used my rotary blade and a ruler to make this process fast and easy.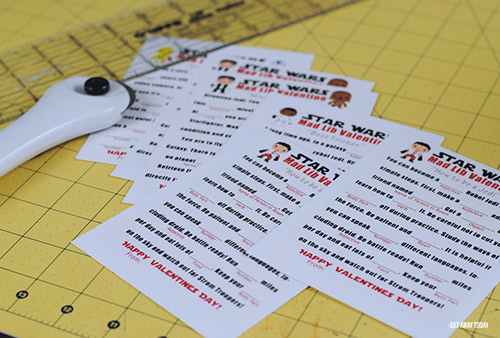 Mad Lib style stories are pretty well known. It takes at least two people to play. One person holds the Star Wars valentine and can see the story and what type of words are missing. The word type is listed in red lettering below the empty space.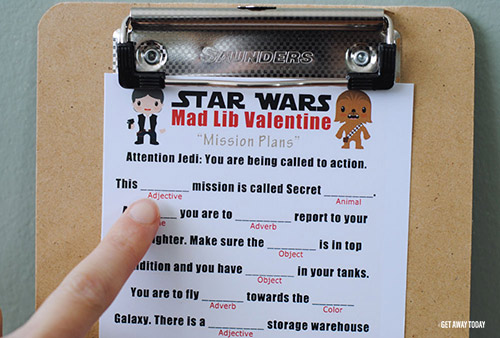 That player prompts the second player to make up words in the category listed on the card. For example, if the missing word is categorized as an "adjective," the second player will think of a description word such as "furry" or "enormous!" Then, the first player will write the given word on the blank line in the story.
This play continues until the story is complete with the nonsense filler words that the second player has created. Then, the first player will read the story aloud! It is really quite entertaining.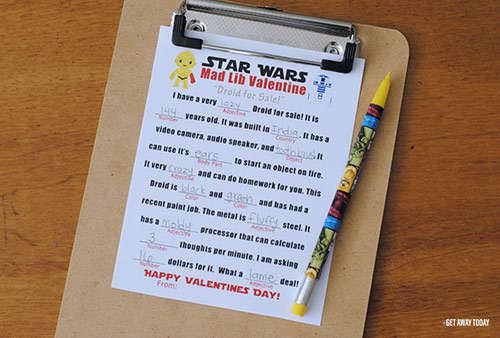 I thought it would be fun to pair the printable Star Wars Valentine Mad Libs with a Star Wars mechanical pencil or a cool Star Wars pen. I love giving gifts that are practical. My kids are already putting dibs on what pencil they get to keep after I am done with this post, so I am confident most kids will be excited about these. And as a bonus, it is not a candy! I think holidays have enough sugar to go around without adding to it. But, that might put me on the Dark Side in some people's book?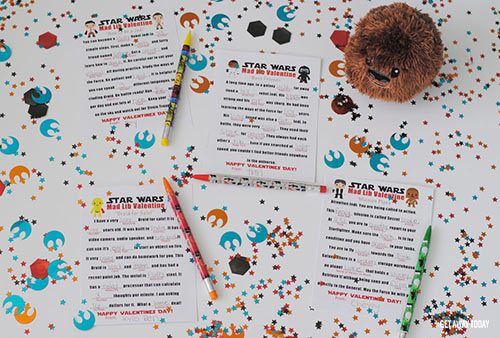 I used a bit of decorative bakers twine to attach the pen to the Star Wars Valentine. You could wrap up a whole bunch in a jiffy.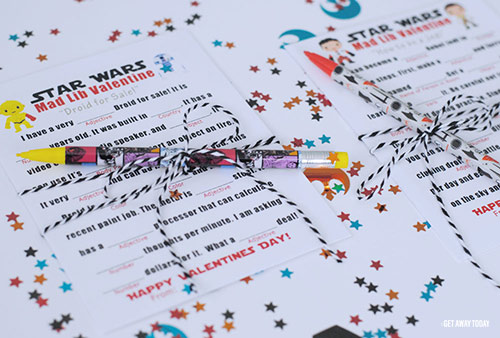 Get ready for adventure this Valentine's Day with these printable Star Wars Valentine Mad Lib cards. I will go ahead and tell you the odds are very good that they will be a hit.
Don't forget that you can still experience the Season of the Force at the Disneyland Resort. There's no better way to get in touch with your galactic side than visiting the Star Wars characters yourself. You can join the Rebel Alliance and face off against the Dark Side when you visit Disneyland - a dream come true for the Jedis in your family. We are so excited about the opening of
Star Wars Land Disneyland
! Book our
Disneyland packages
online now to visit
Star Wars
: Galaxy's Edge starting on May 31, 2019, or give us a call at 855-GET-AWAY for personalized help. Your vacation destiny lies with us, Skywalker!

Check out these other great articles: